Cricout Is The Ultimate Social Network For Cricket Fans On iPhone
While America has its baseball, basketball and their variation of rugby (that they refer to as football, for some reason) and the rest of the world has its real football (that Americans call soccer, for some reason), the most popular game in many countries such as Pakistan, India, England, Australia, South Africa and several others, is cricket. However, there has been no truly great cricket app with support for discussing matches live as they happen. There's the ever-famous ESPNcricinfo app that's available for pretty much every platform, but that's about it, and there's been a lot of room for more options. Earlier this week, I came across an iPhone app called Cricout that has the slickest of user interfaces, and a strong featureset for following and discussing matches. Check out our hands-on experience with it after the jump.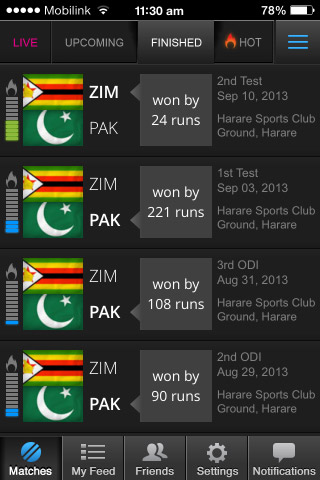 Upon launch, you are asked to register an account (you can optionally connect via Facebook) and to choose your favorite teams. Choosing particular teams allows you to easily filter the 'Upcoming' and 'Finished' matches list using the Hamburger navigation icon at the top-right, so you only see information for said teams (Pakistan and Zimbabwe, in case of the above screenshot).
Once that's done, you're taken to the app's main page, from where you can see matches happening right now (Live), scheduled in the near future (Upcoming), or already completed (Finished). It provides useful information at a glance without feeling over-crowded. The great white-on-black theme also makes it quite easy on the eyes.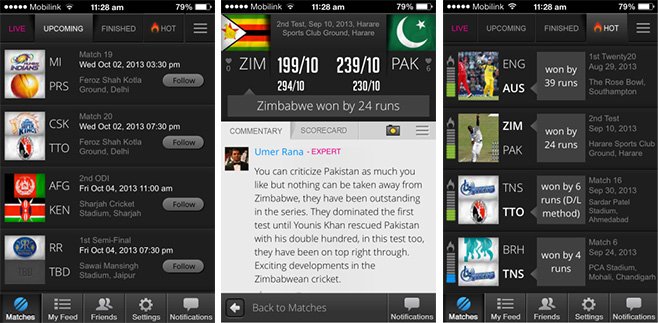 Tap 'Follow' to get a push notification a few minutes before the match goes live.
Tapping any match's entry takes you to its own dedicated page, from where you can read commentary from other Cricout users, and see the full scoreboard. I was really impressed by the way the scoreboard expanded to display more information as I scrolled. Little UI touches like these really help make the app stand out.
Of course, it wouldn't be a social app if there weren't any options to add friends and discuss matches with them. Only three of my 400+ Facebook friends have used the app so far, so it is pretty sparse at the moment. However, as soon as the cricket season kicks in (in a few weeks' time), I am sure more people will sign up.
As there were no live matches taking place when I was reviewing this app, I wasn't able to leave comments on any match. However, for finished matches, I could reply to comments from 'Experts' Umer Rana and Faisal Caesar (who seem to leave comments on every match).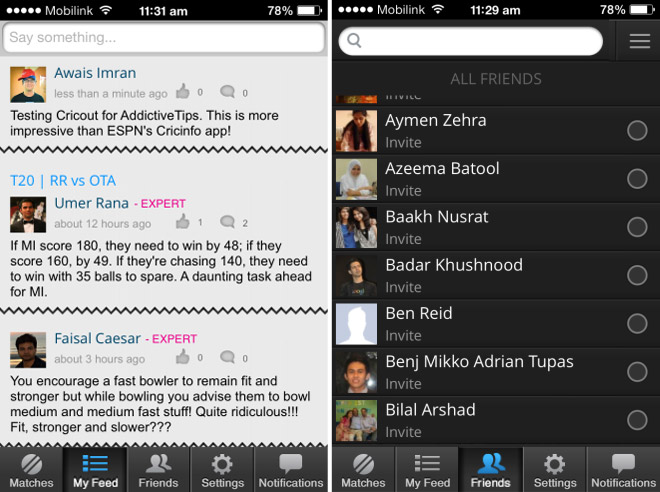 As of now, Cricout hasn't realized its full potential because of a distinct shortage of users, but with its strong foundation of enjoyable features, I expect it to become popular among cricket fans soon. It has replaced ESPN Cricinfo for me!
Cricout for iOS can be downloaded for free from the link below. If you don't have a mobile device, you can always check out their equally excellent website.
Install Cricout from App Store