FlagPaint Changes iOS Notification Banner Color Based On App Icon
With iOS, Apple has made a habit of shipping basic-but-important features later than the competition; multi-tasking for example, was introduced years after the original iPhone (2007). But, while they do ship them late, they ship them right. This has been the case with so many features on iOS: Cut-copy-paste, multi-tasking, an app store, wireless syncing, OTA updates, iMessage. All introduced late, but implemented (arguably) better than the competition.
Unfortunately, Notifications Center – which was lifted straight from Android – is far from ideal. While an improvement over the previous pop-up notifications, it has many shortcomings, particularly when compared to Android 4.2 Jelly Bean. However, the one small shortcoming we'll be focusing on in this post is the lack of customization, especially for the Notification Banners that appear on the top when you receive a new notification.
If you feel that the Notification Banners are far too simple and boring right now, with the app icon on the left, notification title in bold on top and a small description at the bottom on a white background, you can get some degree of customization with FlagPaint.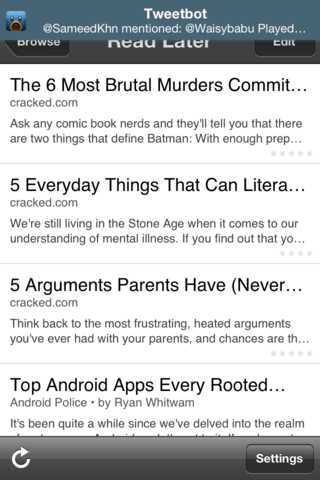 Developed by HASHBANG Productions, this Cydia tweak will "color your notification banners based on the app that is notifying you." Received a new text message? The notification banner will be colored green because it is the dominant color of the Messages app icon.
On installation, you get a menu in your Settings.app from where you can adjust different options. You can set the banner to not include the app icon, make it opaque/transparent, center all text and more.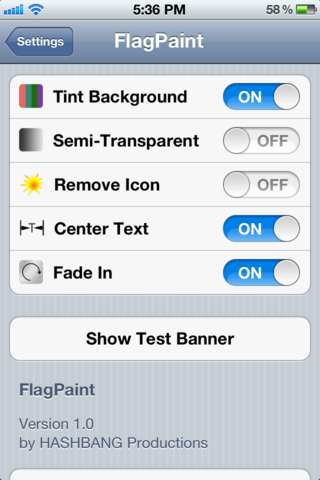 FlagPaint uses Windows Phone-esque perfect rectangles instead of rounded corners that are present through iOS' user interface. As a result, FlagPaint looks completely out of place. As of typing, this is the only thing I dislike about it.
Since FlagPaint is, after all, a user interface tweak, how it looks is paramount. The lack of rounded corners was a deal-breaker for me, so I'll be sticking to the stock notification banners. Of course, your opinion on this matter may be different, which is why we suggest you check out this Cydia tweak if you want a new look for your Notification Banners.
FlagPaint is available in Cydia under the BigBoss repo for 99 cents. It works on iOS 5 and above.
What are your thoughts on FlagPaint's interpretation of Notification Banners? Let us know by leaving a comment below!