Google+ For iOS Update Brings iPad Support, Events & Hangouts
Not many people gave Google+ much of a chance against Facebook when it was first launched, but judging by the rate at which Google's social network is gaining followers and new features, it is not too far away from becoming a real threat for its competitors. While the web and Android versions of the service have garnered a lot of attention, the iOS app for Google+ was still missing a few key features (not to mention the lack of iPad support). The Android app for Google+ was optimized for tablets a couple of weeks ago, and now, an update for the iOS client has been rolled out with almost all the features the Android app offers. The update version is optimized for the iPad, allows you to start or join Hangouts from your iPhone and iPad, and boasts Google Events integration.
Events
The Events section appears to have been added to the iPhone app only, and we couldn't find it in the iPad variant. This area of Google+ lets you view, create and manage all your upcoming events. There are two tabs in the menu, labeled Upcoming and Past. You can create a new event via the button located in the top-right corner. There are several background themes for events that help you add a personal touch to each entry. In addition to that, you have to enter the event's title, description and a list of everyone who is invited (invitations can be sent to whole circles, too). Other than that, you can choose to add the location manually, or let the app use your current coordinates as the destination for the event.
 
Instant Upload
Personally, I find this feature of the Google+ app a little scary. Just like Photo Stream in iOS, Instant Upload will automatically add all the photos you capture using your iDevice to your Google+ account. While it's true that if you use it wisely, it can prove to be a really helpful aspect of the app, but the potential for disaster is a bit too much, especially given the fact that once you turn this feature on, all the existing photos on your device will be uploaded, too. Having said that, the app does ask for the user's permission before publishing each batch, so things might not be that bad after all. You can also choose to enable Instant Upload only when you are on Wi-Fi rather than mobile data. However, all this has been around in the iOS app for some time now, but the latest update allows users to attach these Instant Uploads to your new posts.

Hangouts
The Google+ Hangouts on the iPad client are fully functional, and you can do everything with them that is possible in the web version of the service. Muting, toggling the video feed on or off, switching between front-facing and back camera and adding new contacts to an existing Hangout is also possible, thanks to the new update.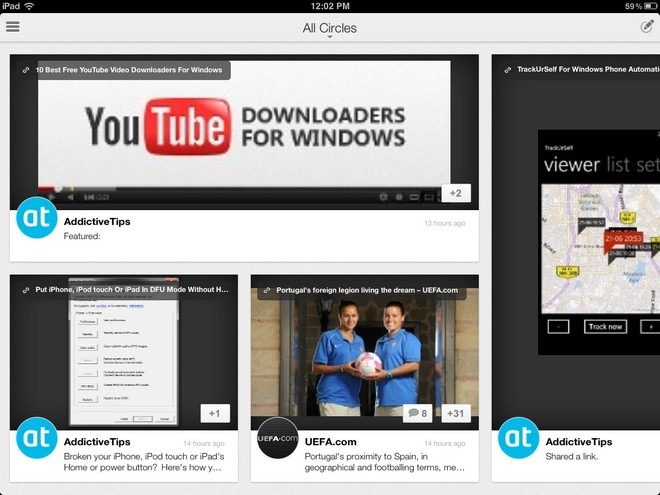 Apart from these major changes, there are some interface tweaks and improvements that the new Google+ update brings to iOS. There are some pretty cool animations when you switch between circles, and posting new content to your network is easier as well. The app remains free, of course, and you can grab the updated version of Google+ from the link given below.