How To Hide The Dock In iOS 11 [No Jailbreak]
People jailbreak an iOS device mostly to add features. Some apps, though amazing, require elevated permissions that Apple simply doesn't allow. These apps can't function unless they're run on a jaibroken device. While users are at it, they might also modify the UI of iOS. Of course, modding the UI is not reason enough to jailbreak. There is a neat little bug in iOS 11 at present that lets you hide the dock. It's a bug so it's likely to be patched soon. In the mean time, here's how you can use it to hide the dock in iOS 11.
Because this is a bug, it's going to have its shortcomings. It takes a few tries to enable and, unfortunately, it's pretty easy to undo by accident.
Hide The Dock In iOS 11
Unlock your phone and go to the first page of your home screen. Swipe right to go to the Widgets screen. Once you're on the widget screen, tap/click the home button. The second it switches you back to the first page, swipe left. If all goes well, the dock should disappear.
You can swipe between the different pages of the home screen  and the dock will not reappear. If, however, you swipe to the Widget screen, the dock will return. You can't add app icons to the now blank area. If you lock/unlock the screen, the dock will not return.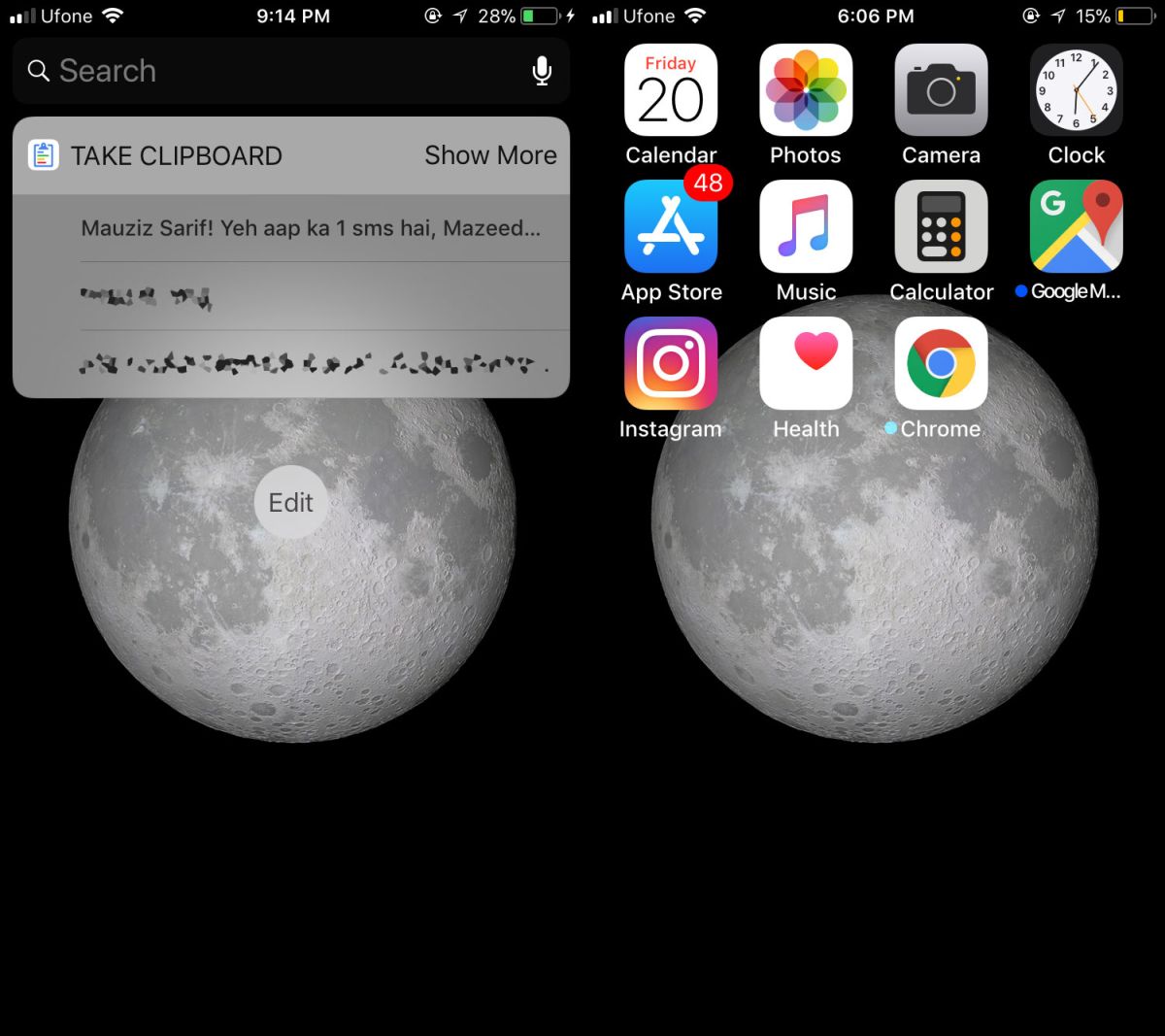 One might argue that the Dock is there to make apps easily accessibly but this is an iPhone, not a Mac nor an Android phone. There's no such thing as an app drawer on an iPhone which means all your apps can be accessed from the home screen. You have to organize them, perhaps create multiple pages or folders but it's not that hard. The dock persists regardless of which page of the home screen you're on. On a small screen device like the iPhone, it has some use but not a lot.
This is an iOS 11 bug. It seems to be present on iOS 11.0 up to iOS 11.0.3. We tested it out on the last stable version of iOS 10 and it didn't work.
iOS 11 has quite a few bugs. In fact, for the past few years, almost all iPhones have had some sort of problem with the hardware. The software likewise has had its own fair share of problems. There was even a bug back in iOS 8 that, difficult as it was to get right, unlocked the iPhone without a password. Quality appears to have taken a back seat at Apple and design appears to be sitting in the front row adding a fringe to the expensive iPhone X.