HomeDisplay Adds Date, Weather & Music Info Below iPhone Status Bar
There are often multiple ways of doing something, but the key to success is finding the way that balances efficiency and convenience in perfect measure. There are already Cydia tweaks available for iPhone that can be used to add additional information to the status bar. WeatherIcon used to have a status bar option prior to iOS 6, while adding information of the currently playing song to the status bar has been possible for users of the NowPlaying tweak. HomeDisplay is a new release that combines both these features, but without cluttering the default status bar of your iPhone. The bar, after all, is pretty narrow to begin with, and if you are using a custom carrier name or logo, things can get a bit too messy. HomeDisplay solves this problem by adding a new status bar just below the existing one. The second status bar is reserved just for information like the current date, the name of the song you that is being played and the current temperature in your area.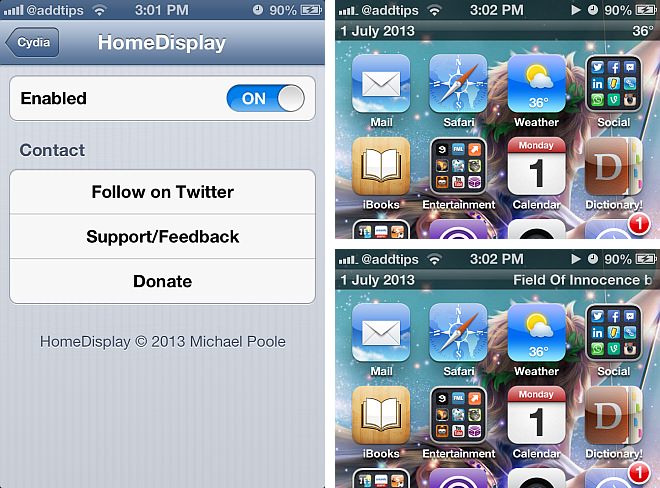 HomeDisplay requires no configuration, and can only display a predefined set of information. The tweak's menu in the Settings app has just one toggle, and that is for disabling or enabling HomeDisplay; everything else gets taken care of automatically. Once you have enabled HomeDisplay, hit the Home button and watch the change on the SpringBoard. The additional status bar displays the day's complete date in the left corner, and the current temperature on the right. The temperature is from the city set as the primary location in the stock Weather app. Whenever you start listening to music on your phone, the temperature momentarily disappears and is replaced by a moving ticker showing the title of the track, along with the name of the artist. While the playback continues, the song info and current temperature keep alternating.
As narrow as the HomeDisplay bar is, it certainly reduces some of your SpringBoard's screen area. To make sure that other areas of the OS aren't affected by this loss in real estate, the tweak limits the new addition only to the Home screen. This makes sense on multiple levels, since not a lot of users would want to keep looking at this extra information while using an app. Support for lock screen wouldn't have hurt though.
HomeDisplay costs $2, but is in a real need of an update that adds more information fields to the mix, or better yet, allows users to customize its status bar according to their needs. The tweak is available in the BigBoss repo of the Cydia store, and works only with iOS 6.