How To Enable Star Ratings In The Music App In iOS 10
iOS 10 revamped the Music app. The revamp wasn't just a UI overhaul; features were added and removed in the new version. One feature that Apple sought fit to remove was the Star rating feature. It allowed users to rate a song on a five point scale. This helped create smart playlists among other things. The feature was sorely missed and as of iOS 10.2, it has been added back to the app, You must however enable it from the settings. It is simple enough unless you don't see the setting at all which is a different problem altogether. Here's how to enable the star rating option in the Music and what to do if you don't have the option to enable it.
Enabling Star Ratings
This first method assumes all is well. Open the Settings app and scroll down to the Music app. Tap it and you will see a 'Show Star Ratings' switch. Enable it and then go to the Music app. Tap a song and tap the more button at the bottom right. The menu that opens will have a rating option.
If you do not see the 'Show Star Ratings' switch, read the next section.
Get Show Star Ratings Option
If you do not have a song that already has a star rating, you will not see the 'Show Star Ratings' switch. Here lies the problem. When iOS 10 was released, the Music app seems to have removed the ratings data completely. When you synced your phone via iTunes, the ratings were purged from it as well.
To fix the problem, you must add a star rating to a song in iTunes on your desktop. Select any song from your library. Right-click it and select 'Get Info' from the context menu. This will open the window you see below. Rate the song, and then connect your iPhone to your PC or Mac. Allow it sync and create a back up.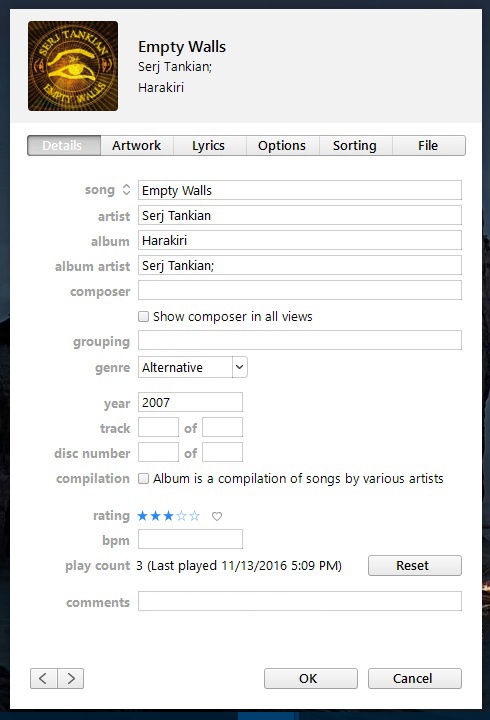 On your iPhone, go to Settings>Music and the Show Star Ratings switch will now be visible. Turn it On, and you can rate songs from the Music app.
iOS 10.2 is still in beta, however, it is likely to be released to the stable channel in a matter of weeks.