How To Enable The Universal Clipboard In iOS 10 And macOS Sierra
In iOS 8, Apple introduced a feature called 'Handover' that worked with macOS Yosemite. It allows users to seamlessly transition between devices by allowing apps to sync work between them. Users are able to leave and pick up work right where they left it off. The feature is available with almost all Apple apps and third-party apps can add support for it as well. In iOS 10 and with macOS Sierra, this feature has been expanded to work with your clipboard. iOS 10 and macOS Sierra can now share a clipboard giving you a universal clipboard across all your devices. Here's how to enable it.
In order to enable the shared clipboard, you have to turn On Handoff on your iOS device and your Mac.
On iOS 10
Open the Settings app and go to General>Handoff. Turn it on.
On Your Mac
Open System Preferences and go to the General group of preferences. At the very bottom, there is an option 'Allow Handoff between this Mac and your iCloud devices'. Enable it.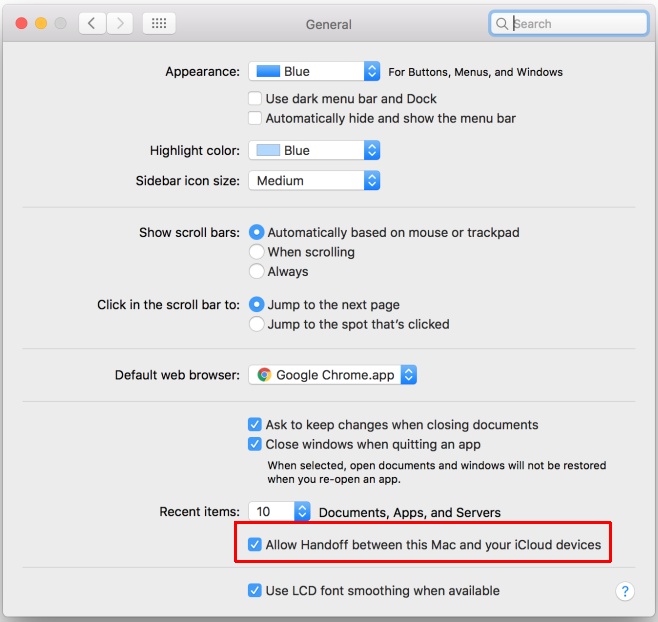 Enable iCloud On All Your Devices
In order for Handoff to work, you need to enable iCloud on both your iOS device and your Mac. You must be signed into the same account on all devices you want to share the clipboard across.
How It Works
The universal clipboard allows you to copy and paste text, files, and photos between multiple Macs and iOS devices. With iOS devices, you might be somewhat limited in what you can paste simply because the OS is built that way. For example, you can't just copy a photo from your Mac desktop and paste it to your Home Screen on your iPhone. You can however, copy a photo from the Photos app and paste it inside the Preview app in macOS.
In order to paste a file from macOS to iOS, you must have a compatible app that you can paste it to. For example, if you copy a Pages file from macOS, you can paste it inside the Pages app on your iPhone provided you have it installed.
There are no special buttons or apps involved when you use the universal clipboard. Whatever is copied to the clipboard via touch gestures or keyboard shorts is made available across all devices.