How To Search Safari Tabs In iOS 10
iOS 10 is out and it makes you want to have a device that has 3D touch. A lot of the shortcuts and convenient new options introduced in iOS 10 are tied to 3D touch. If your device lacks it, you will miss out on how easy iOS 10 is to use. You might even miss out on some actual features such as the flash light intensity feature. Another odd little thing in iOS in general is that some settings are only visible if your device is in landscape mode. In iOS 10, one such feature is the new search tab feature in Safari. The feature essentially lets you search all your open tabs and quickly find the one you're looking for. Here's how to access it.
Make sure you've turned orientation lock Off. You will need to enter landscape mode in order to see the search bar. Open Safari and rotate your device so that it switches to landscape mode.
Tap the tab button at the bottom right. In portrait mode, you can swipe through the open tabs. In Landscape mode however, the tabs appear as small thumbnails in a grid layout. They resemble the speed dial you see on desktop browsers. At the top is the search bar.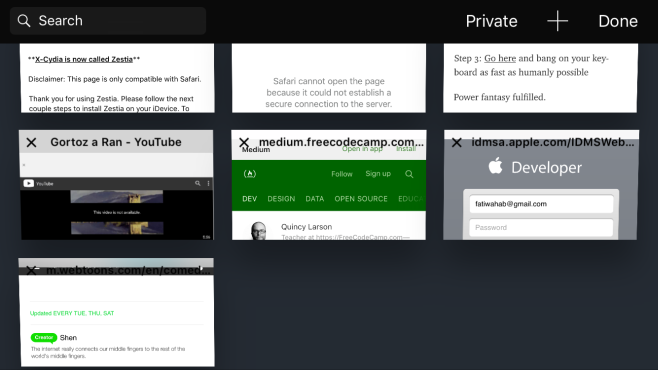 The search bar will search the tabs you have open. It will not search text within the tabs. It's built to help you find a particular tab when you have a considerable number of them open. Simply type in the name of the website you have open and it will find the right tab for you.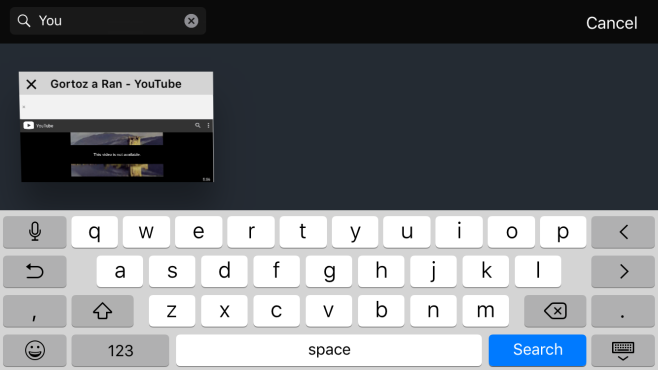 A tab search feature isn't offered by either Chrome or Firefox on iOS. Likewise, this feature isn't a stock feature in the desktop version of Chrome and Firefox while Safari has long supported it in maOS.
It's useful to say the least. Almost all links you tap open in Safari leaving you with a lot of clutter that the search bar helps you deal with. It's just odd that it can't be accessed in portrait mode. An unknowing user might miss it altogether.