HT Recorder For iPad Automatically Skips Silent Bits While Recording Audio
While an iPhone can be much more effective as a recording device due to its smaller size, it is the iPad that most people use for work and academic purposes. Maybe that is why HT Recorder is only available for the iOS tablet. The app lets you record clips that are hours long, share them with ease and even edit them using some really simple controls. If you are thinking that it will be a little awkward holding your iPad in front of someone's face while trying to capture every word they say, think again. HT Recorder catches any sound within a normal-sized room, even if the sound is no more than a creak or a whisper. The app offers amazing volume balancing, meaning you will get a clip that won't force you to keep adjusting your device's volume again and again.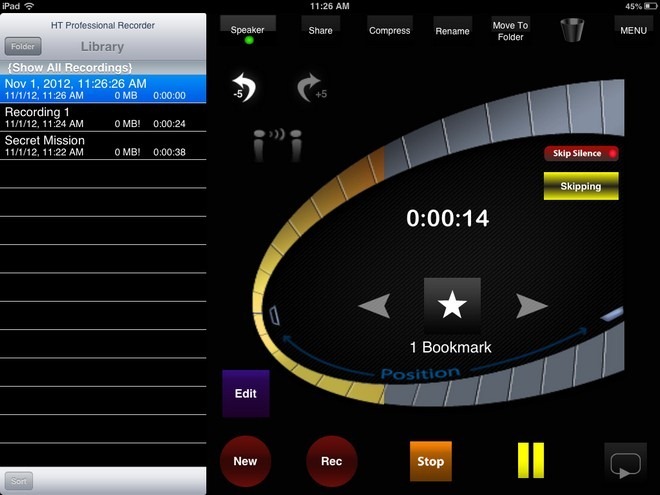 While HT Recorder's functionality is awesome, the interface could have been better. Things are a bit too simple in terms of looks, but if you can forgive that in an iPad app, HT Recorder is sure to become a permanent resident of your SpringBoard. To start recording, hit the New button to create a fresh entry in the Library. You can also start recording straight away by tapping the Rec button, but creating separate clips is advised to keep things manageable and neat. It is also possible to store your clips in folders within the library.
While recording, hit the Skip Silence button to make sure the clip isn't full of bits with no sound, particularly useful for recording discussions, lectures and seminars. The icon below the skip button indicates the current state of the clip. You can highlight any moment while recording by hitting the Bookmark button in the middle of the screen. HT Recorder supports three levels of recording sensitivity, and you can easily switch between them by hitting the icon on the top-left corner of the equalizer.
There are some pretty decent playback options offered by HT Recorder, too. You can increase or decrease the playing speed of any clip (tap the right arrows located within the circular indicator). The +5 and –5 buttons let users skip forward or backward by five seconds. The app has a pretty robust editor as well. It allows you to trim clips, copy a section and overwrite a particular portion of a recording.
Among the best features of HT Recorder are its sharing capabilities. Clips can be exported via email, iTunes and WiFi. With WiFi sharing, you can copy clips of up to 15 hours in length, while email sharing supports 60 minute recordings. To help users manage their past recordings efficiently, HT Recorder can be used to compress clips, while renaming them is possible as well.
We can safely say that if you are looking for a comprehensive audio recorder for iOS, you won't have to look further than HT Recorder. The app is available for $2.99 on the iTunes App Store, which might seem like a lot looking at its interface, but is justified considering its functionality.