A Look At iOS 6 Guided Access And Other New Accessibility Features
Among all the changes introduced in iOS 6, Accessibility features have received perhaps the most major updates. From enhancements made to the existing VoiceOver screen reader to the brand new Guided Access feature, iOS 6 has brought significant improvements to iOS devices, making them much easily accessible for the elderly, the disabled and children. In what follows, we will take a look the new Accessibility features added and the old ones updated in iOS 6.

Guided Access
Perhaps one of the biggest new featured introduced in iOS 6 is Guided Access. Found under Settings > General > Accessibility, Guided Access allows you to lock up your iOS device in a password-protected restricted mode, with normal hardware button operations disabled. You can even choose to disable touch entirely, or on certain parts of the screen.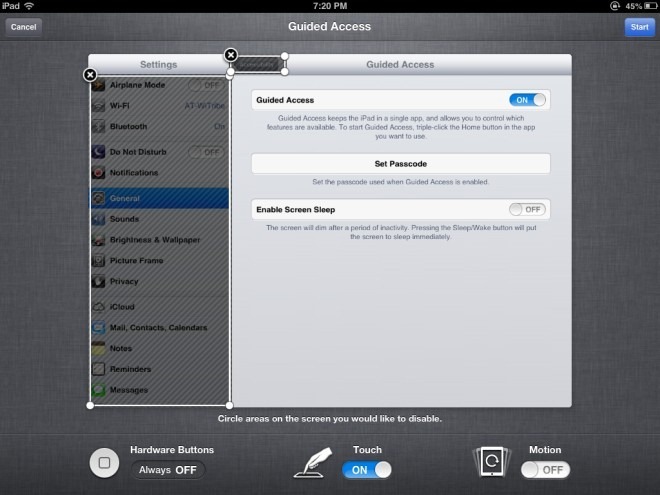 As you can see, you also have the option to enable or disable the rotation sensor. Here is how the interface looks on an iPhone.
This feature can come really handy in several scenarios like:
allowing the disabled like those suffering from autism to focus on the task on hand without having to worry about navigating away by involuntary touches or button presses,
letting your kids (or the elderly not comfortable with touch screens) watch videos or slideshows with the touch screen disabled, without having to worry about them messing up your device,
letting anyone use certain apps on your device temporarily without giving them access to other apps or the whole device.
Here is how Guided Access looks when enabled. As you can see, the user can't access features under the grayed parts of the screen and is essentially locked into this screen at the moment.
Once enabled, Guided Access can be toggled on or off by triple-press of the home button, and can't be disabled without a password. All other hardware buttons are disabled while Guided Access is enabled.
AssistiveTouch
Introduced in iOS 5, AssistiveTouch is quite a handy feature that allows you to perform several hardware button operations and some other preconfigured functions using on-screen controls. In iOS 6, AssistiveTouch has received certain significant improvements.
On devices that have Siri, the 'Gestures' option has been replaced with Siri on the main AssistiveTouch panel. Gestures haven't gone anywhere though; they can be found in the new 'More' subsection introduced in the 'Device' section, along with new options to shake the device, take a screenshot or access the multitasking bar.
We especially love the screenshot feature as it now allows us to take certain screenshots that were previously impossible because pressing the hardware power or home buttons would immediately trigger off the screen that we wanted to capture.
In another small improvement, the on-screen control for triggering AssistiveTouch can now be dragged freely anywhere along the edges of the screen, unlike in iOS 5 where it could only be placed in corners or edge centers.
Home-click Speed
Another significant accessibility feature is the ability to configure the speed at which you can double-click or triple-click the Home button to access the features associated with these actions. You can now choose between 'Default', 'Slow' and 'Slowest'. This is especially useful for those with disabilities who can't click the Home button fast enough under default settings to trigger the appropriate actions.
VoiceOver
The VoiceOver screen reader hasn't received any feature update in iOS 6 but its integration has now been extended to support Maps, AssistiveTouch and Zoom. New support for UI Containers has also been added to its rotor gestures.
That covers the new accessibility options introduced or improved in iOS 6. Stay with us as we continue bringing you our complete coverage of all the new features and enhancements in Apple's latest smartphone operating system.
---
This guide is a part of our guide to new features in iOS 6, which covers the following topics:
New Accessibility Features (Currently viewing)