A Look At The All-New iOS 7 Control Center
It no secret that Apple often takes cues from the Cydia store when it comes to adding new features in iOS updates. This might have resulted in diminishing interest in jailbreaking iDevices, because who would want to go through all that trouble and void the phone's warranty when the best features are available in the OS itself by default. In iOS 7, we have seen dynamic wallpapers, the parallax effect, and a tabbed Notification Center – all features that you could get via the Cydia store on iOS 6. Another great jailbreak-inspired feature that has come to the party is Control Center. This menu is sure to remind any former jailbreak user of SBSettings, despite its superior looks (of course, Apple made it).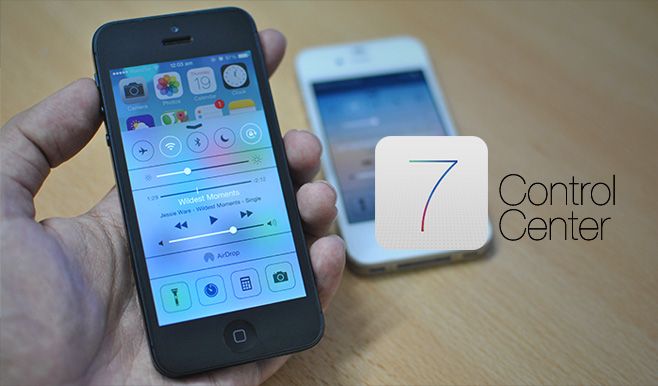 Just like the Notification Center, Control Center is also accessible from the lock screen, but only if you want it to be. Head to the stock Settings app, and turn the 'Access on Lock Screen' option off if you want to keep things minimal when your screen it locked. Another great thing about CC is that it shows up inside apps too, but this can be a double-edged sword, and might disrupt your flow in using some apps when invoked inadvertently.
Once the translucent Control Center is launched, you will see a row of system toggles at the top. These include Airplane mode, WiFi, Bluetooth, Do Not Disturb, and orientation lock. It is not possible to add or remove toggles in this row – something that might have made the Control Center absolutely perfect. Just below these controls, there is a slider that can be used to adjust your device's screen brightness.
While you are listening to music, the Control Center has some decent playback controls in it. You can change tracks, control volume, or use the star icon to brings up some really useful iTunes Radio options for users who have U.S accounts. On newer iDevices, such as the iPhone 5, 5c, 5s and the iPad mini, you'll find a handy shortcut to AirDrop sharing  right below the playback controls.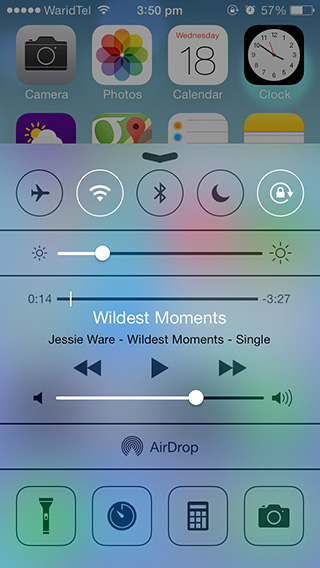 At the bottom of the Control Center, there is a row of app utility shortcuts. iOS finally comes with a built-in flashlight, and that's what the first toggle is for. The rest of them include stopwatch, calculator, and camera, and act as mere shortcuts for opening their respective apps.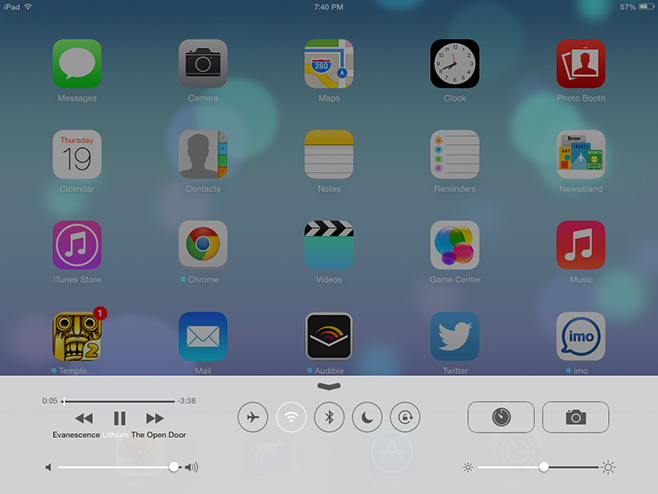 Unlike Siri (and to some extent, Notification Center), Control Center looks like a feature that will take off immediately after its release. It might be one of the most useful changes to come to iOS in a long time.
This post is one part of a compilation. For info on other major new features and changes introduced in the latest iteration of Apple's mobile OS, check out our complete iOS 7 guide.