Metroon Brings A Working Windows 8 Experience To iPhone
I remember back in the day when customization was one of the bigger reasons behind jailbreaking an iPhone. Over time, the jailbreak aesthetics scenario evolved much like the platform itself, and Winterboard was no longer the sole theming platform for iOS devices. Of the many contenders that surfaced (and vanished), Dreamboard remained the sole worthy alternative to the much-acclaimed Winterboard, and brought with it perhaps an entirely new scope for iPhone and iPod touch themes. Not only was theme switching made dead easy, but the themes and skin packs themselves were much refined and more customized on Dreamboard. We even did a roundup of our top 5 picks in free Dreamboard themes back in November 2011. What that roundup was missing, however, was the new Metroon theme, a fresh release in Cydia that brings a complete and (surprisingly) functional Windows 8 experience to jailbroken iPhones. Whether you hate Microsoft's latest operating system or deem it a right step towards the future is another debate, but Metroon is one Dreamboard theme you have to try out, and we'll explore it in depth just past the jump.
Before you go into a joyous frenzy, it may be pointed out that Metroon is not a free theme, and fetches for $1.50 in Cydia (you can look in up in the default repositories, no special additions needed). The theme package comes complete with a Metro Start Screen sporting actual live tiles, a Charms bar, an All Apps menu, Windows 8-style slide-up-to-unlock lock screen (with notifications), and much more. Although not an exact replica of Windows, Metroon keeps things as close to the original as possible, and might bring even more in future updates.
Since the theme requires Dreamboard, it will automatically be fetched along with the Metroon package if you don't have the former already. Once installed, simply launch Dreamboard on your iPhone or iPod touch and select the Metroon theme. Instantaneously, your device will get transformed into a 3.5" replica of Windows 8, and you'll be greeted with the Start Screen.
A few tiles are already pinned to the Metro Start Screen, including those for Calendar, Internet Explorer (launches Safari), Desktop (brings back the traditional iOS Springboard, much like the Desktop app in Windows 8), Messaging, Mail, People (launches Contacts), Phone etc. Some of these tiles are live ones, displaying real-time notifications and previews of incoming messages, calendar appointments etc (see screenshot above), and can be switched on or off individually. Tiles may be also be resized and relocated using the context menus for each. It may be noted that, interestingly, tapping and holding a tile yields no effect, and to access the options for that tile, you have to swipe down on it (took me a while to figure that one out). You can Unpin the tile from Start, make it Smaller or Larger, turn Live feature on or off (if the said tile supports it), or move it Up or Down for repositioning.
You may also have noticed above that iOS' icon badges are replaced with a numeric indicator on the tile itself, exactly what you'll expect in Windows 8.
The top of the Start Screen displays a Start button, tapping which will take you to All Apps menu, listing every app that is found on your device, and a stock user avatar along side a changeable username. Any app can be pinned to the Start Screen from All Apps menu, where the method for selection still remains a downward swipe on the app's name. To my disappointment, Metroon doesn't support batch selection, and you'll have to pin items one by one.
We mentioned the availability of the Charms bar, remember? It, too, is accessed exactly how the bar behaves in Windows 8. Just swipe sideways from the right edge of your iPhone's screen, and the bar will slide in. As of now, the options contained within include Search (triggers Spotlight), Start and Settings. The Start toggle is useful to jump back to Start Screen of Metroon if you've initiated the Desktop app to get traditional Springboard, and want to go back to the Metro interface.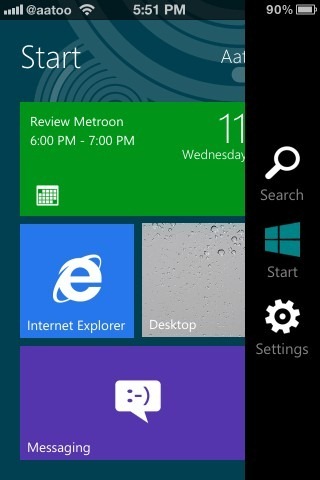 The final element is a Windows 8 style lockscreen, which not only proudly displays your current wallpaper, but also the time and date, unread email and messages count, and any other badge notifications (as is the case with three available App Store updates in the screenshot below). In the lockscreen mode, iOS' traditional notification mechanism is replaced with a Windows Phone-like status bar one, and complements the theme really well. We, however, would've liked a more universal implementation of this. The lockscreen will also show you any upcoming calendar appointments, making it infinitely more useful than iOS' stock offering.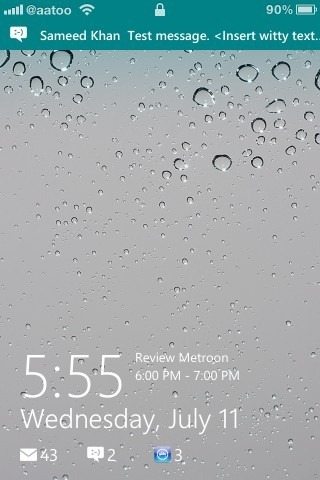 While Metroon left us impressed for the most part, there's still a lot of room for improvement. For instance, I'd like to see the ability to move tiles around on the Start Screen with more ease and in batches, rather than only one app and one step at a time. Then, the Charms bar can be expanded to include a few quick toggles, too. The avatar on Start Screen might become more catchy if it could've been replaced with, say, your own pic from the device's Camera Roll, and some owner info on the lockscreen wouldn't' have hurt, either. Finally, there's this annoying bug with Metroon that randomly renders the screen completely black when you press home to return to the Start panel.
Overall, Metroon is one of the most practical and functional Dreamboard themes that I have seen to date. Windows 8 may have its fair share (in fact, more than fair) of flaws, but one has to admit, it's remarkably useful on a touch-based mobile interface, and Metroon brings that to life on any jailbroken iPhone or iPod touch (the theme isn't iPad optimized). The price tag may not be very welcoming for all users, but rest assured that those $1.50 are going to bring you something truly fresh and impressive.