MySimplePlan Offers An Easy Way To Create Project Workflows On iPad
Although they have now grown into truly multipurpose device, tablets like the iPad were initially designed to help students and the business community in their daily tasks and important projects. To help users carry out their projects with increased efficiency, the App Store offers the iWork suite as well as a slew of third-party apps. If you are looking for an advanced project management suite, there are the likes of xPlan, while InFocus Pro is also pretty feature-rich, albeit with a simpler interface. On most occasions though, people don't have too much time on their hands while planning a project, and this is why MySimplePlan can prove to be a popular project management tool among the masses. It doesn't have a whole lot of features, but that only serves to make the app really intuitive in usage.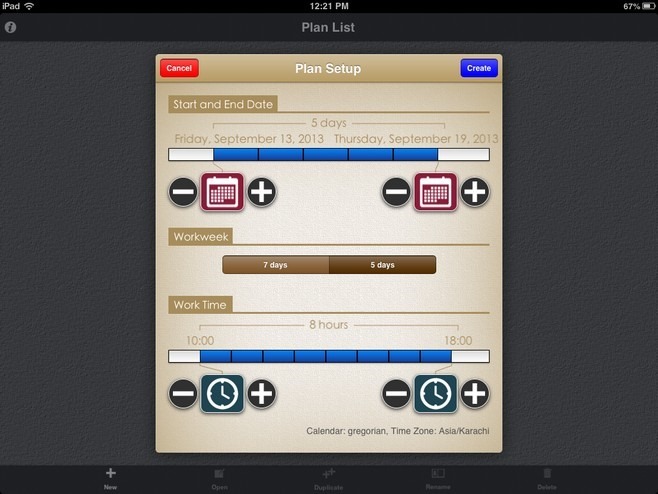 New projects in MySimplePlan have to be created from the app's welcome screen. Hit the 'New' button from the bottom bar, and the 'Plan Setup' screen shows up. For every project in the app, you have to choose a duration before doing anything else. This can be done by using the '+' and '-' icons provided for the start/end times, or by hitting the calendar buttons from the respective fields. Projects can be marked to last from anywhere between a day up to several months. The next step is to specify your work schedule, so that MySimplePlan can create an accurate timeline for it.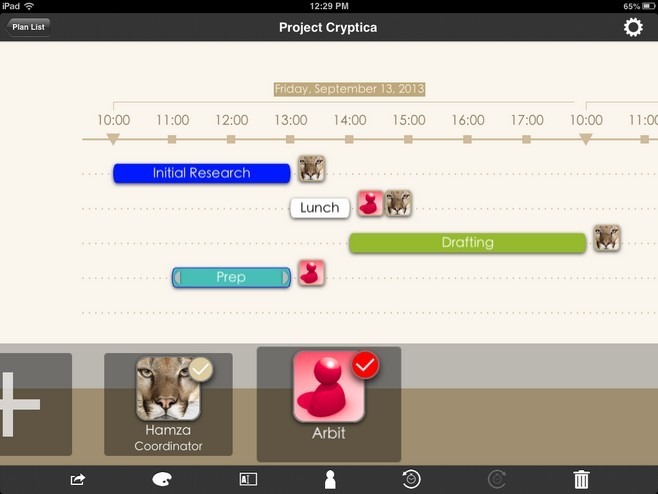 Once a project has been created, it's time to start populating it with tasks and group members. To create a new task, just drag your finger across the timeline. Existing tasks can then be expanded or shrunk based on their desired duration. To edit an entry's title, select it and hit the third icon in the bottom bar. The app allows its users to color-code projects, and assign them to different group members. To make group members easily recognizable and distinct, MySimplePlan offers the ability to add photos corresponding to each entry. The options for doing so are available in the bottom bar, too. Created tasks can be shifted to a new time quite easily, using the delay and move icons.
The projects created using MySimplePlan can be exported via iTunes, or sent to anyone via email. The app is available for free, and works only on the iPad. The interface isn't too cluttered, as the app seems to stuck to the 'simplicity' that is a part of its name.
Install MySimplePlan from App Store