NotifyMe: Sync Reminders Between iPad, iPhone & Mac via The Cloud
You can use many different apps on iOS devices to create and manage your reminders and alarms (including the stock Reminders app in iDevices), but NotifyMe is an app that brings a whole new dimension to this genre of apps. NotifyMe might look like just another reminders app on the surface, but it offers a feature that really does make it stand out among the crowd. Using NotifyMe, you can sync your reminders across all your Apple devices with complete ease. The service has apps for iPhone and Mac, and whenever a reminder is created on your iPad, it is synced to the cloud and will instantly appear on your phone and computer if you are signed in to the same account across all devices. NotifyMe for iPad also offers some pretty good cosmetic features, and you can customize your reminders pretty thoroughly.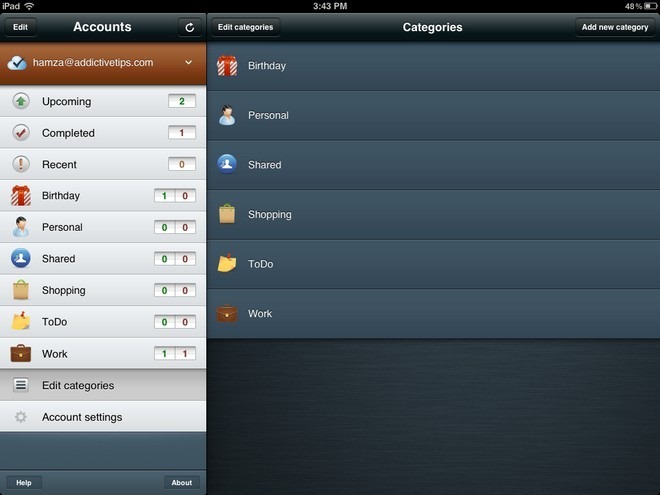 As the whole point of NotifyMe is its cloud syncing and sharing capabilities, users have to create an app-specific account before they can use it. If you are already using the app on iPhone or Mac, there is no need to create a new account, and you can use those credentials for the iPad app as well. Once you have logged in to the app, it will import all your previous reminders from your other devices. If you are a new user, however, you will have to start creating reminders manually. To do that, select the most appropriate category for the alarm. If you can't find a suitable one, hit the Edit Categories button, followed by the Add new category one to create a new one. You can also reorder categories in this manner.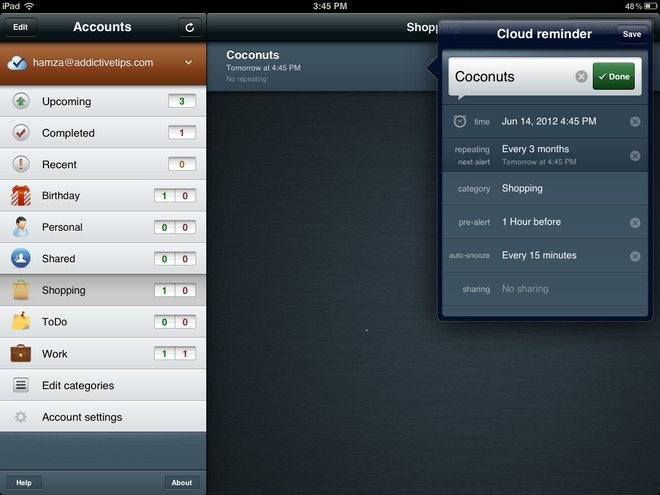 Each reminder created in the NotifyMe app must belong to a category. Apart from the category, users also have to specify a reminder name along with a time at which you want the app to notify you. NotifyMe comes with the option to let its users make any reminder recurring (particularly useful for birthdays), and you can choose to repeat the alarm after every month, or a specific day of the week (among other options). Reminders in the iPad support Pre-Alerts to ensure that you are never forced to start a task at the eleventh hour. The auto-snooze option silences the notification automatically if you don't respond to it for a pre-specified amount of time. The best feature of NotifyMe's reminders is their sharing button. This is where all the cloud integration comes into play. Not only can you sync the reminders with other devices you own, it is also possible to share reminders with your friends if they are using NotifyMe, too. The app keeps your notifications synced automatically, while you can force the app to sync data using the button in top right corner of the Accounts tab.
NotifyMe is a really useful app for people who own multiple Apple devices. The iPad version is available for free for a limited time, while the iPhone ($1.99) and Mac ($4.99) versions are on sale.
NotifyMe for iPad
NotifyMe for iPhone
NotifyMe for Mac