[Giveaway] PDF PROvider For iPad: Convert Photos, Webpages & Documents To PDF Documents
Most professional documents are stored as PDF files, because of the fact that the chances of accidentally altering the text and other content of the file are really slim. An iPad is used by a lot of people for business purposes, and that makes PDF files and iPad a good combination. Maybe that is why there are a lot of iOS apps dealing with PDFs, and most of them are really popular with iPad users. Despite all the competition from similar apps, PDF PROvider is surely among the most comprehensive PDF-related apps for the iPad. The app lets its users create PDF files out of webpages, images, maps and Dropbox documents. Not only is it a good PDF converter, it is also perfect for viewing PDFs, as the viewer in PDF PROvider lets you add annotations, stamps, text and illustrations to files. In addition to all that, PDF PROvider has the option to append existing files with content from sources you find at a later time.
Note: PDF PROvider is a paid iPad app worth $6.99 in the iTunes App Store. We're giving away 5 promo codes for the app to 5 lucky readers, details for which can be found at the end of this article.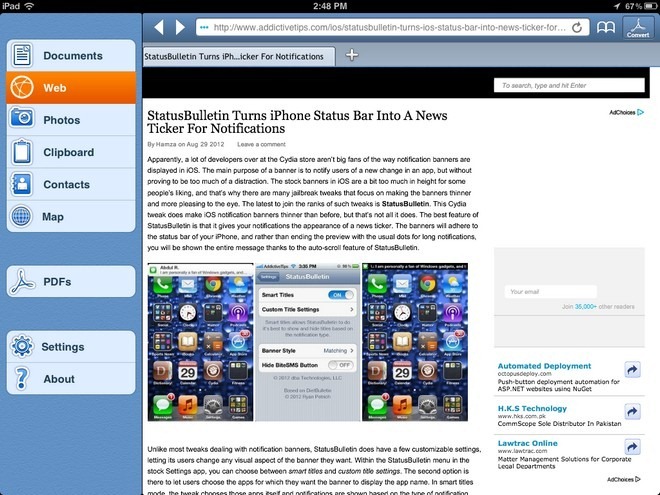 PDF PROvider has a web browser of its own, which has got all the features you will find in any decent web browser for iOS. The Web section supports multiple tabs, and even has back, forward and bookmark buttons next to the address bar. In the Settings menu within PDF PROvider, you can choose the homepage for the app's browser. Converting a webpage to a PDF is really easy, and you just have to navigate to the desired page and hit the Convert button located in the top right corner of the screen. It is possible to save the PDF as a new one, or you can choose to add the current page to an existing file. Other than webpages, you can also use a similar method to convert photos, documents, contacts and maps to PDF files. Documents have to be imported from your Dropbox account, and you will need to link your Dropbox with PDF PROvider for that purpose.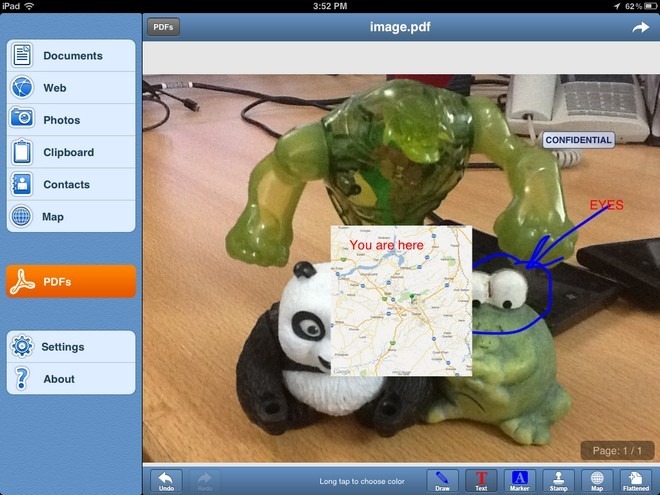 Hitting the PDF button from the app's sidebar will take you to your file collection. In the file viewer within PDF PROvider, you can tinker with the stored files and make a lot of changes to them. Here is a list of all the tools available for editing PDFs in the app.
Draw: If you want to add some freehand illustrations to a file, just tap this button and begin drawing. You can even choose the color of the drawing pen by long-pressing its icon.
Text: Text colors can be chosen just like in the Draw option. It is possible to change the font and size of the entered text from the action menu, after you have written everything.
Marker: Looking to highlight something in your document? Use the Marker available in PDF PROvider.
Stamp: The stamp button lets you put some of the most used stamps on documents. The available options include things like "Confidential", "Not Approved", "Approved", etc.
Map: To let you use geo-illustrations in PDF files.
PDF PROvider syncs all your PDF files with Dropbox, and you can also export files to other apps or share them via email. The app costs $6.99, a price that might sound a bit steep to some people, but such a powerful tool is certainly worth a few bucks.
Download PDF PROvider for iPad
Giveaway
We are giving away 5 promo codes for this iPad app to our readers. The giveaway will last for 24 hours. Participation is simple. Follow @addtips on Twitter, tweet/retweet the giveaway and in the comments below, provide a link to your tweet. Alternatively, you may comment on our Facebook or Google+ page, where the comment should be under the shared post and not on the page itself. Our editors will pick the five winners randomly. Good luck!
Update: The giveaway has been closed. Winners will be contacted shortly.
Update 2: Promo codes have been sent to the winners. If you entered for the giveaway, please check your Twitter Direct Messages, Facebook Messages and Google+ feeds.