Pencil Camera HD: Live Sketch Effects For Photos & Videos On iPhone
Photo editing is among the most popular app genre for iOS, and the subcategory of photo editing that has always managed to capture the imagination of a lot of iPhone users is sketching. Everyone likes getting an artistic view of their ordinary photos, and an iPhone can certainly help with that thanks to the amazingly large collection of photo editors available in the App Store. While there are many iOS apps that offer just one generic sketch effect, Pencil Camera HD is a lot better compared to all those. The app comes with a collection of 15 effects, but the special thing about them is that they are all related to sketching in one way or the other. Another feature that makes Pencil Camera completely awesome is its live filters. The app allows its users to get a preview of the way their photo or video is going to look before they have even shot it. Even during recording a video, you can change the sketch effect, or tinker with brightness, contrast or focus of the image on screen.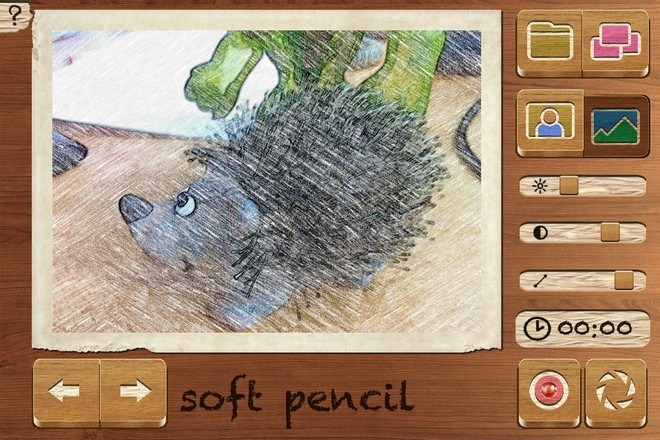 If you want to use Pencil Camera HD to snap a new photo or video, just use the app in its default mode. The preview window displays the scene in front of you, but with the chosen sketch effect applied to it. Use the arrow keys to change the effect. The name of each effect is shown in the area next to the arrows. If you can't find the exact effect you are looking for (although that's a bit unlikely, with 15 effects already present in the app), it is possible to tweak any effect slightly with the help of the 3 sliders present in the right-side bar of the app. The image aspects that can be altered in Pencil Camera HD include brightness, contrast and contour. To top all that, the app supports front-facing camera, and you can switch to it using the two buttons present in the second row of the sidebar. To let users edit images from their camera roll, Pencil Camera HD comes with the folder button at the top of the sidebar. The pink icon next to it doesn't do much, other than giving users a slideshow of edited versions of random photos stored in their iPhone or iPad, to demonstrate the full potential of the app.
The video mode in Pencil Camera HD is even more impressive than the photo one. It offers the same number of sketch effects, and you can change image effects and other qualities of the video without having to stop shooting. Pencil Camera HD is a universal app (works only in landscape mode even on iPhone), and has gone free for a limited time. If you are into photo editors, grab the app right now, and we are sure you won't regret the decision.
Download Pencil Camera HD For iOS