Penultimate For iPad Now Free; Gets Evernote Sync & Handwriting Search
Evernote is great if you want to make sure your idle scribbling and great ideas never get lost. There are times, however, when you don't have enough time to type everything. Say, you are attending a lecture, and want to make notes quickly, your inclination might be to grab a pen and use your handwriting to get the work done. Fortunately, you can use your smartphone to achieve this in a really efficient manner. Evernote offers Skitch for annotating images, but if it's a standalone sketching/handwriting app you want, give Penultimate a shot. Acquired by Evernote in 2012, Penultimate is a well-crafted, user-friendly sketching and handwriting app for the iPad. The app has just been updated with a revamped UI and Evernote integration, which includes handwriting search and the ability to sync all drawings and scribbles with your Evernote account. The character recognition makes your handwritten text searchable both from within Penultimate as well as any Evernote client. What's more, the app has gone free!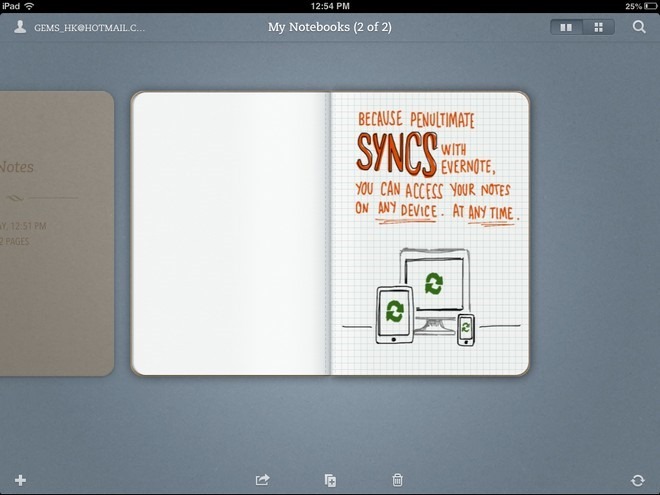 In addition to all the new features, Penultimate has a shiny new interface. Users have to sign in to the app using their Evernote account. If you are a new user, there is a ready-made notebook containing some basic instructions regarding the usage of Penultimate. You can make changes to this notebook by adding more pages, drawing over existing ones or merging two books together. All these options are accessible via the bottom bar. To start from scratch, hit the '+' icon in the bottom-left corner.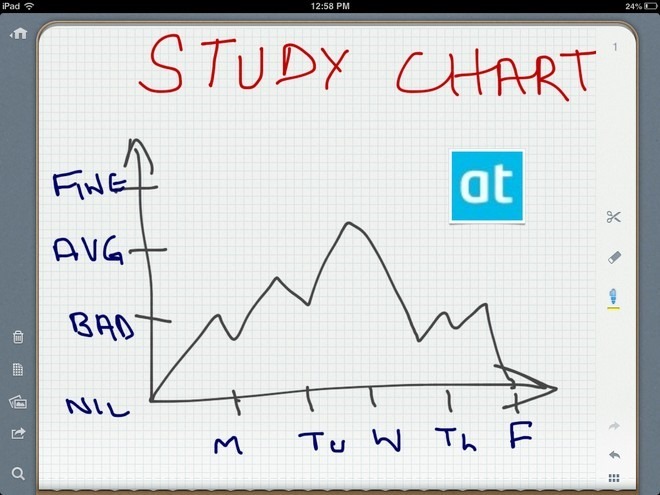 The editing screen hasn't changed much, offering options like loading images, customizable paper backgrounds and variable pen properties. To switch between pages, swipe across the bottom of the screen. It is also possible to get an overall view of the notebook by tapping the icon in the bottom-right corner of a page. There is no need to manually save anything, since the app automatically saves and sync it every notebook when you close it.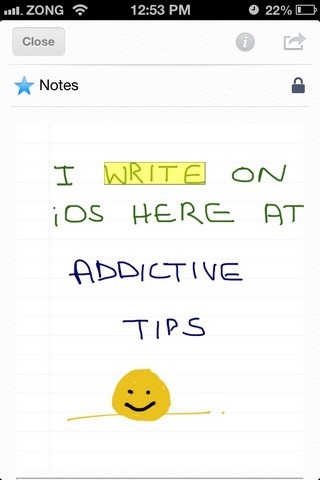 Penultimate starts syncing notebooks with Evernote whenever you are connected to the internet. There is also the option of forcing a notebook to sync using the arrow icon available on the homepage. Unless your handwriting is a bit too untidy, Penultimate and Evernote offer you the ability to search for a particular word or phrase within your sketch collection. The found text is highlighted for your convenience.
According to the Evernote team, the inks in Penultimate are now very well-suited for retina display and look very crisp on newer iPad models. Support for languages other than English has added, with the app now recognizing text in Russian, Korean and Chinese.
You can download Penultimate to your iPad using the link given below, provided is running iOS 6.