Prompterous Turns Your iPad Into A Scrolling Teleprompter For Speeches & Presentations
Unless you have a natural gift for such things, presentations and speeches require a lot of preparation. A lot of people like writing and memorizing something in advance if they are going to be speaking on a formal occasion. The longer the manuscript, the more chances there are that you will mess something up. The pages might go missing, you might forget their proper arrangement or it is possible that you want to jump to a particular part of the text in a hurry and can't find it. To avoid such situations, TV announcers and hosts use teleprompters. These devices are placed in front of speakers or presenters as a replacement for notes, so that they may appear as if addressing their audience while they're actually reading off the screen. Now, while a teleprompter might be a great idea for presentations or video podcasts, it isn't exactly the sort of item every other speaker would own. But like most other things, there's an app for that. Prompterous is an app converts your iPad into a teleprompter, lets you create new documents natively and import existing ones from the cloud or via email.
Transferring files to the app is as easy as it gets. Other than through its Dropbox and Google Drive integration, it is possible to add files to the app's reading list by mailing them to text@prompterous.com from any email ID. The service will provide you with a 5-digit code in response to each mail, and you can use that code to import the mailed file to your iPad. As mentioned earlier, Prompterous allows creating new documents. The editor on offer is simple, however, with no customization options other than font style.
The settings menu lets you customize the teleprompter functionality. You can adjust the speed of the auto-scroll, toggle the timer and countdown on or off, or tinker with color settings and text style. The changes you make in the settings are mirrored in the preview area at the bottom of the screen.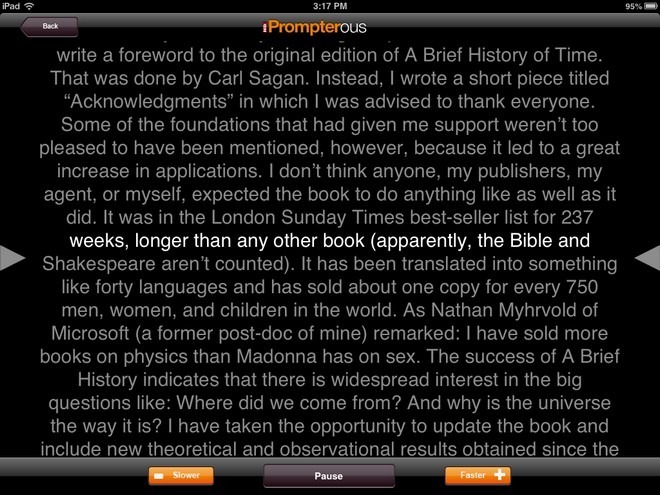 Below every document (imported or created locally) you will get the Start Teleprompter button. Tap this button, and the app will open the document in teleprompter mode, highlighting one line after the next at the speed set by you, indicating where in the document you should be reading. While within this mode, you are allowed to adjust the scroll speed or pause the text when required.
Prompterous is a must-have if you want some extra advantage in presentations, or are just looking for an easy way to look natural in your video podcasts. The app has gone free, but for a limited time, so now would be a good time to grab it.