Skimn Is A Simple But Attractive RSS Feed Reader For Your iPad
With the advent of social media, RSS feeds have become significantly less relevant for the masses, but we've been seeing several smartphone apps and web services that have proved them to be still useful for a lot of us. Google Reader has become very user-friendly, and apps like Flipboard offer great RSS support as well. Skimn is the latest player to enter this arena. Designed for the iPad, this app lets users build their RSS feed collection from scratch, and offers some neat options to manage it. There is no need to manually subscribe to a feed by looking for the RSS button on its website; you can instead discover feeds by searching for a particular website or topic, right from the app itself. To help keep things manageable, you can easily create categories, and move feeds to any position in the list. Skimn supports gestures, has a night mode and facilitates users in keeping pace with all the latest news stories in the minimum possible time.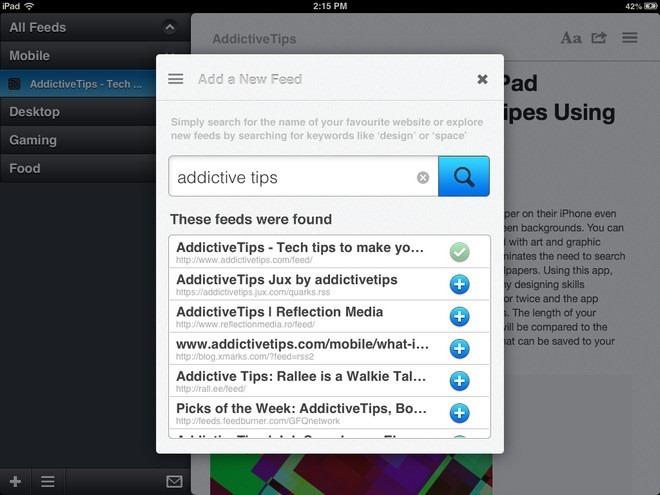 Skimn starts with a tutorial but even if you choose to skip it, the app allows you to bringing it up at a later time. To add a new feed to the app, hit the '+' button located in the bottom-left corner. The same button also houses the option to add new categories to your feed list. Performing a search for the name of the desired website or a keyword related to a generic topic brings up several results. Don't try putting a full URL in the search box though, as this isn't likely to return any suitable results. Multiple feeds can be added from the search results simply by hitting the '+' button next to each.
Once you have added a sufficient number of feeds to Skimn, you can arrange them into categories by long-pressing any feed's name and then dragging it to a new position. To remove a feed or category from your Skimn list, simply swipe across it. By default, the most recent article of the selected feed is shown on the main screen. You can read the item in detail, watch any media embedded in it, and open any contained links in Safari.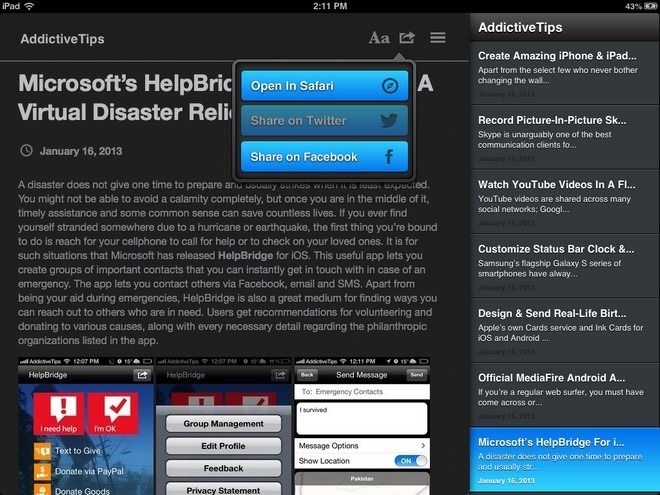 To view older posts belonging to a particular feed, swipe from right to left or hit the button in the top-right corner of the opened post. If you want to switch to night mode, tap the 'Aa' icon and use the sun/moon buttons to change the background theme. Skimn also allows users to change the text size of posts, and there is a slider available for that purpose. The share button lets you publish an article on Facebook and Twitter. You can also open the post in Safari via this menu.
You don't need to sign up for an account in order to use Skimn, which means there is no way of backing up your collection to the cloud. Also, you cannot import feeds from any external source, so Skimn is only useful if you just want a way of browsing through the latest news stories on your iPad in a clutter-free and easily manageable environment. The app is available for free and can be downloaded from the link below.