Stream Files From Your PC Or Mac To iPad From Anywhere With QuikIO
Being able to access your computer's files on your iOS device can be quite useful, even if it is only over Wi-Fi. Though wouldn't it be better if you could stream any document or media file from your PC or Mac to your iPad even when you are in another part of the world? While services like SkyDrive and Dropbox might work for you in these scenarios, most of the file formats that are not compatible with iOS won't be of any use on your iPad. Also, uploading large files is really a pain in the neck that most people would rather avoid. QuikIO is a convenient solution that allows you to stream videos, music, documents and other files to your iPad from anywhere, over the Internet.
QuikIO works over the Internet, so there are no constraints regarding physical distance. It a desktop server for the purpose, that runs on your computer. The files don't have to be converted, and you can begin using them on the iPad with a single tap without the need for uploading the whole database first! Another thing that makes QuikIO really useful is its ability to share whole folders, rather than just individual files. You can choose any folder from your computer and the app will make the files in it usable on the iPad instantaneously.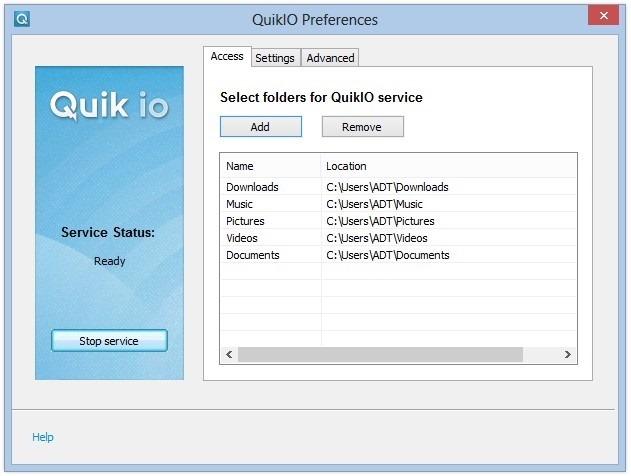 Before you can use the QuikIO iPad client, an account for the service has to be configured from the desktop application. Head to the QuikIO website to download the free server application. Registration can be done via your Google account, Facebook or email address. Once you have completed the registration process, the next step is to specify the folders that you want to access from the iPad. A few folders will appear in the list by default, but you can remove them using the button at the top.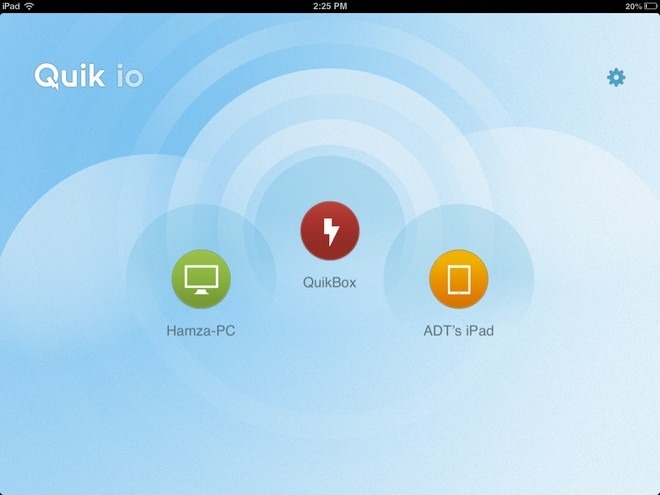 To get things working on your iPad, just sign in to QuikIO using the credentials from the server. If the desktop application is running, you can access the shared folders using the 'QuikBox' option. Since QuikIO is not a cloud-based service, you can choose to stream as many files as you want on your iPad without having to worry about running out of server space. Having said that, there is a cache limit to avoid lag on your device and you can select this limit from the app's settings. The settings menu can also be used for choosing video streaming quality.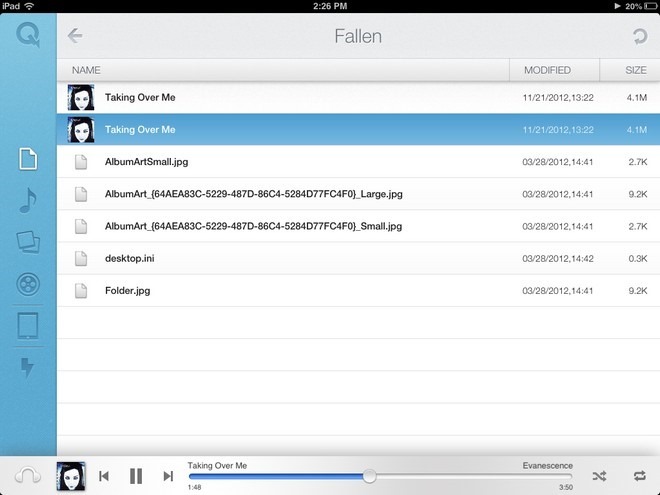 QuikIO features a music player of its own, and most popular formats (even those that aren't supported by iOS) can be streamed using the app. Music playback works in the background, allowing you to navigate to any area of the app without having to stop the track. Music controls can be accessed by hitting the icon at the bottom of the sidebar.
The app lists videos, photos, documents and music files into their own dedicated sections. These galleries can be sorted based on duration, format and the date they were added. The video player is quite simple, with options for rewind, forward, play and pause, along with a seek bar. When it comes to documents, there is one shortcoming – you can read most files but editing is not possible (although there is an option to export files to other apps in your iPad). However, considering the purpose of the tool is to give you access to information that's there rather than provide you with a remote document editing suite, this doesn't really impact the app's utility.
If you have friends who are also using QuikIO, you can share particular files with them using the 'QuikSend' feature. The best thing about QuikSend is that you don't have to upload whole file to the cloud, as the recipient can stream the file from your computer's server directly. This makes it suitable for scenarios where you are sharing something you wouldn't want to upload to any third-party server.
QuikIO is a new release in the App Store and is free for a limited time. Grab it as soon as you can, since having such a unique capability for your iPad without having to pay anything is really a golden opportunity.