Browse & Collect Getty Images On The Go With Thinkstock For iOS
Getty Images has been synonymous with stock photos for quite some time now. The service is among the first destinations that spring to mind whenever you need a photo for your publication, website or projects. There are other, cheaper alternatives available out there, but none of them possess the quality and quantity on offer in Getty. Some high quality services like 500px can cater to some users, but are somewhat limited in their usefulness. Getty Images has such a staggeringly vast collection of media at its disposal that in 2010, Thinkstock was created to make it easier for users to find and purchase royalty-free images. While Getty already has its official app on the iPhone, now you can finally use your Thinkstock account on the go as well, thanks to the service's newly released official iOS app.
Thinkstock by Getty Images can be used to browse through the editor-curated gallery section of the service, or perform a manual search to find a particular image. Although it not mandatory but to get the most out Thinkstock, you should sign in and link your Getty account with the service. New users even get the option to register for a free Thinkstock account right from within the app. Registration requires your email address, full name, and a new password.
The 'Gallery' section displays an endless stream of images that are handpicked by the Thinkstock editors, or are popular on the service at present. To view a photo in full, just tap its icon once. On every image's dedicated page, there is additional information like associated tags, the title, name of the photographer, and the source of the image. To share the picture with others, hit the arrow icon located in the top-right corner, which exports a watermarked version of the image, along with other details, via email.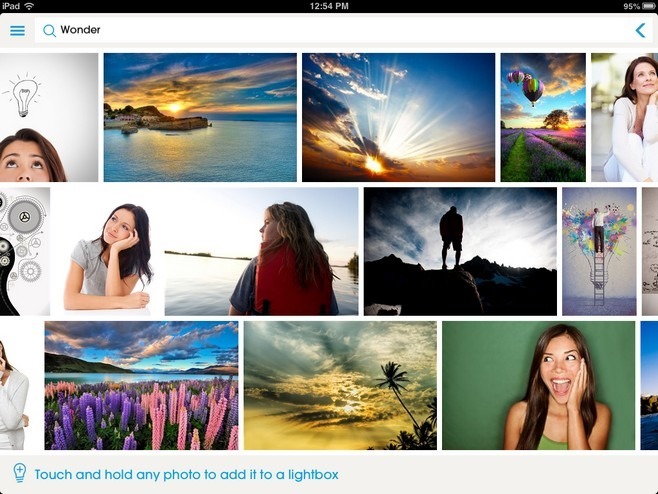 Photos can't be downloaded or bought from within the Thinkstock app, but you can still add any image you like to to your 'lightbox'. This lightbox acts as a folder for images that have been bookmarked by users for future reference. Lightboxes are only available if you are signed in to your Thinkstock account. It is even possible to create multiple lightboxes for easier photo management. Thinkstock is a smart app and syncs your search history with the account, along with your lightboxes.
Thinkstock is a free app, and can make life easier for all users of the service. Give the universal app a go by heading to the following link.
Install Thinkstock by Getty Images from App Store