TinPlayer Is A Nifty iOS Media Player With Built-In File Management
If you've been using iOS for a while now, it's likely the hassle of waiting for iTunes to convert unsupported media files has forced you to look for an alternative to the stock Music and Video apps. There are tons of media players out there that'll let you play a host of formats, but few of them sport as flexible a built-in file manager as does TinPlayer. In addition to basic management features, it allows password protection for individual media files and lets you edit their metadata. The player combines files from your iTunes library and its own storage, has lyrics and subtitles support, easy playlist management and nifty alternative playback controls optimized for one-handed usage.
The interface is divided into three separate sections for file management, videos and music, that you can easily switch between using quick swipes.
When it comes to music playback, the app supports many popular formats, including but not limited to MP3, WAV, WMA and FLAC. Album art and lyrics display is supported. You have to tap the screen to view lyrics in portrait mode, while switching to landscape shows them by default. You can sort your library based on artist name, albums or song titles. An option to search for a song would have made things even better, as presently the only way of finding a track is to manually scroll through the whole library.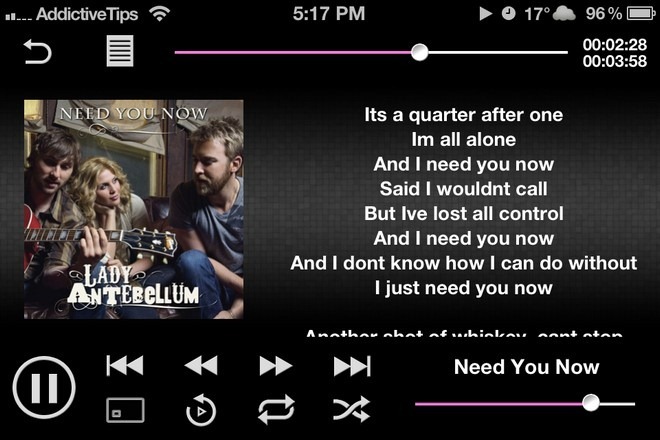 TinPlayer lets users create playlists easily by specifying their prefered albums or artists. These playlists can contain both videos and music. The video player supports most popular formats including MP4, AVI, MKV, WMV and more, and lets you watch 720p and 1080p videos in the aspect ratio of your choice. Subtitles are also supported in SMI, SAMI, SRT and other popular formats.
The media player in TinPlayer has two types of controls. The detailed view includes buttons for loop playback, choosing aspect ratio (if a video is being played), playlist management, shuffling and controlling subtitles. The minimalistic edge UI controls appear wherever you tap on the screen, and consist of only pause/play, forward/rewind and volume options.
Files can be transferred to TinPlayer via iTunes. Transferred files show up in the 'Documents' section. Although the section is primarily meant for media file management, you can use it to store and manage any sort of file. File management options offered by TinPlayer include file renaming, password protection for all or individual files, and viewing attributes like file type and size. It is also possible to create, modify & delete folders & playlists, toggle file thumbnail display, sort files, search the file list by keyword, and lock files & folders.
Though we'd love to see an iPad variant, the app is only optimized for iPhone and iPod touch devices for now.