Yahoo! Sports Comes To iPad, Gets Better Live Coverage On iOS, Android
Yahoo! might not be the most active publisher on Google Play or the App Store, but apps released by the company rarely disappoint nowadays. Yahoo! Weather, Yahoo! Mail and Yahoo! News have all been enjoying considerable success on both iOS and Android. When it comes to sports, there are already genre-specific apps like Yahoo! Cricket available, but if you want all the goodies in one place, nothing beats having Yahoo! Sports on your device. The app has the ability to let users define their preferences, so that updates from across different leagues and countries show up in a unified and neat manner. The app has never been bad in the first place, but its latest update might have made it just about perfect. For one thing, the iOS variant is finally optimized for the iPad, and the app also supports logging into a Yahoo! account for anyone who wants to use the Sports app on multiple devices. There is a dedicated section for live games as well, so that you don't have to jump between different screens to get the latest scores.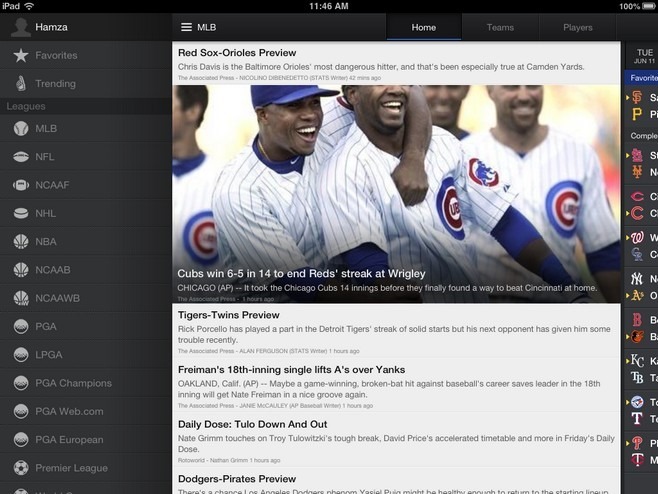 If you want all your preferences and usage history saved for good, tap the menu icon in the Yahoo! Sports app and sign in using your Yahoo! credentials. Now you can easily login using the same account whenever you are switching to a new device or want to make your data available across multiple phones (or even platforms).
Although the Yahoo! Sports app's changelog claims that the new UI is easier to navigate, it looks a bit cluttered to us. On the other hand, it is pretty easy to switch between the news feed and scores, as the sections are separated quite conveniently.
When it comes to following games, Yahoo! Sports has definitely improved by a large margin. The 'Live' tab located in the 'Trending' section does not differentiate between ongoing games from different competitions, and shows them all in one place. On a game's dedicated page, there are live tweets from experts to keep things spiced up. Yahoo! Sports' latest update focuses specially on baseball, and all MLB games now contain pitch-by-pitch updates.
While a lot of decent features have been added to Yahoo! Sports, the live chat that was previously quite popular among users has been taken away. If you think this a fair tradeoff, head to the appropriate link for your platform below and grab the updated Yahoo! Sports app for free.
Download Yahoo! Sports for iOS
Download Yahoo! Sports for Android