Youmiam: Swipe through Instruction Cards When Following A Recipe [iOS]
It's not the weekend just yet but my search for an app and my impulse to cook something new on the weekend collided today. I found Youmiam for iOS. It's an app that gives you hundreds of recipes to browse and if you've so much as ever looked up how to make an omelette, you know that there are numerous sites that list lots of recipes for you to browse. It's no reason to install an app. What sets Youmiam apart is the cooking instructions and they are presented. If you have an iPad in the kitchen, Youmiam is going to make following recipes really easy. Apart from the easy to follow instructions, the app lets you search recipes and create a shopping list of all the items needed to prepare a dish.
You need to sign up for an account to use Youmiam but it also offers Facebook sign in. Swipe right from any screen to bring up your profile and access other tabs like your shopping list. Swipe left to view recommended recipes, and access search.
Tap a recipe you'd like to try from the list of those recommended or searched for. When the recipe opens, scroll down to view what type of dish it is, how many people it is for, and how long it takes to prepare. Swipe right on this information card to view the ingredients needed to make the dish. To add all ingredients of a recipe to your shopping list, tap the shopping cart icon just below the completed dish's photo. You can favorite it or remiam it as well.
Once you've got all your ingredients and it's time to get down to cooking, open the recipe and tap the photo that, you will notice, has a play button. This is where you fall in love with the app. All ingredients needed in the first step of the recipe are shown above the instructions. You can swipe to the next step where, like this one, the ingredients needed are beautifully displayed and the instructions are written in large lettering. This beats the bullet list of instructions that I follow any day because I'm frequently losing my place and have to see which step I have to follow next. It's tiring to say the least.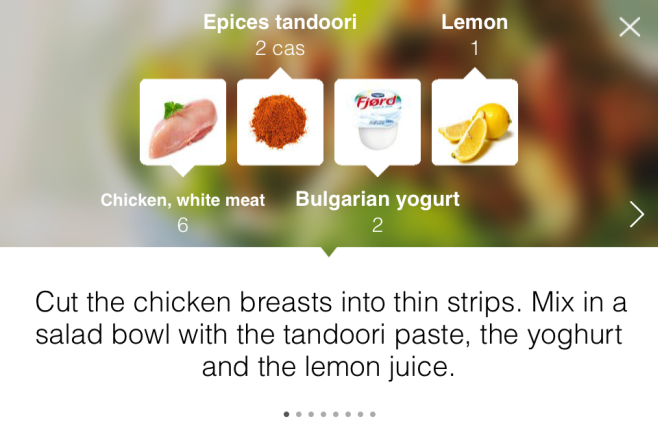 Recipes can be shared but you can't edit your shopping list so if you've already got carrots at home, it's up to you to remember that and not buy more at the store.
Install Youmiam From The App Store