AppyDays: Discover Free & Discounted Apps For Mac, iPhone & iPad [Mac]
The Mac App Store that debuted in Snow Leopard and reached 10,000 apps early this year not only gives developers an excellent platform for distributing their work, but also  provides users with a single place for finding apps. The Mac App Store, like its iTunes conuterpart, has just about everything you would need to find a good app, and there is little reason for anyone to develop an alternative. AppyDays is a free Mac App that finds free and discounted apps. The program is no an alternative to the Mac App Store, nor is it a repository for other Mac apps; rather, it is a search tool for them. You can search apps by category and then narrow the search down by rating and price. Apps for Mac, iPhone and iPad can be searched for, with a special filter for finding free apps.
Interface wise, the app is divided into two panels. The left panel lets you choose which platform you want to search, i.e., Mac, iPhone or iPad. You can enter a name for a specific app in the search bar as well. Search for Free, Paid or both types of apps by selecting the relevant buttons, and pick a category from the dropdown menu. By checking the Show Popular Apps Only option, you can refine your search to show only top apps. Search can also be narrowed down by app rating. You might not want to see apps with low ratings when you search, so to filter them out, choose which rating you would prefer an app to have before you begin your query.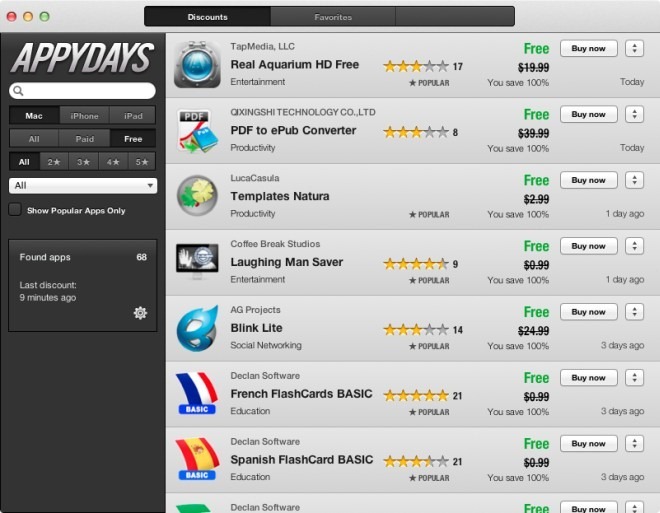 The app might take a while with the search, but it is accurate. For discounted and free apps, it shows how long it has been since the discount started. AppyDays doesn't tell you, however, how long a particular app will remain free. When you click Buy Now next to an app, it redirects to the Mac App Store. You can alternatively choose to mark the app as a favorite, or choose to ignore apps from a particular developer. Marking an app as Favorite allows you to see it in the Favorites tab. The tab is located at the top next to Discount. Apps can additionally be shared on Twitter, or their link can be copied for sharing else where.

AppyDays's preferences let you choose which currency – Dollar or Euro – should app prices be displayed in. You can choose to hide apps developed by developers you've decided to ignore, and select an interval for purging its cache. The cache, which is cleaned daily by default, stores the information for apps. You can keep the cache around for a maximum of 2 months. It is best to purge it regularly, so that you always see the latest prices.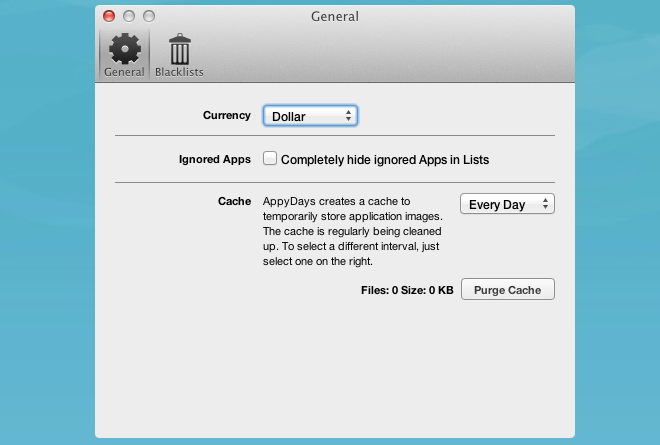 For Mac users, AppyDays is most useful in finding discounts and apps that have gone free. The ratings filter is yet another advantage. Of course, it isn't going to replace the Mac App Store in any way, but will make it easier to find free or low-priced apps.
Get AppyDays From Mac App Store