Color Picker Pro: Quickly Pick Colors And Get Color Codes [Mac]
The task of finding the right set of colors for graphic design project is not only tiresome but also takes too much of time. The best method to check the color shades is to use a color picker which has the ability to precisely pick color shades off the screen, save it in a list, and generate HEX color code. Color Picker Pro for Mac OS X includes useful color picking features that will aid graphic designers in choosing appropriate range of color shades for their professional graphic design projects. The application gets accurate color code of any pixel on the screen that your mouse pointer hovers over. To help designers, it allows copying color code to clipboard which can be pasted via user-defined hotkey combination in any workspace. Additionally, it lets you work with multiple-monitors setup and choose color style according to their liking.
After installation, it sits in system menu bar with small box showing the color of focused pixel on the screen. You can move the mouse pointer around to quickly the get the color shade in that color box, however, to find the color code or copy it to pasteboard, you will have to click Color Picker Pro icon. By default, it sets command-shift-p as hotkey combination to copy the color code to clipboard, but you can replace it with custom shortcut key from Preferences.

The application can be freely moved on the screen. You can place it alongside a graphic to view and copy different color shades to clipboard. When you use the default color code copy hotkey combination, it adds the color to main interface. This helps you view and access color codes for all previously copied colors.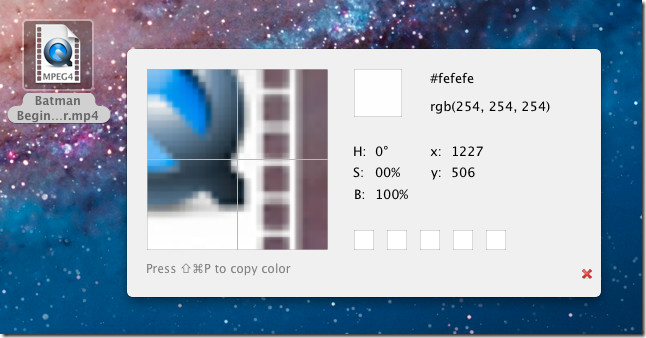 To access settings, click Preferences from Click Picker Pro menu in menu bar. From the Preferences, you change the default HEX color code format to rgb, HEX2, cmyk, UIColor, or NSColor code format. You can also hide Color Code Pro icon from menu bar and change the default color code hotkey combination.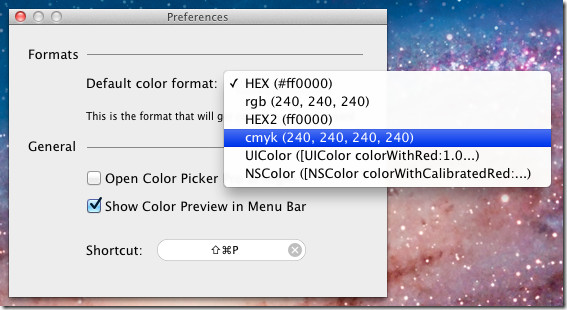 Color Code Pro is a small yet handy color picking application for graphic designers. It runs on Mac OS X 10.6 or later.