Completely Uninstall Application Or Program In Mac OS X
In late February I talked about a way to reinstall trial software after trial period has expired. The trick was to remove all such registry items that a software would leave behind in Windows. One user wanted to know whether there is any Mac OS X tool that can completely eliminate the traces of an installed application.
Meet AppCleaner, it is a free tool for Mac OS that allows a user to remove all traces and scattered files of an unwanted application. There are many similar tools out there(but cost some bucks), this tool however gives all other programs a run for their money. It is a simple and straightforward tool, just drag&drop the application and it will display all files related of this app, click Delete to remove them safely.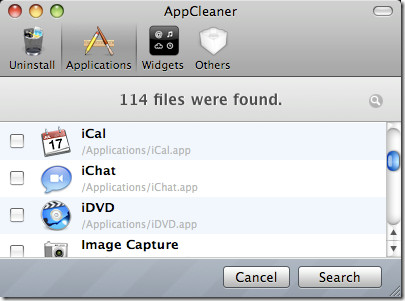 You can also prevent your favorite apps from getting deleted. It keeps a log of all apps and their files that were deleted. When you move an app to the Trash, it will automatically offer you to remove it properly. It works with Mac OS X Version 10.4 and higher. Enjoy!