CornerClick: Assign Any App, File Or Action To Mac Hot Corners
The default Hot Corners in OS X Lion allow you to start the screensaver, disable it, launch Mission Control, View Application Windows, Desktop, Launchpad or put your system to sleep. Barring the screensaver, you can perform these functions via gestures as well (provided you have a Trackpad). What would have been more useful is to be able to launch any app using one of these Hot Corners. CornerClick is a free Mac app that lets you do just that. You can pick any one of the four Hot Corners, and associate it with a file, an app or multiple apps. When you drag your mouse to the specified corner and click it, the apps or files you've associated with it are launched.
The app installs a preference pane where you can configure all the hot corners. Once installed, go to System Preferences > Others > CornerClick. Go to the Actions tab to set up your hot corners. Select one of the corners and click the plus button to add an action. You can select a trigger key that you will need to hold down when you click the hot corner, or you can set it to work with a simple click. From the Action drop down, choose what you want the selected corner to do. You can set it to hide the current application, hide all other apps (and not the current one), run an Apple Script, view all active windows or all active apps, or the desktop, launch the Dashboard, start the screensaver, open a file or open a URL.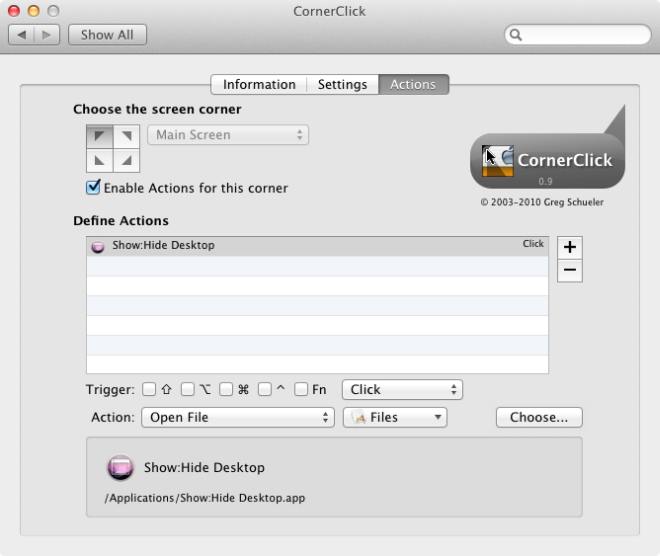 To add apps to a corner, select the Open File action from the Action dropdown. Click Choose and select the app you want to launch. Click the plus sign again, and add another app the same way. Finally, go to the Settings tab and check the CornerClick is enabled option. You can also select how long you have to hover the mouse in the hot corner to activate it, and the color the corner will be highlighted with.

CornerClick lets you set several apps to launch at the same time from the same corner, or multiple apps that launch separately via a trigger key that has to be pressed when you hover the mouse in the hot corner. When a trigger key is pressed, only the app(s) associated with it appear. If you've ever wished you could do more with hot corners, this app should help you along a lot.