Gmail Notifr: Check For New Emails In Multiple Accounts [Mac]
We've covered quite a few apps that allow you to monitor your Gmail account from the Mac menu bar. MailTab for Gmail was just one of the apps covered that gave you complete access to you inbox, and BackUp Gmail allows you to backup messages in your inbox to your hard drive. Gmail Notifr is a simple app that lets you periodically check for new email messages from the menu bar. The functionality isn't really something to get excited over, but the app lets you monitor new messages from multiple accounts. You don't have to sign in and out to switch between them; the app lets you add any number of both Gmail and Google App accounts and check for new messages either individually or collectively.
The app adds an email icon to the menu bar where you will first have to visit the app's preferences and set up an account(s) from the Accounts tab. Click the plus sign and enter your email and password. You can select how often the app will check for new messages for each account when you add it.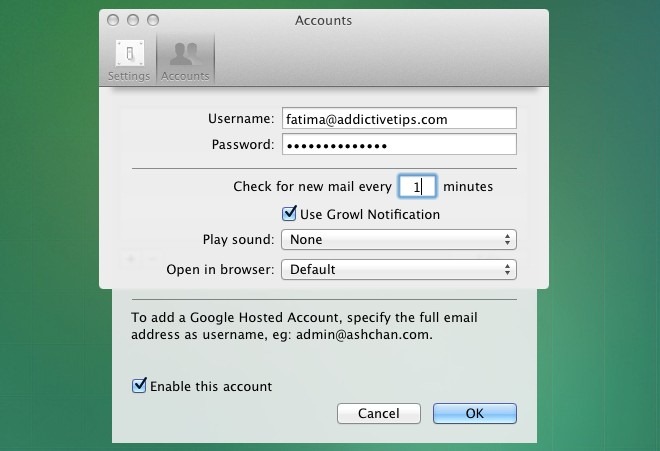 Once you've added an account, click the app icon in the menu bar and you will see all added accounts listed in the menu. You can disable an account or force the app to check for new emails from an account's sub menu. Alternatively, you can force the app to check for new messages in all accounts by clicking Check All.

When the app checks for new messages, either by force or as per the scheduled time, it displays the number of unread messages in the menu bar and also gives your Growl alerts if you've enabled them.

Since the app rests wholly in the menu bar, there is no drop dead gorgeous interface that's reason to switch to this app or to start using it, but the fact that it supports multiple accounts and is free is a deal maker.