How To Change Default Screenshot Image Format [Mac OS X]
We at AddictiveTips pay special attention to the quality of our screenshots, and ensure that they are clearly visible and of reasonably large size, while keeping the file size acceptably small. Format of the screenshot plays a vital part in determining this. While it is possible to change the format of any image file using third-party tools, it can be time consuming to execute this.
Having a screenshot captured by default in your desired format can be a huge plus here. The Mac OS has had an evolving history of screenshot formats over time, with PNG coming in only after Mac OS 10.4 and later. Still, a better variety of formats cannot hurt, can it?
ScreenMat is a free, portable tool for Mac that allows you to change the default screenshot format. Grab the file, extract and run. Select your desired format from the dialog box and that's it.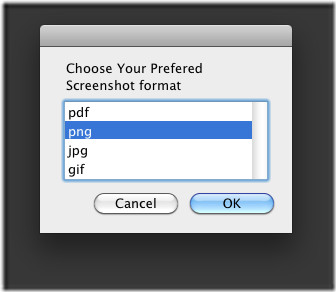 Next time you take a screenshot, the format would be the one you selected. Efficient and simple.