Quick Tweet: Use Hotkeys To Quickly Tweet From Your Desktop [Mac]
If you're active on Twitter, it's likely you've often had the thought, "I have to tweet this real quick." If you use Twitter from its web interface, you will likely have to go through a few clicks to post a tweet. It is a much shorter process if you use a good Twitter client; however, if your main concern is to tweet and you aren't interested in having tweets pop up as they happen on your screen, Quick Tweet is a free Mac app that will let you stick to the said part only. The app has one purpose only, getting your 140 character message out to your followers. The interface is minimalistic, and can be toggled via s simple keyboard shortcut.
When you launch the app, a small circle with Sign in written on it will appear. Click it, sign in to Twitter via its web interface and allow the app to connect with your account. Quick Tweet will access your profile image and the small circle will be replaced with your Twitter display picture. Click the circle, and a box will open where you can key in your tweet. The app shows characters remaining until you reach 140. Click Send to tweet or Cancel to close the box.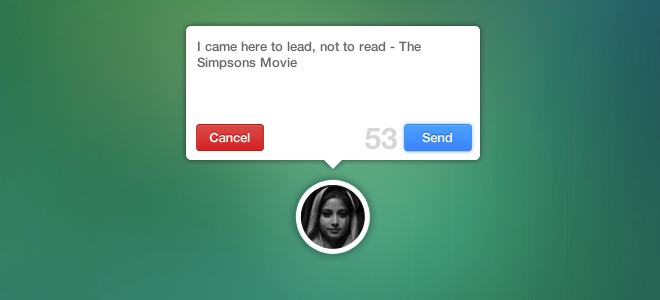 This circle will, by default, remain on top of all other app windows. Since it is small, it isn't obtrusive. If you want it to be hidden in the event another app is active, right-click either the circle or the app's icon in the menu bar and uncheck Keeps Panel on Top. To toggle the tweet box open/close, use the Option+Command+N hotkey.

The app isn't meant to view or monitor your Twitter feed, and it provides absolutely no notifications of your account activity. The sole purpose is for you to tweet and get on with your work.
Download Quick Tweet From Mac App Store