View Email Notification Alerts For Select Accounts In Mac OS X
The Notification Center in Mountain Lion is one of its best features but so far, it offers little customization at the app level. You can only choose which apps to receive notifications from and can't select whether you want a notification for each event / action of the app, or just a few select ones. This limitation is most obvious if you've added more than once account to the Mail app. By default, you receive a notification for new emails received on all accounts. If one of those accounts is your personal account that you don't want to be bothered with while you're working, these alerts can be less than welcome. While there isn't an official way in Notification Center to customize notifications for each account, you can work around this one with the Mail app by making use of Smart Mailboxes.
Let's assume you have two email accounts added to Mail; an official one and a personal one. Let's say you want to view notifications for when you get a new email on your official email, and not get bothered with email alerts from your personal account.
Open the Mail app and create a new Smart Mailbox with the 'Message is in Mailbox' condition, and select the inbox of your official account (the one you want to receive notifications for). Click OK and then proceed to Mail's preferences.

In the 'General' tab in Mail's preferences, select the Smart Mailbox you just created from the 'New Message Notification' dropdown. That's it – you will no longer view notifications for your personal account, as you've effectively excluded it from the Smart Mailbox, which is the only one that alerts are enabled for.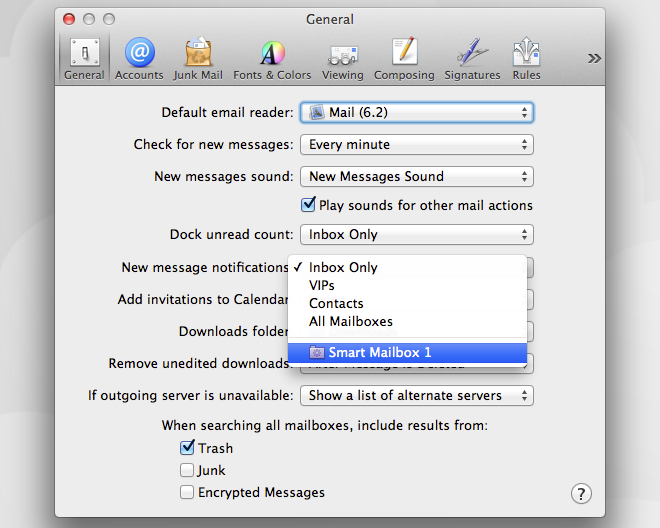 This should work if you're dealing with two accounts only. Let's expand the test case and assume that you have  four email accounts added to Mail, and would like to view notification for only two of them. This same method will be followed, with a small change when you create the Smart Mailbox. Instead of entering a single condition for 'Messages is in Mailbox' for one account, add this condition once for each account that you want to receive the notification for, and follow the rest of the procedure as it is.
This is a simple hack and if you normally shy away from hacks altogether because they might involve Terminal commands, you will find  this does not require any and is both easy to implement and reverse. You can change the setting back by either deleting your Smart Mailbox, or disable it temporarily i.e. go back to getting notifications for all new messages by changing your selection in Mail's preferences.