Wedge Is A Mac App.net Client With Customizable Hotkeys & Notifications
Ever since App.net introduced its free, invite-only subscription option, desktop clients for the network have been popping up. Kiwi is one of the more popular ones that debuted early on, and App.net Passport released by App.net itself is popular on the iOS platform as it gives you instant access to the a free App.net account. Wedge is yet another ADN client for OS X that lets you view your news stream, direct mentions, messages, interactions, the global App.net stream all in separate tabs. You can also search App.net for users or posts by hashtags. This is pretty much a run-of-the-mill list of features for an App.net client; what sets Wedge apart is the large number of keyboard shortcuts it supports. which are all fully customizable. It also integrates with Notification Center and gives you a lot of freedom to choose what activity you receive notifications for. Lastly, the app adds its icon to the Menu Bar that toggles the Wedge window by default, but can be set to open the compose new post box, and to indicate when there is new activity.
Note: Don't have an App.net account? No problem! Here's a free App.net invite from us. If you already have an account, follow us!
Wedge opens your personal stream by default and it updates automatically, though you can choose how it should behave when there are new posts. To post to the network, click the plus sign and compose your post in the compose box. Click your own profile picture to view a summary of your profile and your activity. You cannot edit your profile using Wedge.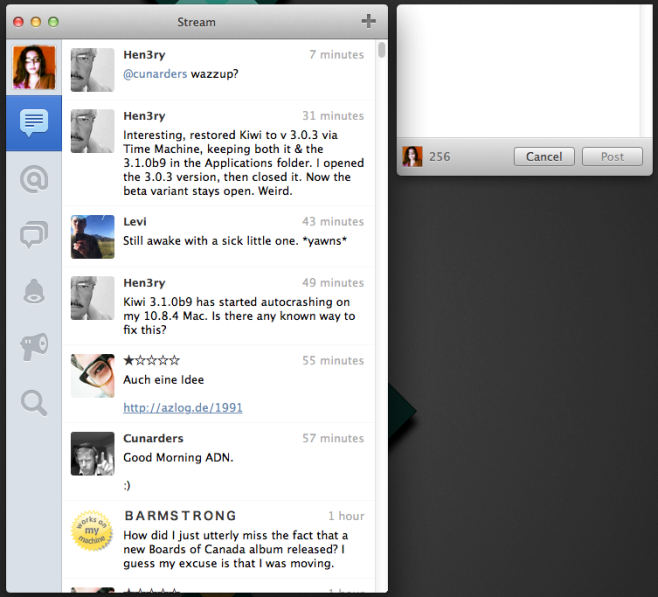 You should feel at home on the 'Mentions', and 'Interactions' tabs if you already use App.net, though not many clients separate the two.
The 'Global' tab lets you browse posts by the entire App.net community and has no language filters. The 'Search' tab is further divided into two other tabs, once each for searching for users and searching posts by hashtags.
To see what the real deal about Wedge is, visit the app's preferences. The 'Appearance' tab allows you to select the font type and its size, choose the color of the side bar, and view users by their full name, user name, or both. The 'Keyboard' tab is where you can manage your shortcuts for everything from accessing your drafts, composing a new message or post, replying to a post, viewing a conversation, moving between tabs, and minimizing, closing, and zooming in on the window, to name just a few.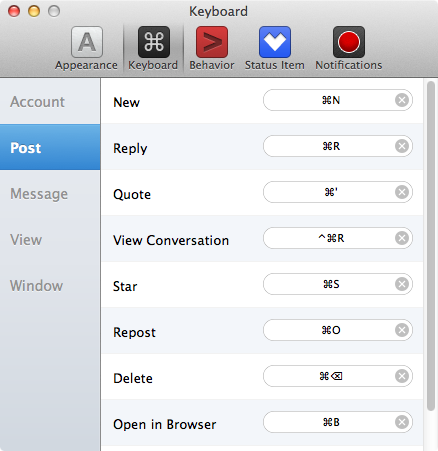 The 'Behavior' tab lets you select what the app will do when there are new posts in a stream. It can scroll to the top to show you new items, or stay fixed at your current position. It can also show your mentions in your home stream as well as open links in the background.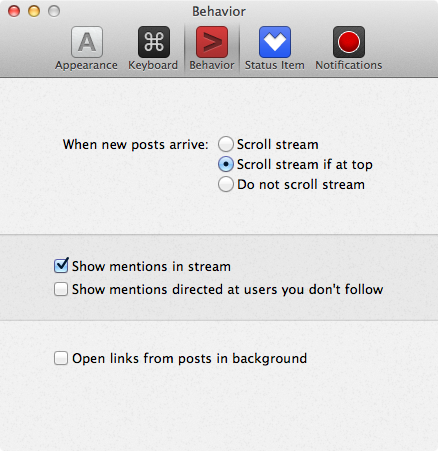 Wedge adds an arrow-like button to the Menu Bar and by default, it only hides/unhides the app's window. However, you can have it open the compose post window or show a menu of all tabs. Additionally, the button can indicate activity when you've been mentioned in a post, or when you have new posts in a stream.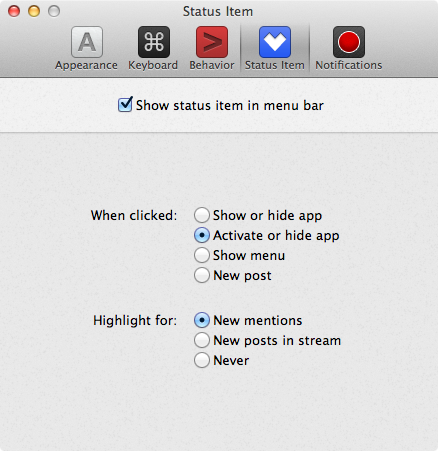 Lastly, the 'Notifications' tab lets you choose what type of activity you should receive notifications for. You can enable it for mentions, new posts, when one of your posts is starred or reposted, and when you get a new follower.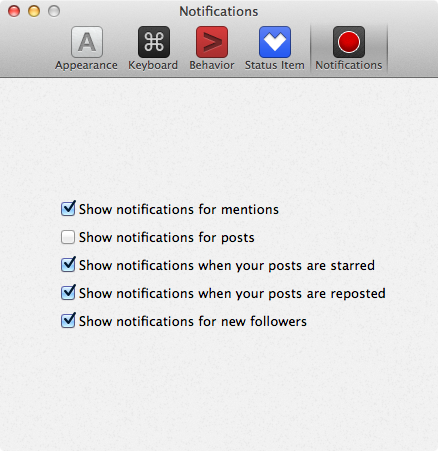 Wedge is very simple on the surface but as we said, it's the level of customization it offers that makes it stand out from the competition.