Windownaut For Mac OS X: Window Management via Keyboard Shortcuts
Window management in OS X is something that third-party developers have been trying to fix for quite a while. Assigning apps or windows to desktop spaces is the Apple way of doing it, but honestly, that is focused more on capitalizing on the full screen feature in Lion rather than to help utilize display real estate when working with wide screen monitors. Windownaut is yet another one of those remarkable window management apps for Mac, worth $4.99, which rely heavily on shortcut keys and allow you to define a shortcut for each region that you can move a window to. Understandably, it isn't easy to remember so many shortcuts, which is why the app has the added feature of viewing the different layouts along a window's title bar.
Windownaut has to be set up from its preferences before you can start snapping windows anywhere. Start with Windows Layout and check the Enable option under Layout Shortcuts. For every single layout, you can now define a shortcut. Remember to keep them simple so they are easy to recall. Additionally, Windownaut has easy resizing options for windows that you can enable – not something that's exactly broken in OS X, but the app makes it somewhat more convenient.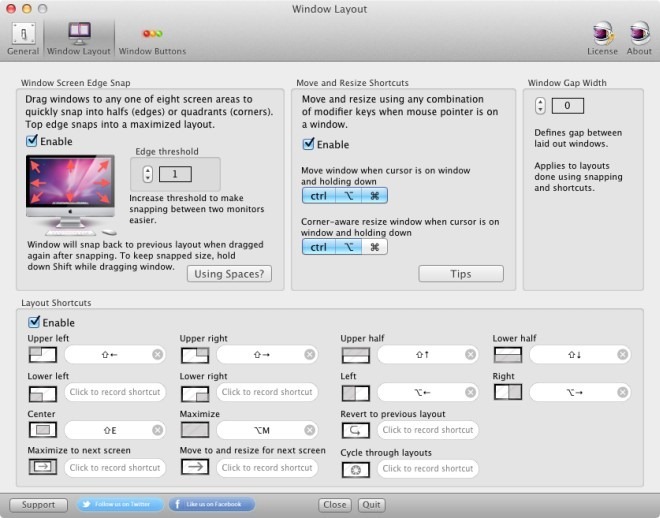 The second step in setting the app up is to visit the Windows Buttons tab. Here, you can modify what right-clicking the traffic light buttons on a window does. The only option you should enable is the Show Layout Selector option. It is best to set a trigger key like the option or shift key. All other options are up to your own discretion to configure.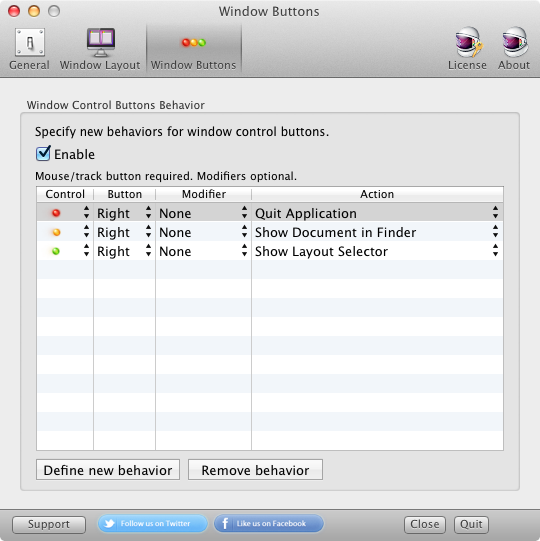 You can now start using the shortcut you've set to snap windows anywhere to your screen. For the Show Layout Selector option that you have set, hold down the trigger key and right-click the respective button. You will see a floating bar appear with each one of the window layouts separately displayed. Click a layout, and the window will snap to it.

Windownaut adds an astronaut's helmet to the Menu Bar, and you can access the app's preferences from it. Visit the General tab in the preferences to hide this icon. You will have to relaunch the app whenever you want to access its preferences. From the same tab, you can set the app to start up at login and manage its updates. Overall, it works without any glitches and is excellent for managing windows even across desktop spaces.