We are reader supported and may earn a commission when you buy through links on our site.
Learn more
Best Kodi Add-ons for France that Work
If it's French video content you're after, then consider making use of Kodi and its myriad ecosystem of add-ons. Today, we review the best official and unofficial add-ons where you view French-language streams. It's easy, and you don't even have to live in France to make it work. We show you how below.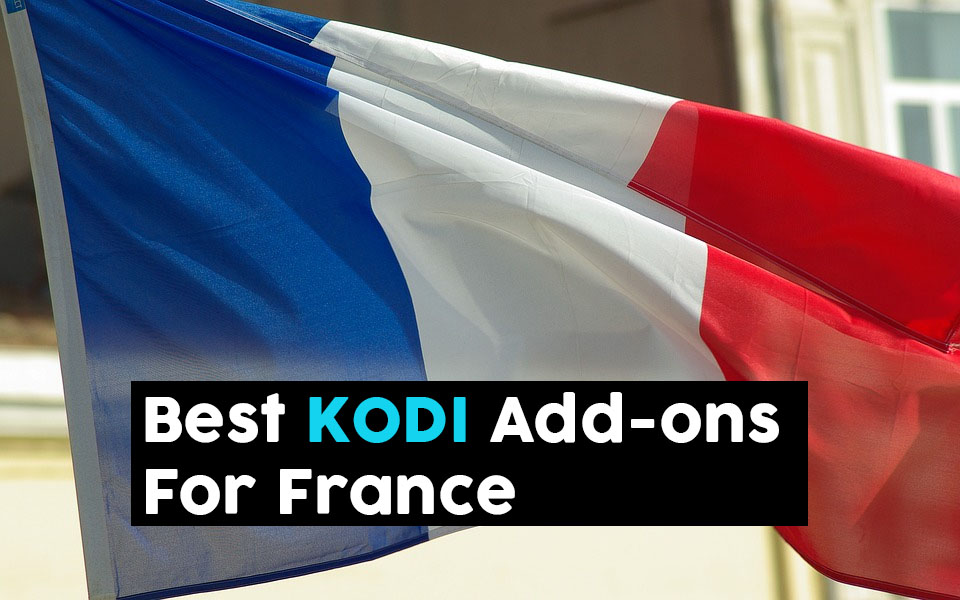 Kodi's open-source environment makes it easy for fans to create add-ons for all manner of purposes. Some focus on blockbuster movie content, others old films or classic TV shows. A few creators make it their goal to help others get the most out of their Kodi experience. Some of the best add-ons make it easy for anyone in France or French-speaking people around the world to watch their favorite films in their native language. Check out our guides below to gain access to all the best Kodi add-ons for France to see what you might be missing!
30-days money back guarantee
Before Using Kodi, Get a Good VPN
The core Kodi software is free to use and completely legal. Because it comes with built-in support for third party extensions, however, it's possible you can run into some less than reputable code. Some add-ons even access pirated sources without your knowledge, which has gotten the attention of governments and rights holders in recent years. Many ISPs have resorted to monitoring Kodi streamers to send out copyright infringement notices or throttle their download speeds.
There are many VPNs to choose from, but we made our selection based on the following criteria, ensuring you have the fastest and safest VPN for all of your movie watching needs: fast downloads, zero-logging policy, no bandwidth restrictions and unmonitored traffic.
NordVPN – Best VPN for Kodi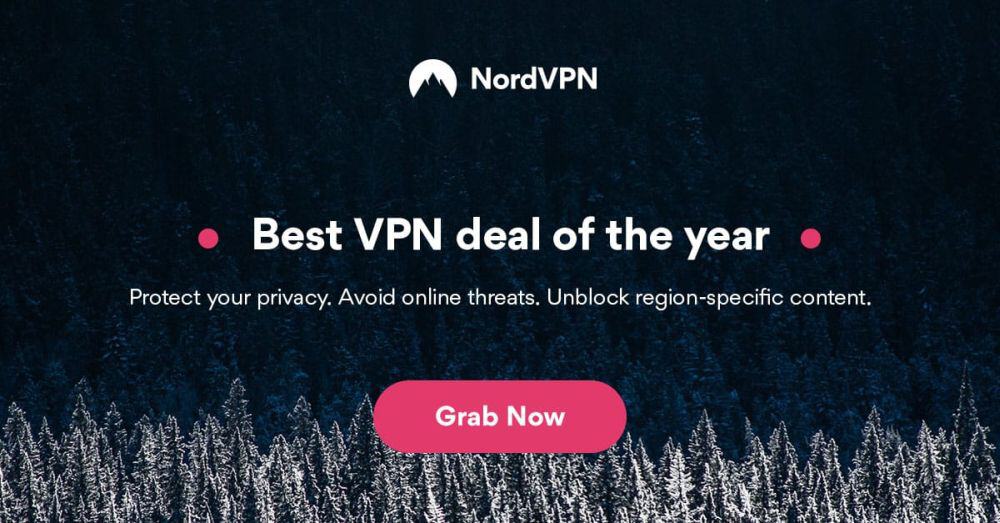 NordVPN greatly expands upon Kodi's ability to access streamable content from abroad. Normally, you're restricted to viewing content available in your country, but NordVPN's massive server network (numbering more than 5,800 servers) blows the lid off this restriction. With nearly 200 servers located in France, you'll have no problem digitally relocating to bypass geoblocks and satisfy your inner Francophile with hours of quality video.
What's more, NordVPN's powerful 256-bit AES encryption makes it impossible for your ISP to stop you. It's well known that ISPs take a dim view of Kodi, and will attempt to throttle it as it appears. But your VPN completely hides your IP address and your traffic, essentially making you invisible to censorship and unfair restrictions. Their proprietary NordLynx protocol is not only secure, but blazing-fast, so you never have to wait around for that obnoxious buffering wheel to stop spinning.
Rounding-out NordVPN's outstanding feature set is the most important of all: a strict no-logging policy that wipes, rather than retains, any usage metadata which could be used to identify you.
Read our full NordVPN review.
Pros
Unblocks US Netflix, iPlayer, Amazon Prime and other streaming services
Extensive server park of over 5,400 different servers
Torrenting/P2P explicitly allowed
Retains no metadata of your browsing
Great customer service via chat.
Cons
Some servers can have average d/l speeds
Apps can sometime be slow to connect.
How to Install Kodi Add-ons
Kodi's add-ons community packages most of their content in repositories. These zip files are hosted on external servers and can contain dozens or even hundreds of extensions, all verified and kept up to date by the repo's management team. There are several ways to install repositories, but we prefer the "external sources" method, as it's easier to use on mobile devices and keeps things tidier in the long run. Before you begin, you'll need to change one of Kodi's default settings to allow this method to work:
Open Kodi and click on the gear icon to enter the System menu.
Go to System Settings > Add-ons
Toggle the slider next to the "Unknown sources" option.
Accept the warning message that pops up.
Now that Kodi is configured, all you need to do is find a repository URL and enter it into the file manager as a new source. Kodi will automatically download the repo, allowing you to peek inside and install as many add-ons as you like. The process takes a few minutes the first time around, but after a couple of repos you'll be adding them in your sleep.
Note: There are both official and unofficial add-ons available for Kodi. The latter may link to unsecure sites or even source pirate content without your knowledge. Addictive Tips does not condone or encourage any violation of copyright restrictions. Please consider the law, victims, and risks of piracy before accessing copyrighted material without permission.
Best Kodi Add-ons for France – Official Content
The Kodi software environment is used and customized by video streamers around the world. Many of them create and maintain official add-ons that are fully endorsed by the Kodi team, making them fast, free, and completely safe to use. Most of these are even packaged in Kodi's official add-on repository, which is included as a source with every new installation.
All of the official add-ons listed below can be found in the official Kodi repo. When installing new content, refer back to the following steps to access the repository, then grab your add-ons with just a few more clicks.
How to Install Official Kodi Add-ons:
Open Kodi on your local device and go to the main menu.
Select "Add-ons"
Click the open box icon at the top of the menu bar.
Choose "Install from repository"
Find and click "Kodi Add-on repository"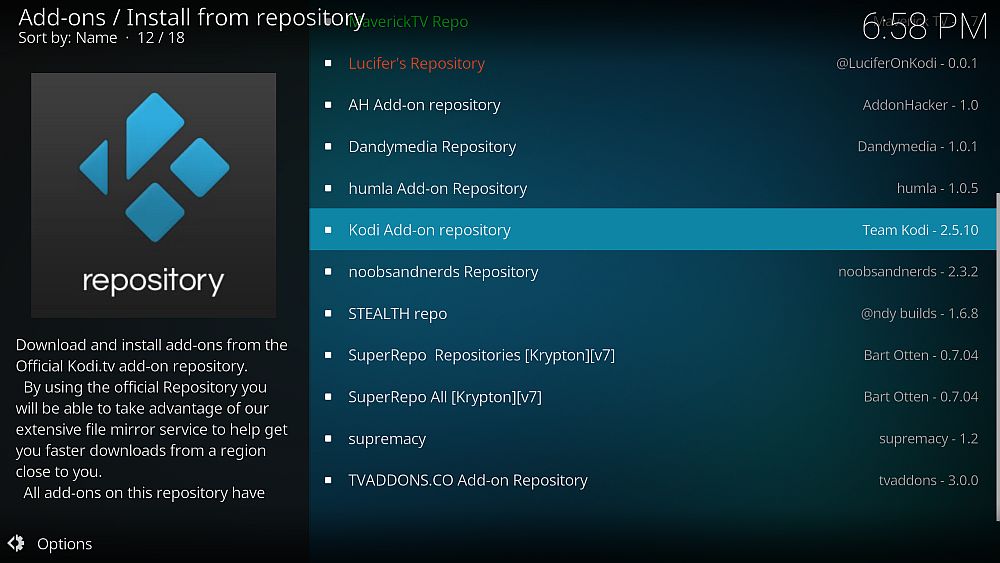 Official Add-ons – French Languages for Kodi
There are dozens of official Kodi add-ons that translate the menu and interface to new languages. Two of these are made specifically for French, one of which is French Canadian. By installing and activating either of these you can navigate Kodi in an immersive French environment. All it takes is a quick add-on installation and you're ready to go.
Follow the steps listed under How to Install Official Kodi Add-ons.
Choose the "Look and Feel" folder.
Select the "Languages" folder.
Scroll down and select your version of the French language pack.
Click the "Install" button in the lower right corner of the window that opens.
Note: If you want to manually change your language settings, go to the Kodi main menu, click the gear icon, choose "interface settings", then set your preferences from the "regional" tab.
Official Add-on – myCANAL
The France-based broadcast channel Canal+ has a full-featured live TV and video replay streaming service known as myCANAL. This official add-on pulls together all of the channel's free content and makes it easy to stream from any Kodi-enabled device. Everything on myCANAL is high quality and straight from France, and most of it is brand new!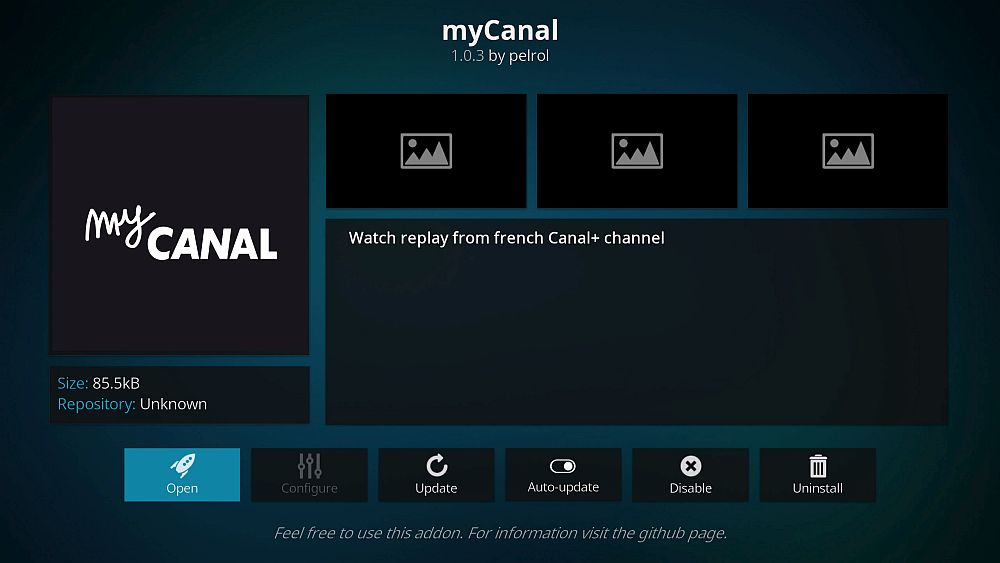 Follow the steps listed under How to Install Official Kodi Add-ons.
Choose the "Video add-ons" folder.
Scroll down and select "myCANAL"
Click the "Install" button in the lower right corner of the window that opens.
When the installation completes you can access myCANAL from the main add-ons menu.
Note: Some of the content featured on myCANAL may be restricted to French IP addresses. If you encounter this problem, simply use a VPN, select a server located in France, then try loading the video again.
Official Add-on – Install French Subtitles for Kodi
Subtitles can be a life saver for movies and TV shows that aren't dubbed into French. Kodi makes it easy to search for and enable subtitles for a ton of mainstream and niche videos, including blockbuster Hollywood releases. To enable subtitles, you'll first need to install a subtitle viewer. We're partial to Subscene, an official Kodi add-on that draws from a pool of fan-made subs.
How to install Subscene.com on Kodi:
Follow the steps listed under How to Install Official Kodi Add-ons.
Choose the "Subtitles" folder.
Scroll down and select "Subscene.com"
Click the "Install" button in the lower right corner of the window that opens.
After Subscene installs you'll need to change some of Kodi's options to enable automatic downloading and subtitle displaying. Follow the steps below to tweak the defaults:
Open Kodi on your local device and go to the main menu.
Click on the gear icon to enter the System menu.
Select "Player settings"
Click "Language"
In the bottom corner of the Kodi window, click the word "Basic" until it changes to "Advanced"
On the right, scroll down to the section marked "Download Services"
Change "Languages to download subtitles for" to French.
Enable the "Auto download first subtitle" option.
Change the "Default TV show service" and "Default movie service" to "Subscene.com"
Exit and go back to the main menu. If subs are available for the video you're watching, Kodi will now automatically download and display them.
Best Kodi Add-ons for France – Unofficial Content
Outside of the main Kodi ecosystem you'll find thousands of unofficial add-ons created by fans, movie groups, and everyone in-between. These extensions are not endorsed or checked by Kodi, which can frighten away some potential viewers. Most of them source fresh, high-quality material and can bring access to a nearly unlimited amount of content, all with just a few clicks.
The downside is unofficial add-ons can be unreliable. You'll often find broken links or streams that simply won't work. This can be frustrating for a lot of users, but if you're willing to do a little experimenting, you'll find some real gems in the unofficial add-on community.
vStream – All the Best French Video Sources
vStream is a full-featured add-on for streaming TV shows and movie that features hundreds of popular videos dubbed into French. Catch the latest and most popular films, sort through old TV shows, watch anime, sports, and live television broadcasts, or even listen to web-based French radio stations. There are also dedicated sections for HD TV shows and movies! It's a true one-stop shop for all things France related, and best of all, most of the content sources work like a charm.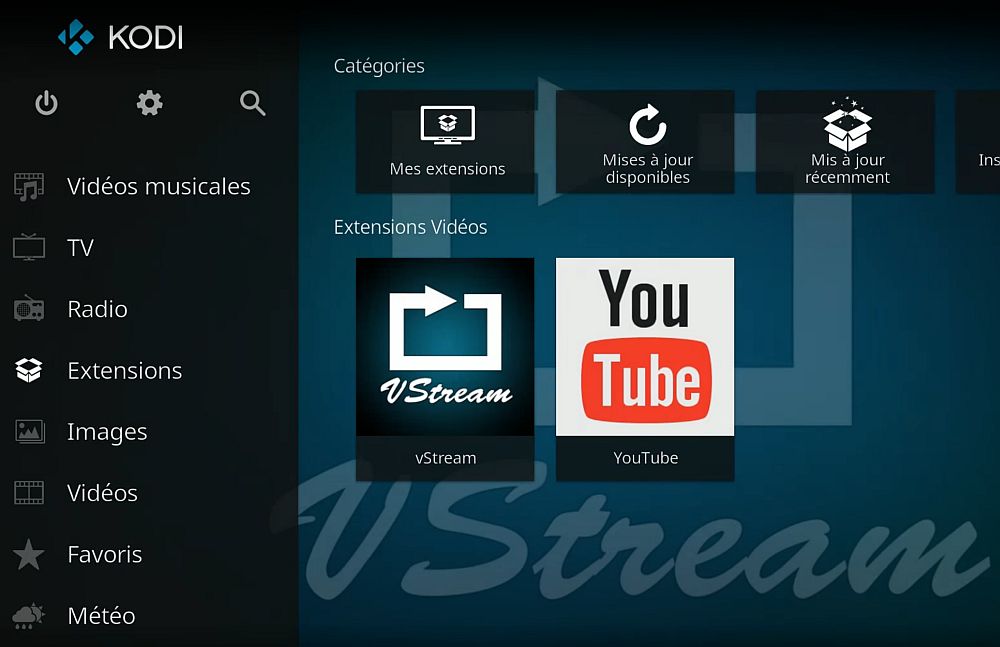 To install vStream you'll need to download a dedicated repository. Follow the steps below to grab the vStream repo and get the add-on up and running.
Visit the official vStream repository page.
Download the latest version. The file should look something like this: repository.vstream-0.0.2.zip
Save the file somewhere convenient.
Open Kodi and go to the main menu.
Select "Add-ons"
Click the open box icon at the top of the menu bar.
Choose "Install from zip file"
Navigate and find the file you downloaded above.
When the installation is complete, choose "Install from repository"
Select "vStream Repository"
Select "Video add-ons"
Choose vStream
Click the "Install" button.
When the installation completes you can access vStream from Kodi's add-ons menu.
Is it Safe to Install Kodi Add-ons?
Kodi's repository communities go to great lengths to verify the contents of each add-on. While most developers aim to create extensions that are useful to everyone, there are a few who stuff malware or viruses into their releases. By going through an official repository you minimize the risk of downloading an infected add-on.
Even though it's usually safe to install Kodi add-ons, taking extra precautions is never a bad idea. Always keep your anti-virus software and firewall active when using Kodi, and if you start streaming be sure to switch on your VPN. We also download and verify each add-on before featuring it on our site. If it appears in the list above, everything worked just fine at the time of writing.
Do you have your own suggestion for a great French Kodi add-on? Did you find our installation instructions helpful? Please let us know in the comments section below!