We are reader supported and may earn a commission when you buy through links on our site.
Learn more
Install UK Turk Playlists Add-on for Kodi, Working Sources and Repos
If you're not a regular Kodi user, the recent purge of many of the open-source platform's most popular add-ons might not have appeared on your news radar. However, diehard fans of the service are scrambling for solutions so that they can continue to get their streaming fix. Of those still available, UK Turk Playlists has seen a surge in interest due to its serviceable array of available content and features. As one of Kodi's earliest-developed add-ons, it has withstood the test of time to remain a viable option for video streaming to this day.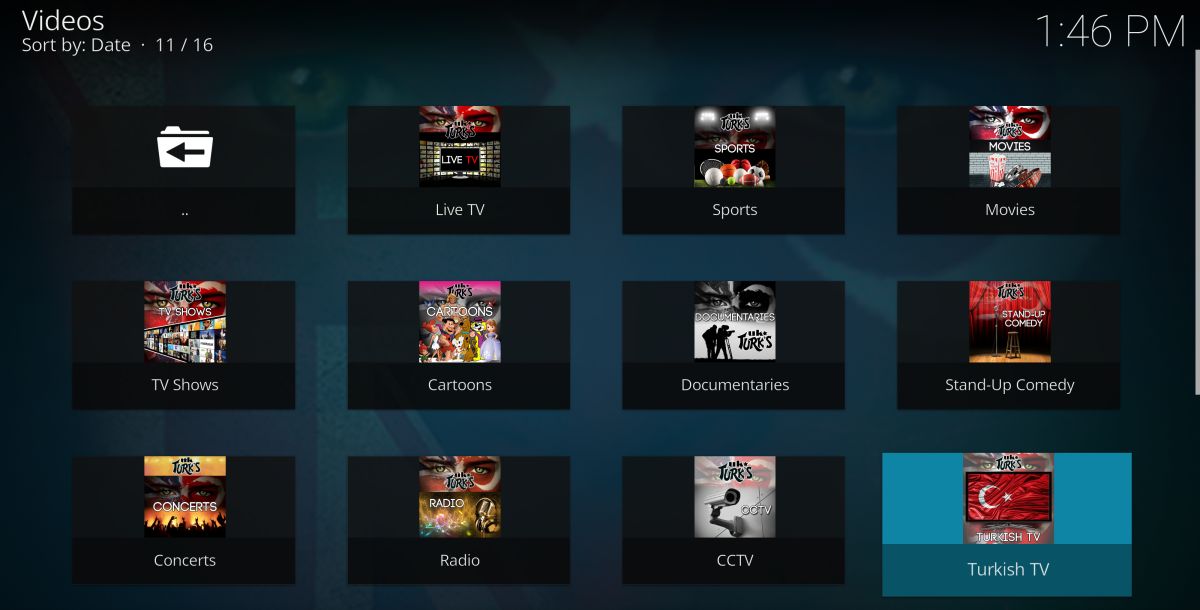 While many other add-ons have seen their developers lose interest and drop support, UK Turk Playlists continues to be regularly updated. This means that almost all of the linked content will work, since broken links are regularly removed. The UI also undergoes continual improvement, which ensures a buttery-smooth streaming experience. What you get with UK Turk Playlists is far more than you might expect from the amusing Turkish Delight themed logo. Kodi users can install this add-on to access a huge range of content including live TV and sports, TV shows, movies, and much more.
DISCLAIMER: AddictiveTips.com in no way condones the use of unofficial Kodi add-ons to access copyrighted content, and bears no responsibility for what you decide to do with the contents of this article. Software piracy is not something we support and we strongly advise users to only access content they are legally entitled to through all Kodi add-ons. We urge all Kodi users to take steps to ensure they are not in breach of copyright law.
30-days money back guarantee
Before we proceed
We highly recommend keeping your activity private when using Kodi. You do that with a VPN that not only hides your IP address and keeps no logs (which means no one will know what you stream), but also provides lighting fast service. With the various add-ons for Kodi it's no surprise that users have been known to receive copyright infringement notices for streaming movies, sports, and TV shows. Our recommendation is IPVanish – a complete privacy solution for Kodi users. You can get a 25% discount on any package from IPVanish, which allows you to connect 5 devices to an encrypted VPN connection at any one time.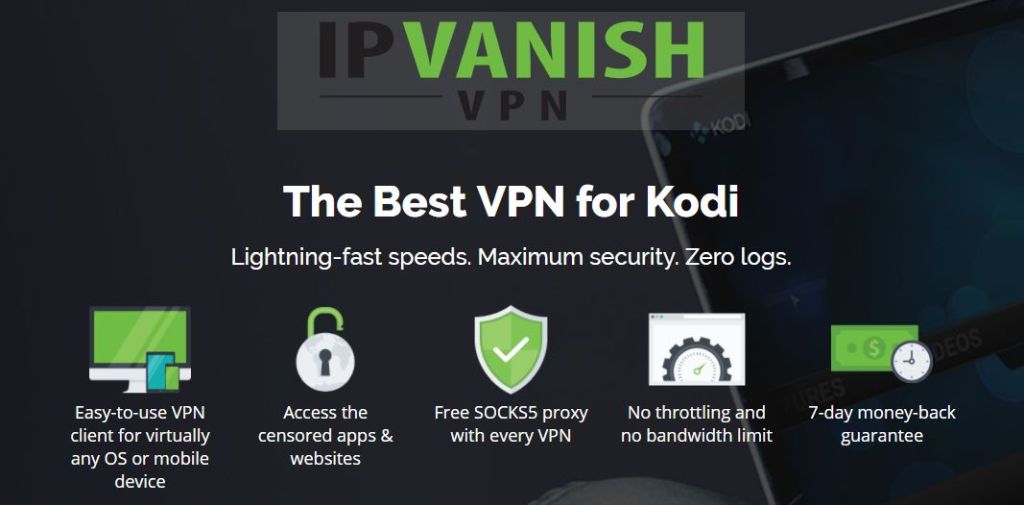 UK Turk Playlists installation on Kodi 16 and 17
Installing the UK Turk Playlists add-on in Kodi is a fairly straightforward process, though it does vary slightly depending on which version of the Kodi software you are using. Whilst most current users have already upgraded to Kodi version 17 (also known as Krypton), many are still using Kodi version 16 (also known as Jarvis).
If your version of Kodi predates these two, we recommend that you update to a more recent version before attempting to install UK Turk Playlists. The reasons are twofold: older versions are buggy and unpredictable, and as such our installation guide does not account for any issues present outside of the most recent two versions of Kodi.
Installation instructions for Kodi 17 (Krypton)
Updated April 26, 2018
Begin by opening up Kodi. On the left side of the Kodi home screen, you will see the main menu. Select Add-ons, which looks like an open box.
Next, click Install from zip file. Navigate to your Desktop.
Open up a browser and visit https://addoncloud.org/ukturk/install/. Click on repository.ukturk-x.x.x.zip to begin your download. Once completed, drag it to your desktop.
Back in Kodi, you'll see the zip file populate. Click on it to begin installation.
Return to the Add-ons menu, then go to Install from repository.
Your download will complete in just a moment!
Installation instructions for Kodi 16 (Jarvis)
If you are still using Kodi version 16, also known as Jarvis, then the process you need to follow is very similar, though there are some subtle yet important differences:
Open up Kodi. On the home page, scroll along to the System heading. Then select File Manager before clicking on Add Source.
You will be confronted with a page which includes a test box that says <None>. In this text box, you need to type in https://kodi.metalkettle.co and then click Done.
You will then need to give this source a name. As it is the MetalKettle Repository, MetalKettle is a logical option. Once you have given it a name, you can then click OK.
Return to the System menu, and this time click on Add-ons. Then choose the option that says Install from Zip File.
From the list of files, select MK Repo and then click on repository.metalkettle-x.x.x.zip
After a few moments, you should get a notification message telling you the add-on is enabled.
Then go back to the Add-ons menu and this time select Install from Repository.
Select the MetalKettle Addon Repository. Then select the option for Video Add-ons before searching the subsequent list for the UK Turk Playlists
Click on this and then wait a few moments again for the add-on to be enabled. You will again receive a notification message.
The UK Turk Playlists add-on is now enabled and can be accessed via the add-ons menu on your Kodi homepage!
What is UK Turk Playlists?
With the loss of Exodus and a whole host of other massively popular Kodi add-ons that allowed users to access a myriad of different online streams, there is now a gap in the market for add-ons which offer a similar service. This is where UK Turk Playlists comes into play!
A venerable-yet-viable Kodi add-on, UK Turk Playlists has seen its popularity surge as its rivals have been purged. To accommodate this increased demand, UK Turk Playlists has been moved to the MetalKettle repository. With the move comes new servers and a recent update which greatly improved its user interface. As such, UK Turk Playlists has been caught in a positive feedback look of Kodi user interest and development that we're excited to follow!
As the name suggests, the add-on was created by a developer of British and Turkish origin. While British and Turkish content are indeed well represented, users nevertheless have access to channels from many more countries, including USA, Canada and Australia.
While the variety of content and regular updates are definitely plus points, UK Turk Playlists does still have a couple of problems:
It doesn't contain a particularly high number of HD sources, yielding a mixed bag of overall stream quality.
Some of the sources used also require Acestream to be downloaded, which is not ideal. But in fairness, this does only apply to a handful of links that we have tried.
What does UK Turk Playlists offer?
UK Turk Playlists contains a huge variety of different online content which can be summarised under the following menu titles:
Live TV
Sports
Movies
TV Shows
Cartoons
Documentaries
Stand-Up Comedy
Concerts
Radio
CCTV
Turkish TV
Turkish Movies
Fitness
FoodPorn
Favorites
Search
As you can see there is something there for everybody, with a few quirky options that might or might not appeal to you thrown in for good measure. Here are a few details on some of the more popular types of content available on the UK Turk Playlists add-on:
Live TV: UK Turk Playlists has around 150 live IPTV channel feeds from different TV stations all over the world. It includes all the main British TV and satellite channels as well as most (but not quite all) of the US ones. There are also plenty of international channels from countries including France and Russia to choose from, along with a host of specialist channels.
Sports: This is a real highlight of the UK Turk Playlists add-on, as there are more than 100 different live sports channels available for users here. It has all the main British and UK satellite sports channels as well as coverage of just about any sport you can think of.
Movies: This section is well curated and contains move lists organised by decade and then by genre, making it easy to search for and identify specific films. Once you have found a section that fits your tastes, you'll find no shortage of choice.
TV Shows: Another highlight of UK Turk Playlists, this section offers a large database of shows. It's easy to navigate through your options too, with handy subsections for "New Episodes of TV Shows," "Catch Up on TV Shows," "Classic TV Shows," and "Current TV Shows." While UK Turk Playlists may not have absolutely everything you could ever wish for, there is certainly no shortage of content.
Turkish TV and Turkish Movies: These two sections are particularly well populated and laid out in a similar style to the regular TV and Movie sections. I do not speak Turkish nor am I a connoisseur of Turkish entertainment, so I cannot vouch for the quality. However, there is nevertheless a large quantity of titles available. Furthermore, the Movie section appears to have both native Turkish films along with foreign titles that have been either dubbed or subbed into Turkish, which is a nice touch for speakers of the language.
Favourites: With such a range of content available, the favourites feature is an essential tool. When you spot something of interest, you can bookmark it here and then retrieve it with ease at a later date–a handy feature I wouldn't want to live without!
What is Kodi?
Kodi has been in the headlines a lot of late, but if you are not already a user, you might be a little unclear as to what exactly it is.
Kodi is a piece of media management software which was originally known as the Xbox Media Center (XBMC) when it launched back in 2002. After Microsoft refused to approve it, developers pivoted their focus and gradually the software opened up to other platforms.
Today XBMC has been renamed as Kodi, and is the world's leading media player. Kodi owes its success to its open-source architecture, which has allowed independent developers to create a plethora of innovative add-ons to customise the user experience. More importantly, these add-ons greatly expand the scope of content Kodi can stream.
With the right add-on, users can access everything from live TV streams to sports channels to on-demand movies to TV show box sets, including copyrighted content in some cases. While this has given rise to controversy surrounding some of these add-ons, Kodi has nevertheless continued to grow in popularity as a revolutionary open-source streaming service.
What is a repository?
The best and easiest way to download add-ons for Kodi is through a repository. These are file sources where users can go to download and install Kodi add-ons.
While many great add-ons are available through the official Kodi Repository, 3rd party add-ons usually boast the most attractive features. These are available through a variety of other repositories, which have to be installed as a file source before the add-ons they contain can be accessed. For example, if you want to download UK Turk Playlists, you will need to access the MetalKettle repository first.
It is also possible to download some add-ons directly from their source, but we recommend against it for security reasons. Add-ons downloaded from repositories receive regular updates more often than not, allowing your streaming experience to continue unhindered by glitches and dead links.
Is Kodi legal and safe?
Despite all the controversy surrounding Kodi, the software itself is 100% legal and safe to use. When people run into security or legal troubles using Kodi, the culprit is usually a 3rd party add-on.
Official Kodi add-ons, in comparison, are all checked and approved by the Kodi developers before being allowed into the official Kodi repository. These should, therefore, all be safe and legal for everyone to use.
As previously noted, many users view the real magic as lying in unofficial add-ons and may run into trouble in their quest for the perfect streaming experience. Kodi is an open-source platform, and as such its developers have zero oversight or accountability for the quality of 3rd party add-ons.
Some unscrupulous developers have used their add-ons to install malware or spyware on users' devices. We therefore recommend that you exercise caution in picking your unofficial Kodi add-ons, with due diligence being given to research and reviews. While personal responsibility will take you far, a VPN used alongside Kodi will take you the rest of the way towards a secure and happy streaming experience.
It is well known that unofficial add-ons may grant users access to copyrighted content. While downloading such content is illegal virtually everywhere, the legality behind streaming is more complicated. A European Court of Justice ruling from 2014 decided that because the copyrighted data was only stored on user's devices temporarily, streaming did not breach copyright law. A similar ruling exists codified into US law as well. However, there is pushback in both countries, and the ultimate fate of legal streaming remains to be seen.
What this means for Kodi users is that unofficial add-ons that grant access to restricted content are not technically illegal. However, this has not prevented many users from receiving legal letters about their activity, while others still have been subjected to legal proceedings as a result of using these so-called "legal" add-ons.
It therefore bears repeated mention that using a VPN with Kodi will mask your online doings and protect you from a litany of liability.
What is a VPN?
Virtual Private Networks, or VPNs, are an essential tool for any Kodi user. The reasons for this are twofold: VPNs allow you to bypass geo restrictions while keeping you safe from overreaching copyright authorities. If you're wondering how this is accomplished, you're probably not alone!
VPNs work by redirecting your internet traffic through encrypted channels to proxy servers located all around the globe. This has the effect of disguising your true IP address with that of another country. This allows you to spoof your location and fool streaming services into granting you access to content you wouldn't otherwise get in your location.
This also renders your online activity completely anonymous, which protects you from legal repercussions and shut-down notices from your ISP. Of course, we don't condone using your VPN or Kodi to access copyrighted content, and urge you to use this technology responsibly.
Finally, a VPN will ensure that all of your online data is encrypted as it leaves your device. This makes sure that everything you do online is secure and well beyond the ability of both hackers and government surveillance officers to intercept. With unofficial add-ons for Kodi sometimes subject to security issues, this is a really useful safety net for users.
What is the best VPN to use with Kodi?
The best VPN for use with Kodi is undoubtedly IPVanish, thanks to its outstanding features, security, performance and price point. In a world swimming with subpar VPN providers, IPVanish has long stood out as a premium option, and for good reason.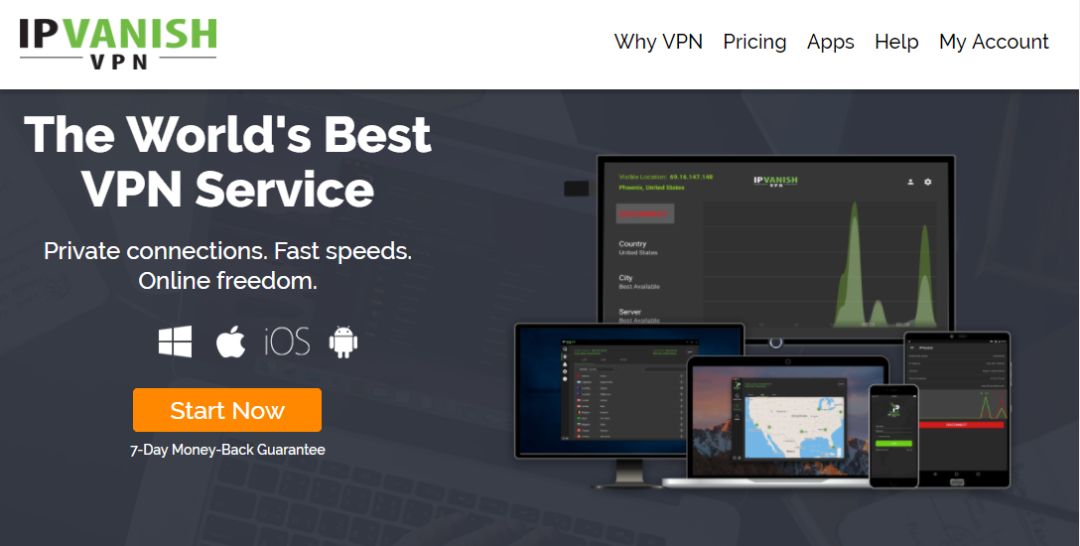 IPVanish boasts impressively quick connection speeds and superior connection stability, both of which are critical to a good streaming experience free from excessive buffering. When you consider its sophisticated encryption and zero-log policy, it's easy to see why IPVanish is such a popular option.
If that hasn't already convinced you, IPVanish is also available on just about every platform and operating system in existence. Notably, this includes a newly released app for the Amazon Fire TV Stick (one of the most common devices Kodi's users employ to access their services). Normally, getting a VPN to work on this device is quite difficult, but IPVanish completely removes the hassle.
All of these features are wrapped up in a single attractive and well-priced package. IPVanish expands Kodi's functionality while protecting its users from a wide array of legal and security issues. This might all seem too good to be true, if it weren't for the fact that IPVanish has enjoyed a sterling reputation for many years.
Ready to revolutionise the way you stream content through Kodi? AT readers who sign up for IPVanish's yearly plan can enjoy an exclusive 60% discount for low payments of $4.87 per month. Furthermore, if you're not completely satisfied with your purchase within 7 days, you get your money back, no questions asked!