We are reader supported and may earn a commission when you buy through links on our site.
Learn more
Downloader vs apps2fire vs adbLink: Which One Should You Use?
When it's time to sideload apps on your Fire TV or Fire Stick, you've got a few options at your disposal. If you happen to own the larger set top box you can sideload software using a USB stick, which is pretty straightforward. If you don't, though, there are several apps that do the heavy lifting for you. Three of the most popular are Downloader, apps2fire, and adbLink.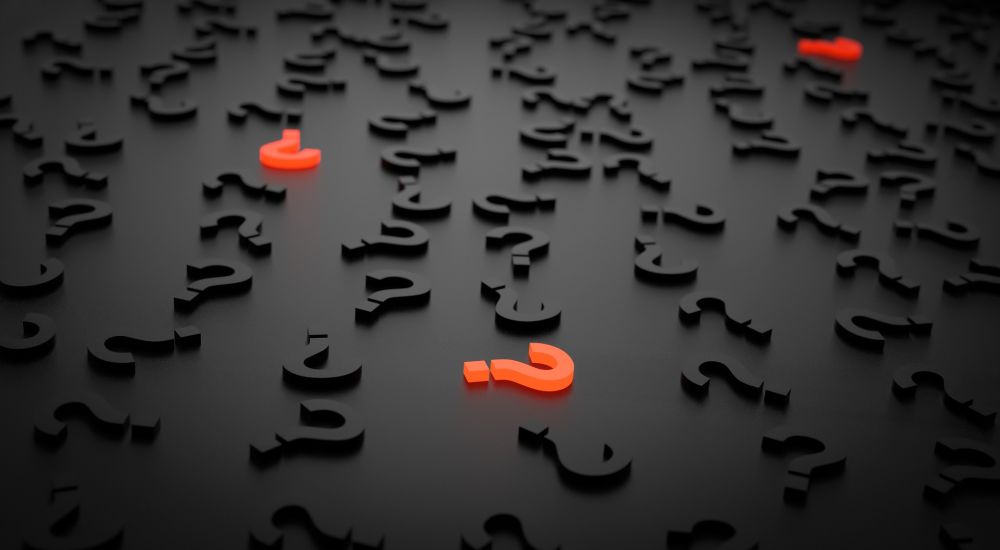 Choosing between sideloading apps for Fire Stick is largely a matter of preference. There are some crucial differences between the big three that can make one a clear winner for some users, however. Read on to see the pros and cons of each app, including a comparison of Downloader, apps2fire, and adbLink!
30-days money back guarantee
Sideload in Safety with a Trusted VPN
More and more people are starting to worry about their online security. Private information is routinely sent across the world completely unprotected, making it easy for government agencies to track us, ISPs to collect and sell private information, or hackers to steal our identity. Even Fire TV users are at risk when it comes to losing track of their information.
VPNs make it easy to stay safe online by creating a private tunnel of encryption between your device and the internet. With encrypted data nobody can tell who you are or what you're streaming, allowing you to watch movies, shop, check e-mail, or surf the web in complete privacy.
Below are our recommendations for fast, trustworthy, and reliable VPNs you can use with Fire TV.
1. IPVanish – Private and Secure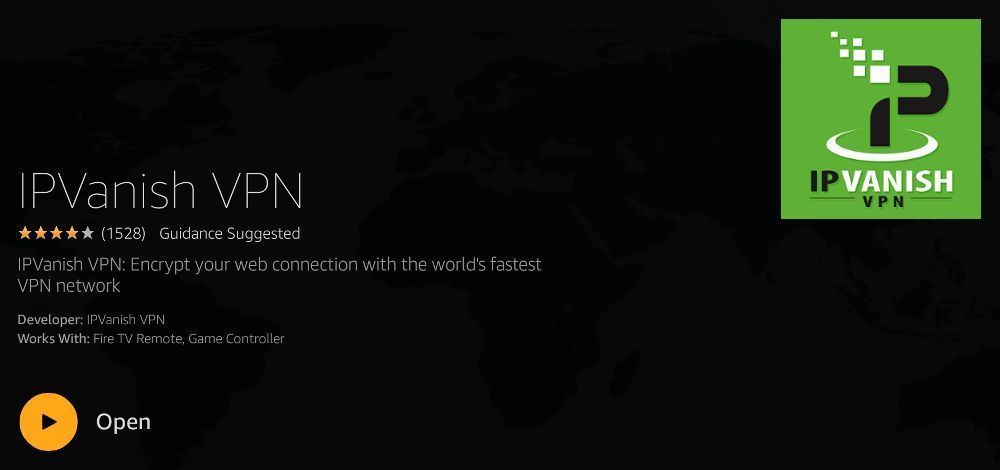 IPVanish has a great set of features that makes it the perfect VPN for Fire TV. The company runs a huge network of 950 servers in 60 different countries, providing fast connections to users around the world. You'll also get complete protection with an automatic kill switch, 256-bit encryption, DNS leak security, and a zero-logging policy on all traffic. To use IPVanish, all you have to do is download it from the Fire TV appstore and start streaming!
Downloader vs apps2fire vs adbLink – Overview
The three main sideloading apps for Fire TV all let you add new content to your device without any complex hacking, jailbreaking, or rooting. Below is a quick overview of each one so you know what you're getting into.
Downloader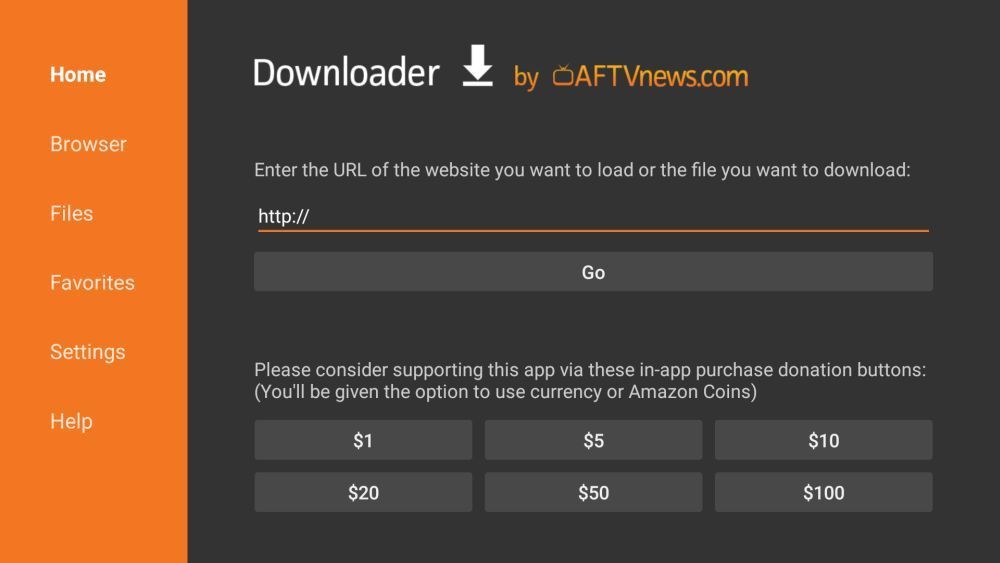 A straightforward sideloading app you download directly from your Fire TV's appstore. Find links on the internet to apk files you want to install, then type them into Downloader's simple interface. Two clicks later the app is installed, ready to stream at your command. You won't need anything except your Fire device's remote to run Downloader, though it's much easier if you have a PC and bluetooth keyboard handy.
To use Downloader, simply grab the app by installing it on your Fire TV. You can search for it on the device itself, or send it using Amazon's appstore web interface.
apps2fire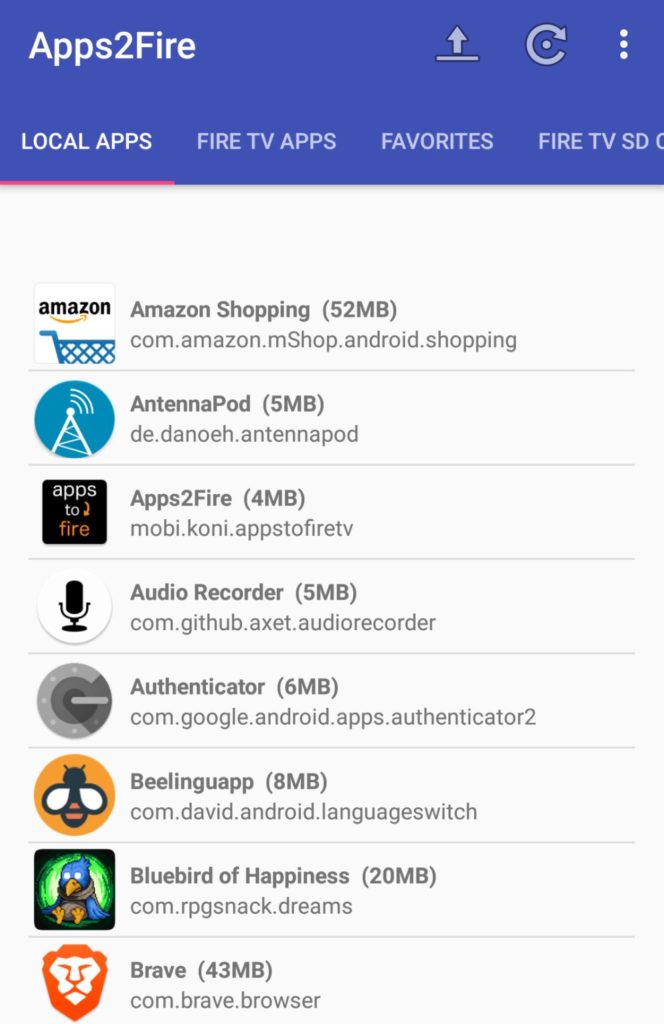 Because Fire TV's operating system is based on Android, the device ran run a surprising amount of software not natively available on Amazon's appstore. apps2fire takes advantage of this by letting you copy installed apps from an Android device directly to Fire TV. No cables required, and no need to install anything on your Fire device. Just get apps2fire and send content directly over.
You can install apps2fire on your non-Fire TV Android device by searching for it in the Google Play app store, or send it using this download link.
adbLink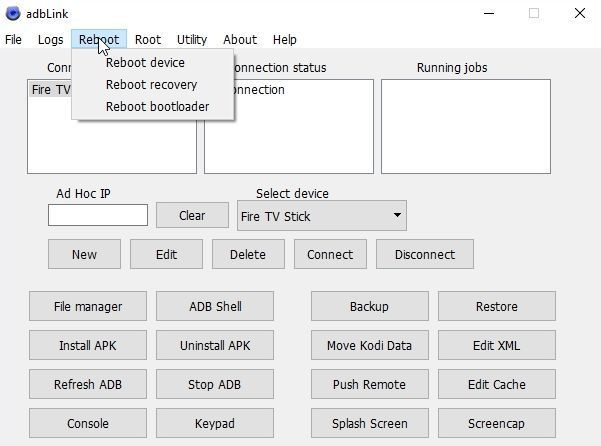 adbLink is designed for users who want more control over their Fire TV. The software is available for all major desktop operating systems and connects to Fire TV via Wi-Fi. When a link has been established, you can manage Fire's cache, file structure, and so much more, all from the comfort of your desktop or laptop. You don't need to do anything special with your Fire TV to sideload, either. Just run adbLink, connect, and go!
Download adbLink for your PC's operating system from the developer's website.
Downloader vs apps2fire vs adbLink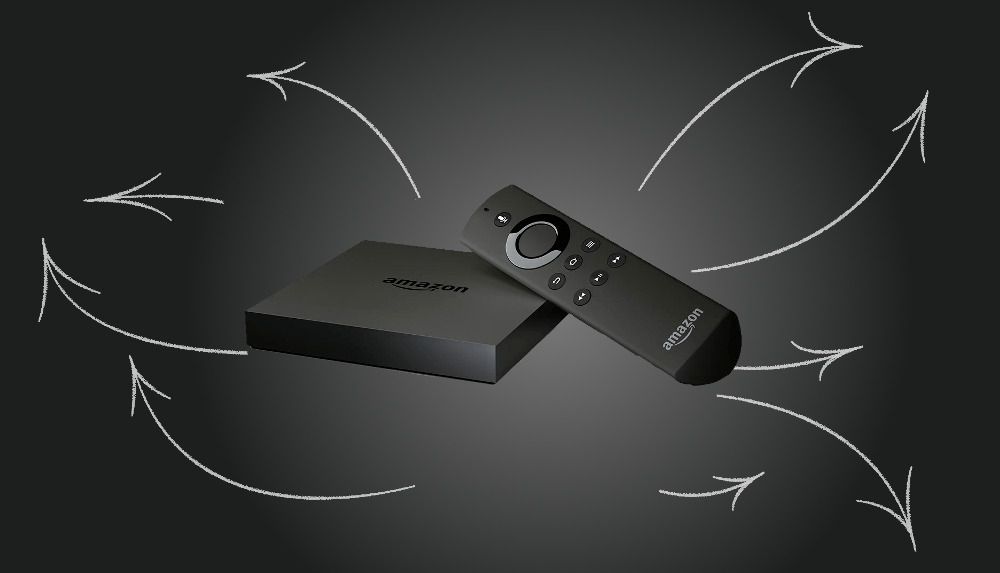 Below we take an in-depth look at the three biggest sideloading apps available for Fire TV.
Hardware and Software Requirements
Unlike some platforms, sideloading apps on Fire TV doesn't require any kind of hacking or hardware tampering. You may need additional software or devices to use the easiest sideloading methods, however.
Downloader doesn't require any outside hardware or software. Install the app to your Fire TV, run it, then start sideloading. It's a lot more convenient to use if you have a PC to look up file URLs. And if you have a bluetooth keyboard handy, you'll find it's much, much easier to type links than with using the Fire TV remote.
apps2fire is an Android app, so to use it, you'll need a separate Android device. A phone or tablet works just fine, as long as it can connect to the same Wi-Fi network as your Fire TV. You can also sideload apps to that device and use apps2fire to push them to your Fire TV, if you like.
adbLink is a free PC program made by Jocala. It runs on Windows, OS X, and Linux and connects to your Fire TV via Wi-Fi. If you have a computer you won't need anything special to use it, just make sure your Fire device is on and sideloading is a cinch.
Downloader has the fewest external requirements of the group, with adbLink coming in second. If you already have an extra Android device handy, the three are practically equal in their prerequisites.
Price
Downloader, apps2fire, and adbLink are all completely free. There's no price tag or in-app purchases, and both Downloader and adbLink are ad-free, as well. It isn't likely any of these apps will turn into paid programs in the future, making them perfectly equal in terms of overall cost.
Installing the Apps
Downloader is available directly from Amazon's appstore. You can install it and run it within a few seconds, plain and simple.
Using apps2fire means installing it on a separate Android device, then connecting it wirelessly to your Fire TV. You won't have to install anything separate to Fire, just send apps over once apps2fire is ready to go.
adbLink is a separate program that runs on desktop and laptop PCs. Installation is as quick and painless as downloading a single file and running it from your computer.
There's really no difference between the installation processes for the three main sideloading apps. A lot of users will feel more comfortable with Downloader, though, since it's native to the Fire TV environment.
Sideloading Process
Prerequisites and installations aside, how easy is it to sideload apps using Downloader, apps2fire, and adbLink?
Downloader's sideloading process is as simple as entering a URL and starting the remote download. You can manage files directly from the interface, even browse for content using the app's built-in web browser. It doesn't get any more straightforward than this, especially if you have a bluetooth keyboard handy to make URL typing easier.
apps2fire sends copies of Android-compatible content from one device to your Fire TV. If you wanted to install Kodi on a Fire Stick, for example, you would first need to install it on an Android smartphone or tablet, install apps2fire, then push it to your Fire device separately. It's easy once you get the hang of it, but there are a few extra steps to complete.
adbLink works almost like a native extension of your PC interface. Once it's connected to Fire TV, you can create backups, manage cache and file storage, install apks, or add/edit Kodi data with one quick click. The best part is you have a full mouse and keyboard setup to do your sideloading with. No need to mess with touch screens or hardware remotes!
The sideloading process is easy on all three apps, but apps2fire does come out slightly ahead, largely thanks to its ability to instantly copy any app to your device.
Time Requirements
Sideloading takes time, no matter which method you use. Adding a single app generally only takes a few minutes. If you're adding several, that takes longer. Depending on the method you use you might have to clear out an afternoon to get everything set up, installed, and running smoothly.
Downloader is a fast install. You get it from Amazon's appstore with a single click, and you download and sideload apps by entering a direct URL. If you don't have a bluetooth keyboard you'll spend several minutes just typing things into the box, which can be frustrating. Outside of that, though, Downloader works quickly and shouldn't put a crimp in your sideloading plans. Just use a bluetooth keyboard if at all possible!
apps2fire is lightning fast. If you already have the apps you want to send to your Fire TV on your Android phone, pushing them over happens in mere seconds. If you don't, all you have to do is install the content, refresh apps2fire, then send it over. The only limitation is the speed of your home Wi-Fi network, making this the fastest method of sideloading available.
adbLink takes a couple of minutes to set up. First you need to grab the software, then get the device IP from your Fire Stick, then enter it into adbLink, then finally connect the two together. It's usually smooth process, but if you run into any errors, troubleshooting can be annoying. Once things are set up and ready to go, adbLink works as fast as your home Wi-Fi can manage. No software delays and no clumsy interfaces, just mouse and keyboard installations.
For the average user, apps2fire takes the least amount of time to use. There's very little setup involved, and you don't have to spend minutes typing anything via remote. If you own a bluetooth keyboard, however, Downloader is a faster option.
Learning Curve
Learning curve is a tricky thing. On the one hand, it's nice to have software you can just fire up and start using. On the other, these solutions tend to be a bit basic in nature. Plug-and-play apps generally don't offer powerful features or customization options, which is the price you pay for usability. Apps with a high learning curve are usually extremely powerful, but you have to sit with them for a few hours before you can do the simplest tasks.
Downloader has the shallowest learning curve out of all the sideloading apps. It's so easy to use you don't even have to think about it! Find the URL of the file you want, enter it into Downloader, and that's it. Installation is taken care by the app, and you can even browse downloaded files and launch them later.
apps2fire takes a little longer to learn than Downloader, but not much. The app requires separate installations and has a more cluttered interface, which takes some getting used to. After only a couple of minutes, though, you'll have the basics down and can start sideloading. It's a good middle ground between ease of use and customization features.
adbLink is a powerful piece of software. It can load and unload apps, perform basic maintenance duties, even access your Fire TV's file system from a window on your desktop PC. Learning to effectively use adbLink can take a little time, however. You have to be somewhat familiar with IP addresses and wireless connections, and the interface is a little cluttered compared to Downloader. Spend half an hour getting to know adbLink, though, and you'll be hooked. Adding apk files to Fire TV is extremely easy once you know how to do it. adbLink can save you a lot of time in the long run, you just have to learn how to use it first.
Extra Features
Downloader is basic to an extreme. There's a file downloader, a downloaded file browser, and a rudimentary web interface, that's it. No installation options or anything like that, just type, download, and install.
apps2fire has a few options to mess around with, but most of them are confined to the app itself, not sideloading. This program does one thing and it does it well: copy content from an Android device and send it to Fire TV.
adbLink has a ton of options. You can install apks, create backups, access Fire TV via console, edit the device's cache, or even install/move Kodi data with just one click. Power users will prefer this interface over the other two by a wide margin.
When it comes to extra features, adbLink is the clear winner.
Sideloading with Downloader, apps2fire, and adbLink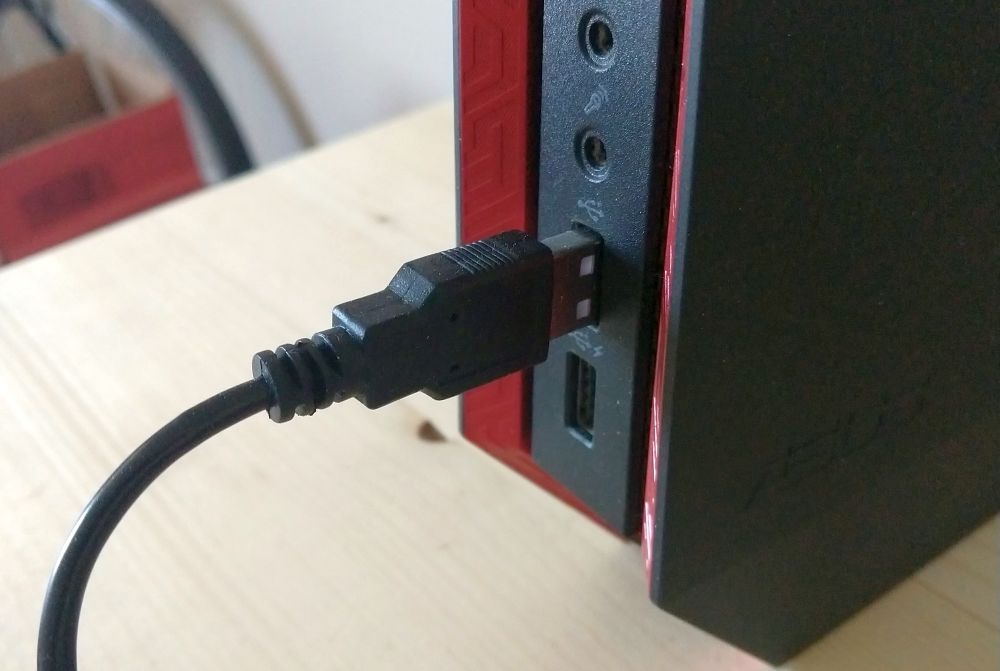 Made your decision on which sideloading app is best? If you're still not sure, check out our fast, no-frills guide to sideloading using each method. You'll go through a similar process with each app whenever you sideload apks, so if one looks too complex for your taste, try a different solution.
Downloader
The simplest possible sideloading process, especially if you have a bluetooth keyboard.
Find a direct link to the app you want to install on your Fire TV. You can do this on a PC, or use Downloader's built-in browser.
Open Downloader on your Fire device and type the direct URL into the box.
Start the download. When it completes, you can install it right away, or archive it to install later.
apps2fire
The first time you use apps2fire you'll need to add your Fire TV device as described below. The next time you sideload, however, you can skip steps two through five and install apps much more quickly.
Install the app you want to copy to Fire TV on the same device that has apps2fire installed.
Run apps2fire and let it create a list of your local installed apps.
When the scan is complete, slide the menu left and tap Setup.
On your Fire TV, go to Settings > About – Network and write down the IP address.
Back in apps2fire, enter your Fire TV's IP address and tap "Search Fire TVs".
Go to the Local Apps tab and scroll down to the app you want to sideload.
Tap the icon, then select "Install". After a few moments the app will be available on your Fire TV.
adbLink
The first-time setup for adbLink has a few extra steps. Once you have your Fire TV added and saved, though, you can skip steps two, three, and four and sideload directly.
On your adbLink-enabled PC, get a copy of the apk you want to sideload.
On your Fire TV go to Settings > About – Network and write down the device's IP address.
In adbLink click "new" next to the devices box and add your Fire TV Stick.
In the next window, type a unique description and the IP address of your Fire TV Stick.
On adbLink's main screen, click the "Install APK" button, then navigate to the app's raw apk file.
adbLink will automatically install the app to your Fire TV device.
Don't Forget to Allow Unknown Sources
If you run into any trouble using the above sideloading methods, you may need to toggle your Fire TV's external downloads option. Follow the steps below and you can enable it in just a few seconds.
Go to your Fire TV Stick's settings page at the top of the home menu.
Scroll right and choose Device.
Move down to Developer Options.
Set Apps from Unknown Sources to ON.
Accept the warning message about installing external apps.
Conclusion
Which sideloading app is for you: Downloader, apps2fire, or adbLink? Most users will feel immediately comfortable with Downloader. It offers a straightforward interface you simply can't mess up. After sideloading a few files, however, most people will want to move on to more powerful methods. Here, apps2fire makes a good next step. If you're not afraid to get your hands dirty and want powerful sideloading commands, however, adbLink is definitely the way to go.
Which sideloading app is your favorite? Let us know in the comments below!