Best Grooveshark Alternative (and Limewire) in 2021
Remember back in the day when after a day of running errands or coming back from school, you just wanted to log in to your computer and download the hottest tracks from your favorite artists? Then you probably also have fond memories of Grooveshark and Limewire, two of the most popular music download software solutions that took the world by storm many years ago.
However, neither one of the services mentioned above is available, as they were both forbidden after lengthy court battles. Long story short, both Grooveshark and Limewire were removed from "public service" and are no longer available for you to download and enjoy.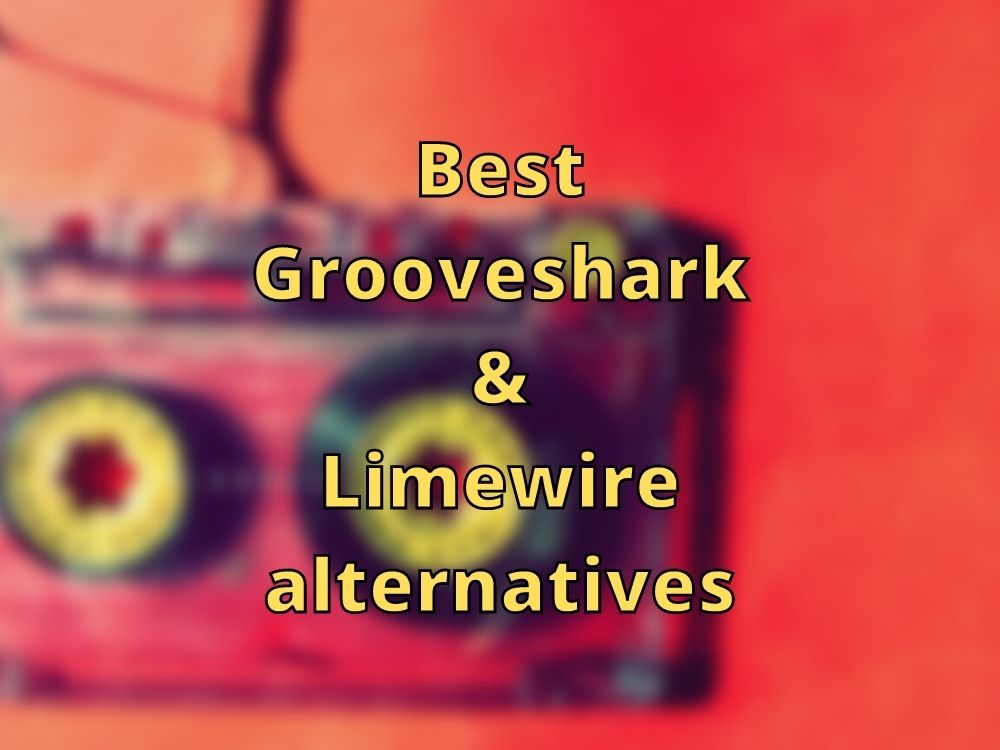 Grooveshark was slapped with a court order after allowing its users to upload copyrighted music for others to stream and organize in playlists. Several clones tried to replace it but to no avail, Grooveshark was dead, buried, and not coming back.
Limewire shared a similar fate, as it was shut down in 2010 for legal reasons. Mainly, users were sharing copyrighted tracks on the platform, and others were able not only to stream but also download and share them with others, which created a never-ending cycle. Naturally, this service that was clearly condoning piracy was dragged to the court and ultimately lost the battle.
What to use instead of Grooveshark or Limewire?
If you're sighing at the memory of running not only Grooveshark on your PC, but also Limewire, you probably already know that there are several alternatives that are not only better in terms of quality and online security, but also legal.
Don't tell me you never downloaded a "Linkin Park – Numb" EXE file that only had a few KBs in size and managed to destroy your operating system in just a few seconds when you were a teenager. We've all been there.
Now let's get back to our sheep: Grooveshark and Limewire alternatives. As we've mentioned, there are several services that you can sign up for and use in lieu of the regretted Grooveshark-Limewire duo.
What's a good Grooveshark alternative
Not only we're going to put them in an easy-access list, but we're also going to tell you more about each service, so you can be able to make an educated choice by the end of our guide. Ready?
Spotify

Spotify is perhaps the most popular music streaming service that lets you create playlists, discover new artists, and share your favorite tracks, albums, playlists, and artists with your friends in a fun, engaging manner. You can also use the service for free, but you should expect ads and limited functionality, such as not being able to choose a specific song from a playlist.

Deezer

Deezer is an awesome music streaming service from France that lets you listen to a wide range of artists, tracks, and albums from various record labels, such as Warner Music Group, Sony Music, and Universal Music Group. Many users also rely on Deezer for listening to their favorite podcasts on their devices, as this streaming service is available on many platforms.

SoundCloud

SoundCloud is a music sharing website and online audio distribution platform based in Berlin, Germany. You can use it to upload, share, or promote audio content such as tracks, albums, or entire mixes/mixtapes, but you're also able to listen to what others have been sharing. SoundCloud offers incredible sound quality and is available to use for free.

Bandcamp

Not only does Bandcamp let you download and listen to a broad range of tracks from your favorite artists, but it's also a platform where you can support your favorite artists directly. When you're buying content from your favorite artist, the amount you pay reaches the artist almost instantly. Furthermore, Bandcamp only takes up to 15% of the amount you pay, which combined with the payment processor fees (4-7%) results in 80-85% of your amount going straight to the artist you support.

Mixcloud

Mixcloud is a great music streaming service that caters almost exclusively to DJs, radio shows, and podcasts. You can use this platform to distribute this type of content, but also browse, discover new artists, listen to their content and even subscribe to your favorite accounts. It allows its users to upload files up to 500 MBs, after lifting the 100 MBs limit in November 2011.

TIDAL

TIDAL is a hi-fi music streaming service that promises to deliver audio content and music videos of only the highest quality to its listeners. The platform combines HD music videos and lossless audio to ensure that you'll have a pleasant music listening experience, as long as you can match it with a fast Internet connection. However, if you're not that interested in crystal-clear audio, TIDAL also offers a lossy quality plan that you can purchase at a lower price.

YouTube Music

YouTube Music is almost exactly like classic YouTube, only it's a premium service (you need to pay to use it) and it's aimed to cater to your music listening needs, whether you prefer just listening to audio tracks or watching music videos. You can browse through songs, playlists, and music videos, but you can expect YouTube Music to also make some recommendations based on your past listening experience and Favorites collection.

Apple Music

Apple Music is a popular streaming service that has more than 75 million tracks in its virtual library you can listen to. You can use it to stream music tracks on your device on an on-demand basis, but if you're feeling adventurous, you can also choose to listen to existing playlists that were created by other Apple Music users. It's worth noting that Apple Music also includes a series of Internet radio stations you can listen to.

Last.fm

Last.fm used to be an awesome service that would let you create a list of your favorite genres, artists, albums, and tracks, and would provide you with a curated radio station that would play your favorite tracks along with other songs that you may have liked. It was a cool way to discover new artists and listen to music tracks on demand. While the service still exists, it doesn't let you play music on-demand anymore, and the curated radio station has been discontinued quite a while ago.
Use a VPN with music streaming services
Some of the services we've mentioned above may be geo-blocked and, as a result, you may not be able to access and use them from your current location. However, as it's been proved several times before, using a trustworthy VPN solution can help you circumvent these unfair geo-restrictions and enjoy these music streaming platforms to their full potential.
It's worth mentioning that some services may require a credit card from a country where the service is available, so you might not be able to sign up and use such a service, despite using a VPN. Before you invest in a VPN, you should make sure that the service you're trying to unblock accepts methods of payment that are not specifically tied to the country you're in.
However, it's worth noting that even if a VPN can graciously dodge any geo-restrictions thrown in their general direction, they're useful in plenty of other situations, such as if your ISP is throttling your connection, or you fear that someone may be snooping on your connection.
NordVPN – best for streaming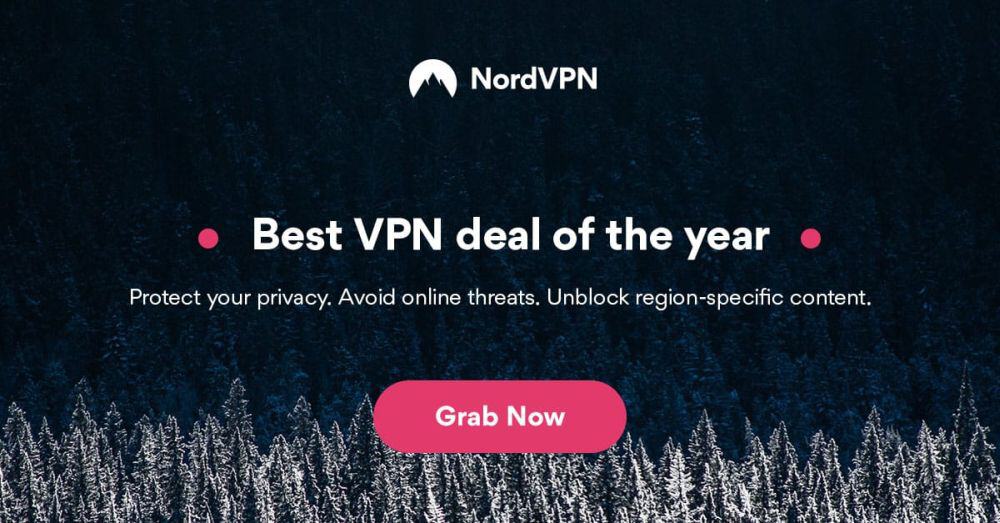 In our opinion, NordVPN is one of the best VPN services on the market that can not only help you avoid geo-blocking and use your favorite music streaming service without limitation from any location in the world, but it also does an excellent job at covering your online tracks so that your ISP or malicious agents can't catch wind of them.
This VPN service provides you with an impressive network of private servers that has wide coverage, meaning that they're spread all around the world, so you can have all the elbow room you need if you want to be specific about the location you'll be connecting to.
Furthermore, it has blazing-fast connection speeds, 256-bit military-grade encryption, a strict no-logging policy, as well as many extra perks that can ensure maximum security to your connection and airtight privacy. For instance, there's a double VPN feature that bounces your connection through two different VPN servers, and another feature called CyberSec that can block ads and other malware domains.
So, if you find yourself in need of an awesome VPN service to help you access your favorite music streaming service from anywhere in the world, you should consider giving NordVPN a try. It's got everything you need to bypass these unfair restrictions, and then some.
If you want to find out more about this VPN, read our full NordVPN review here.
Pros
SPECIAL OFFER: 2-yr plan (68% off - link below)
Fast and stable connections
Up to 6 simultaneous connections
Strict zero logs policy on both traffic and metadata
24/7 Chat Support.
Cons
They can take 30 days to process refunds.
Note: Our readers get a special offer that can help save 68% of the plan's full price, as well as extra service time added automatically after purchasing a NordVPN subscription plan.
Best alternatives to Grooveshark and Limewire (in-depth review)
1. Spotify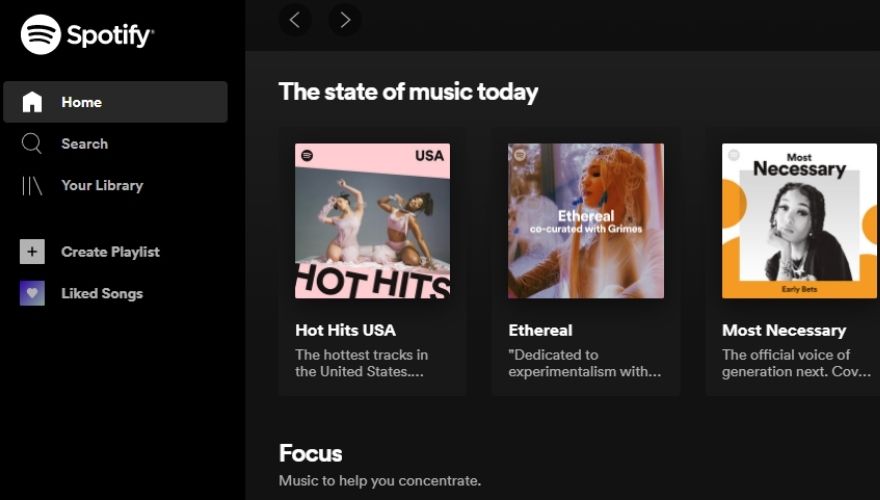 If you're a music aficionado, there's a high chance that you've not only heard about Spotify, but you've also given it a try, especially considering that it's still generous enough to offer a 3-month premium trial, and there's a free version of the service you can use for free. But if you haven't, let's just say that Spotify is one of the most popular music streaming services at the time being.
This service is nowadays available almost everywhere in the world, but that wasn't always the situation. A while ago, you would've needed a VPN with good geo-blocking just to be able to access Spotify's main website, let alone sign up for a trial and actually using the service. However, nowadays it's quite easy to access the website and register for a free 3-month premium trial.
It's possible that you can use Spotify on a wide range of devices, including but not limited to your Windows PC, Android smartphone and tablet, iPhone, iPad, Apple Watch, PS4, PS5, Xbox, Mac, and Linux, which gives you great flexibility and the possibility to take your music everywhere you go. You know, just as long as you have a working Internet connection.
Aside from the official apps, Spotify also features a web player you can access from almost every browser-enabled device. However, if you choose the web app player to access Spotify, you will miss out on the ability to download your favorite tunes on your device so that you can listen to them without an active Internet connection.
Spotify's apps allow you to listen to music, but also browse for your favorite artists or discover new ones, organize the content you find in playlists that you can edit and share with others, share individual tracks on social media platforms, and even create shared playlists with other users.
After using the app for a while, creating playlists, and listening to other users' playlists or individual tracks of your preference, Spotify's algorithm is ready to start recommending to you some new artists that you may have or may not have heard of. Although it may fall in the same habit that every music streaming service seems to have, that of following the same rotation over and over again, Spotify's recommendations system seems to be working great overall.
Spotify is currently available in 187 countries worldwide, and will probably start adding more countries in the foreseeable future. However, if you find that you can't access Spotify from your location, you can just add a VPN to the mix to bypass this limitation.
At this moment, Spotify offers three different subscription plans:
Subscription Type
No Ads
Audio Quality
Listening on mobile
Listening offline
Spotify Connect
Spotify Free
No
Up to 160 KB/s
Only in shuffle mode
No
Only Spotify Connect
speakers with new SDK
Spotify Premium
Yes
Up to 320 KB/s
Yes
Yes
Yes
Spotify Hi-Fi
Yes
Hi-Fi
Yes
Yes
Yes
2. Deezer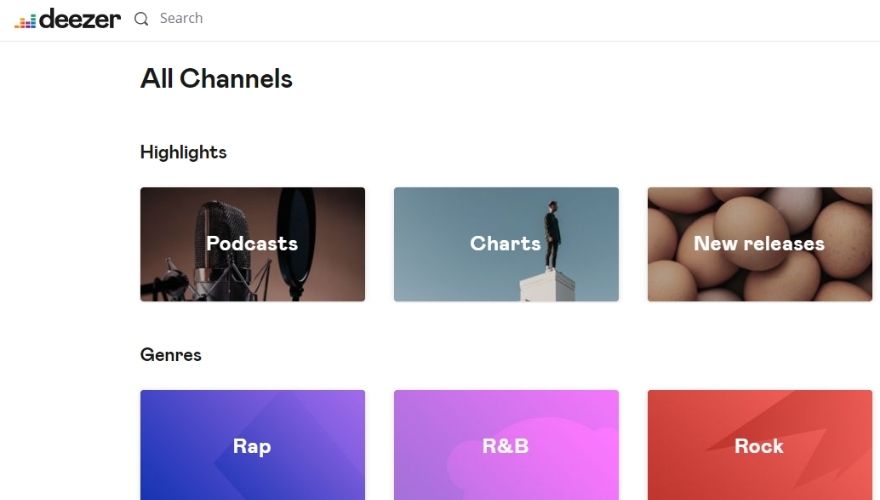 Deezer is an excellent music streaming service that was founded in France 14 years ago, in 2007. As you may expect, this service allows you to stream music content at your discretion just as long as you have an active Internet connection that can handle a little heat.
This service lets you choose from a large library of streamable content, which comprises music from various record labels such as Sony Music, Universal Music Group, Warner Music Group, as well as podcasts you can listen to on multiple devices, online and offline.
Deezer is available on several platforms, including Windows, BlackBerry OS, Mac, iOS, and Android, but you can also use it as a web service from any supported devices that has Internet browsing and multimedia playback capabilities. However, note that the web version of Deezer may not be as versatile as the dedicated apps you can download and use on specific devices.
This music streaming service lets you play whatever track you want from your favorite artists, skip the current track if you're just not feeling it, and also customize your music collection any way you want. If you know for a fact that you won't be using the Internet for a while, but still want to keep your awesome music collection by your side, Deezer lets you download your favorite tracks and podcasts and listen to them without being online.
Deezer's cross-device listening feature lets you freely switch between any supported devices on your account and resume playback in an instant. This service packs high-quality audio content so that you won't feel like compromising, even if you're streaming music instead of playing it offline from any supported device.
SongCatcher and Lyrics are two additional features that can help you enrich your music listening experience by identifying songs that are currently playing nearby and displaying the lyrics to the song you're listening, so you can sing along.
Much like any other respectable music streaming service, Deezer has an advanced algorithm that can learn your tastes in music and start to recommend content for you, so that you won't spend time trying to discover new artists.
It also has an interesting approach: on Mondays, it will help you explore undiscovered tracks, on Fridays you'll hear new content from your favorite artists, and Sundays are for chilling, so you'll hear new tracks that you can relax to. It goes without saying that you can improve the algorithm by listening more to things you like so that you give Deezer a chance to know you better.
Deezer is currently available in more than 185 countries, and, according to the official website, more will be added over time. However, if you can't access Deezer from your location, we wholeheartedly recommend you use a VPN to bypass this limitation. Not only because Deezer is an awesome music streaming service, but a VPN will also keep your privacy safe.
It's possible that you can use Deezer for free. However, you should expect a limited, ad-supported experience if you plan to stick with the free version. At the time being, Deezer has 6 plans you can subscribe for. Namely:
Subscription Type
No Ads
Audio Quality
Chromecast
support
HiFi, TV,
car support
Scrubbing
and
skipping
Listening offline
Accounts
Deezer Free
No
128 KB/s
Restricted
Restricted
Unlimited skips & scrubbing
(desktop)
6 skips per hour, no scrubbing
(mobile
No
1
Deezer Student
Yes
320 KB/s
Yes
Yes
Yes
Yes
1
Deezer Premium
Yes
320 KB/s
Yes
Yes
Yes
Yes
1
Deezer Family
Yes
320 KB/s
Yes
Yes
Yes
Yes
6
Deezer Annual
Yes
320 KB/s
Yes
Yes
Yes
Yes
1
Deezer HiFi
Yes
16 bit, 1411 KB/s
Yes
Yes
Yes
Yes
1
3. SoundCloud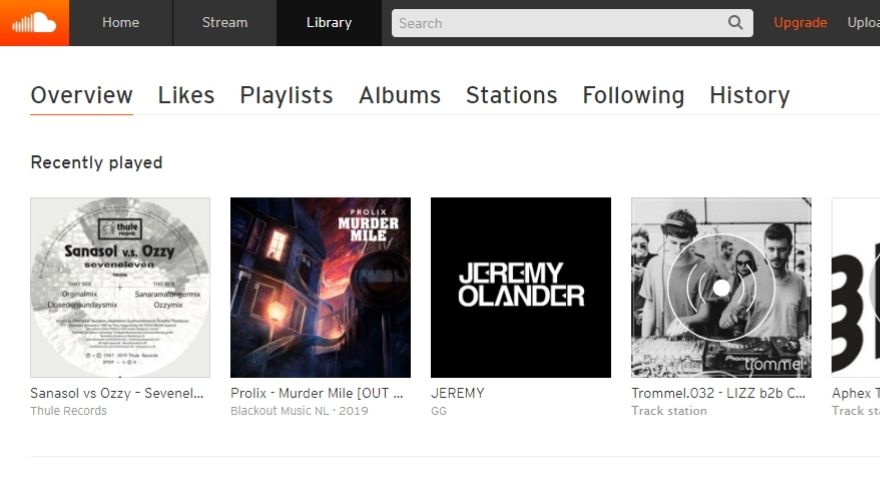 If you've been around the music scene for the past few years, the name SoundCloud must speak volumes. However, there's also a fair chance that it doesn't, so for that reason, we're going to fill you in on all the details, so you don't feel like you're missing out before we even started.
SoundCloud is an online music streaming platform where you can follow artists and listen to their music, but also upload your own content that you can share with others. This platform offers a soundwave-like media player that you can interact with not only by means of playing whatever track you loaded into it, but also leave meaningful comments at a precise part of the track.
So if you want to comment on 00:26, you just hover your mouse cursor over the soundwave and click whenever it shows 00:26. It's quite a nice way to listen to your favorite tracks while also being able to provide the artist with valuable feedback at precise checkpoints throughout the song. A lesser-known fact is that SoundCloud has been successfully used by several artists to launch their careers.
From a flexibility standpoint, SoundCloud doesn't offer you as many choices as the other two services we've previously discussed. You can only access SoundCloud from a web browser, or through Android and iOS apps if you want to take it on the go. Despite the fact that developers tried to create a desktop version of SoundCloud on many occasions, their attempts didn't yield any palpable results.
Not too long ago, there were two versions of SoundCloud for mobile devices. Namely, the original SoundCloud app, which aimed to cater to the needs of those who just want to listen to music on the platform, and SoundCloud Pulse, which was a solution for content creators that had more management-oriented features.
However, users were not exactly satisfied with having to use two different apps, and they voiced their opinion. Fortunately, SoundCloud heard them out and merged the two mobile apps into a single one, implementing advanced content, social and profile management features (replying to comments, viewing statistics) to the original SoundCloud app.
SoundCloud is generally available everywhere in the world. However, it may happen to you to find some tracks that are not available in your country. While this can happen for various reasons, one sure way to get past this seemingly unfair limitation is to use a VPN and connect to a different region.
Although you can use SoundCloud entirely for free if you just want to listen to your favorite tunes, it's worth mentioning that SoundCloud also offers a few more subscription plans that could bring you more features you could use, especially as a content creator.
SoundCloud Basic:
Free to use
Lets you upload up to 3 hours of work
Offers you basic listener insights
Has lossless HD storage
SoundCloud Repost:
Everything from the free version
Lets you distribute tracks to major music services
Premium features that help you get paid
Promotional tools that help you extend your reach
Split payments with your collaborators
SoundCloud Pro Unlimited
Everything from Basic & Repost
Lets you get paid for your plays
Unlimited upload time
Offers advanced listener insights
Lets you replace tracks without losing stats
Provides you with an exclusive Gobbler-SoundCloud suite of audio plugins
It's worth mentioning that SoundCloud also offers a couple more subscription plans called SoundCloud Go and SoundCloud Go+, but they're only available in a select few countries. If you're interested and these plans are not visible while you're trying to purchase a subscription plan, you can use a VPN and try to make the purchase from a different location.
4. Bandcamp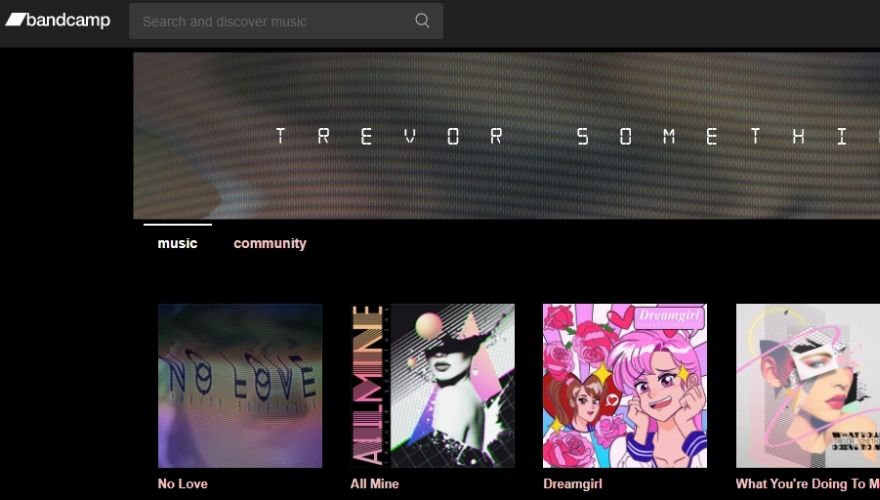 Bandcamp is an online music service where you can stream tracks (or parts of them), and buy them. So far, Bandcamp seems like just about any other online music store. However, there's a twist: this website enables artists to upload music directly to Bandcamp and control every aspect of the selling process.
For instance, artists and labels alike (depending on their previous agreements) can control the price, provide the buyer with the option to pay more so as to support the artist, and even adding merchandise on the same page as the album.
Although Bandcamp mostly caters to the needs of those who want to shop for music (from a consumer standpoint), you can also use it to stream music. Without buying a track, you can stream it only once, but that depends on the artists and what restrictions they enforce on their content.
Some artists, for example, only offer a preview of some of their tracks, while others let you stream the content freely, so you can give their songs a good listen before deciding if you want to purchase them. Also, you can buy one track or the whole album, depending on your preferences.
If you buy an album or a track, you'll receive a voucher, which serves as proof of purchase. As long as you have that voucher, you can stream the tracks you've bought directly on the Bandcamp website unlimited times.
It's also possible to send your purchase as a gift, save albums or songs to a wishlist, as well as view the lyrics of the song you're listening to. Bandcamp offers several download formats, including lossless MP3, AAC, Ogg Vorbis, WAV, FLAC, ALAC, and AIFF. However, if you're more old-school-inclined, you can also purchase CDs or vinyl straight from the artists, if they support these media types.
As an artist, you can create a Bandcamp page where you can include various information about your project, along with social media links, available albums, as well as merchandising links. You can also customize the features of your Bandcamp page and change its look as many times as you want.
In addition to all the services mentioned above, Bandcamp also launched Bandcamp Live, a ticket-based live streaming service for artists. Think about it as a virtual concert venue where you can watch your favorite artists online in exchange for a fee.
Last, but not least, Bandcamp is entirely free to use for you as a listener, as far as browsing the website and streaming available content goes. However, the platform gives artists the possibility of creating subscriptions for their fans, and these subscriptions can include everything, ranging from streaming exclusive content to their devices to access to releases from your artists' back catalogs.
5. Mixcloud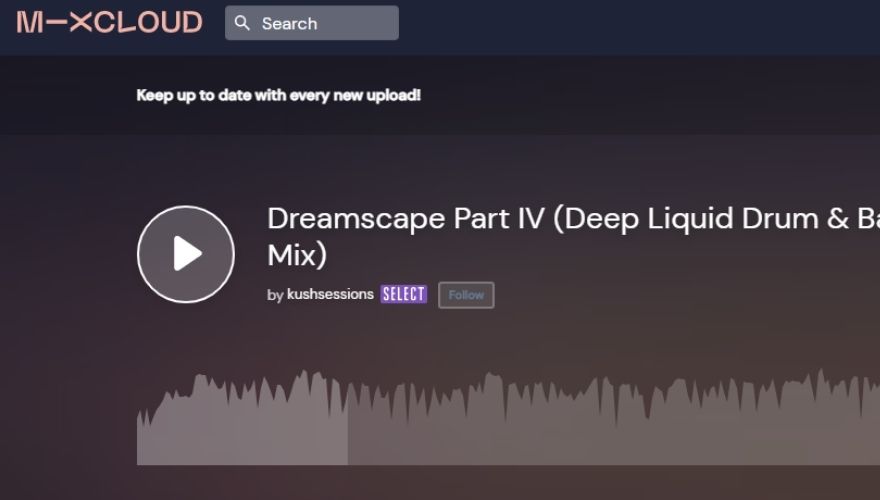 Although it sounds similar to SoundCloud, which may lead you to believe that they're somehow related, Mixcloud is a standalone music streaming platform that was designed primarily for DJs, radio shows, and podcasts, all of which are crowdsourced by registered users.
As a registered user, you can upload content, including radio shows, podcasts, and DJ mixes. Up until 2011, there was a file size limit of 100 MBs, thus restricting content creators in terms of not only file size, but also format and quality, since reducing file size usually comes at the expense of quality.
However, nowadays you can upload up to 500 MBs worth of content per session, which is more than enough for a decent-sounding DJ mix, radio show, or podcast. If you're a registered member, you can also join other users that share common interests in groups. If you're in a group, you'll get notified whenever something that you may be interested in becomes available.
The greatest part about Mixcloud is that it can be entirely free to use as a listener. You don't even have to create an account in order to be able to stream your favorite audio content on Mixcloud's platform. However, registering an account can help you organize the content you like in a more convenient manner. More so, having an account also means that you'll be able to keep a close eye on your favorite artists and get notified whenever they release new content.
Mixcloud provides you with an API that you can search, upload, and even embed its content if you have the know-how. If you want to share mixes, radio shows, and podcasts with others, Mixcloud makes it possible to do so on Facebook or Twitter, embed them to your website, or simply copy and paste the link in a conversation or an email.
If you want to take your music on the go, you'll be glad to learn that Mixcloud offers mobile apps for both Android and iOS devices. You can use those apps as you would the web version of Mixcloud: explore genres and categories, follow creators, radio stations, and DJs, keep track of your listening history, and create lists of the content you want to listen to later. You can also sync your playback across your devices if you need to.
Although you could use Mixcloud for free just as well, you should be aware that there's a premium version of the platform that offers a few more features. In fact, there are three premium versions: Mixcloud Select, Mixcloud Premium, and Mixcloud Pro.
Mixcloud Select lets you connect directly to a Select creator so as to get more from it in terms of content frequency and perhaps even quality. Subscribing to a Select creator lets you listen to content offline, access exclusive posts and shows, as well as access the back catalog of your favorite content creators.
Mixcloud Premium is actually an upgraded version of the Select plan, as it grants you the right to listen to your favorite content creators without interruptions, ads, or any other play restrictions. In addition, you can also get access to upfront tracklists and the back catalog of your favorite radio stations unlimited.
Mixcloud Pro is a type of subscription that is reserved only for content creators, DJs, radio show hosts, and podcast creators. If you fall in these categories, a Pro subscription plan could give you all the tools you need to increase your reach and monetize your content. You can allow fans to subscribe to your channel in exchange for a fee, grow a fanbase, and access analytics of your activity.
6. TIDAL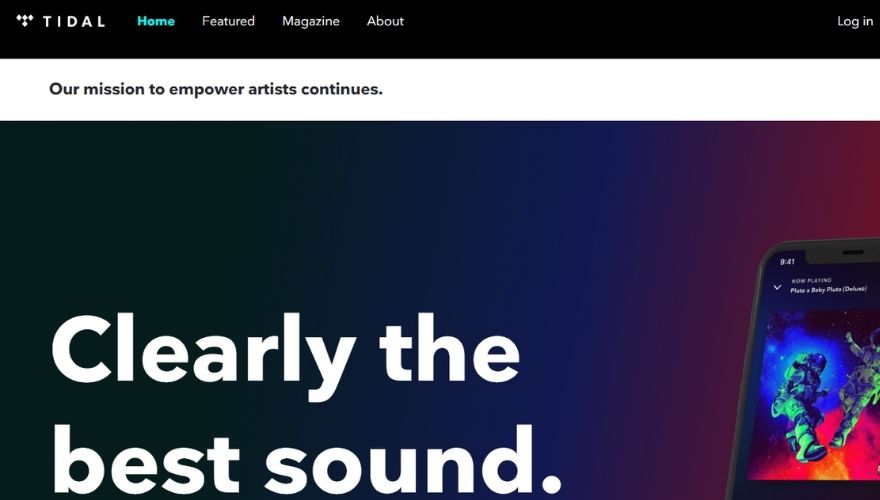 If you're an audiophile, you couldn't have missed TIDAL, so you probably know exactly what it is, who launched it, and how various artists, including Beyoncé, Jay-Z, deadmau5, Kanye West, Rihanna, and Madonna are artist-owners of this service.
On the other hand, if all of this is brand-new information to you, but you're still an aspiring audiophile, then you're definitely in for a treat. First and foremost, TIDAL is a service that provides you with high-fidelity songs and high-definition music videos to quench your thirst for a high-quality music listening experience.
This service is currently available in 55 countries, so if you notice that you can't access it from your region, we recommend you use a VPN and try sort this geo-blocking thing out, especially if you're a high-fidelity music and HD music video aficionado.
However, hi-fi audio and HD videos aren't the only two things that make TIDAL unique. In fact, aside from on-demand access to listeners who can use it to discover new artists or listen to their favorite ones, TIDAL also brings exclusive content to the table in the form of exclusive songs and music videos.
Furthermore, the service also offers its users the chance to engage in real-life experiences, including concerts with both emerging and well-established artists, as well as other fan-artist interactions for those who are interested. Let's be honest, who wouldn't?
As opposed to other services, TIDAL has its own group of expert "tastemakers" who are in charge of selecting and promoting emerging artists through the TIDAL Rising program to broader audiences. Furthermore, TIDAL uses a lossless compression technology called Master Quality Authenticated which allows users to listen to their favorite songs just as they were recorded in the studio, without compromising quality.
TIDAL allows you to either stream music content or download your favorite tracks so you can listen to them while you're not connected to the Internet. However, note that purchasing songs from TIDAL isn't included in the subscription. In fact, you'll have to pay for each piece of content you want to download, and, depending on the quality you choose (MP3 or lossless), the price will differ. Note that you won't be able to download directly to a mobile device or external card.
There's a free 30-day TIDAL trial you can use to test the service and decide if it's worth purchasing a premium subscription plan. As far as subscription plans go, TIDAL is quite flexible in the sense that it offers quite a broad range of options, including plans for your family, students, military staff, and community heroes.
7. YouTube Music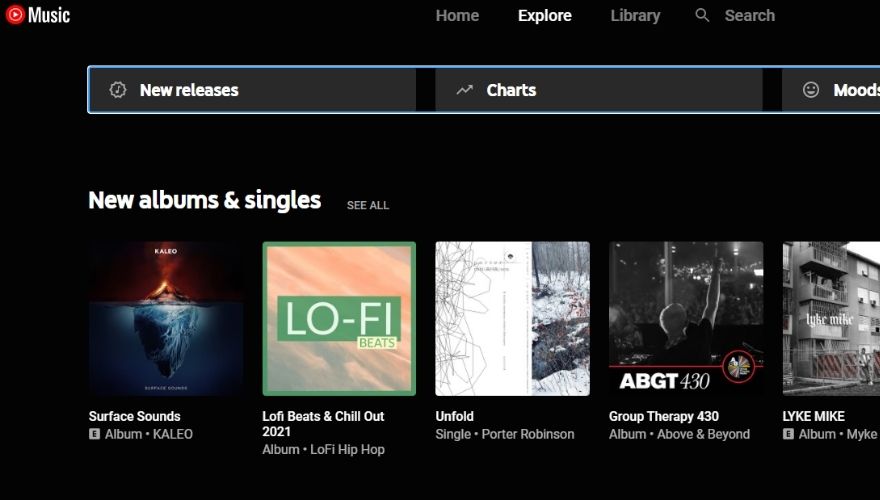 If you're using YouTube as your main music player, chances are you've already seen YouTube Music, as Google's been pushing it for quite some time now, regardless if you've been turning down their offer each and every single time.
However, it does make an excellent music streaming service, and if you want to skip the interruptions, ads, and the constant nagging about whether or not you're still there or if you're still listening or suddenly stopped hearing, then YouTube Music is clearly what you need in your life.
Initially, YouTube Music operated in parallel with Google Play Music. However, Google pulled the plug on the latter and attempted to replace it with the former. If you've been a Google Play Music user, you can import cloud libraries, playlists, recommendations, and purchased music to YouTube Music thanks to a May 2020 update to the service.
As opposed to its now-defunct counterpart (Google Play Music), YouTube Music has no online music store, so you won't be able to purchase albums or songs from your favorite artists. Furthermore, the service requires you to purchase a premium subscription if you want to cast cloud library speakers to Google Nest.
Although Google stated that they were going to address these issues (and others) before pulling the plug on Google Play Music, YouTube Music users still face some of these gaps. However, if you're familiar with YouTube and use it as your main source of playing music in various circumstances, then YouTube Music is definitely worth trying. Note that you can use YouTube music on your PC, but also on Android or iOS devices, depending on your needs.
First of all, it could take care of one of the most annoying YouTube "features": not being able to play in the background or after turning your screen off, if you're using it on a mobile device. YouTube Music, however, can do that, just as long as you pay for a premium subscription plan, which is fair enough.
You can also use YouTube Music for free, but keep in mind that the free version of this service is ad-supported. As a result, you won't be able to use it in an audio-only mode, since the free version needs to display video ads. So, in a way, the free tier of YouTube Music is essentially YouTube.
Currently, these are the subscription plans you can use with YouTube's music streaming services:
YouTube Music free
Ad-supported
Unlimited skipping and scrubbing
The offline mode only in YouTube Go
No background playback
Limited to 128 KBs/second
YouTube Music Premium
No ads
Unlimited skipping and scrubbing
Unrestricted offline mode
Background playback supported
256 KBs/second quality
YouTube Premium
Same as YouTube Music Premium
Note that you can also get the paid plans in the family variant, which allows up to 6 members from the same household to use the features. Furthermore, if you're a student you can apply for a discount on an individual plan.
8. Apple Music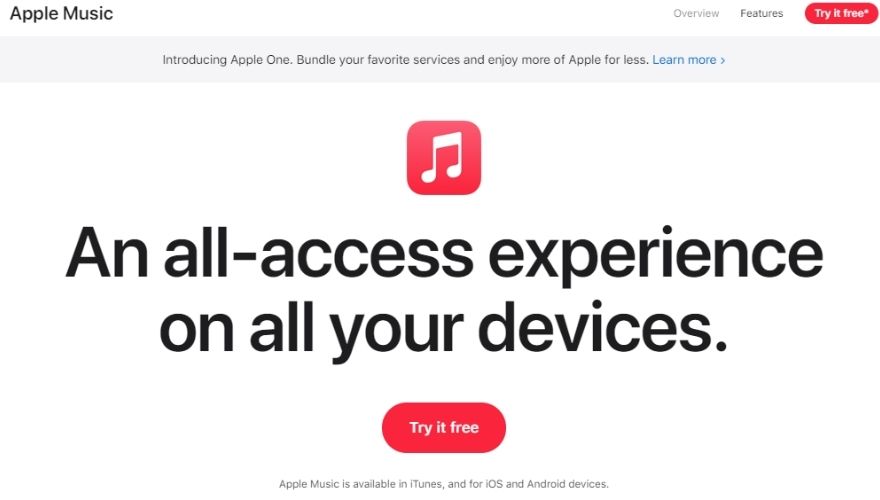 Contrary to urban myths and legends, you don't need to be an Apple product owner in order to use Apple Music, as it's available for numerous non-Apple devices and works just as well on them. Thus, if you've been holding back for fear of not being an Apple product owner, you've been definitely missing out.
Apple Music is for good reason one of the most popular music and video streaming services that allow you to either enjoy your favorite multimedia content by streaming it or simply listening to existing playlists that other users have created.
In addition to these features, Apple Music also features a few radio stations that you can listen to if you want: Apple Music 1, Apple Music Hits, and Apple Music Country. More so, each artist has a Play button on their profile, and hitting this button automatically creates a radio station based on the artist.
A lot of confusion has been spreading around regarding the ability to download songs on Apple Music. To answer your question: no, you can't download songs or albums from your favorite artists on Apple Music. However, if you're an Apple product owner, just go to iTunes and make the purchase from there. The same goes for if you're not an Apple product owner; iTunes also works on other devices just as well.
Unfortunately, Apple Music doesn't offer a free trial to its users, so there's no way to use it without paying a premium. However, if you're a new subscriber and want to take the service for a test drive before you decide to commit to purchasing a subscription, there's a generous 3-month trial you can use just for that.
The standard price of the service is $9.99 per month, which is more than just fair, considering the amount of content you're getting access to. At the time being, you can access Apple Music from almost anywhere around the world. However, there are countries where Apple products may be regulated and as a result, Apple Music may not be available there.
If you encounter this unfortunate situation, you should know that simply adding a VPN to the mix won't be enough to dodge these unfair limitations; you'll also need to provide Apple with an address, as well as a payment method that matches your current location.
9. Last.fm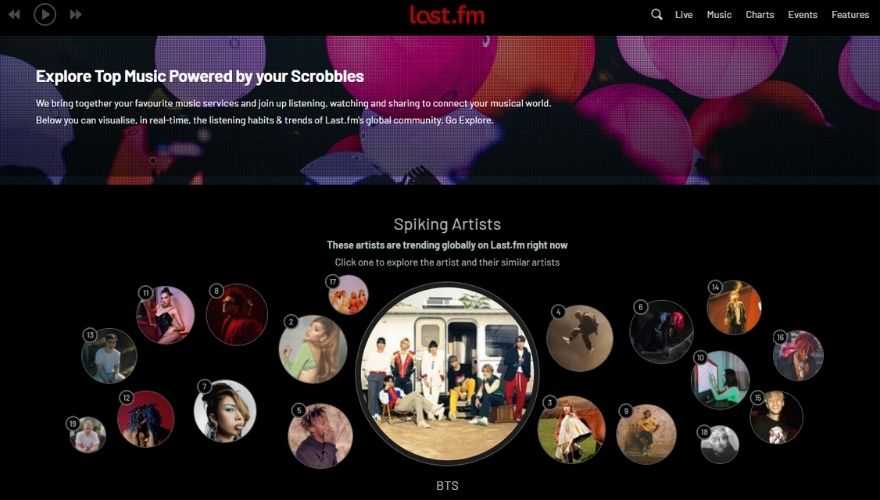 Last.fm used to be a huge deal, as it had some of the greatest features that every music enthusiast needs in their lives. Some of them are still there, but unfortunately after being purchased by CBS a few of its features under. For starters, Last.fm uses a recommendation system called "Audioscrobbler" to build a complex profile of your musical tastes based on a wide variety of parameters.
Each track you listen to has several details, and Last.fm records all these details, transfers (scrobbles) them to an internal database either using a third-party music player (TIDAL, Spotify, Deezer), or a plug-in installed on your music player. The resulting data are displayed on your profile page and used to create reference pages for artists.
One of the most important features that Last.fm lacks since April 2014 is its awesome radio player. The service would take your preferences regarding artists, albums, songs, and genre, and create a personalized radio station just for you, which was not only a great way to listen to your favorite songs but also discover new ones that actually made sense, unlike other services' recommendations.
Another feature that has absolutely vanished from Last.fm's toolbelt is the ability to access the service's huge music catalog from the website. Instead, you can access and listen to music using YouTube, and sometimes Spotify links. Thus, it's safe to say that Last.fm has put some distance between them and music streaming and focused entirely on helping you create a music profile, so you could discover relevant content easier. And we understand that.
Although you can use Last.fm for free, you will miss out on a lot of interesting features that could make your music profile creation even better. If you upgrade to the pro version of Last.fm, you'll get the following features for only $3 per month, or $2.5 if you choose to get billed yearly:
Last.fm Pro
Editable scrobbles
Username change
Monthly music listening report
Additional listening stats in your report
Blasts from the Past (artists you've used to play a lot but didn't listen to recently)
Library image views
Pro badge on your profile
Full-screen view for now-playing
30% discount on Last.fm merchandise
Ad-free experience
Early access to new features
Historical listening reports
CONCLUSION
All things considered, if you were an avid consumer of Limewire and Grooveshark back in the day, things may feel a bit tough for you, considering that both services are dead and buried, and have been that way for a while now.
On the bright side, there are a lot of services that are not only entirely legal to use (unlike Grooveshark and Limewire), but also provide you with an impressive range of additional features, ranging from incredible sound quality to an impressive library of content and generous free trials.