We are reader supported and may earn a commission when you buy through links on our site.
Learn more
Best Kodi Add-ons for Premier League
The open-source media center app Kodi makes streaming videos to all of your modern devices as easy as can be. By downloading the free software and installing the right add-ons you can watch live sports, check out the latest movies, binge on TV series, and so much more. Finding a reliable add-on that meets your needs is tough, especially if you're looking for HD Premier League matches and live broadcasts. We combed through the Kodi community and found some of the best add-ons for watching Premier League football (soccer). Follow the guide below to stay safe and start streaming right away!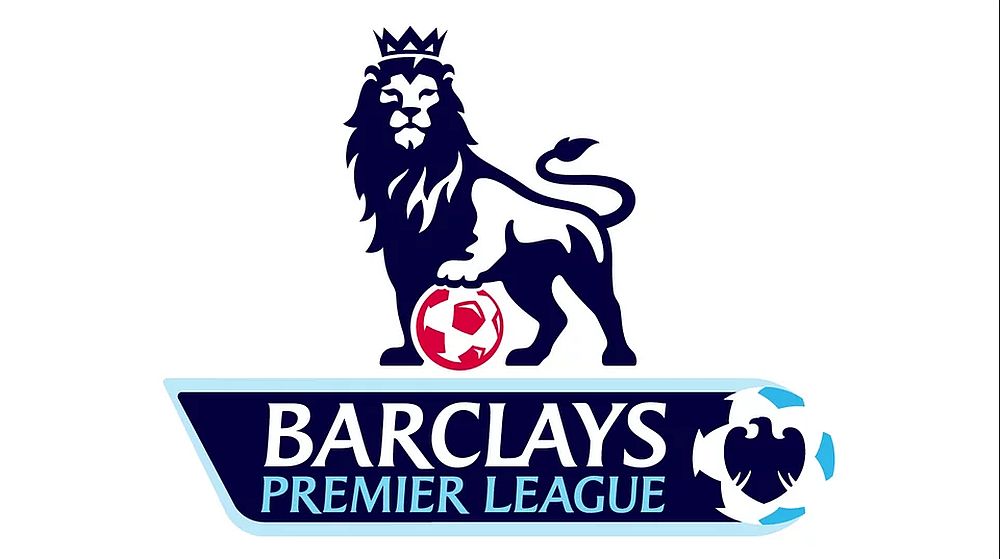 30-days money back guarantee
Before Using Kodi, Get a Good VPN
Kodi itself is completely safe to use. In recent years, however, a number of content rights holders have noticed unofficial add-ons linking to pirated content. This unfortunately cast the entire Kodi community in a bad light. ISPs started monitoring streamers or throttling Kodi downloads, and several companies have taken add-on developers to court, including one of the former Premier League add-on creators.
To stay safe while streaming sports through Kodi, you'll need a good VPN. But which one should you choose? We made our selection using the following criteria, ensuring you have the fastest, safest, and best all-around VPN for all of your Premier League streams:
No bandwidth restrictions
Unmonitored traffic
Our Pick: IPVanish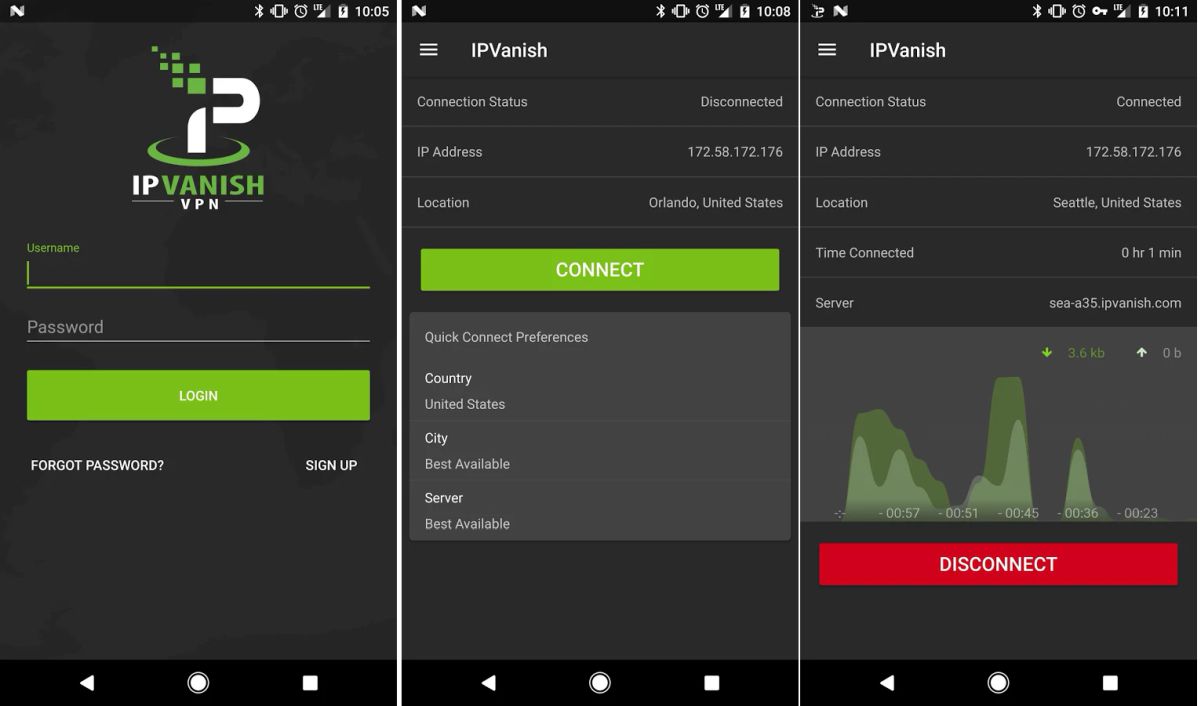 IPVanish has the perfect balance of features for fast, private, and unlimited video streams through Kodi. The VPN does this by deploying a massive network of over 850 servers in 60 different countries and fine-tuning them for optimal performance. With so many locations at your disposal, you're practically guaranteed the highest-quality streams no matter which region you connect to.
On the privacy side of things, IPVanish locks all your data down with 256-bit AES encryption to ensure no one can track your activity. Over 40,000 shared IP addresses help keep your identity anonymous, and both DNS leak protection and an automatic kill switch secure your local connection so no details sneak through in case of a disconnect. Backing these features is an incredible zero-logging policy on all traffic. The moment you connect to IPVanish your data becomes secure and your identity a secret.
IPVanish offers a 7-day money back guarantee which means you have a week to test it risk-free. Please note that Addictive Tips readers can save a massive 60% here on the IPVanish annual plan, taking the monthly price down to only $4.87/mo.
How to Install Kodi Add-ons
Kodi's add-on community is organized into repositories. These zip files are stored on external servers and are packaged and maintained by a variety of community members. Repos make it extremely easy to discover, install, and update add-ons, as you don't have to worry about tracking down new files for every extension you use. They also provide a layer of security to help prevent malicious content from finding its way to your system.
Kodi offers a variety of ways to add repositories, but we prefer the "external sources" method, as it's easier to use on mobile devices and keeps things tidier in the long run. Before you begin you'll need to change a default setting to allow this method to work:
Open Kodi and click on the gear icon to enter the System menu.
Go to System Settings > Add-ons
Toggle the slider next to the "Unknown sources" option.
Accept the warning message that pops up.
Once Kodi is configured the fun can begin. All you need to do is locate a repository URL, enter it into the file manager as a source, then let Kodi carry out the installation. Now you can dive in and install all the add-ons you like! The process can be awkward the first few times you do it. If you need a hand, follow our guides below for step-by-step instructions from beginning to end.
Note: The Kodi community includes both official and unofficial add-ons, the latter of which sometimes access unverified sources or even pirated content. Addictive Tips does not condone or encourage any violation of copyright restrictions. Please consider the law, victims, and risks of piracy before accessing copyrighted material without permission.
Best Kodi Add-on for Watching Premier League: Official
Kodi is open-source and extremely easy to customize. One of the best extras you can access are official add-ons verified and packaged by Kodi's developers. These deliver free and legal content to your Kodi installation, all you have to do is install them and start streaming.
Official Add-on: NBC Sports Live Extra
NBC Sports Network is the official broadcaster of all Premier League games in the U.S. The channel also features exclusive highlights, interviews, and preview content for many of the biggest matches. The official add-on lets you access all of this content from any Kodi-enabled device. It's also 100% legal and easy to access, all you need is an active cable subscription and a few minutes to authorize your device.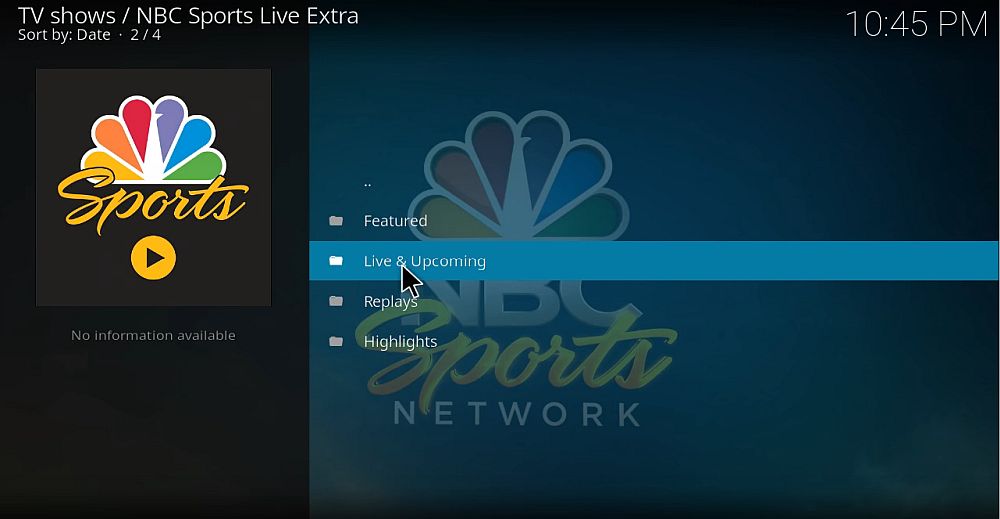 How to install the NBC Sports Live Extra add-on:
Open Kodi on your local device and go to the main menu.
Select "Add-ons"
Click the open box icon at the top of the menu bar.
Choose "Install from repository"
Find and click "Kodi Add-on repository"
Choose the "Video add-ons" folder.
Scroll down and select "NBC Sports Live Extra"
Click the "Install" button in the lower right corner of the window that opens.
When the installation completes you can access the add-on from the main menu.
Before you can watch streams you'll need to activate your device. After clicking on a video Kodi will prompt you with a message window with the information you need. Follow the steps below to confirm your account:
Visit activate.nbcsports.com
Enter your device and cable provider.
Type in your activation code listed in the Kodi pop-up window.
When activated, NBC's website will redirect you to your cable provider's login page.
Enter your details and sign in.
Once activation is complete, go back to Kodi, close the pop-up, and start streaming.
Best Kodi Add-on for Premier League: Unofficial
Outside of Kodi's officially featured add-ons, you'll find a host of third-party content. These unofficial extensions draw from a wide variety of sources and provide access to videos you never knew existed. The downside is that some add-ons can be unreliable. Links are often dead, sources won't load, and add-ons disappear without warning. We combed through the Kodi community to find the most reliable unofficial add-on we could find for watching Premier League.
SmoothStreams.tv – Soccer and Sports Broadcasts
Live streams are one of Kodi's specialties, especially if you need worldwide access to a variety of sports. The SmoothStreams.tv add-on pulls content from the same-named website and features just about everything you could ever want. Along with the major categories listed below, you'll also find cycling, volleyball, snooker, racing, and even a selection of TV shows just for fun.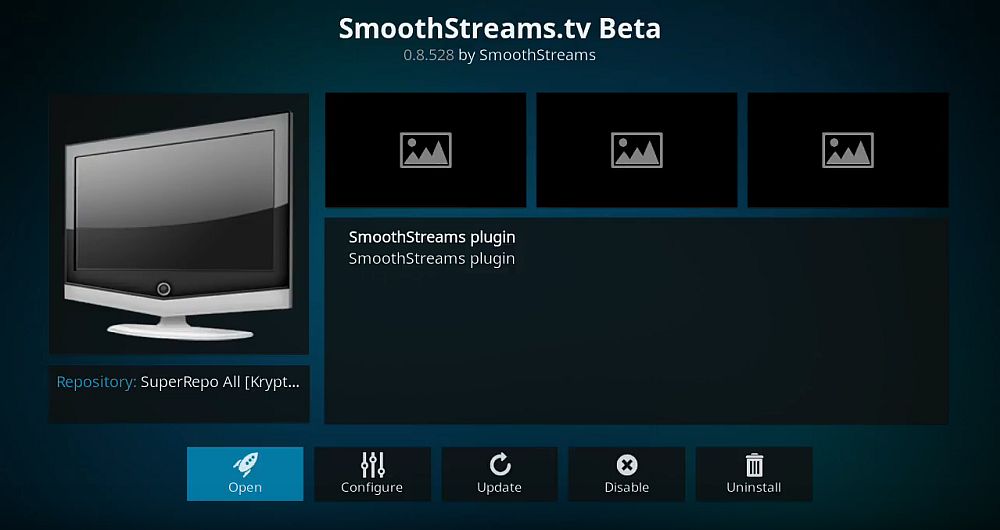 American football
Baseball
Basketball
Boxing & MMA (UFC)
Cricket
Football (soccer)
Golf
Hockey
Rugby
Tennis
Wrestling
SmoothStream's Premier League content can be found under the "world football" section mixed in with the other soccer content. The matches are listed by air time and source and are drawn from channels around the world. If you miss one broadcast, chances are you can catch another one later in the day.
Note: The SmoothStreams Kodi add-on requires a paid subscription to the SmoothStreams.tv service. You also have to manually log in to the add-on after installing. The steps below will guide you through the entire process from beginning to end, including adding a repository, installing the add-on, creating an account, and configuring it to access videos.
How to install SmoothStreams on Kodi:
Open Kodi on your local device.
Click on the gear icon to enter the System menu.
Go to File Manager > Add Source
Type in the following URL exactly as it appears: https://srp.nu
Name the new repository "SuperRepo"
Click "OK".
Go back to the Kodi main menu.
Select "Add-ons"
Click the open box icon at the top of the menu bar.
Choose "Install from Zip File"
Select "SuperRepo" followed by your version name of Kodi.
Select "All" to install the entire SuperRepo set of add-ons.
Go back to the Add-ons menu and click the open box icon again.
Choose "Install from repository"
Find and click "SuperRepo All"
Scroll down to "Video Add-ons"
Locate "SmoothStreams" and install.
Access SmoothStreams from the main menu when the installation is complete.
Now that the SmoothStreams add-on is installed, you'll need to create an account with the website. Sign-ups aren't handled like most services where you can just go to the site and get started. The information can change from time to time, but the steps below will be a reliable way to kick off your account creation:
Go to the Smoothstreams.TV Twitter page in your web browser.
A pinned tweet at the top will link to the current sign-up page.
Click the link, enter your information, and submit.
Follow the instructions in the sign-up e-mail to pay and complete your subscription.
With sign-in details in hand, all you have to do is enter your information into the add-on, then let the football begin.
From Kodi's main menu choose the "Add-ons" section.
Click "Video add-ons"
Scroll to SmoothStreams, right click on the icon and choose "Settings"
Under the "Server" tab, choose "Username" and enter your details.
Enter your password beneath the username.
Click "OK"
Open the SmoothStreams add-on and start watching some sports!
Is it Safe to Install Kodi Add-ons?
Kodi's add-on community is home to a staggering variety of content. Once you start digging into unofficial extensions you may encounter sketchy sources and awkward add-ons. While the vast majority of these programs are safe to use, it's not a bad idea to take a few precautions to keep you and your computer safe from harm.
The number one piece of advice you can follow for Kodi safety is this: stick to reliable repositories. Most repo communities validate add-ons before packaging them into their releases. If the repository is reliable, the add-ons will be, too. You should also keep your anti-virus software and firewall active every time you use Kodi, and if you start a stream, fire up your VPN to keep everything anonymous and private.
We also download and verify each add-on before featuring them in our articles. If they appear on the list above, it means everything was working and safe at the time of writing.
Do you know of another Kodi add-on that's perfect for streaming Premier League matches? Share your knowledge in the comments below!