We are reader supported and may earn a commission when you buy through links on our site.
Learn more
All Wrestling Kodi Add-on – Installation and Guided Tour
The All Wrestling add-on for Kodi from developer RayW1986 is what you need if you're a wrestling fan, as it has a plethora of content from most major wrestling promotions. We'll show you step by step how to install this cool add-on and then take you through a guided tour of its most important and interesting features. We'll then discuss the pros and cons of the add-on and suggest a few other attractive options for wrestling fans.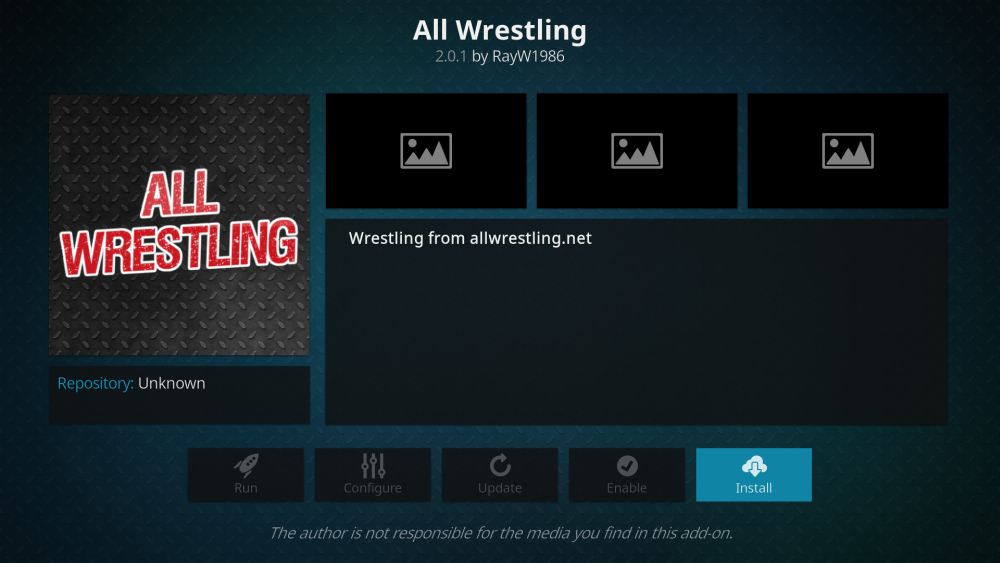 30-days money back guarantee
Protect Yourself While Using Kodi – Use a VPN
ISPs don't like you to stream content. When they see you do it, they might send you copyright infringement notices, throttle down your speed or even interrupt your service. A VPN will keep your ISP from seeing what you're doing, avoiding these annoyances. Furthermore, using a VPN will give you access to geo-blocked content by spoofing your location.
There are many VPN suppliers to choose from. Important factors to consider when choosing one are:
fast connection speed to avoid buffering,
no-logging policies to protect your privacy,
no usage restrictions to access any content at full speed and
software that is available for all your devices.
The Best VPN for Kodi: IPVanish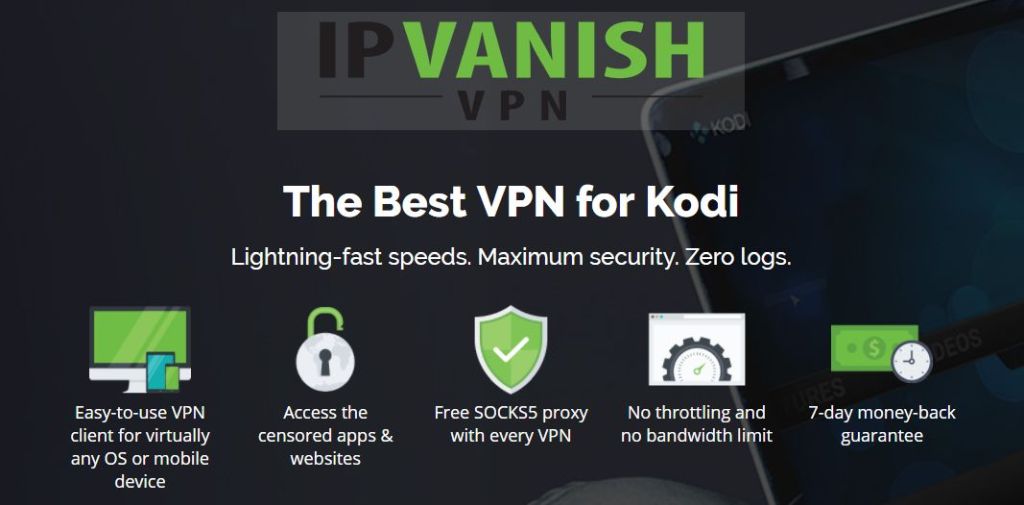 For Kodi users, we recommend IPVanish. It offers a complete security solution that meets all our criteria. With a widespread network, no speed cap, no throttling, unlimited bandwidth, unrestricted traffic, no logging and client software available for most platforms, IPVanish has all the required features.
IPVanish offers a 7-day money back guarantee which means you have a week to test it risk-free. Please note that Addictive Tips readers can save a massive 60% here on the annual plan, taking the monthly price down to only $4.87 per month.
Installing the All Wrestling Kodi Add-on
Like with most add-ons, installing All Wrestling is a multi-step process. You first need to configure the repository installation source. You then install SuperRepo, a repository that hosts the All Wrestling add-on. Finally, you install the actual add-on. It may seem like a lot of work, but we'll make it an easy task by guiding you through all the required steps.
Before you begin, you must make sure that you've enabled Unknown Sources in Kodi. If you've installed other add-ons before, they probably are. If not, from the Kodi home screen, go to Settings (the little gear icon at the top left), choose Add-ons on the left pane and make sure that the switch next to Unknown Sources is On. It should be white instead of gray.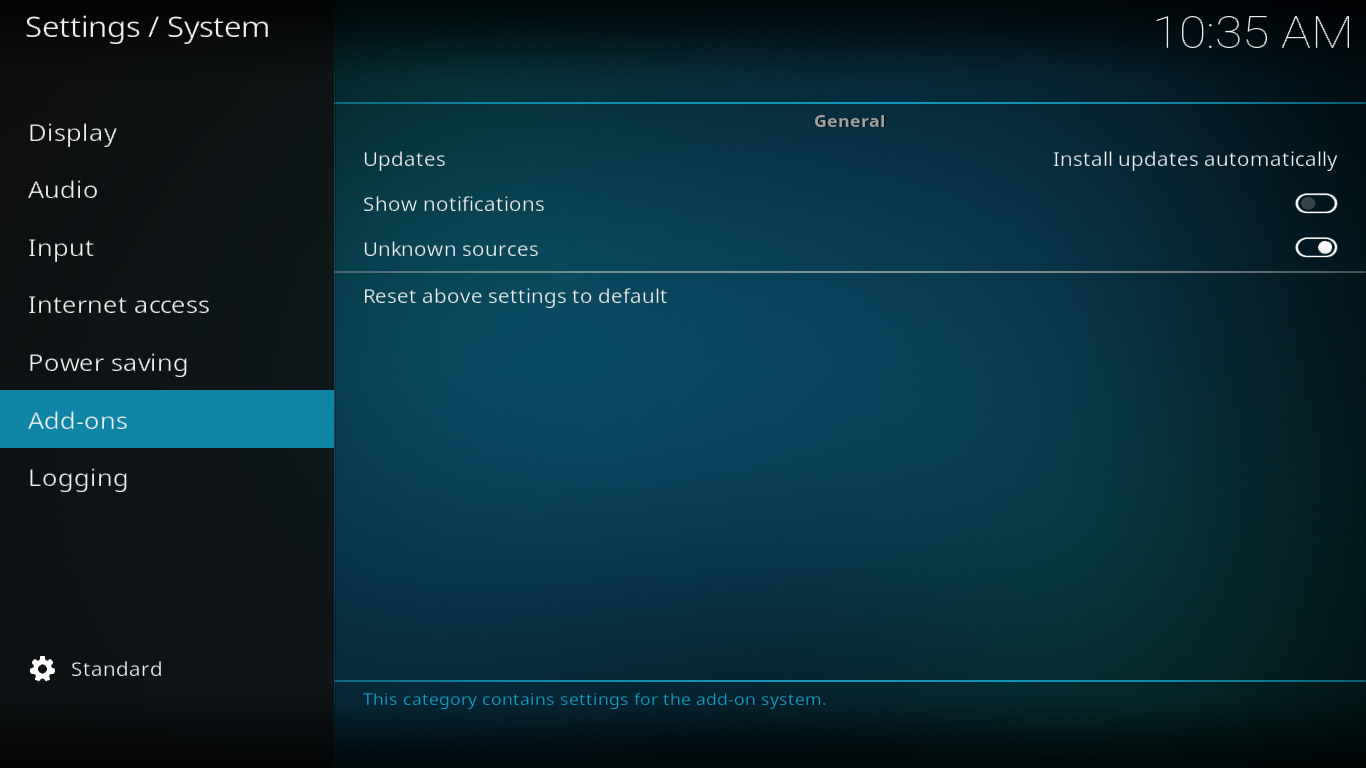 Adding the Source
From the Kodi home screen, click the Settings icon and then File Manager. From the file manager screen, double-click Add-Source in the left pane.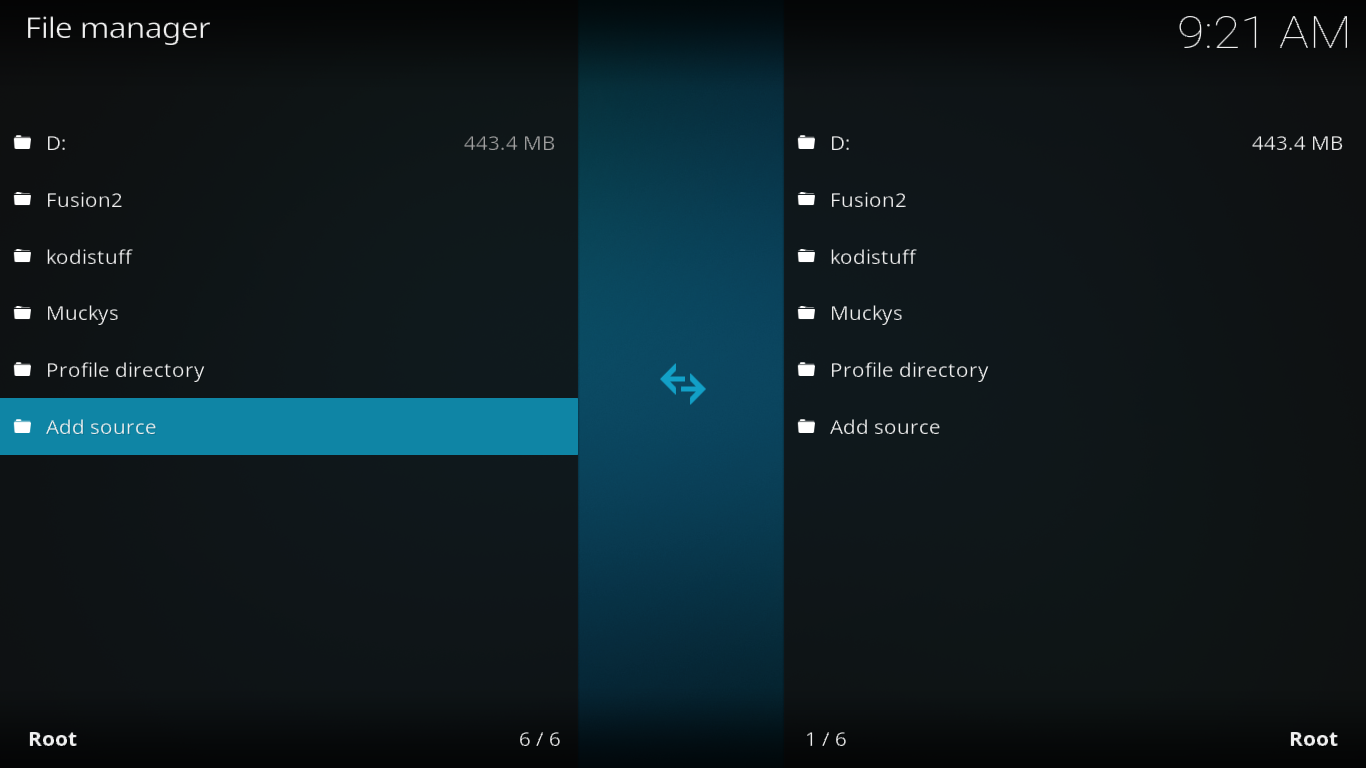 Click None and enter this text "https://srp.nu/" (without the quotes) in the box at the top of the screen and click OK.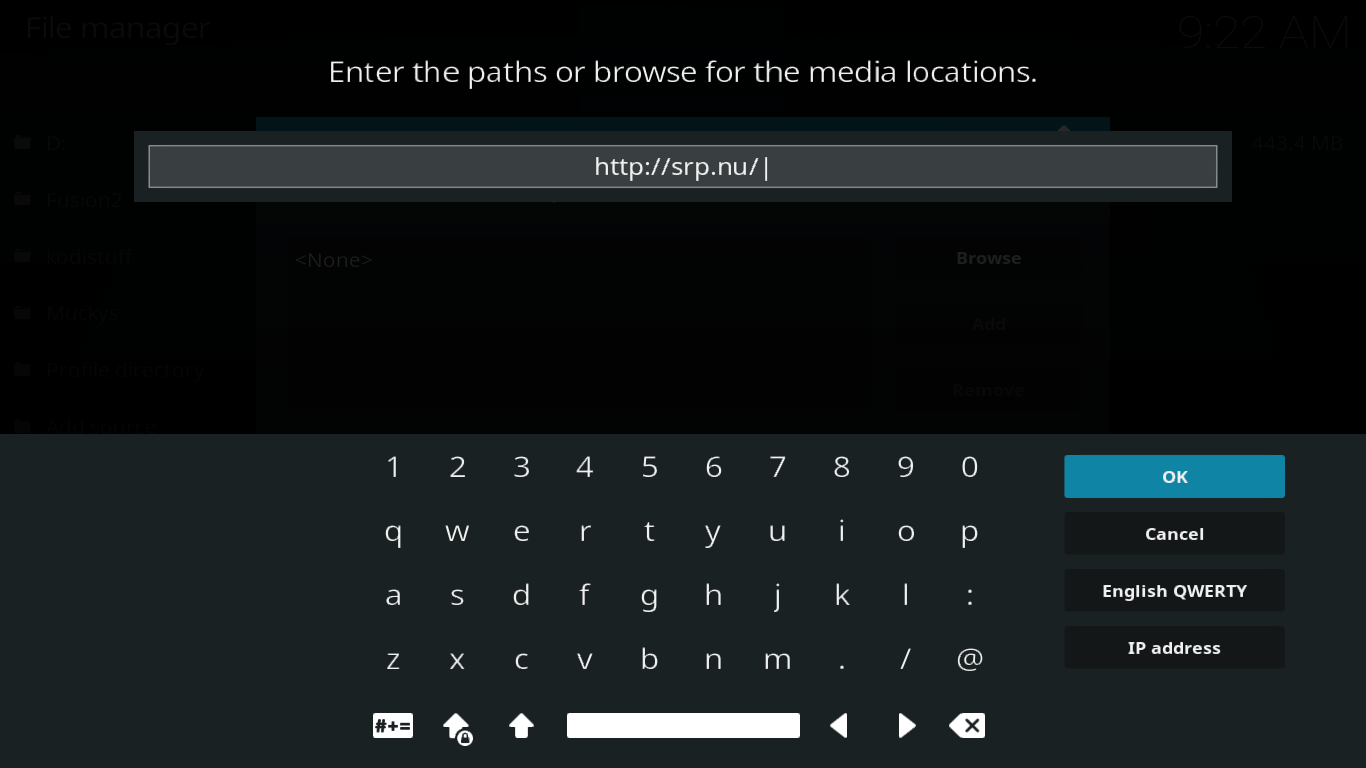 You need to name this new source. We'll call it SuperR. Enter the name in the appropriate box and click OK.
Installing SuperRepo
A repository is a place from which you install add-ons on Kodi. It is like the Apple or Android respective app stores, with the difference that you can install multiple repositories in Kodi. SuperRepo is the repository we'll install as it hosts the All Wrestling add-on.
From the Kodi home screen, click Add-ons in the left pane and then click the Package Browser icon (the little open box) at the top left.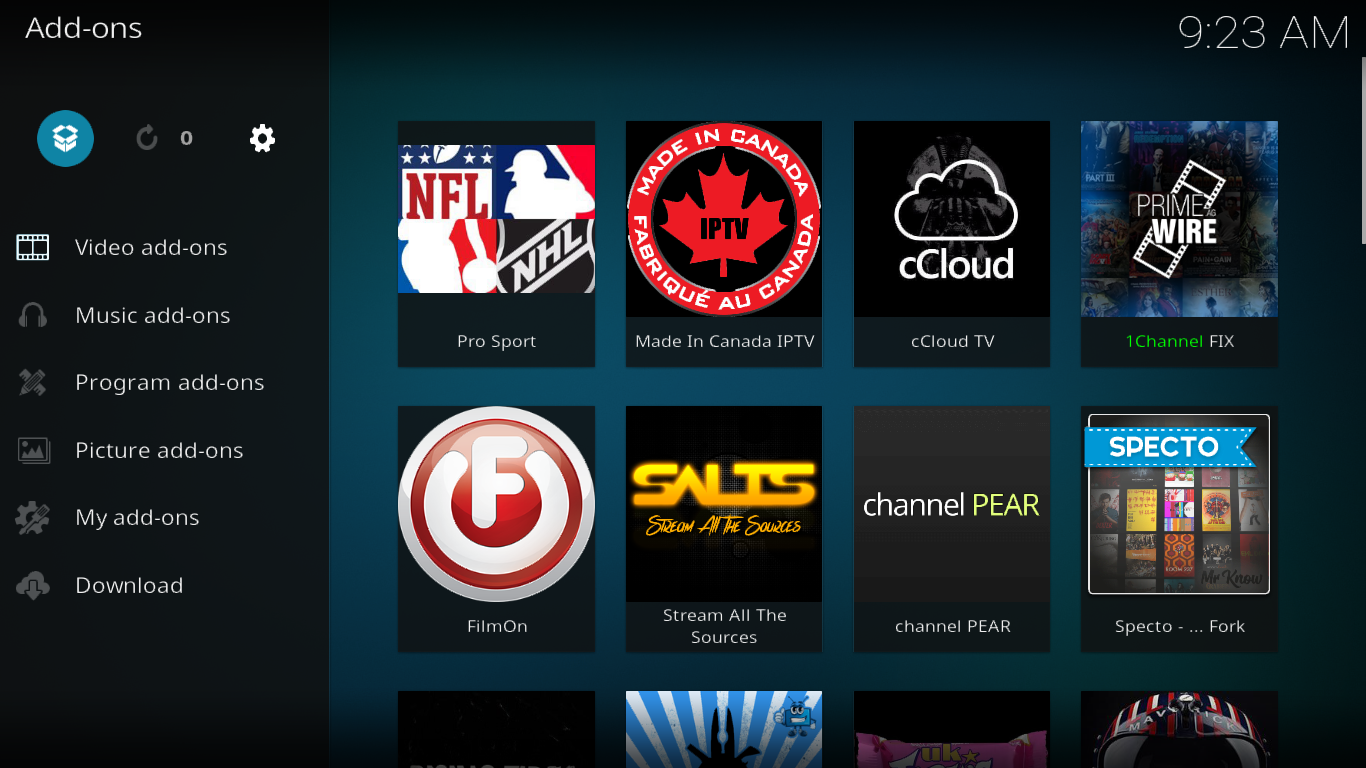 Select Install from ZIP file then, on the next screen, select the source we just added (SuperR).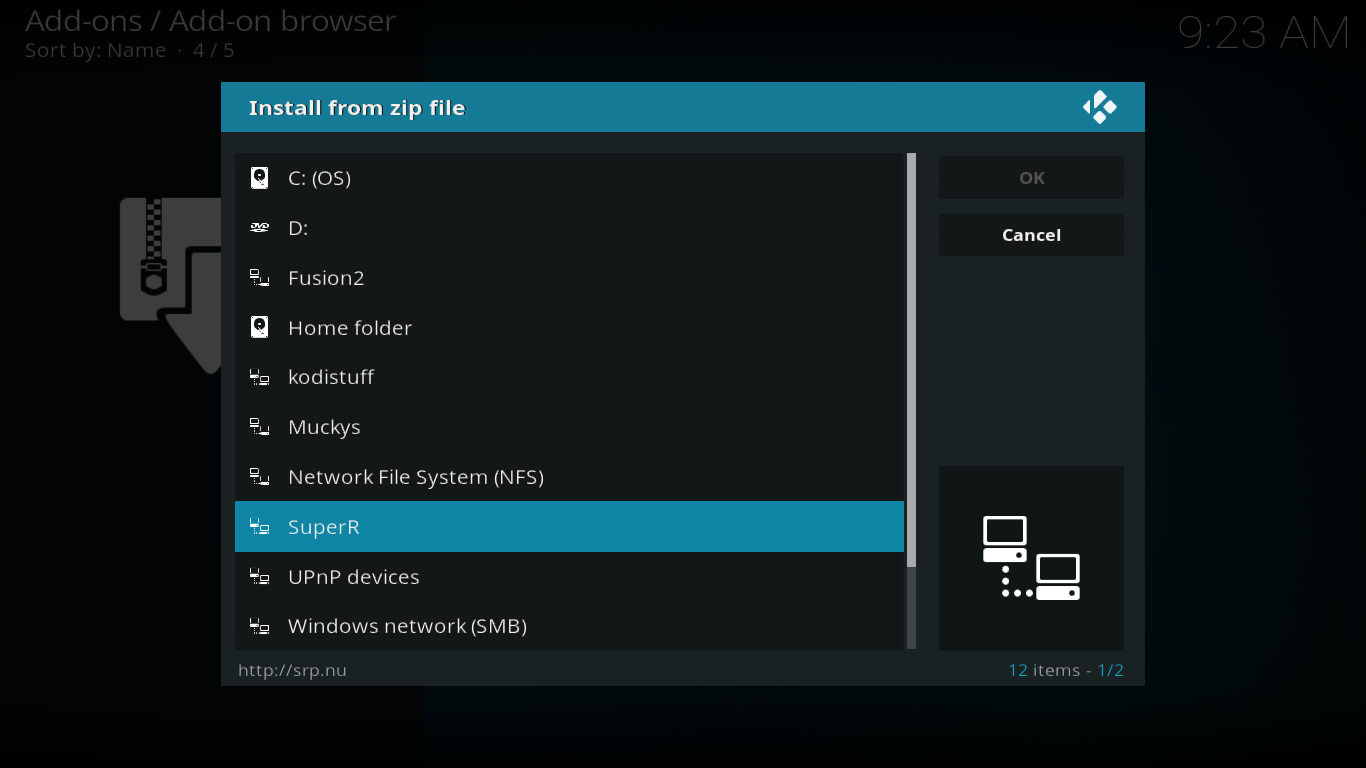 Navigate to the SuperRepo zip file by clicking krypton then repositories then superrepo until you see the superrepo.kodi.krypton.repositories-X.X.XX.zip file and click it to install the repository.
After a few seconds, a message at the top right of the screen will confirm the successful installation of SuperRepo.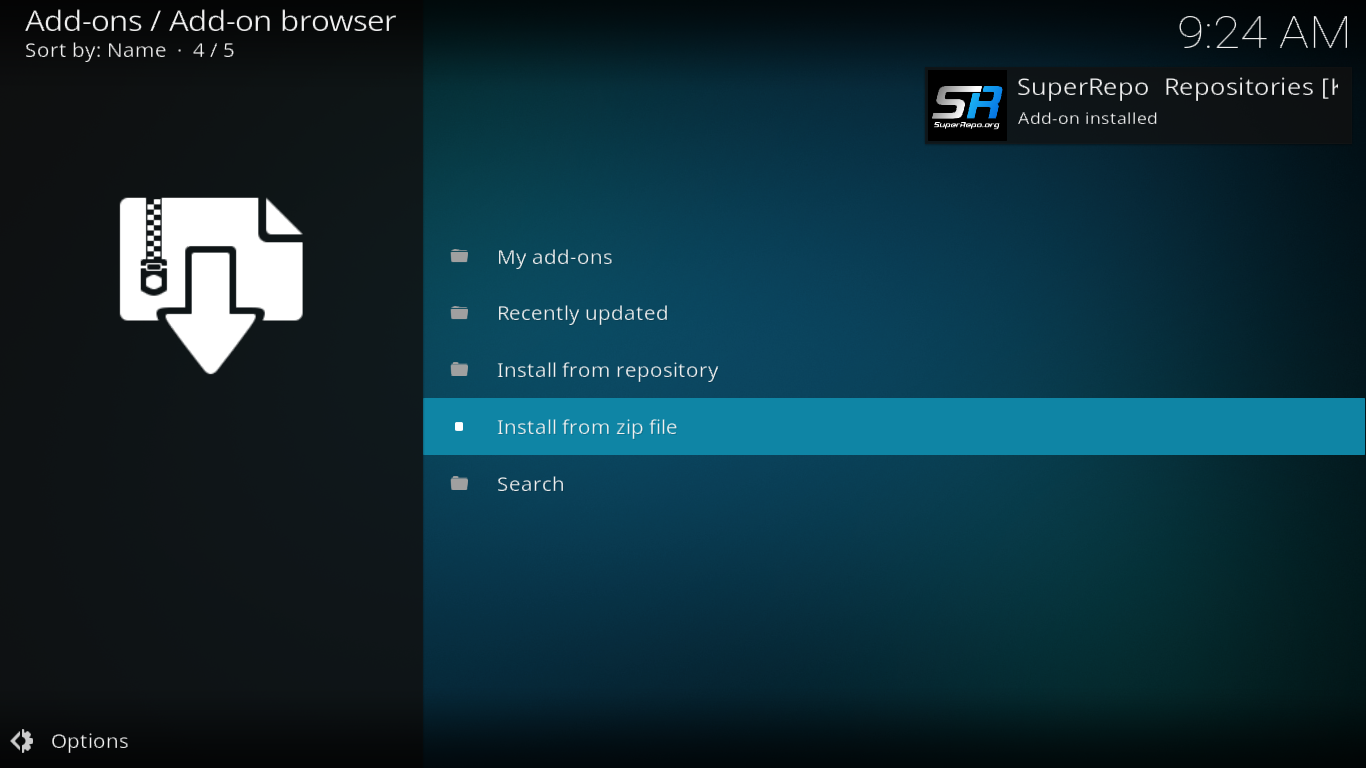 Installing the SuperRepo Video Section
The SuperRepo repository is comprised of several sections that can be individually installed. The All Wrestling add-on is unsurprisingly located in the SuperRepo Video Add-ons section. We need to install it.
Go back to the add-on browser and select Install from repository. Find the SuperRepo Repositories [Krypton][vX] in the list and click it.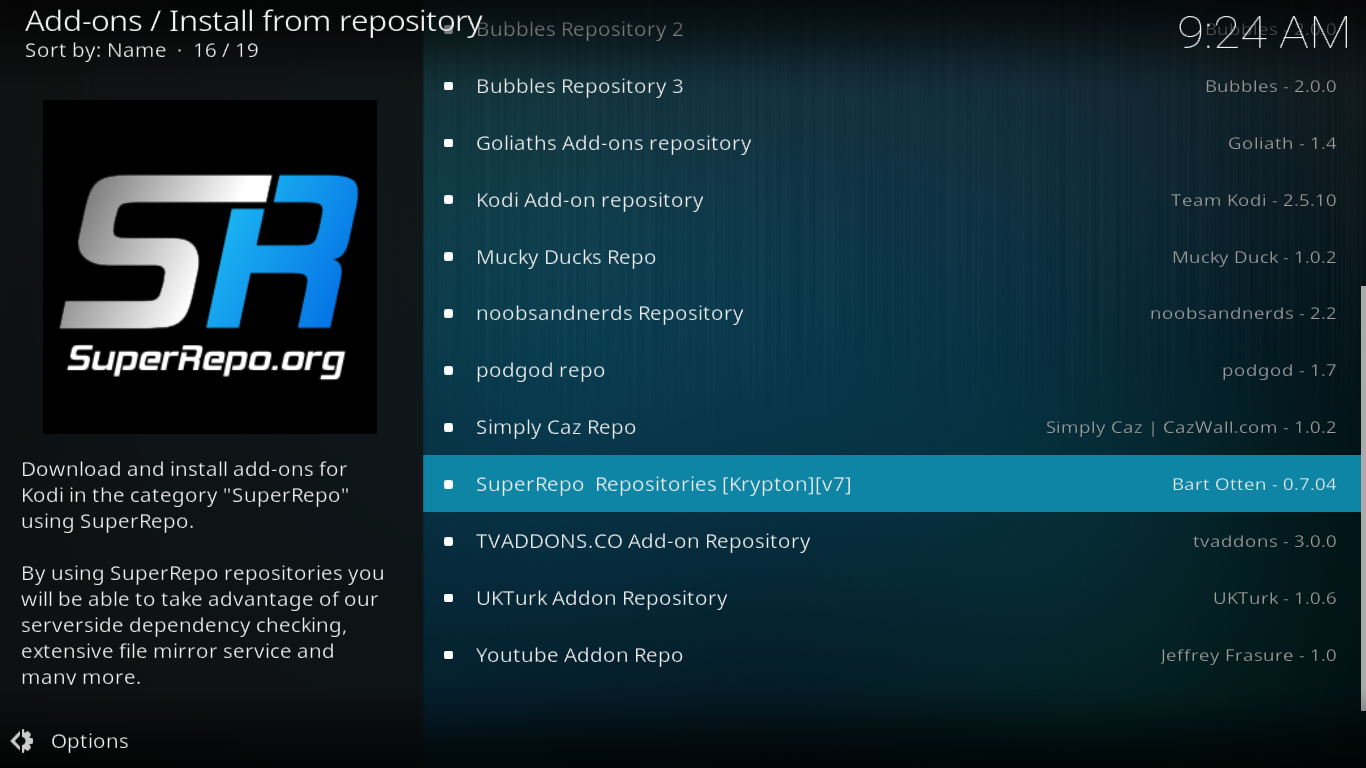 Click Add-on repository then find the SuperRepo Category Video [Krypton][vX] entry and click it. Then, click the Install button at the bottom right of the next screen.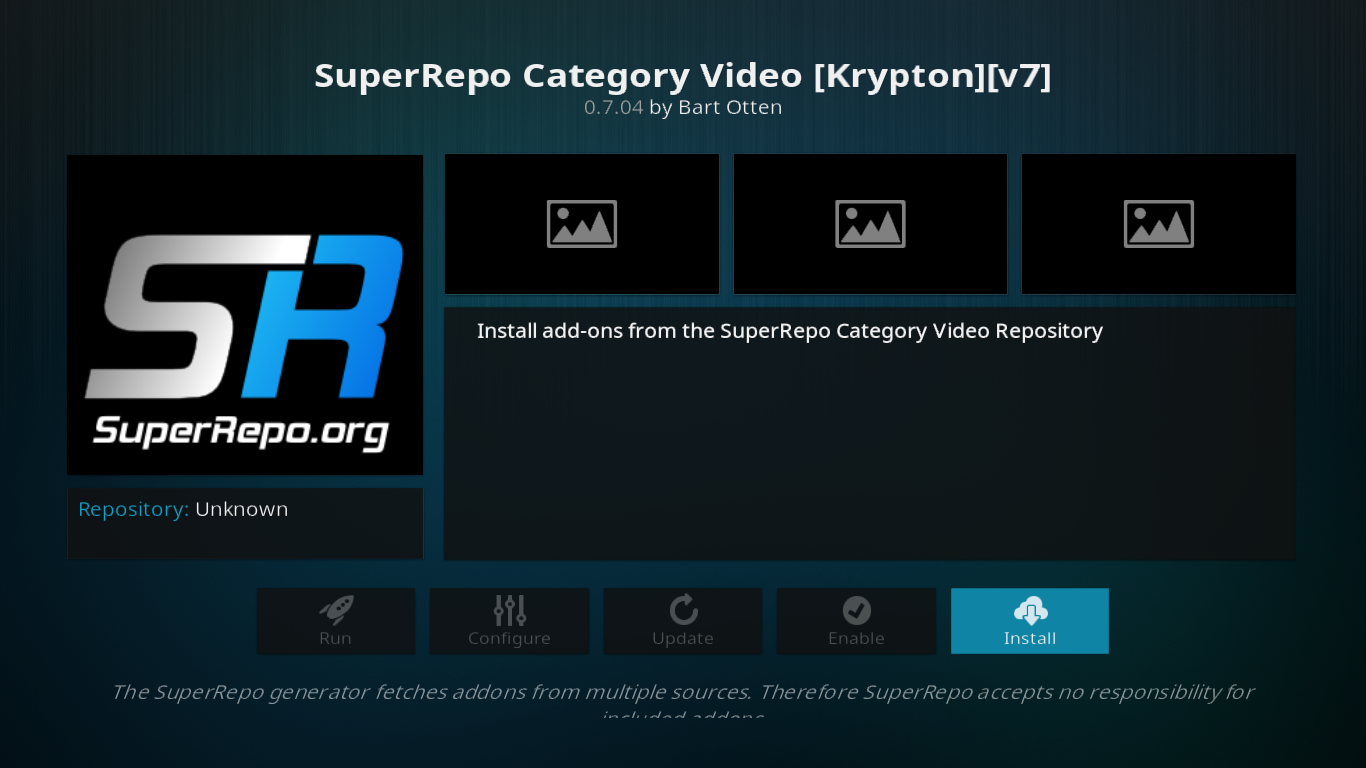 After a few seconds, a message at the top right of the screen will, again, confirm the installation of the Video Add-ons section of SuperRepo.
Installing the All Wrestling Add-on
We're now ready to install the actual All Wrestling add-on.
Back again to the add-on browser click Install from repository once more. Find and click SuperRepo Category Video [Krypton][vX] from the list of available repositories.
Click Video add-ons and find and click All Wrestling in the alphabetized list. Click the Install button at the bottom right screen that opens.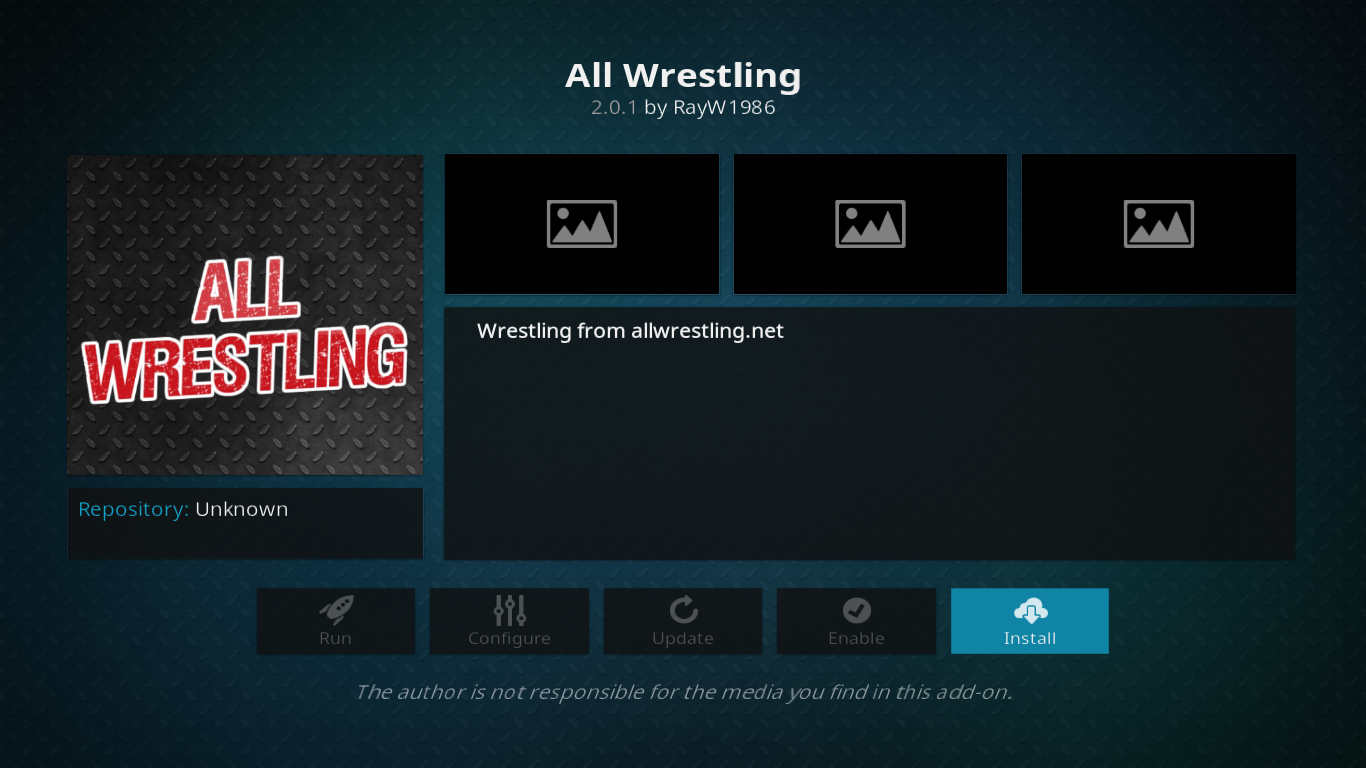 Wait several seconds while the add-on and its dependencies are installed until you see a confirmation message at the top right of the screen.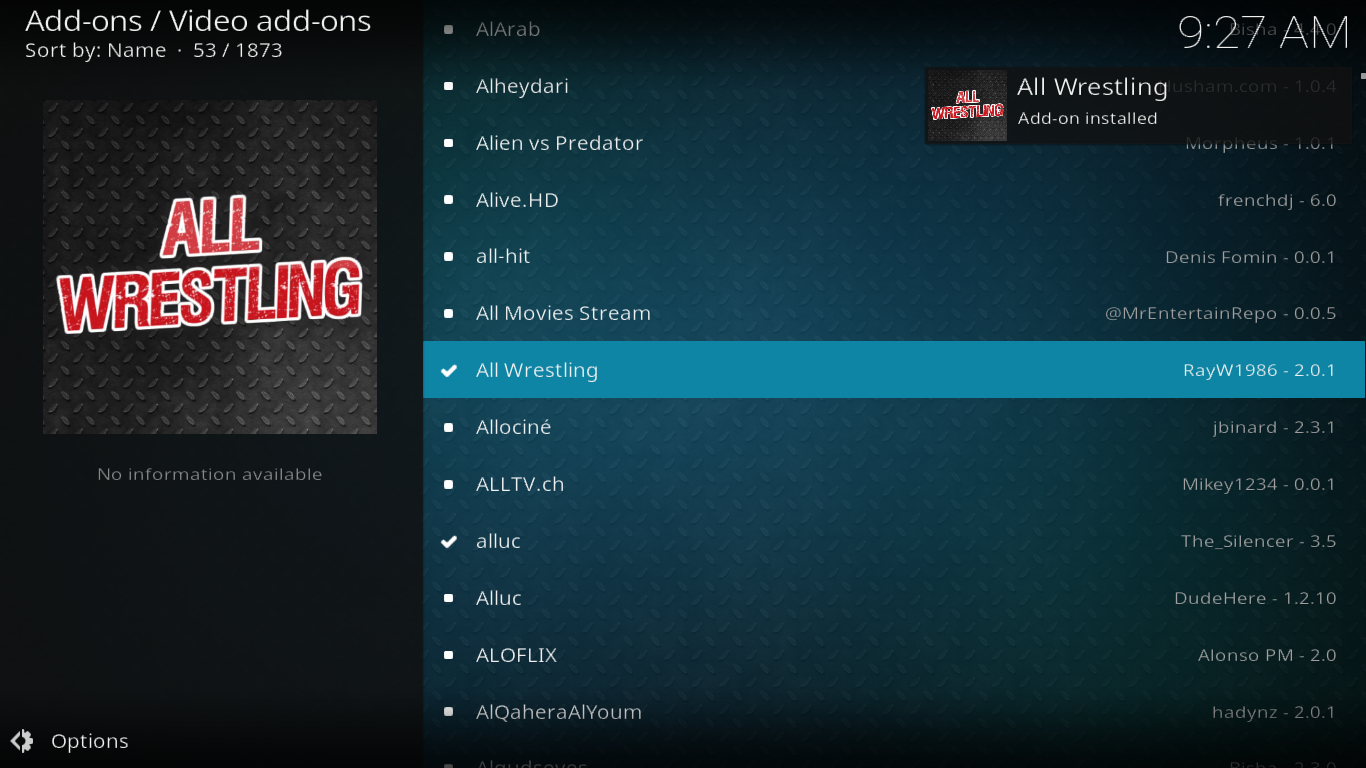 Voilà! Now that we've successfully installed the All Wrestling add-on, let's start it by clicking its icon from the video add-ons screen.
DISCLAIMER: AddictiveTips.com does not condone or recommend the use of Kodi or any add-on to access copyrighted content to which you have no right. We're not responsible for what you decide to do with the contents of this article. Piracy is not something we support or approve, and we strongly advise users to only access content they are legally entitled to. As a Kodi user, you must take steps to ensure you are not in breach of any copyright law.
A Tour of the All Wrestling Add-on
The All Wrestling add-on lets you view wrestling events from several wrestling promotions. You'll find content from WWE, TNA, ROH, Lucha Underground, NJPW, and UFC.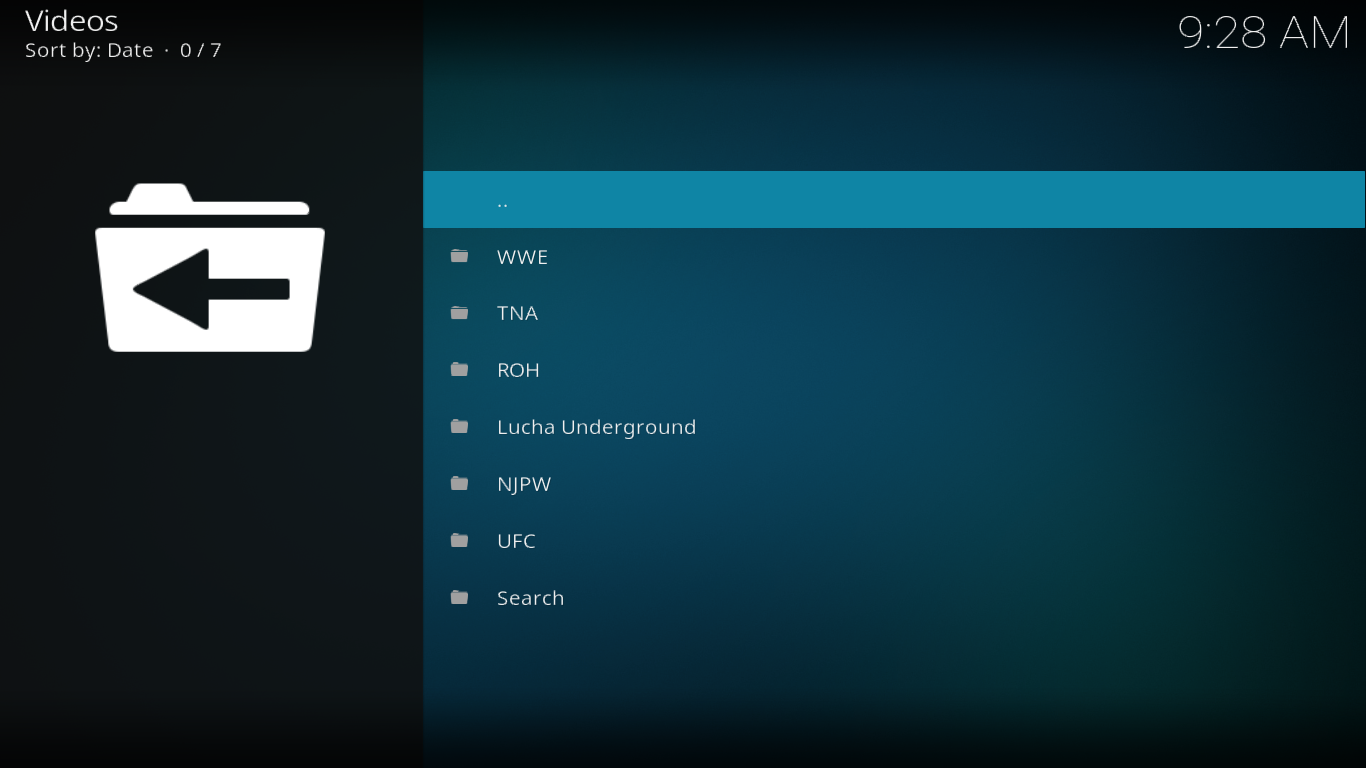 Multiple Available Promotions
Lets first see what each of the available wrestling promotion is, exactly.
Navigating the Add-on
The submenus for each promotion are quite different from one another as the available content varies from promotion to promotion. For instance, here's what the WWE submenu looks like.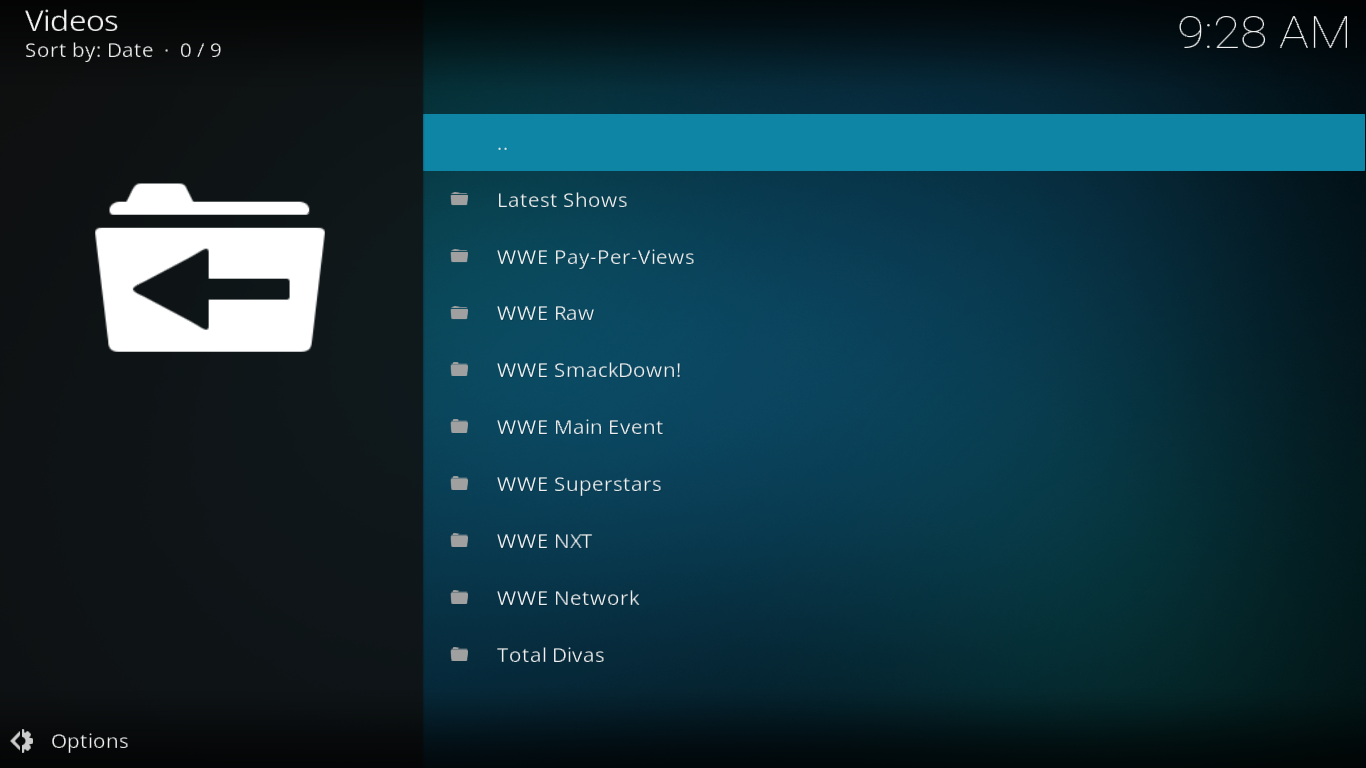 It is quite well laid out, making it relatively easy to locate any content. Similarly, the TNA menu also features subsections.
At the opposing end of the spectrum, the UFC section has everything together in one long, multi-page list. Fortunately, the list is sorted chronologically with the most recent events at the top.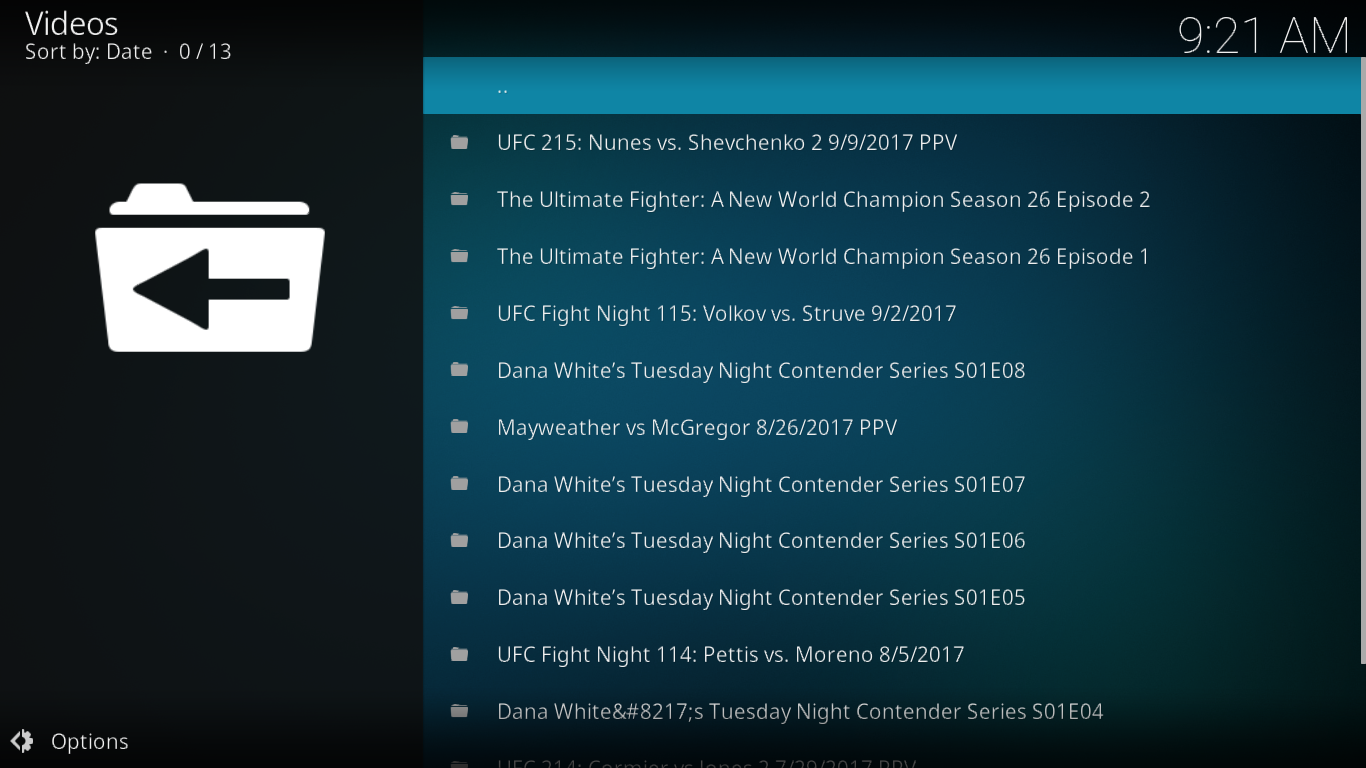 Once you've found some content that interests you, clicking it will bring up the source selection screen.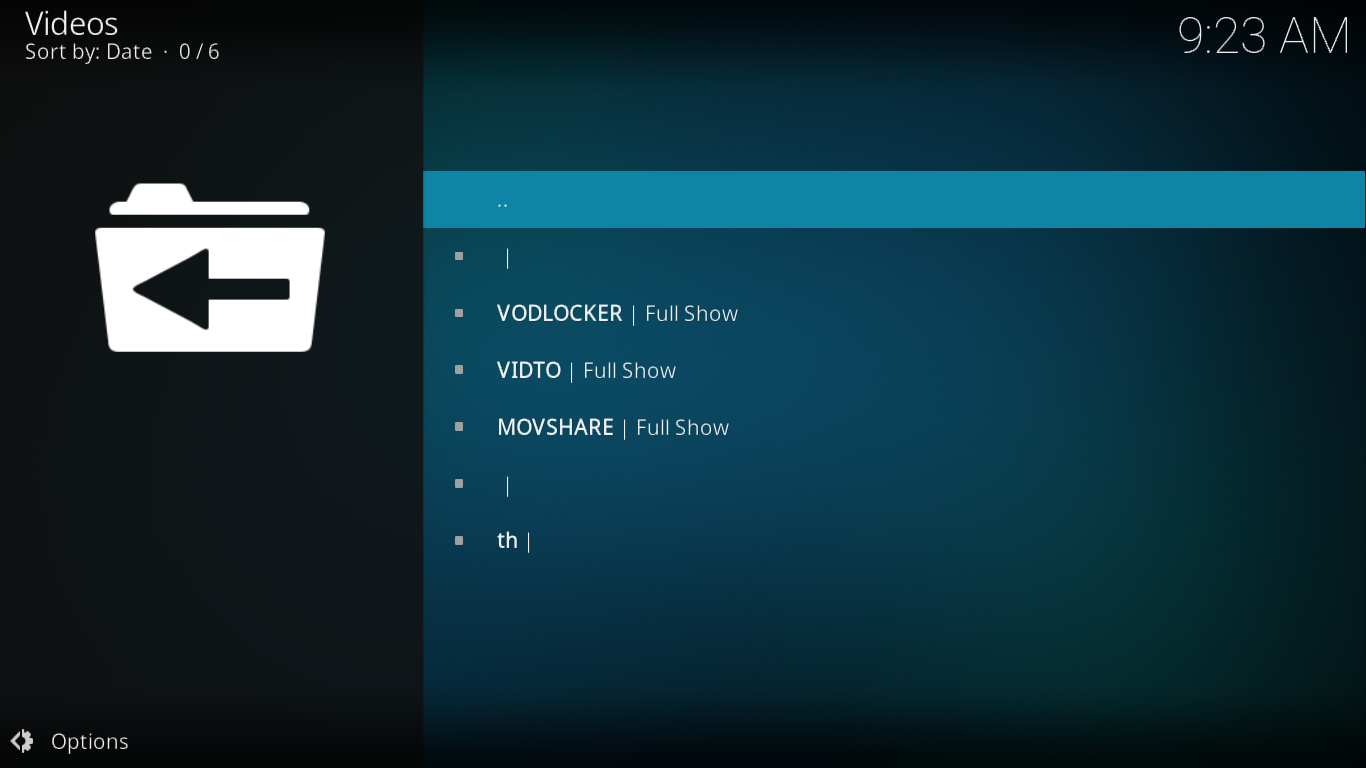 The number of sources will vary for each title but there is usually between 3 and 8 of them. And the more sources there are, the better the odds of finding a working source. There are unfortunately more dead sources than working ones and the further back in time you go, the more there are.
Fast Search engine
To make finding specific content easy, the All Wrestling add-on is equipped with a well-working search feature. It will find content within all the subsections at an amazing speed, compared to a lot of other add-ons.
What's good about the All Wrestling Add-on
The All Wrestling add-on has several things going for it. What I liked to most is its speed; the menus, submenus and content lists seem to load faster than with a lot of Kodi video add-ons. The content is also generally well-organized. These two features combine to make browsing the add-on a pleasant experience.
I also appreciate that the add-on has links to pay-per-view content, unlike some competing Kodi wrestling add-on. All Wrestling contains links to UFC, TNA and WWE pay-per-view matches.
The NJPW section is also something I loved about this add-on. If you've never seen Japanese professional wrestling match before, it's well worth checking out.
But one of the best things about the All Wrestling add-on is that it seems to cut out the advertisements that often clutter up many sites that host wrestling content.
On the down side
Navigating this add-on will quickly reveal one of its major shortcomings: it has a lot of dead links. I fact, there are whole subsections that return error messages. But as frustrating as it is, it is to be expected. This add-on is essentially a collection of links to various Internet sites that host wrestling matches. And as we all know, video sources on the Internet come and go almost on an hourly basis. It is therefore almost impossible for such an add-on to keep up, hence the numerous dead links. Arm yourself with patience and, by trying multiple sources, you might eventually find what you want. And keep in mind that given the often-limited longevity of internet video sources, recent streams that are working are usually easier to find than older ones.
We also couldn't find any contact info for developer RayW1986, making it impossible to send content addition suggestions or requests in case there's a specific fight you can't find and would like to see added. The same goes for submitting bug reports. This last point might be moot, though, as we didn't find many issues in this add-on. That is, other than the numerous dead links, of course.
Another drawback of All Wrestling is that you'll only find recorded events and no live IPTV streams. If you want to watch live wrestling, you'll need to use a different add-on.
Other Interesting Options for Wrestling Fans
If you're a wrestling fan, there are a few other add-ons we can suggest. In this recently published article "How to Watch TNA Wrestling on Kodi: Working Streams for 2017", we describe four add-ons that contain both live and recorded wrestling streams. Although the article is specifically about TNA, the add-ons it mentions feature wrestling from other promotions as well.
Another of our recent articles "Best Kodi Add-ons for UFC – How to Live Stream UFC on Kodi" presents three additional add-ons where you'll find wrestling content.
Wrestling is a popular sport and the All Wrestling add-on has the potential to fulfill every wrestling fan's cravings. Although it has a few quirks, it works well and contains enough content to keep you busy for a while. Furthermore, the content is well-organized, the interface is quick and the search feature works great. What's not to like?
Conclusion
With Kodi, it's never been easier for wrestling fans to get their fix. The All Wrestling add-on mostly lives up to its name, offering users comprehensive access to content from the world's most popular wrestling promotions. Do you have any questions with installation, or perhaps a recommendation on another add-on wrestling fans would love? Leave us a comment below!