We are reader supported and may earn a commission when you buy through links on our site.
Learn more
Best IPTV Add-ons for Kodi: The Ones Still Working in 2021
While Kodi is best known for its ability to stream movies and TV series on demand, these services do not necessarily represent what the platform is best at doing. For many people, it is the ability to stream live TV that really showcases Kodi at its best, opening up whole new worlds of entertainment possibilities for its users.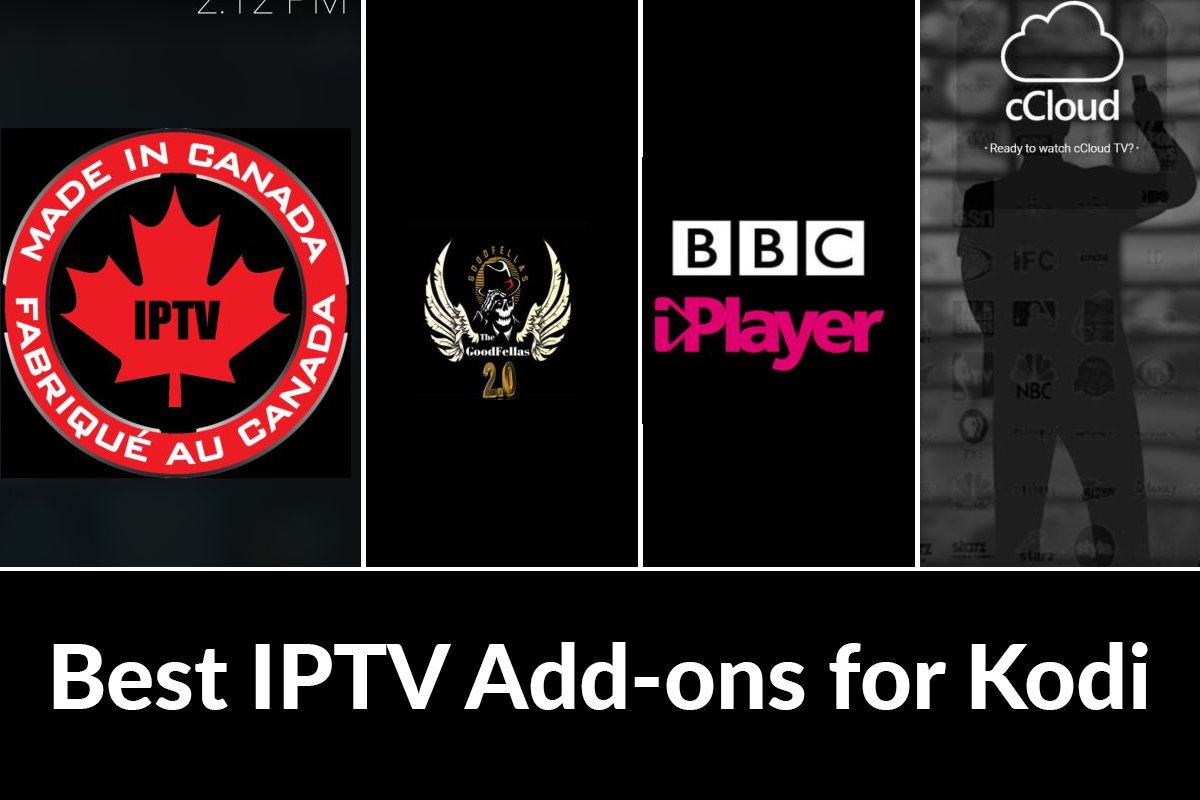 This type of service is known as Internet Protocol TV, or IPTV. This technology is primarily deployed in set-top boxes and internet-based television services alike. When used on Kodi, however, it offers a virtually endless selection of channels from countries all over the world in multiple languages.
How Kodi delivers a better experience
IPTV may sound like the ideal solution to your TV viewing needs, but it is not without its drawbacks. IPTV can be unreliable if the service is not good enough, and nothing is more frustrating than being halfway through your favourite show when the service suddenly cuts out. Anyone who has tried to use an IPTV service in the past is likely to have experienced this.
Thankfully, Kodi comes to the rescue as a piece of free and open-source software (FOSS), with a multitude of add-ons available to improve the experience. Of course, some add-ons are more reliable than others, but in general you can customize Kodi to deliver your perfect media viewing experience. As a tech writer, I have lived all around the world and relied on Kodi for my entertainment needs for some time. This means I have given almost all of the IPTV add-ons a go at one time or another, allowing me to form some pretty strong opinions about which ones do the job and which ones don't. In this article, I am offering up my pick of the bunch: the very best IPTV add-ons for Kodi.
30-days money back guarantee
Some IPTV Apps may make content available to users in breach of copyright laws in their country. AddictiveTips.com and its writers do not condone this in any way, and urge all Kodi users to take steps to ensure they are not in breach of copyright law.
DISCLAIMER: AddictiveTips.com in no way condones the use of unofficial Kodi add-ons to access copyrighted content, and bears no responsibility for what you decide to do with the contents of this article. Software piracy is not something we support and we strongly advise users to only access content they are legally entitled to through all Kodi add-ons.
Before we proceed
For security and privacy purposes, we recommend that all readers make use of a VPN when using Kodi.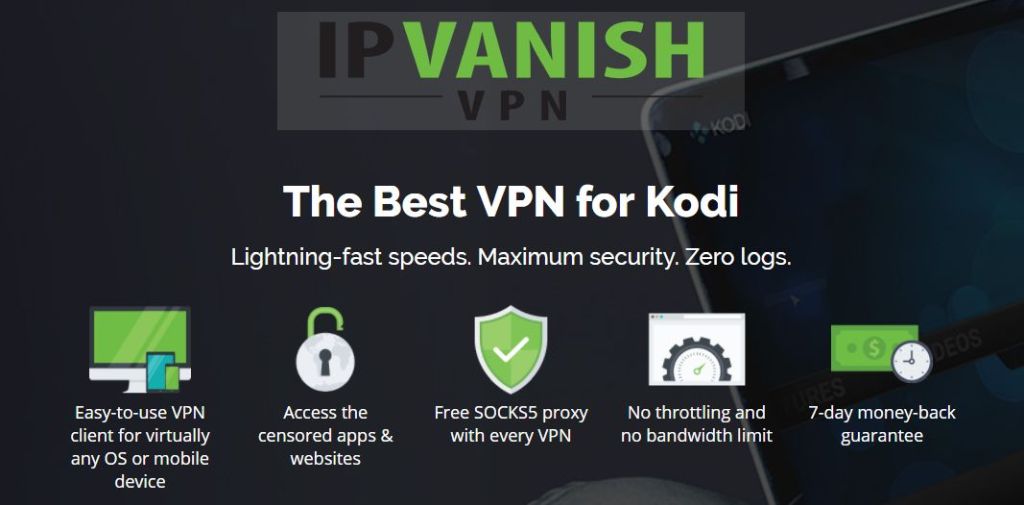 You might be surprised to know that such a vital service as a VPN provides is quite affordable and simple to set up and use. While there are many options out there, we recommend IPVanish for their great connection speeds, 256-bit encryption, no-logging policy, and multitude of server locations situated around the globe. Perhaps most appealingly of all, IPVanish has a dedicated app for the Amazon Fire TV Stick, which is the go-to device through which many of Kodi's users access its services. Uploading a VPN to this device can be a pain, but with IPVanish it now just takes a few clicks of the remote.
When you consider IPVanish's status as a market leader among VPNs along with its low price of just a few dollars a month, it's hard to pass up for use alongside Kodi. In fact, we can safely say it is your best option currently available!
EXCLUSIVE for Addictive Tips readers: Get 60% off when you sign up for a year of IPVanish, just $4.87 per month! Each plan is covered by an amazing seven-day money-back guarantee, ensuring a risk free trial for your new, private internet connection.
Best add-ons: criteria
In compiling this list of Kodi add-ons, I have given some thought as to what qualities most users will be wanting from an IPTV service. Of course, the quality and reliability of the stream is paramount, but there are other qualities that users will be looking for. With that in mind, I have applied the following criteria:
Quality and reliability of service
Number of IPTV channels offered
Variety of content (sports, news, movies, etc.)
Number of countries/languages offered
Overall ease of use
With those in mind, my top recommendations for the best IPTV add-ons for Kodi are
cCloud TV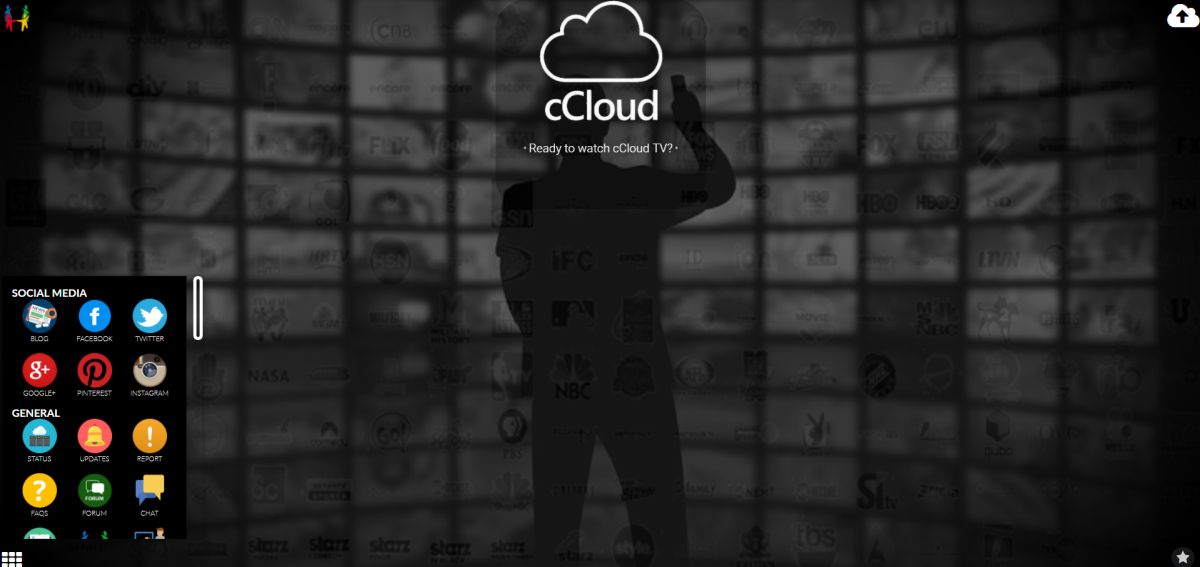 cCloud TV is the add-on which really sets the bar high for IPTV add-ons on Kodi. The cCloud TV library is about as big as they come, with tens of thousands of TV channels available from all around the world (including the USA, UK, Canada, Germany, Japan, Korea and many, many more). Popular channels that can be accessed through cCloud TV include:
HBO
CBS
Sky
Comedy Central
AMC
Discovery Channel
History Channel
ESPN
This service offers a user-friendly layout too, with different search options allowing you to quickly identify channels by language and genre (which may include News, Sports, Family, Documentary, Lifestyle, Movies, and Music and more).
cCloud TV does also have an on-demand TV and movie section, but these sections are sparsely populated and far less user-friendly. We recommend that you leave this tasks to other available add-ons, while using cCloud TV for what it does best: streaming. There's a good reason that this service is undoubtedly the current market leader.
Goodfellas 2.0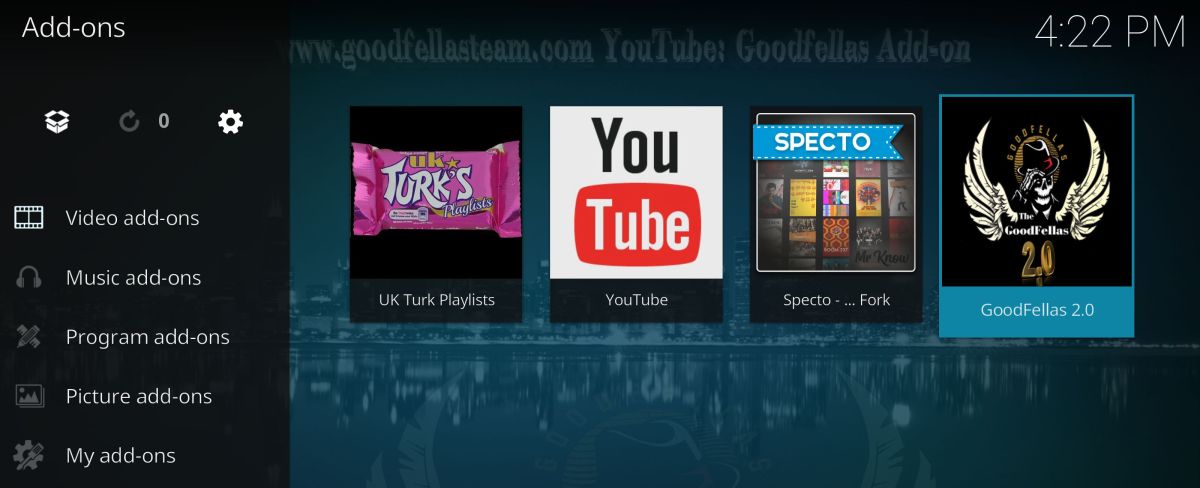 Goodfellas 2.0 is one of the add-ons for Kodi which disappeared in the recent crackdown, but has since returned to the delight of its legion of dedicated advocates. You can rejoice as well, because while cCloud TV has set the bar high for IPTV add-ons, Goodfellas makes a pretty good effort at scaling the heights.
The quality of streams they offer is mostly solid and consistent, with some occasional interruption typical of IPTV services. They also have a great selection of channels to choose from, with live sports fans particularly well catered to. Goodfellas is also particularly strong on US and British TV channels, with favourites such as SyFy, HGTV, ESPN, HBO, most of the Sky channels, BBC, ITV, and so many more.
It is a dead simple add-on to use, with simple category lists displaying the available channels in an easy-to-read fashion. Importantly, the stream quality is more often than not excellent, making browsing and viewing a breeze.
While some channels may require additional add-ons to be installed in order to access them, Goodfellas has plenty of additional little perks which makes up for this. For example, their on-demand service is much more comprehensive than cCloud TV, with a wide variety of TV shows and movies available. There is also a section which lets you view live footage from CCTV cameras around the world.
Kodi Live TV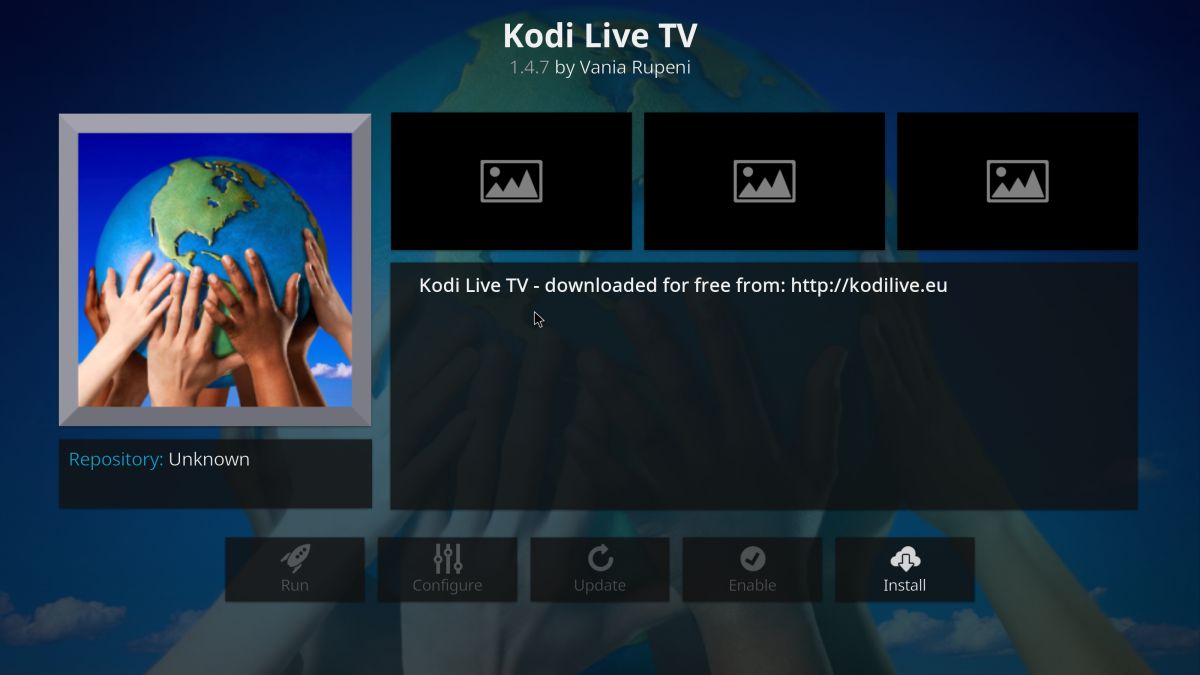 Many of the add-ons on this list are focused on TV streams from the USA or the UK. While these may be the most popular markets, there are other add-ons out there which offer a good service for non-English speaking users as well.
Kodi Live TV is one of those add-ons. It is a great option for those seeking TV channels in different languages, with hundreds of different options to choose from. These channels are all easily available through a simple menu system which allows users to search by language. Italian, French, German, Spanish, Portuguese, Russian, Turkish, Romanian, Greek, and Polish are well represented, as are many more.
While I don't speak most of those languages, I can see and recommend the appeal, especially when considering there is a good selection of music channels available too. Nonetheless, Kodi Live TV offers a great user experience and a range of content that few other apps in this field offer. Well worth a look.
Made in Canada IPTV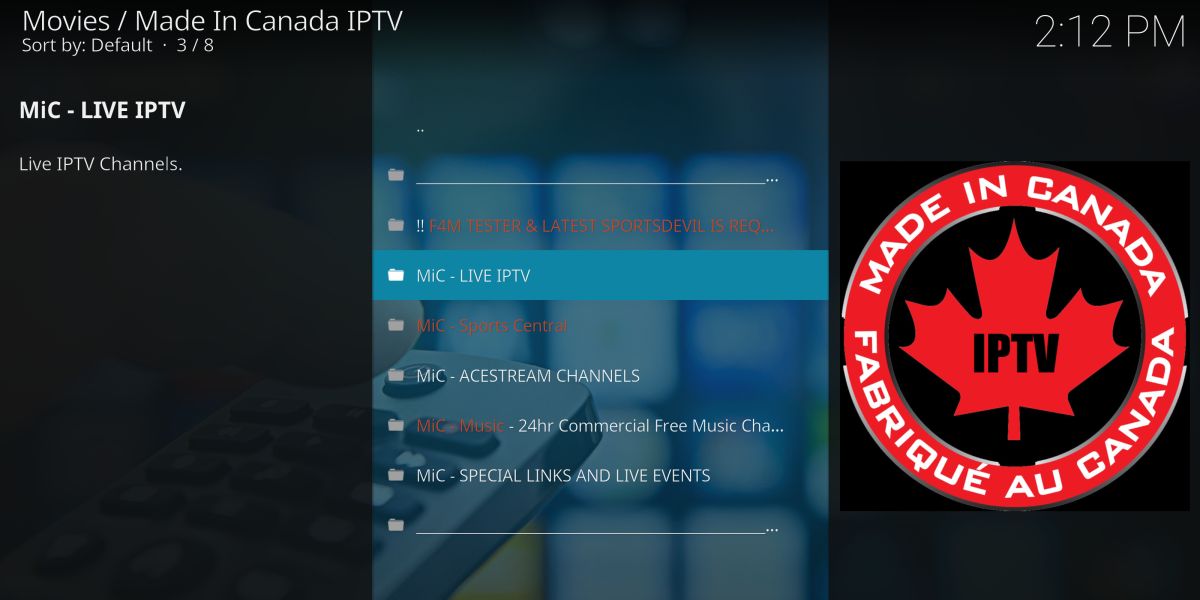 Don't let the name fool you, this add-on is not just for Canadian Kodi users! Yes, it does have a large number of Canadian TV channels available, but it also has all the main bases covered for the USA and the UK as well. While it is admittedly more limited for content coming out of other countries, it still handles a majority of the most popular streams with aplomb.
The variety of content is again good, with live sports particularly well catered for (especially US-based sports such as baseball, basketball, and American football). Both ESPN and Fox Sports are readily available.
The quality of the stream is not always perfect with Made in Canada IPTV, but when you do find a working stream it will perform admirably. Its layout is fairly straightforward, although perhaps not quite as user-friendly as some of the others on this list. But with most of the criteria ticked off, Made in Canada IPTV is a worthy contender on this list.
BBC iPlayer (as iPlayer WWW)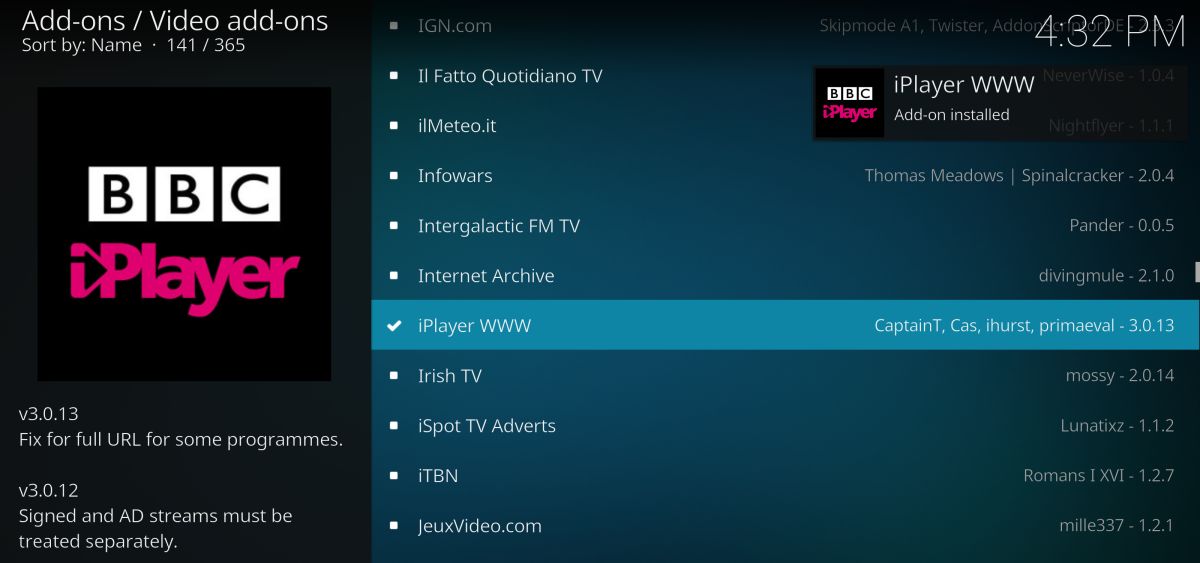 The BBC is the UK's biggest and most popular TV service. It produces and screens a wide range of content, much of which is popular well beyond the UK's shores. It follows, then, that any list of Kodi add-ons would be incomplete without a mention of the BBC iPlayer add-on!
Disclaimer: you will need a UK IP address to access BBC iPlayer content, as it is geo-restricted. Thankfully, this limitation can be bypassed by using a VPN, which is needless to say necessary for anyone not living inside the UK. Furthermore, the add-on itself urges users to view content the legal way: as a UK TV license holder.
Once you comply with that criteria, BBC iPlayer has a lot of on-demand content to choose from. The BBC broadcasts a wide range of media available for differing lengths of time on iPlayer, including:
Lifestyle
News and current affairs
Comedy
Drama
Movies
Reality shows
For IPTV fans, all of the BBC Channels can be watched live and free through the add-on. As an official add-on, the content quality and user experience are generally excellent, with stable streams, self-explanatory menus and detailed descriptions of each show and episode.
It is a top-notch add-on, and one which Kodi users around the world will enjoy. I'm not just referring to British ex-pats either; the BBC really does offer something for everyone.
What is Kodi?
Kodi used to be known as the Xbox Media Center or XBMC. It launched back in 2002 and was originally intended to serve as media management software for the X-Box games console. However, it ended up only being available to users who jailbroke their device as Microsoft never actually approved the software. This inevitably forced the developers to diversify–and diversify they did!
Today, Kodi is perhaps the most versatile, customizable, and user-friendly media player on the market. It is available on just about every operating system and device (though ironically not on games consoles!) By and large, Kodi's success stems from its virtues as a piece of free and open-source software (FOSS), which allows for innovations from 3rd party developers to improve upon the platform.
Kodi has been modified to function on a diversity of devices including Smart TVs, hotel TV systems and even digital signs. Additionally, developers have also created all manner of different add-ons to expand upon the core Kodi programme. While these add-ons allow Kodi to be used for myriad purposes, they are primary used to stream online media content.
The ongoing controversy around Kodi comes from this very ability, as a number of these add-ons allow users to access copyright-restricted content. Because Kodi is open-source, it is impossible for Kodi themselves to regulate these add-ons. This means that whilst many add-ons offer a legitimate and attractive service, others do not.
While we do not in any way condone the use of Kodi add-ons to access copyrighted content, it is undeniable that this feature has contributed to Kodi's rise. We therefore recommend that you exercise your better judgement in how you use the platform.
Is Kodi legal?
As you will have guessed from the copyright comments above, there is some considerable debate about the legality of Kodi. For the record: the application itself is 100% legal to both download and use, and its developers have gone to extreme lengths to demonstrate transparency with regards to Kodi's inner workings and legal compliances.
But as we have noted, it is impossible for Kodi's developers to police the add-ons that external developers create to bolt onto the core Kodi programme. This is the one real downside to being open source, and one that has created no shortage of problems for Kodi.
To be sure, many developers are responsible and trustworthy. Plenty more are not, however, and this has seen an influx of add-ons which facilitate illegal activity, namely the accessing of copyrighted content online. While downloading copyrighted content is illegal pretty much everywhere in the world, the law on streaming is a lot less clear cut.
Some countries, notably the USA and the EU, currently classify streaming as legal, because the copyrighted content is only present on a user's device for a very short period of time. This has not, however, stopped a plethora of Kodi users being contacted by lawyers over copyright issues related to their streaming habits. A number of popular add-ons have been shut down for this same reason.
So, while Kodi is certainly legal on its own, the its add-ons can lead to trouble. For this reason, we always recommend using a VPN alongside Kodi to protect your online privacy and reduce your liability while streaming legally.
Is Kodi safe?
The nature of unregulated add-ons from external developers means that it is difficult to declare Kodi 100% safe. While the core Kodi software is indeed safe, there is no shortage of rogue developers out there who will see a popular add-on as a great tool to dump malware onto your device. For IPTV add-ons, which are constantly downloading content from the internet, the risk is even higher. Kodi is also susceptible to man-in-the-middle attacks.
As a piece of open-source software, which is most often used with unofficial add-ons from external developers, it is impossible for Kodi to be 100% safe to use. VPNs are valuable security tools and essential to encrypt your data and hide your identity when using Kodi.
A VPN may not make Kodi 100% safe, but it will certainly make a big difference.
What is a VPN?
If you have not come across the term VPN before, you are probably a bit confused by all the references in this article. Let me explain:
Since the Snowden leaks, usage of Virtual Private Networks has skyrocketed. A VPN will protect your data and hide your identity while browsing the internet, an appealing prospect indeed in such times as these where governments are known to regularly snoop upon their own citizens.
A VPN works by redirecting all of your internet traffic down an encrypted tunnel through to an external server before it reaches the website or service you want to use. The encrypted tunnel makes sure that none of your data is visible or accessible by government surveillance officers or unscrupulous hackers.
Once your Internet data travels through the VPN's server, it is then given a new IP Address, which is the bit of data a website uses to decide which part of the world you are in. By rerouting your data through an overseas server, you can therefore bypass geo-restrictions, as the site in question will think you are located where the server is rather than your actual location.
This process also renders you completely anonymous online and makes it impossible for anyone to trace your online activity back to your internet connection or device. It also stops your ISP from being able to see which sites and services you are using as well; they can only see a connection to the server.
IPVanish allows Kodi users to stream in complete security. Our readers enjoy exclusive access at a 60% discount on yearly plans for monthly payments of just $4.87 per month! If you're not bowled over with satisfaction after your first 7 days using IPVanish, get your money back–no questions asked.