We are reader supported and may earn a commission when you buy through links on our site.
Learn more
Best News Add-ons for Kodi
Most people use Kodi for streaming movies, grabbing live sports feeds, or binge watching TV shows. The open-source software has hundreds of uses, though, including some more practical ones. A number of news organizations have release official Kodi add-ons that deliver breaking stories as well as archived content. Tired of relying on TV and crummy news websites for your information? Grab a few official Kodi news add-ons and you'll be good to go!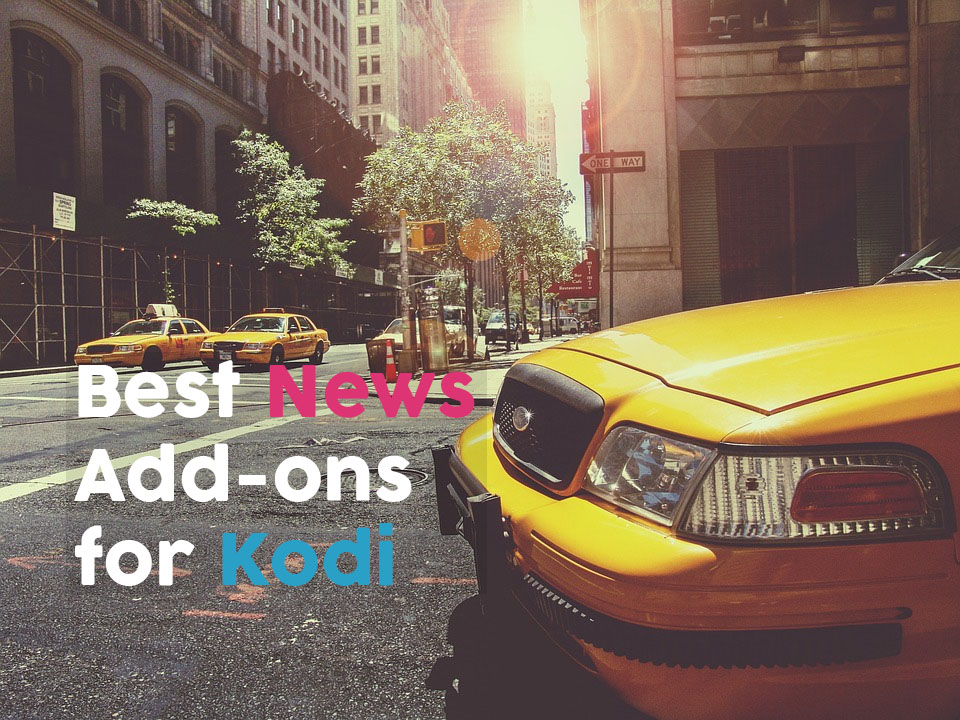 30-days money back guarantee
Getting the Best VPN for Kodi
Kodi itself is safe, especially if you stick to official add-ons and resources. There are a number of extensions that access pirated content, however, which has attracted negative attention from ISPs and corporations. The best way to stay safe is to install a VPN. VPNs encrypt data leaving your device to create a tunnel between you and the internet. No one can tell what you're downloading, streaming, or surfing, and it's nearly impossible to track your location or throttle your downloads!
It's tough to pick the right VPN, especially with all the complicated information out there. Rather than sifting through privacy policies or scratching your head over encryption protocols, we've provided a recommended VPN below. We made our selection based on the criteria below, allowing you to spend more time watching movies and less time researching.
Smart custom software
Unlimited bandwidth
The Best VPN for Kodi – IPVanish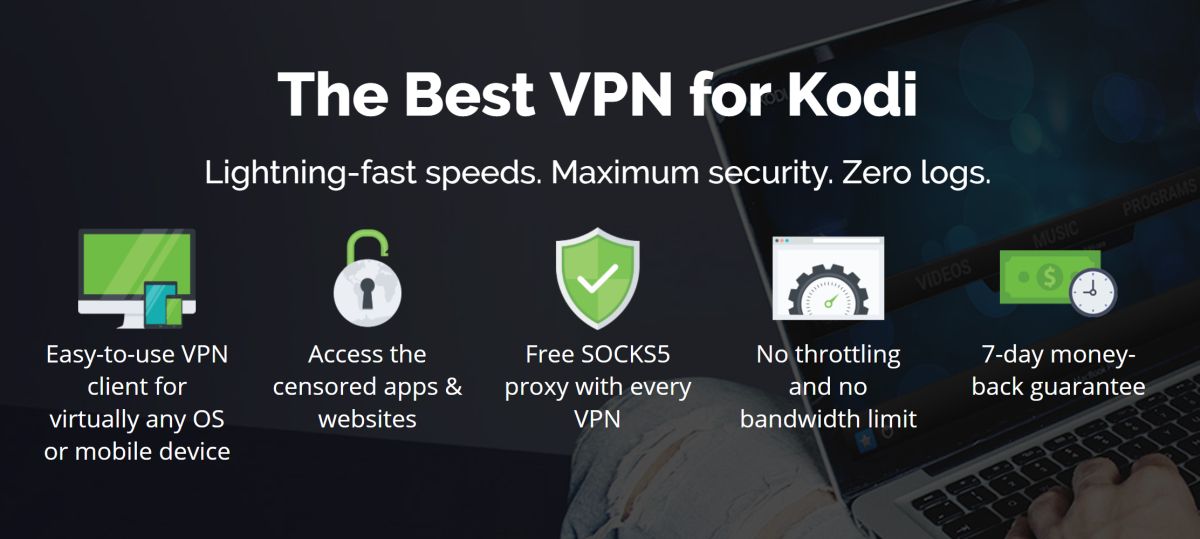 When you put all the evaluation criteria into a spreadsheet, one VPN inevitably comes out on top. IPVanish is practically built for Kodi users. It offers incredibly fast servers, reliable connections, and keeps a sharp watch on privacy issues to keep you safe no matter what. With IPVanish, you'll take advantage of 256-bit AES encryption on all data, gain the benefit of DNS leak protection and an automatic kill switch, and have the peace of mind afforded by a zero-logging policy that covers all traffic.
Staying anonymous is easy with IPVanish, and best of all, you don't have to sacrifice speed to gain these benefits. The company runs a huge network of over 850 servers in 60 different countries, delivering top-quality connections to and from regions around the world. Whether you're using Kodi to download a movie or grabbing the latest live streams off of YouTube, IPVanish will keep you safe without interrupting your activity.
*** IPVanish offers a 7-day money back guarantee which means you have a week to test it risk-free. Please note that Addictive Tips readers can save a massive 60% here on the IPVanish annual plan, taking the monthly price down to only $4.87/mo.
How to Install Kodi Add-ons
Kodi's add-ons are usually packaged in repositories, which are large zip files stored on websites created and maintained by a community of volunteers. Repos can hold dozens or even hundreds of add-ons, making them easy to discover, install, and update. There are multiple methods you can use to add repos to your system, but we prefer the "external sources" method. It keeps things organized in the long run, plus it works the same way on any device, even smartphones and Amazon Fire TV Stick.
Before you can install add-ons and repositories, follow the steps below:
Open Kodi and click on the gear icon to enter the System menu.
Go to System Settings > Add-ons
Toggle the slider next to the "Unknown sources" option.
Accept the warning message that pops up.
Kodi is now ready to roll! All you have to do is find a repo URL, enter it as a new source, then let Kodi install it for you. Now you can access all of the contained add-ons with ease. It's a little confusing the first time you use it, but after a while you'll be able to install repos in your sleep.
Note: The Kodi community includes both official and unofficial add-ons. We feature official content as often as possible, as they've been verified by the Kodi developers to be free and legal to use. Unofficial add-ons sometimes link to pirated content and can be dangerous to use. AddictiveTips does not condone or encourage any violation of copyright restrictions. Please consider the law, victims, and risks of piracy before accessing copyrighted material without permission.
Best News Add-ons for Kodi – Official Content
Kodi is incredibly easy to customize, especially if you stick to verified sources. Every Kodi download comes with the Kodi official repository pre-installed. You can access it and grab any of the hundreds of quality add-ons without extra configuration. Using official content ensures you never access pirated streams while providing a vast array of news sources, videos, and even movies and TV shows.
How to Install Official Kodi Add-ons
All of the news add-ons below are included in Kodi's official repository, which is a default addition to the main Kodi program. You don't need to worry about adding repo source URLs or anything like that, just navigate to the repository and start installing. For each of the add-ons below you'll need to follow the same steps to access the repository. Afterwards, simply navigate to the right folder, search for the add-on by name, then install.
Open Kodi on your local device and go to the main menu.
Select "Add-ons"
Click the open box icon at the top of the menu bar.
Choose "Install from repository"
Find and click "Kodi Add-on repository"
Follow the steps listed below for your chosen add-on.
Fox News
One of the most popular news add-ons for Kodi is Fox News. This extension grabs content from the official website and organizes it into a dozens of convenient categories, including by show and by news type. It's the perfect way to keep up with breaking stories or topics you care about, and you never have to worry about broken links or slow video streams, either.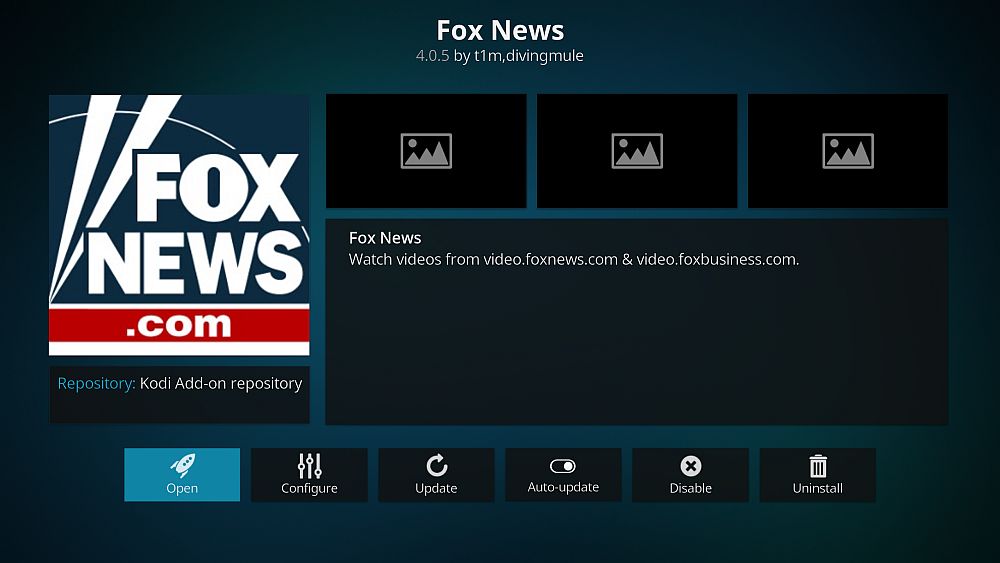 Partial list of the Fox News shows featured in the add-on:
America's Newsroom
Fox Files
Fox News Sunday
Fox & Friends
Happening Now
MediaBuzz
Special Report
The Five
Tucker Carlson Tonight
How to install the Fox News add-on to Kodi:
Access the Kodi repo by following the steps listed under How to Install Official Kodi Add-ons.
Choose the "Video add-ons" folder.
Scroll down and select "Fox News"
Click the "Install" button in the lower right corner of the window that opens.
When the installation completes you can access Fox News from the main add-ons menu.
The Guardian
The official Kodi add-on for The Guardian gathers videos from the news outlet's online presence and displays them in a tidy manner. You can quickly check out the video of the day, peruse the spotlight section, watch heavy-hitting interviews, or dive in and see the latest stories in sports, technology, culture, and more. The add-on also covers explainer videos that give you an overview of current events to help you stay in the know.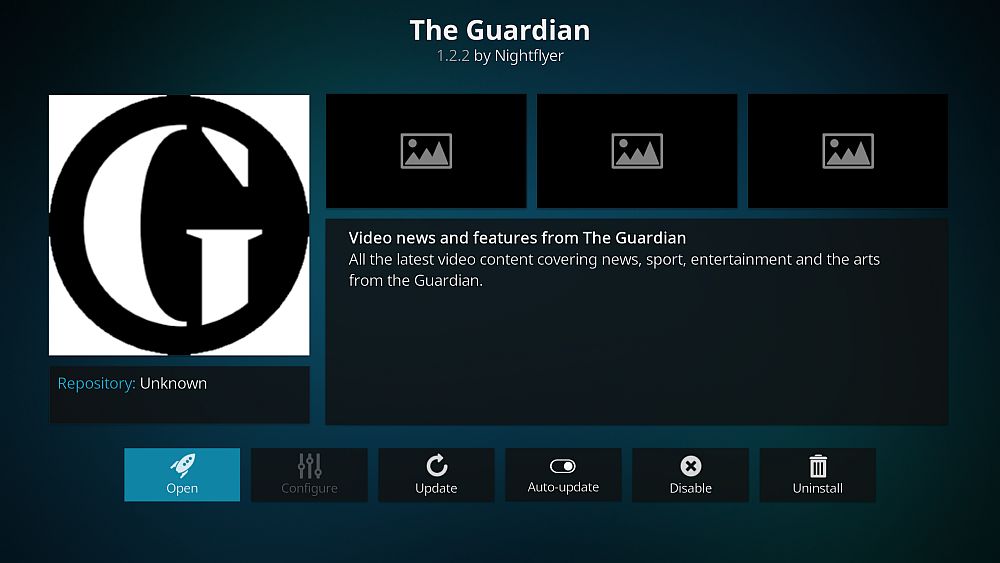 One unique feature in The Guardian add-on is the ability to watch popular videos as ranked by views. Which topics are people interested in? You can find out in a few seconds, giving you plenty of things to talk about around the water cooler.
How to install The Guardian add-on to Kodi:
Access the Kodi repo by following the steps listed under How to Install Official Kodi Add-ons.
Choose the "Video add-ons" folder.
Scroll down and select "The Guardian"
Click the "Install" button in the lower right corner of the window that opens.
When the installation completes you can access The Guardian from the main add-ons menu.
NewsON
The NewsON service is a bit different from other news providers. Instead of featuring a wide coverage zone divided into topics, NewsON focuses on regional areas of the United States. The interface is split into folders for most U.S. states, each containing several sources that broadcast locally. If you miss your KETV Omaha newscasters or want to see what WSB in Atlanta has to say about an event, NewsON is the place to go.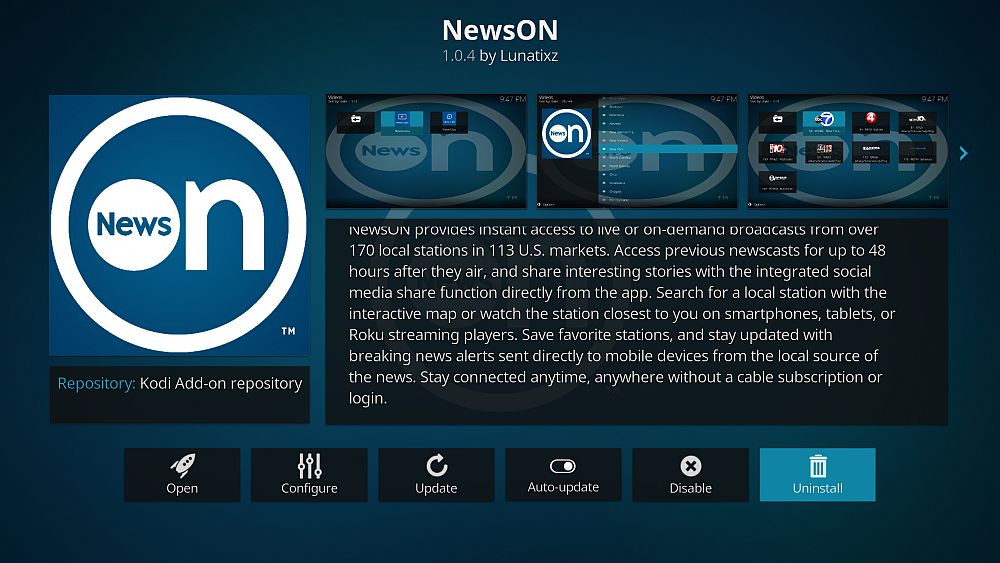 In addition to region specific resources accessible from anywhere in the world, you can also access select video clips from different U.S. states, just in case you don't have time for a live broadcast. It's also worth noting that the NewsON add-on is updated on a regular basis and provides high-quality streams without issue.
How to install the NewsON add-on to Kodi:
Access the Kodi repo by following the steps listed under How to Install Official Kodi Add-ons.
Choose the "Video add-ons" folder.
Scroll down and select "NewsON"
Click the "Install" button in the lower right corner of the window that opens.
When the installation completes you can access NewsON from the main add-ons menu.
Other Official News Add-ons
The list doesn't end there! In addition to national and international sources, Kodi's official repository covers niche content as well as country-specific news sources. There's a lot to choose from in the repo, and since all of it is reliable and free, you can download as many as you like! To install any of the below add-ons, simply follow the steps under How to Install Official Kodi Add-ons, choose the video add-ons folder, then click your add-on.
ca News – Pulls all video news content from the reputable Canadian source, including entertainment, sports, and business information. You'll need to have a Canadian IP address to use it.
IGN – One of the largest video gaming news sites has a dedicated Kodi add-on that's updated on a regular basis. Get your fill of previews, interviews, and reviews with this excellent extension.
Russia Today News – Round-the-clock news bulletins, documentaries, talk shows, and debates along with sports and cultural programs from Russia, all aimed at overseas viewers. RT is the second-most watched foreign news channel in the U.S., and the Kodi add-on makes it incredibly easy to use.
Cheddar – Cheddar is a live tech news source broadcast daily from the New York stock exchange. It covers innovative products and services that are transforming our lives, and this add-on lets you access it all.
Anime News Network – Keep up with all the latest anime and manga news by scraping content from the leader in the industry.
Is it Safe to Install Kodi Add-ons?
The Kodi add-on community often feels like a slice of the digital frontier. Anybody with a little coding knowledge can create new extensions, making it shockingly easy for malicious content to find its way to streamers around the globe. While it's rare to encounter viruses or other harmful content, it does happen, which is why you should take a few precautions before diving in.
The best way to stay safe is to stick with reliable repositories and official add-ons. Using these practically guarantees you won't encounter anything harmful while you stream. As a bonus, you'll also run into fewer dead links or poor-quality video sources. It's also a good idea to keep your anti-virus software, VPN, and firewall active when using Kodi, just in case. We also download and verify each add-on before featuring it, so if it appears in one of our articles, you know it's safe to use.
What's Your Favorite Kodi News Add-on?
The Kodi ecosystem is vast and filled with content, so much so that we could only cover a few of the best add-ons above! Do you have a favorite Kodi resource for news? Share your thoughts and comments below so everyone else can stay informed!