We are reader supported and may earn a commission when you buy through links on our site.
Learn more
Clean Up Kodi with Rock Cleaner from Rock Crusher Repo
Maintaining your Kodi installation is crucial to keeping things running fast and error-free. If you install a lot of packages, download dozens of add-ons, or stream multiple movies on a weekly basis, Kodi is likely gathering a lot of junk files that gradually eat away at its overall speed.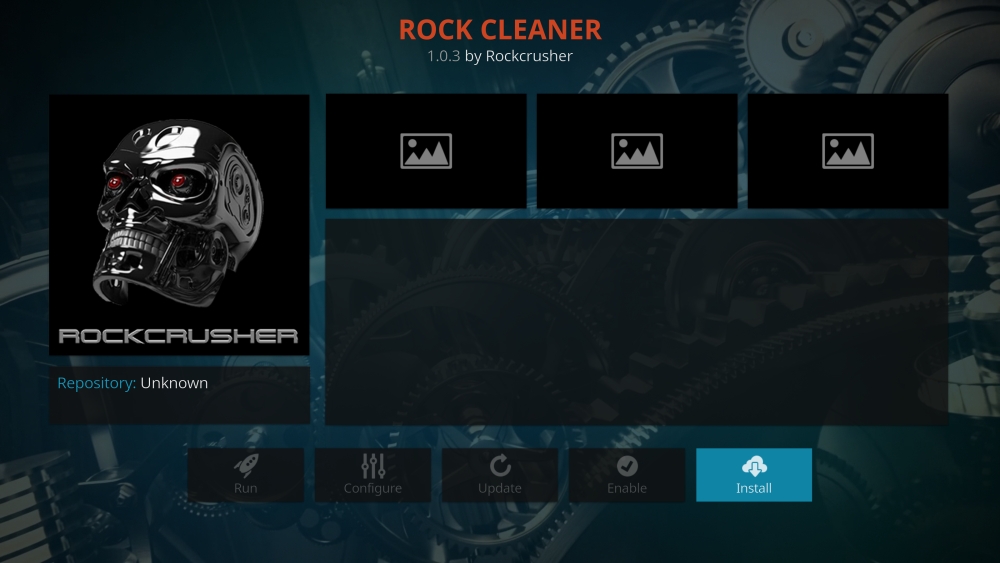 You can dive in and clean things up manually, or you can install the fast and efficient Rock Cleaner to handle all the hard work for you. Rock Cleaner polishes off these tasks in a matter of seconds and is ideally suited for anyone who needs a straightforward clean-up add-on.
30-days money back guarantee
Keep Your Kodi Streams Private with a VPN
Kodi is a fantastic piece of software that's both free and easy to use. Kodi itself doesn't include any objectionable or potentially illegal content, but it's possible to download third party add-ons that access pirated videos. This feature has brought about increased scrutiny in recent years, causing a number of popular add-ons to shut down in the wake of copyright infringement claims. Kodi streamers have even reported their ISP throttling video traffic, which makes it tough to hop online and watch a movie in peace.
Fortunately there's a way to keep you online activities private, all you have to do is use a good VPN. VPNs encrypt data before it leaves your device, turning ordinary packets of information into unreadable code. No one can tell who you are or what you're streaming, allowing you to surf and watch Kodi videos with full anonymity.
The Best VPN for Kodi – IPVanish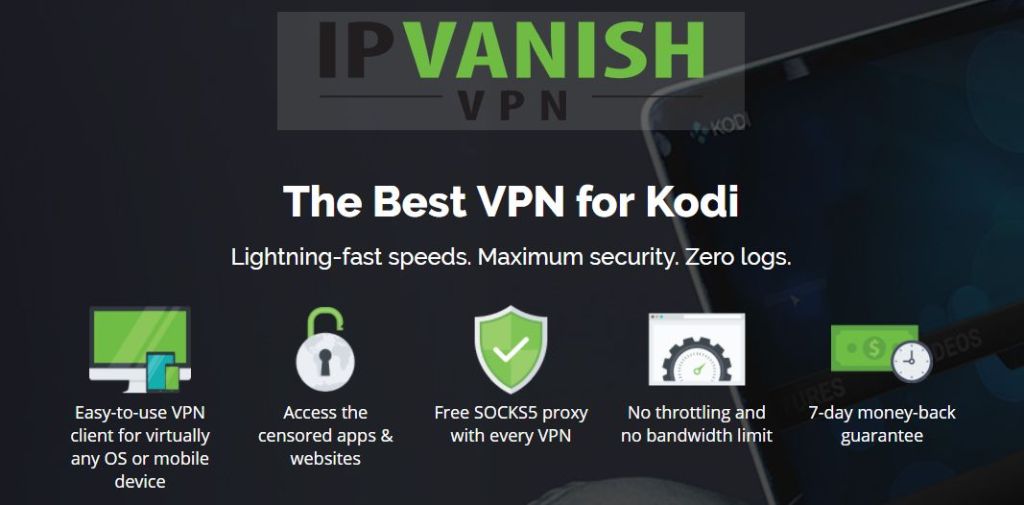 Out of all the VPNs on the market, IPVanish emerges as one of the best to use with Kodi. The software is lightweight and easy to use, the connection speeds are fast in locations around the world, and the anonymity features are top notch. With IPVanish you'll be able to stream content at high speeds while enjoying the benefits of full encryption, all without lifting a finger. Simply sign up using the links below and let the app run in the background. You'll stay hidden online and can surf the web in peace.
IPVanish's top features include:
Strong 256-bit AES encryption on all data with DNS leak protection and an automatic kill switch.
Anonymous access to Kodi's add-ons with no restrictions on P2P traffic or torrent content.
Huge network of 950 servers in 60 different countries with unlimited bandwidth.
A sturdy zero-logging policy on all traffic.
IPVanish offers a 7-day money back guarantee which means you have a week to test it risk-free. Please note that Addictive Tips readers can save a massive 60% here on the IPVanish annual plan, taking the monthly price down to only $4.87/mo.
Installing Rock Crusher and Rock Cleaner
The Rock Cleaner is a quick and easy install that doesn't require any additional files, just the main repository. We've split the guide into a few sections to help streamline the process. Follow each set of steps below and you'll be cleaning up Kodi in no time.
First, Enable External Downloads
Kodi offers several methods of installing new content, including directly adding zip files and allowing the software to manage them for you. We prefer the latter, "external sources" method, as it keeps things tidy and is easy to do on every platform, including smartphones. Before you can install anything, though, you have to enable one of Kodi's internal settings.
Head to Kodi's main menu, then click the gear icon to enter the System menu.
Go to System Settings and then click on Add-ons.
Click the slider next to Unknown sources. Make sure it's facing to the right.
Accept the warning message.
How to Install Rock Crusher Repo
The Rock Crusher repository comes with a handful of add-ons, most of which are focused on extreme sports and streaming music. The Rock Cleaner is part of this repository, however, which means we need to add it before we can install the add-on. Follow the steps below to get the repository.
Launch Kodi and go back to the home screen.
Click on the gear icon to enter the Settings menu.
Open the File Manager section, then choose Add Source.
A new window will open called "Add file source". Click where it says <None>
A text screen will pop open. Enter the following URL into the box and press OK: https://rockodi.com/
In the box below, type in a name for the repository. Something short will suffice, such as rock
Click OK. Kodi will save the source for you.
Go back to Kodi's main menu and choose Add-ons from the left side menu.
Select the open box icon at the top of the next menu.
Choose Install from zip file.
Find the repository you just created and select it.
Choose the repository zip file on the next screen. It should be something like repository.Rockcrusher-1.8.zip
How to Install Rock Cleaner
Once the repository is installed, you can quickly add the Rock Cleaner to your system.
Start at Kodi's main menu, then click the Add-ons section.
Click the open box icon at the top.
Choose Install from repository.
Locate Rockcrusher Repository and open it.
Select the Program add-ons folder.
Click ROCK CLEANER at the top of the short list.
Select the install icon from the next screen.
Kodi will automatically install the cleaner after a few moments.
Access Rock Cleaner from the Add-ons > Program add-ons menu at any time.
How to Clean Up Kodi with Rock Cleaner
Rock Cleaner was designed for a very specific purpose: keeping Kodi clean, fast, and up to date. You won't find dozens of menus with confusing labels and crazy color schemes, just a straightforward list of tasks you can perform one by one.
Clear Cache
A full cache is one of the biggest causes of slow Kodi menu speeds, especially on low powered devices like Fire TV Stick, smartphones, and Android TV boxes. Rock Cleaner lets you wipe out the entire cache with a couple of quick clicks, no fuss and no room for error. Once you launch the cleaner simply choose the "Clear Cache" option at the top of the actions list. You'll be presented with a confirmation window. Choose "Yes" and the cache will be cleared out right away.
Delete Thumbnails
Every time you browse through Kodi, the software fetches and stores dozens of thumbnail icons. These come from add-on screens and download directories and can quickly consume a big chunk of your device's physical storage. As you probably guessed, Rock Cleaner gives you a fast one-click method of removing those unneeded files. Run the add-on, then choose "Delete Thumbnails" from the actions list. Choose "Yes" at the confirmation window and you're good to go.
Purge Packages
Installing add-ons often leaves behind small zip file packages hidden away within Kodi's file structure. Over time this content can take up a lot of space, especially on dedicated streaming devices like Amazon's Fire TV Stick. They aren't required for anything, and you can always re-download them if you needed access again, so why not use Rock to get rid of them? Run the cleaner and choose "Purge Packages" from the actions list. Hit "Yes" in the confirmation window and those files will be erased.
Update
Got a lot of repositories and add-ons sitting on your device? Keeping them up to date can be frustrating, even if you have automatic updates turned on. Instead of fighting with the download dialogue every time a new version hits, use Rock Cleaner's handy update feature to download and apply everything all at once. Fire up the cleaner and choose "Update" from the actions menu. A confirmation window will pop up, and when you click "Yes", Rock will scan Kodi and initiate the update processes one by one. Note that this may take some time if you have a lot of content that needs updating. Also note that Rock Cleaner doesn't update Kodi itself, just add-ons and repositories.
Beyond Kodi Clean Up
The Rock Cleaner is a simple piece of software, which is precisely what makes it so powerful. It comes with only the features you need, and you can run it on any device to gain back some Kodi speed.
Rock Cleaner on Fire TV Stick
Running Kodi on an Amazon Fire TV device is a great way to get fast access to tons of streaming media. The hardware wasn't made with Kodi in mind, unfortunately, which means some people may encounter hiccups from time to time. One of the biggest issues is keeping Kodi running fast on the low powered device. Kodi runs great on most platforms, but when it comes down to it, it simply wasn't designed to be ultra light on resources.
Running Rock Cleaner on your Fire TV Stick is a great way to keep unnecessary files down to a minimum. Installation is a breeze, and because the add-on isn't clogged with tons of options, you won't have any problems navigating the actions menu. If Kodi is slowing down on your Fire Stick, try using Rock Cleaner to wipe out the cache and thumbnails. You should also run the purge packages command every few weeks, just to get rid of those pesky space hogging zip files.
Rock Cleaner vs Kodi Wizards
There's no shortage of cleaners, wizards, and configuration programs for Kodi. It seems like just about every development community has its own take on what a Kodi utility should provide. Most of these fall into the "wizards" category with add-ons like Looking Glass Wizard, Cosmic Saints Wizard, or the more famous but now-defunct Ares Wizard. Add-ons like this usually come with dozens upon dozens of tweaking and cleaning options along with things like factory resets, automatic start-up tasks, and custom build managers. They're complex and sometimes difficult to use, but they can get just about any job done, including clearing caches and deleting thumbnails.
Cleaners aren't as common and are a little simpler in design, which is definitely a good thing. With cleaners like Rock Cleaner your options are confined to just the basics, ditching all the crazy start-up features and build downloaders in favor of the things you're more likely to use. Cleaners let you empty your cache, delete thumbnails, update content, and remove unnecessary files from your installation, all of which can speed up Kodi and free some space on the device. If you're having a hard time with your app's performance or are running low powered hardware, using a cleaner is a fantastic way to keep things tidy.
Is Rock Cleaner Safe?
Rock Cleaner is completely safe to use. The add-on doesn't come with any illegal content, obviously, and the cleaning methods it deploys are nice and straightforward. You won't have to worry about accidentally getting rid of important data, as the add-on isn't capable of deleting anything more than excess content. Essentially, what the Rock Cleaner does is go through your file system and get rid of content you don't need anymore. You can perform a lot of the same actions manually, both within Kodi and by navigating to the correct folder on your computer. With Rock, however, you don't have to fuss with finding the right options or worry about deleting the correct entries. Just click, run, and relax.
Conclusion
Keeping your Kodi installation tidy is extremely important, especially if you're a frequent streamer or are running the software on a smartphone or TV box. Cache files, thumbnails, and lingering packages can clog up your device surprisingly fast, but with Rock Cleaner you can remove them all with just a few clicks. Know of another cleaner fans of Rock might be interested in? Let us know in the comments below!