We are reader supported and may earn a commission when you buy through links on our site.
Learn more
8 Reasons NOT to Install a Kodi Build
Kodi is an exciting platform that invites tinkering and customization–but take a moment to really consider your needs. Do you REALLY need to install a new Kodi build, or will it just confuse or bog down an already-simple interface? We cover a few reasons not to go nuts with Kodi builds below.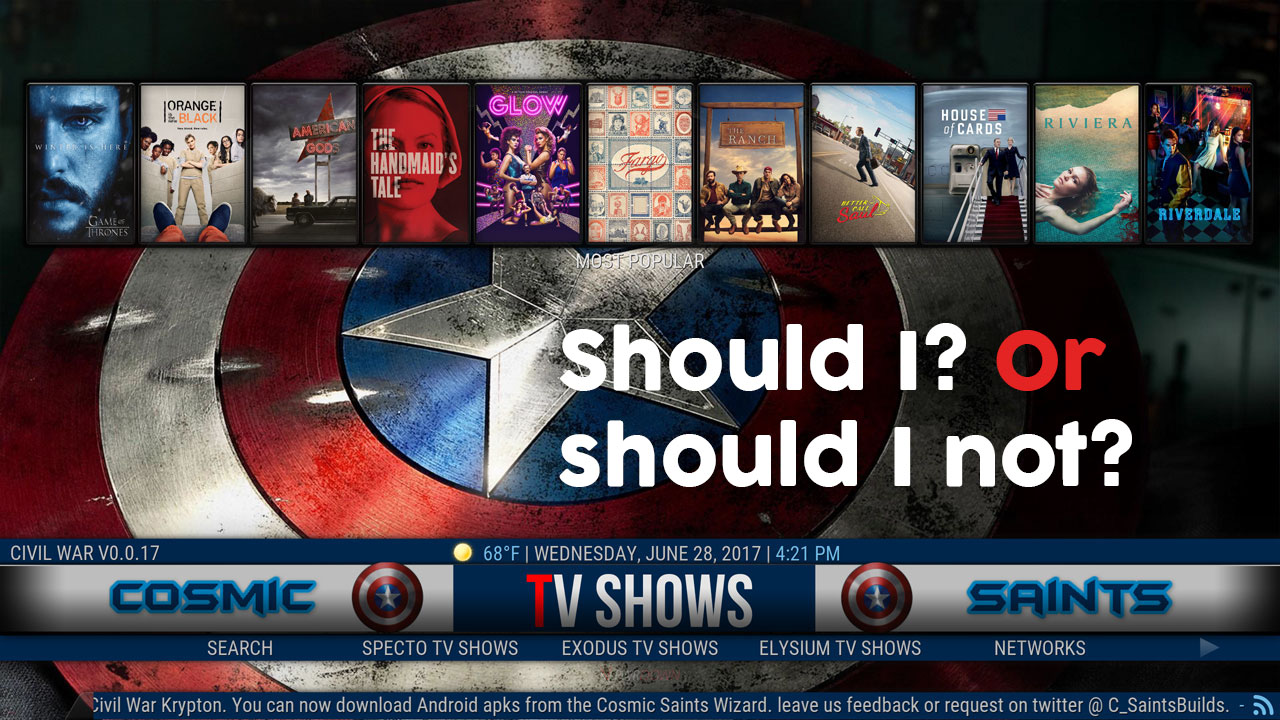 When it comes to making your Kodi build your own, you have two options for finding and installing add-ons, locating repositories, changing the system's user interface, colours, and fonts, tweaking settings, and more. Either you can manually install each item and tweak each setting yourself, which is time consuming and can be difficult when you have to find a particular working URL or follow some complicated instructions. Or you can take the other route, and install a build.
A Kodi build is simply a pre-packaged version of Kodi that has a selection add-ons already installed, has repositories already linked, has its own look and feel through a new skin, and has other settings already tweaked. Builds are popular with new users as they are a much faster and in some ways simpler way to set up your Kodi system. With a build, you only need to click a few buttons and you will have a fully customised version of Kodi that is ready to use. And there are some great builds out there which are really popular with the community.
However, there are downsides to installing a build which you might not have considered. Especially if you are a new Kodi user, it's worth taking some time and doing some research to find out if installing a build is really the best way for you to set up your Kodi system. Today we're going to tackle this issue by talking about why some people prefer to stay away from builds, and by raising 8 reasons that you might NOT want to install a Kodi build.
30-days money back guarantee
You Should Get A VPN To Use Add-ons For Kodi
Almost all builds come packaged with a lot of different add-ons. Most of these add-ons are developed by third parties, not by the official Kodi team. And that means that these add-ons are not checked or approved. Some of these add-ons let you easily stream movies or TV shows, or they let you watch live TV channels for free. However, this activity is illegal in most places and if you get caught using Kodi add-ons to stream or download content then you could be liable for a fine or for prosecution.
If you're going to use a Kodi build, or even if you're going to use add-ons, then we strongly recommend that you protect yourself by using a VPN. This small piece of software will encrypt all of the data that your device sends over the internet, making it impossible for law enforcement or your ISP to track your internet use or to see if you have been streaming or downloading.
NordVPN – Best for Unofficial Kodi Builds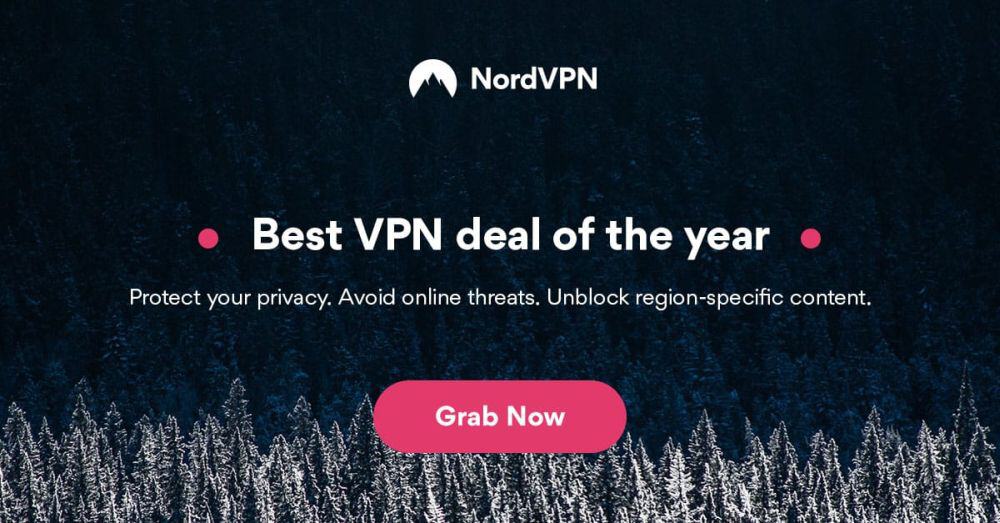 Even if you never touch an unofficial Kodi add-on, you need to be careful. After all, ISPs take a dim view of the service, and will aggressively throttle back its traffic. But if you've got NordVPN on your device, this worry becomes a thing of the past.
With unbreakable 256-bit AES encryption, NordVPN is able to secure your connection against third-party surveillance. What's more, your traffic is routed through one of over 5,800 servers in 59 countries, disguising your IP address and making you very hard to target with cyber-attacks and throttling indeed. Another huge benefit of this routing–called "spoof"–is that you can borrow the digital passport of another country, essentially giving you license to view geoblocked content.
It even works with services like Netflix, thanks to built-in smart DNS functionality via SmartPlay. NordVPN also features DNS leak protection plus an automatic kill switch, preventing even a single data packet from escaping unencrypted. Backed by NordVPN's solid no-logging policy, you can stream, game, download, or browse whatever you like without having to worry about leaving digital footprints behind to trace back to your identity.
Read our full NordVPN review.
Pros
Unblocks US Netflix, iPlayer, Amazon Prime and other streaming services
Over 5,400 servers in 61 countries
Up to 6 simultaneous connections
"Double" data protection
Money back guarantee policy (30-days).
Cons
Some servers can be slow and unreliable
Can't specify City or Province in App.
Eight Reasons NOT to Use a Build
Builds Lack In Customisation
The biggest advantage of Kodi builds is also their biggest weakness: Each build comes preconfigured with skins, add-ons, settings, and more. This makes it very convenient to install and use the build with just a few clicks. However, this means that you do not customise your system much when you install a build. When you download a build, you get the same set up as everyone else.
This means that you might end up with a bunch of add-ons or other settings that you don't need. If you don't watch live TV, for example, then there is no point in having a whole lot of add-ons dedicated to live TV streams. And most builds will come bundled with as many features as possible, so they will have sets of add-ons for a wide range of features. The problem with having a lot of add-ons and other content that you don't use is twofold: firstly, it wastes system resources like hard drive space and RAM usage, and secondly, it makes you build harder to navigate and to find the things that you do want.
One of the great features of Kodi is the ability for you to customise your system to match your exact specific needs. When you choose every add-on, skin, or other setting that will be a part of your Kodi system rather than using a preset build, you are encouraged to set the system up to reflect your personal use and needs. And a more customised system is more satisfying to use as well as being more useful.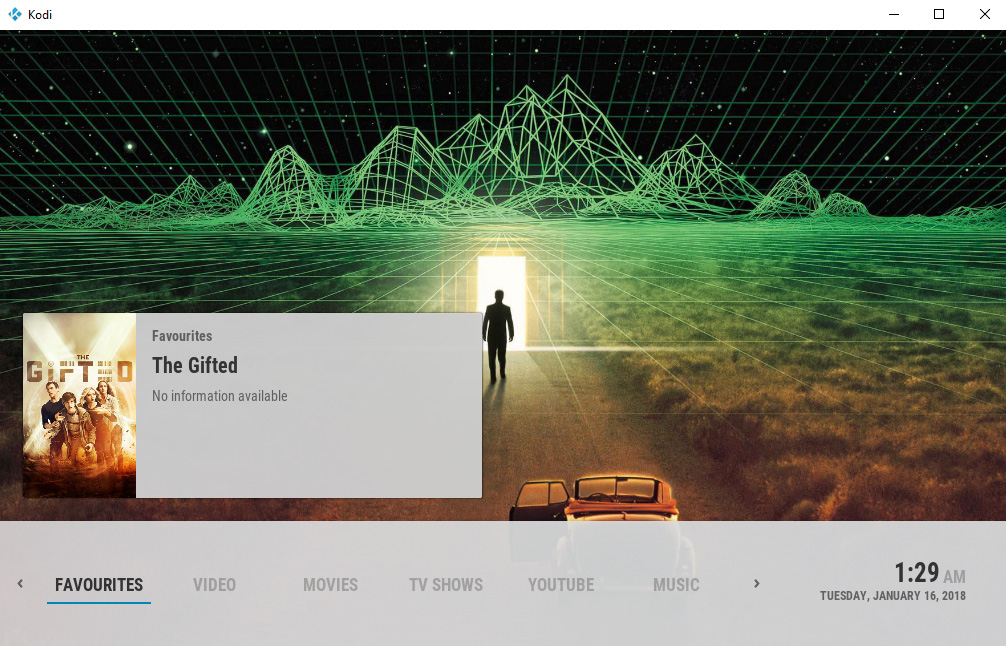 A personally customised Kodi system
Builds Raise Some Security Issues
A concern with builds relates to security issues. Most builds include a huge number of add-ons, which may or may not come with a corresponding repository URL. When an add-on or repository is taken down or has to move to a new URL, then the old version of the add-on or repository will merely stop working. Which might be annoying but is not a big security problem.
The problem arises when unscrupulous companies buy up the domain names at which add-ons or repositories were previously hosted. If these companies can create malicious code which appears to be a valid Kodi add-on and is located at the same URL as a previously working add-on, then they may be able to access Kodi users' computers and other devices which is obviously a massive security risk.
The best way to confront this security issue is to keep up to date with news and developments in the Kodi community. You need an awareness of what add-ons and repositories you have added to your system individually. Then if you hear about a repository shutting down or moving to a new URL, you can update your Kodi system as required by deleting the old repository or updating it to the new URL. When you know exactly what is on your system, it is much easier to manage and look after it. Using a build can be a disadvantage as it will be full of add-ons or repositories that you don't know about and don't know to check up on or to manage.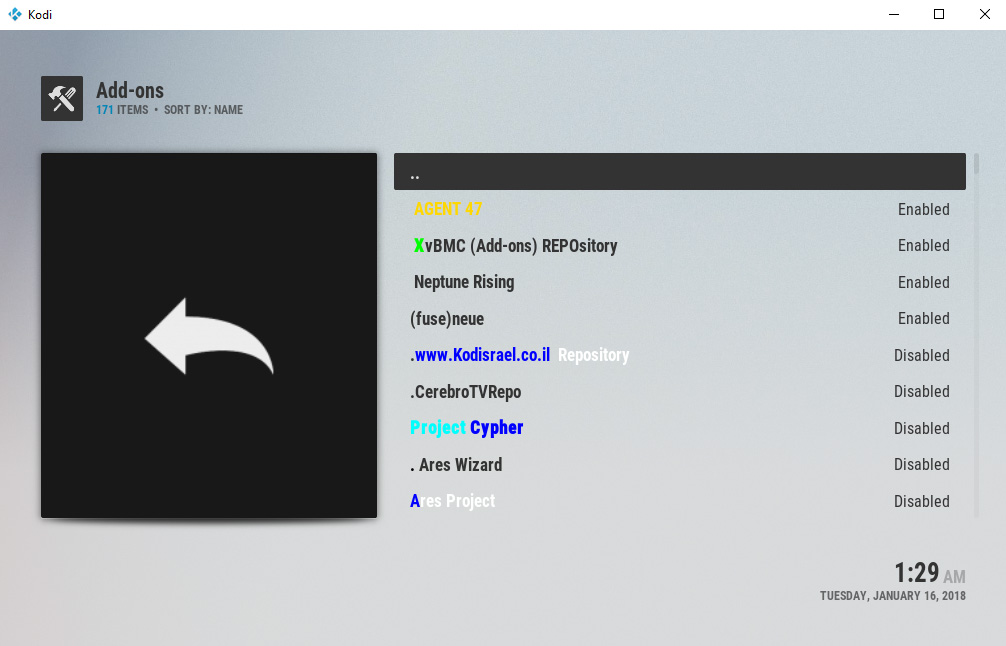 Add-ons and repositories should be manually added and removed or disabled
It's Easy To Change The Look Of Kodi Without A Build
One of the biggest motivations for users to install Kodi builds is because they want a different look for their Kodi system. The default Kodi skins (called Confluence in version 16 and Estuary in version 17) are functional and easy to use, but they are not as distinctive or modern as some users want. These users want a different sort of interface, with beautiful background images and different colour themes, or with different fonts and layouts. And some people, especially new users, believe the the easiest or only way to change the look of Kodi is by installing a new build.
In fact, if all you want to do is change the look of your Kodi system, you don't need to install a whole build. Instead, you can install a skin and switch between skins very easily within Kodi to change the backgrounds, colours, fonts, and layout of your build. The skin switcher is integrated into Kodi and requires no external installations or unofficial sources. This makes it safer, easier, and faster to use than installing a whole new build. There are even a whole load of skins available for download within Kodi, so you can be sure that they are safe to use and well coded.
If all you want is a new look for Kodi, then you needn't install a build. You can simply install a skin instead, and switch skins whenever you want. Here are step by step instructions for installing a skin:
Start on your Kodi home page
Go to settings
Find the entry for Skin in the box on the right
Click on the Get more… button on the right
You'll see a list of skins. Select one from this list (we love Arctic Zephyr) and it will start to install

Wait a minute until the installation is complete
Now your Kodi will have a new skin and you can enjoy your new look
Inefficient Use Of System Resources
Another big issue with installing a build is how much hard drive space and RAM that the build will use. If you are running Kodi on a high specification PC then it doesn't much matter if your Kodi system is a bit of a resource hog. However, if you are running Kodi on a more low specification device like a Firestick, then a build can rapidly eat though your system resources. This can make it difficult for you to download new content or install updates, and it can make your system terribly slow. If you want a build which is appropriate for a low specification device for the most smooth and efficient playback, then you should avoid installing a build and carefully select what add-ons to install instead.
Builds Cause Difficulty In Fixing Issues
What do you do if something goes wrong with your Kodi system? What if there is an add-on that stops working, or a repository which goes down? If you install a build, you are dependent on the maintainer of that build to make sure that everything works. And Kodi can be installed on so many different platforms and types of device, it is not easy to create a build which is stable across everyone's particular setup. If something in a build goes wrong, it's difficult for the average user to know how to fix the issue or what settings they need to adjust.
When you install your own add-ons and set your own settings, you gain expertise in the use of the Kodi environment. This means that if there is a problem, then you will have some idea of where to start fixing it. Installing the add-ons and tweaking the settings that you want will help you to learn about the Kodi system and become an expert in using it. By contrast, if you install a build then you may well not learn much about how to manage the Kodi software, and so when you come across a problem you will find it much harder to fix it.
Builds Suffer From A Lack Of Updates
When you install a build, you may not get access to repositories for each of the add-ons that come installed. This means that your add-ons cannot be automatically updated, and unless the maintainer of the build makes an effort to keep everything updated then your add-ons will become outdated very quickly. Outdated add-ons can lead to loss in functionality or lack of security adjustments. Also, updates for the builds as a whole is an issue. The build will be updated for only as long as the developer has the time and inclination to update it, so often builds have a shelf life of a few months. If your build stops being updated, you'll have to find another build to jump ship to whenever the previous build stops working. If you install your own add-ons from repositories instead, you can easily enable automatic updating so that the newest versions of all of your add-ons will always be available to you and you aren't dependent on someone else for your updates.
Some Builds Include Links To Dodgy Services
In some builds, you'll find that they come with categories for live TV which include links to paid IPTV services. This is commonly a way to monetise builds as build creators may have an affiliate relationship with the IPTV services. However, there are many serious issues with lots of paid IPTV services. Unlike official streaming services like Netflix or Hulu, unofficial paid IPTV services do not have the legal right to share the content which they make available. There could be legal issues from using these services if you are caught. And furthermore, these services may be unreliable and go up and down at any time. Even Kodi users who support the right of people to use add-ons to stream content generally advice against using paid IPTV services as they are not trustworthy. So these aren't the kind of services that you would want to have linked to your Kodi system.
Builds Are Disliked By Developers
Finally, it is worth considering the perspective of the people who code and create the add-ons that we all enjoy. Many Kodi developers are against builds and would rather users did not install them. This is because builds make support very difficult. For example, a developer creates an add-on for streaming content. It works just fine for the majority of users, and if there is a case in which the add-on doesn't work, the user and developer can share information to find out why it doesn't work. But this add-on is then included in a build, it is bundled up with lots of other add-ons and changes to settings. This makes it hard for users to see which particular setting is causing a problem if the add-on doesn't work correctly. The upshot of all of this is that developers spend a lot of time responding to often angry feedback from users who have installed a build expecting perfectly working add-ons but don't know what add-ons are or how to check a particular add-on for issues.
In addition, builds exist in a legal grey area as though they contain just the same add-ons which are available on the internet elsewhere, the convenience of the pre-packaged form makes it easy to commit copyright infringement and the builds are therefore taken as a more serious legal threat than individual add-ons. Developers who want to focus on legal functions to grow the Kodi community end up having their work tainted by association when it comes in a build bundled alongside illegal or poorly designed add-ons.
You might wonder why you should be worried about what developers think if you are just a regular Kodi user. But the answer is that one of the best things about Kodi and the reason that so many features are available is due to the open source structure of the project. This work is all done by developers, who give up their time for free to make new features. If developers have to deal with a lot of hassle when sharing their add-ons, they will be less likely to make more add-ons in the future, and then the whole Kodi community loses out.
Conclusion
You can see that there are a number of issues with using Kodi builds. Some reasons that you might want to use a Kodi build include speed of installation and set up, ease of use, and not having to find out about add-ons and repositories for yourself. However, each of these advantages can also be a disadvantage. Because builds are installed quickly and are set up automatically, you don't get to customise your Kodi system by including only the add-ons and settings which you particularly want and which you know that you will use.
All of the extra features in a build which you won't use will slow down your Kodi system and make the experience of using Kodi more cluttered and less smooth. There is even a problem with how easy it is to install a build, as this means that you won't learn about how the Kodi system works and how to deal with any problems which arrive.
When an issue does come up, you won't know how to fix it or where to find the settings for particular add-ons or other features. Similarly, not keeping up to date on which add-ons are made available or taken down means that you won't know when to update or disable an add-on or repository that is no longer working. This can lead to security issues when you used outdated add-ons or when malicious companies purchase the domain names of shut down repositories and use the URL to install dangerous software on Kodi users' systems.
It's also worth considering the impact of using a build on the Kodi community as a whole. In legal terms, builds have been the focus of many of the copyright infringement claims made against Kodi. Even though builds don't include anything which isn't available elsewhere on the internet, the fact that they come pre-packaged and that they make it so easy for people to pirate content or stream it illegally means that builds have drawn the ire of copyright holders. Developers are concerned by the proliferation of builds as they draw unwanted legal attention and make support much more difficult.
What do you think? Do you think it's a good idea to use a build for your Kodi system or not? Let us know your opinion in the comments below.