We are reader supported and may earn a commission when you buy through links on our site.
Learn more
Download Kodi Streams With the Sick Beard Personal Video Recorder
Do you watch a whole lot of TV shows and wish there was a way to download and manage them automatically, so you don't always have to go hunting for the latest episodes? Or do you have a slow internet connection which makes streaming impossible? In either of these cases, you can benefit from using a Personal Video Recorder software like Sick Beard. This software is an online-based service which monitors TV schedules and automatically downloads the newest episodes of your chosen shows through torrents. No more digging through release schedules or trying to find download links on new episode days: Sick Beard automates this whole process.
Sick Beard is even more useful when you combine it with the Kodi media centre software. Kodi can organise your TV episodes, and automatically download episode information like numbering, title, synopsis, and thumbnail, then display this information in an attractive format.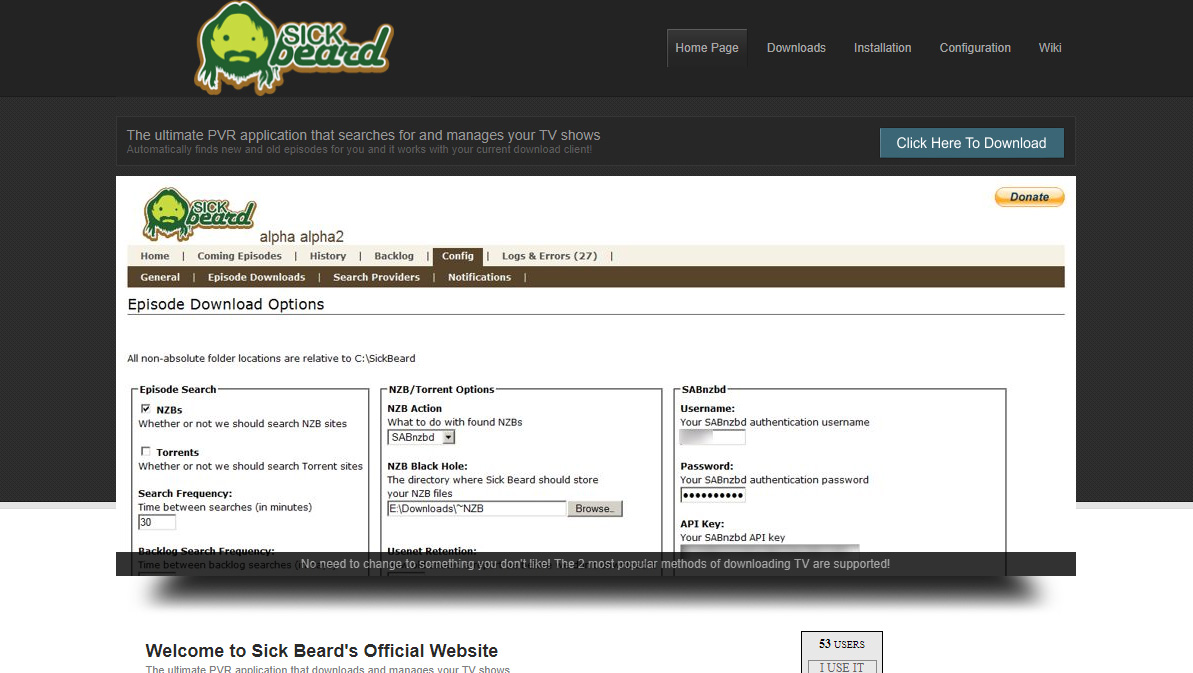 In combination, Sick Beard and Kodi can be the perfect solution for automatically downloading and watching all of your favourite TV shows. In this article, we'll show you a guide on how to download your Kodi streams with the Sick Beard personal video recorder.
30-days money back guarantee
Why Sick Beard Users Need A VPN
Sick Beard, and other Personal Video Recorders like it, work by using torrents to download the latest episodes of TV shows. Using torrents over an unsecured internet connection is a very bad idea, as ISPs can very easily spot P2P traffic and they almost always investigate it. If your ISP investigates you and find that you have been downloading copyrighted content like episodes of TV shows, you could face a range of consequences from being kicked off the ISP network, to being fined or even prosecuted for copyright infringement.
If you're going to use torrents or other download methods, it's vital that you take step to protect yourself from legal issues. The easiest way to keep yourself safe is to use a VPN which encrypts all of the data that your devices sends over the internet, including P2P traffic like torrents. This encryption means that your internet activities are disguised and no on can see what sites you have been visiting or whether you have been download. Even if your ISP looks into your internet activity, all they can see is the amount of data that you have transferred, not what the contents of this data are. This means that you can keep yourself when downloading new TV show episodes.
We Recommend IPVanish For Kodi Users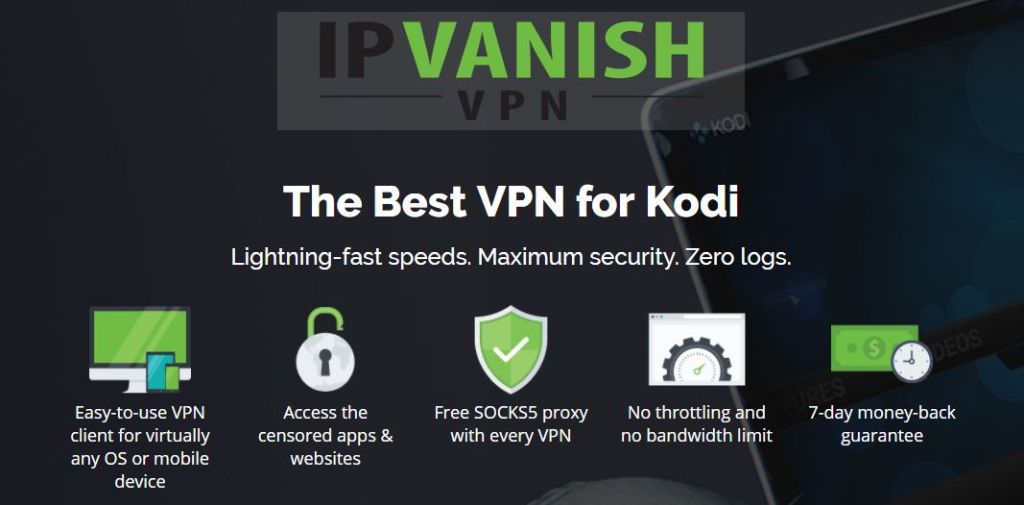 If you use both Sick Beard and Kodi, then the VPN that we recommend is IPVanish. It has lightning fast connections which are perfect for fast downloads, and unlike some VPNs, IPVanish does allow torrents on its network so you can encrypt your P2P traffic. There is excellent security, with strong 256-bit encryption and a no logging policy, and the server network covers more than 850 servers in 60 different countries. The software is available for Windows, Mac OS, Android, Linux, iOS, and Windows Phone.
IPVanish offers a 7-day money back guarantee which means you have a week to test it risk-free. Please note that Addictive Tips readers can save a massive 60% here on the IPVanish annual plan, taking the monthly price down to only $4.87/mo.
How To Use Sick Beard With Kodi
To get started with Sick Beard, you should visit the website at https://sickbeard.com/index.html and head to the Downloads page. Here you can download an easy installer for Windows, or download Python files to run Sick Beard on any other operating system which has Python installed on it. If you need any help with the installation process, you can head to the Sick Beard installation page at https://sickbeard.com/install.html
Once Sick Beard is installed onto your system, it will start to run in the background. Usually, you would use your web browser to access Sick Beard as that is the easiest way. Typically, the URL you would use to access your Sick Beard config is https://localhost:4001/, but this may change depending on how you have set the program up.
Now you should configure Sick Beard so that it automatically downloads the shows that you want. This process will differ slightly depending on your particular file structure, set up, and download needs. So head to https://sickbeard.com/config.html to find out how to configure Sick Beard in the way that suits you. This is only for TV shows, so if you want to fully automate all downloads to get the latest TV shows, movies, and music all at once, then you can follow this guide here: https://kinkeadtech.com/tutorial-how-to-automatically-download-tv-show-movies-music/
Make sure that you have Sick Beard set up in such a way that it downloads new episodes of TV shows to a folder that is part of your Kodi library. This way, when your Kodi library is updated then it will automatically show all the new episodes of TV shows that Sick Beard has downloaded for you.
Set Up Automatic Updating Of Your Library With Watchdog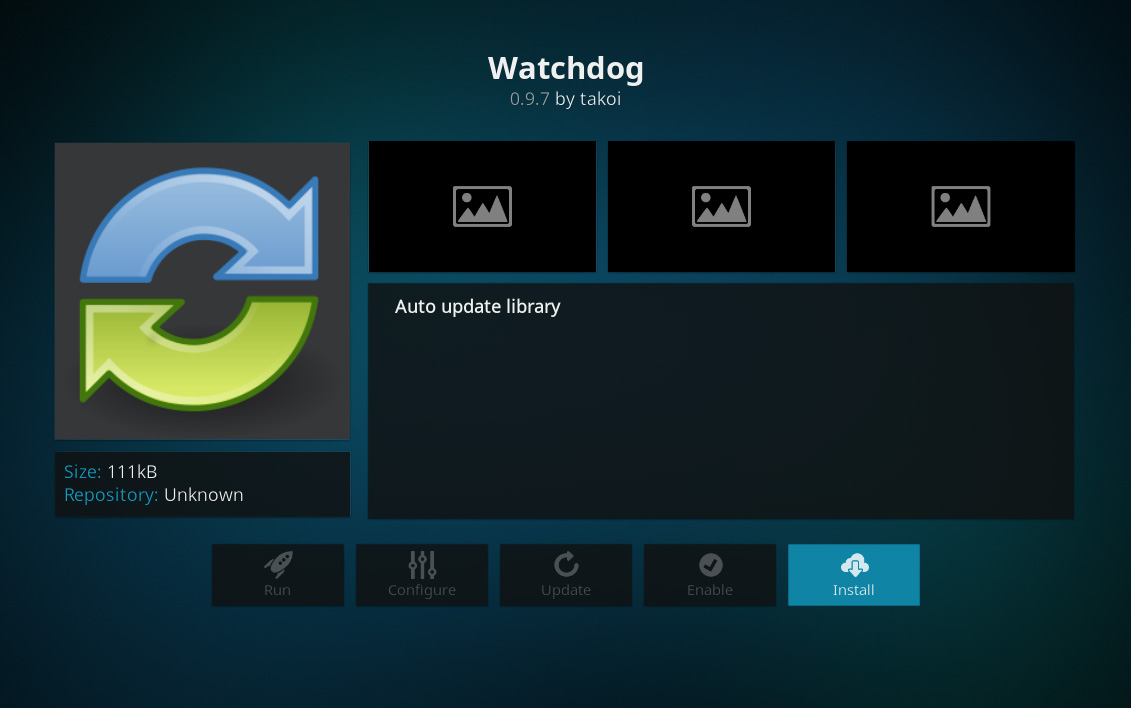 There's a problem with using Sick Beard with Kodi, and it's that your Kodi library is only updated when you restart the Kodi program. This means that if Sick Beard downloads a new episode while you have Kodi running, the new episode won't appear in your library until you restart Kodi.
There is a way around this problem though, and that is using the Watchdog add-on. Watchdog watches over your Kodi library folders and updates your library as soon as a new file is added. This means that the new episodes downloaded by Sick Beard will appear in your Kodi library straight away, with no restart required.
How To Install The Watchdog Add-on For Kodi
Just follow these instructions to install Watchdog:
Start on your Kodi home screen

Click on Add-ons

Click on the icon that looks like an open box

Click on Install from repository

Go to Kodi Add-on repository

Go to Services

Click to open the information panel. Now click on Install from the menu at the bottom
How To Use The Watchdog Add-on For Kodi
Now that Watchdog is installed, it will automatically start monitoring your Sick Beard download folders and automatically updating your Kodi library. But we're going to make a few changes to the configuration for best operation too. Here's what you need to do:
Start on your Kodi home screen

Go to Add-ons

Go to My add-ons

Go to All

Go to the General tab and enable Clean on startup and Scan on startup. You can also enable Pause during playback to stop Watchdog from interrupting when you are watching something

Now go to the Video sources tab. By default, the Auto detect video sources option is enabled, which means that Watchdog will monitor all of the folders that hold your Kodi library. This works well for smaller libraries. However, if you have a very large library with many files and folders then Watchdog constantly checking and updating can be a real resource hog. In this case, you should disable Auto detect video sources and enter specific folders into the Video source 1, Video source 2, Video source 3 options. This means that only the specific folders you enter (like your new downloads folder) will be constantly monitored, freeing up system resources

You can also adjsut some settings in the Advanced menu. You may want to adjust the Polling Interval for network shares which controls how often the folders should be checked for new content in seconds. You can also tweak the Startup delay function which sets a delay in seconds between Kodi starting up and Watchdog starting to run. It is helpful to introduce a delay here so that Watchdog does not conflict with any other processes that you might have running when you start Kodi. There is also an option to Update entire library on changes which you will want to keep disabled if you use Sick Beard, as it will take a long time to rebuild your library every time a new item is added
View Your Sick Beard Files Using the SB Viewer Add-on For Kodi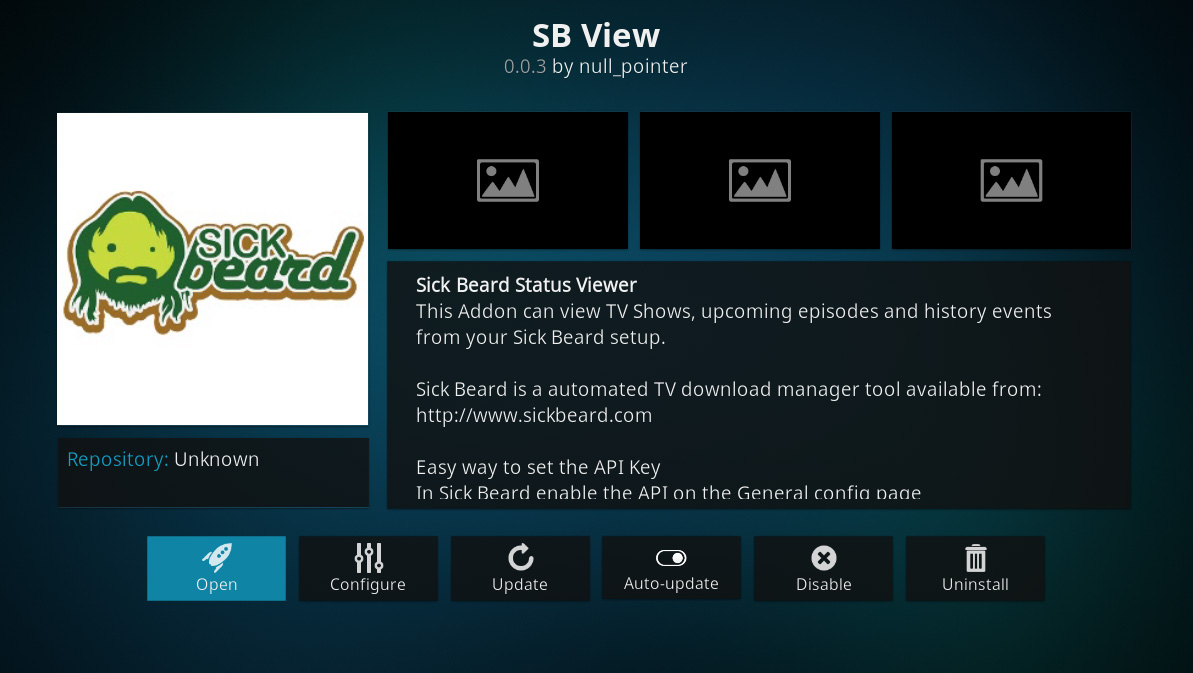 In addition to using Sick Beard to feed content to your Kodi library, you can also see Sick Beard data from within Kodi.
For a quick and easy way to see the content you have previously downloaded in Sick Beard as well as the upcoming episodes that you will download soon, you can use the handy SB Viewer add-on for Kodi. Once you already have Sick Beard set up you can use this add-on to easily view information about it. Here's how to install, configure, and use the add-on:
How To Install The SB Viewer Add-on For Kodi
This is a very simple add-on to install. First, we need to download a zip file of the add-on directly from the developer's Github page, as the add-on is not available in a repository. Then we'll use the install from zip option in Kodi to install the add-on. Here's what to do:
First, go to this URL and download the zip file there: https://github.com/faush01/SBView/archive/master.zip

Save this zip file to an easy to access location, such as your desktop

Now open up Kodi to your home screen

Click on Add-ons

Click on the icon that looks like an open box

Click on Install from zip file

Navigate through the folders on your device until you find the zip file you saved earlier
How To Configure The SB Viewer Add-on For Kodi
Now that you have installed SB Viewer on Kodi, we need to make some changes to the settings so that it works with your Sick Beard configuration. Just follow these steps to do that:
Start on your Kodi home screen

Go to Add-ons

Go to Video add-ons

Find SB View and right click on it

Now you'll see the General tab. This is where you enter your protocol type (http or https) and where you enter your host IP address and the port that you are using for Sick Beard

Now we need to get a API key. To do this, open up your version of Sick Beard and go to the General config page. You'll find an API key that you can copy to a text file

Go back to Kodi and to the SB Viewer settings page. Click on GUID and paste your API key into the input box

Now click OK to save your settings

You'll see three options: Shows, which displays a list of TV shows that you have in Sick Beard, Future, to see upcoming episodes of TV Shows that haven't been released yet, and History, to see what you have already downloaded
Conclusion
Sick Beard is a massively useful personal video recorder that you can use to automatically download the latest episodes of your favourite TV shows. This means that it's a great companion to Kodi, which will organise and display all of your downloaded episodes neatly, as well as automatically finding episode information, synopses, and thumbnails for your episodes. Combining these two programs makes an awesome automatic personalised TV download and display system.
Once you have Sick Beard running, you can use some add-ons for Kodi to enhance the experience too. The Watchdog add-on will monitor your library folders so that as soon as a new file is added to the folder, it is automatically added to your library with no restart of Kodi required. And the SB Viewer is a handy way to quickly see which episodes you have downloaded recently and which episodes are coming out soon.
Have you tried using Sick Beard and Kodi in combination? How has the experience been for you? Let us know what you think in the comments below.