We are reader supported and may earn a commission when you buy through links on our site.
Learn more
I Am Absolem Kodi Add-on: How to Install and Overview
The I Am Absolem Kodi add-on is quite unique.. First, it is one of these all-in-one add-ons that combine different types of content. There are movies, TV shows, documentaries, kids content, fitness, sports, etc. But what sets the add-on apart is that it incorporates several other add-ons like Prometheus, Vendetta, Alchemist, or Dr. Doom. It's like having several popular add-ons right inside this one. Originally found in the Looking Glass repository, it has found a new home in the Androidbboy repo after Looking Glass  went down.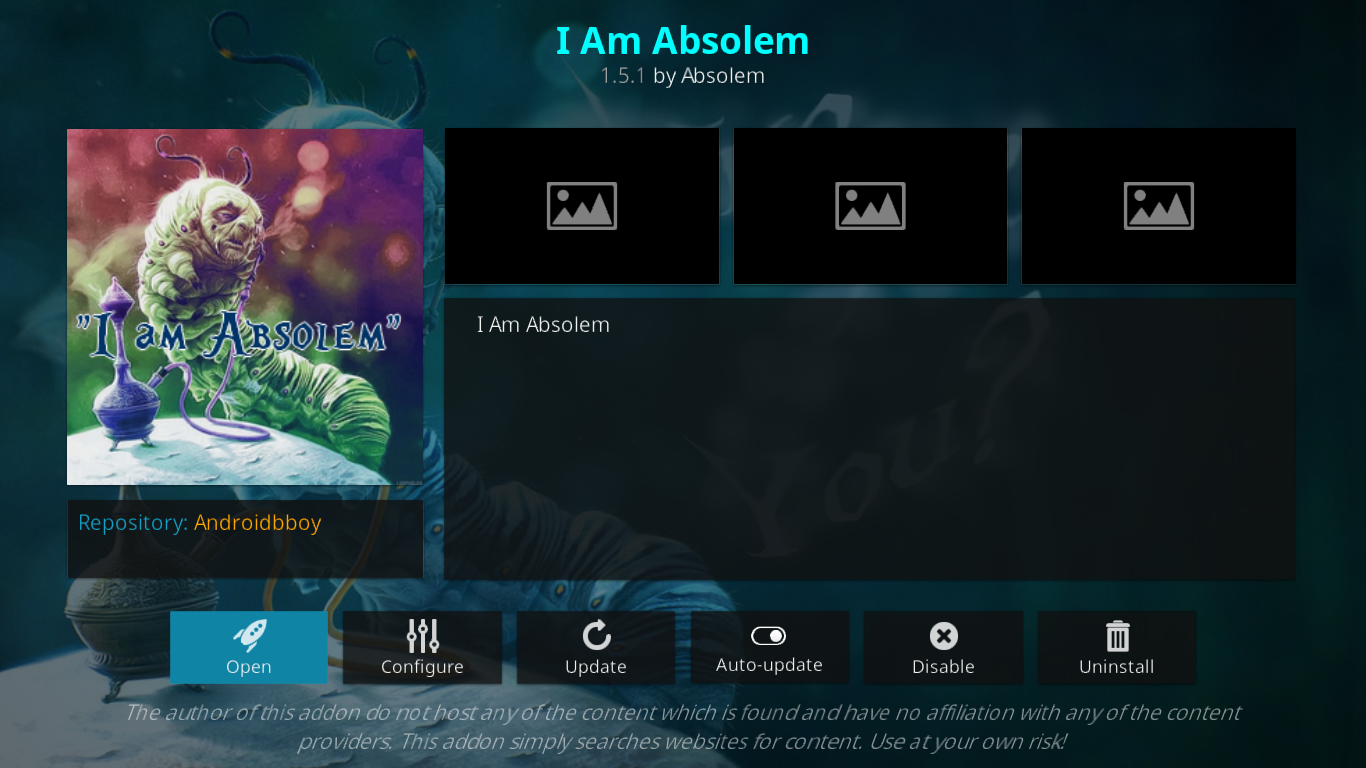 In today's article, we'll begin by showing you step by step how to install the I Am Absolem add-on on Kodi. Like most third-party installations, it is a multi-step process but our detailed instructions will ensure anyone can do it without any issue. And once we're done installing the add-on, we'll continue by giving sort of a guided tour of the Add-on. And before we conclude, we'll tell you about a few things we found annoying about the add-on.
30-days money back guarantee
For The Best Privacy When Streaming Content, Use A VPN
Your online activity could be exposed to anyone with the ability to spy on you. It could be your ISP trying to ensure you don't violate their terms and conditions. It could be the authorities watching you. Or worse, it could be an ill-intentioned person trying to steal some information from you. These are all issues we'd rather avoid.
A Virtual Private Network, or VPN, can help protect you from that kind of scrutiny by encrypting all data in and out of your Internet-connected device using strong algorithms that make almost impossible to crack. Anyone who'd manage to intercept your traffic would only see meaningless data. They would have no way of knowing what you were doing or where you were going online.
With so many VPN providers to choose from, selecting the best one for your needs can quickly turn into a daunting task. Among the most important factors you should consider, a fast connection speed will reduce–sometimes even eliminate–buffering, a strict no-logging policy will protect your privacy even better, no usage restrictions will let you access any content at full speed and client software for multiple devices will ensure the VPN can work with all your equipment.
The Best VPN To Use Along With Kodi – IPVanish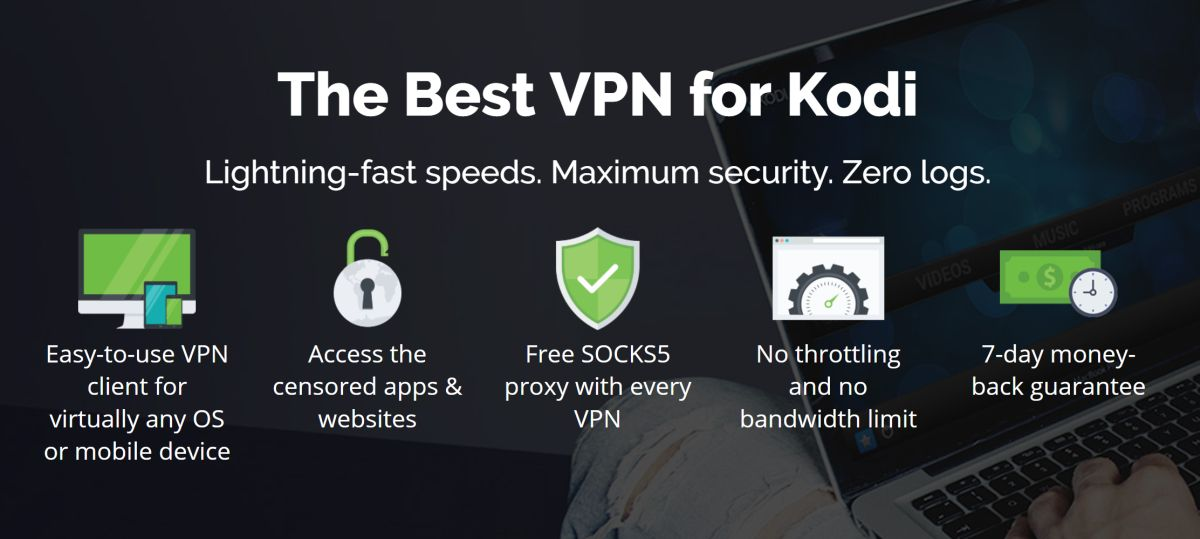 At addictivetips.com. we've tested a lot of VPN providers. And the one we'd recommend with no hesitation for Kodi users is IPVanish. With a worldwide network of hundreds of servers, no speed cap or throttling, unlimited bandwidth, unrestricted traffic, a strict no-logging policy and client software available for all popular platforms, IPVanish meets our criteria while offering great performance and value.
IPVanish offers a 7-day money back guarantee which means you have a week to test it risk-free. Please note that Addictive Tips readers can save a massive 60% here on the IPVanish annual plan, taking the monthly price down to only $4.87/mo.
The I Am Absolem Add-On Installation
Although the installation of the I Am Absolem add-on requires multiple steps, it's not much different from any other third-party add-on. And even if you've never done that before, just follow our step-by-step instructions and we'll get you set up in no time.
Enabling Unknown Sources
Before installing any third-party add-on, you must first enable Unknown sources. If you've previously installed one, you can probably skip this step. If you haven't, here's how.
From the Kodi home screen, click the Settings icon. That's the little gear at the top left of the screen. Next, click System settings.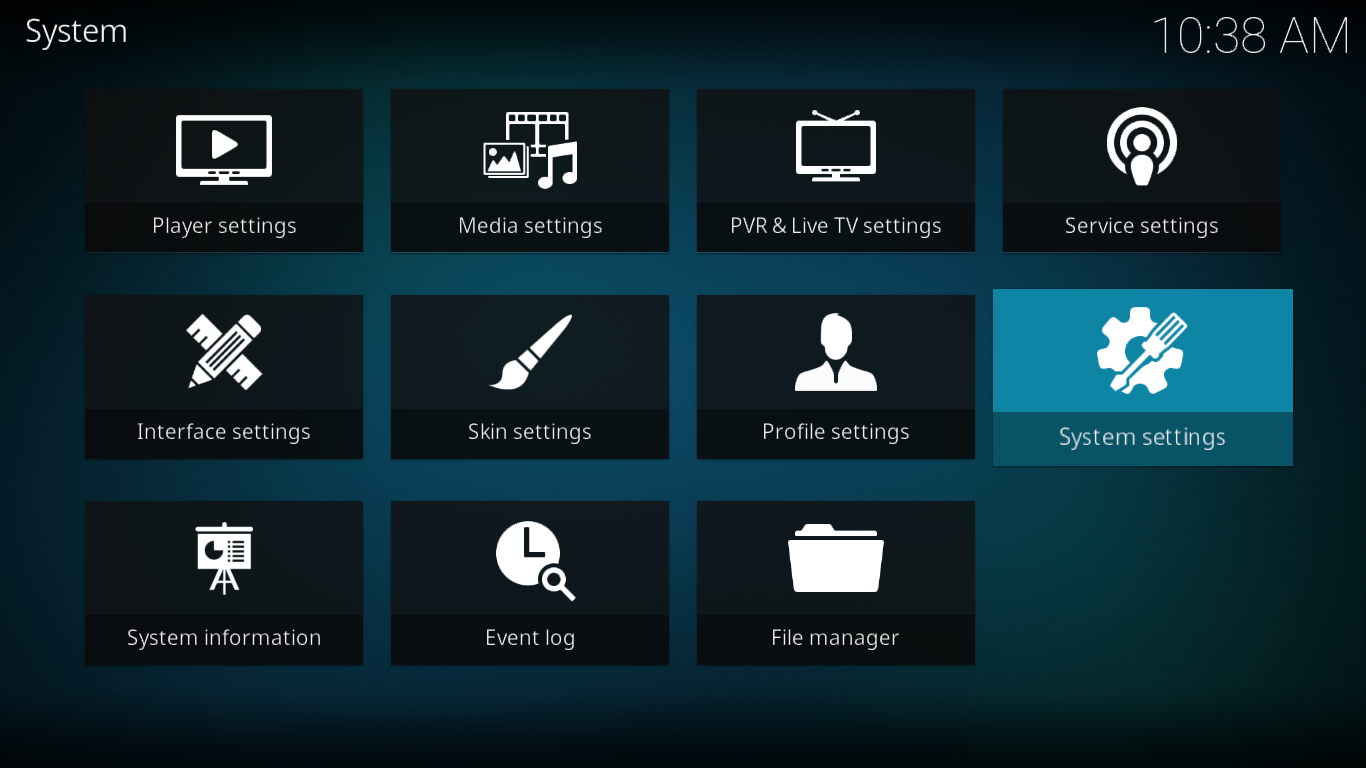 From the System settings screen, click Add-ons in the left pane and then click the line that says Unknown sources to enable them.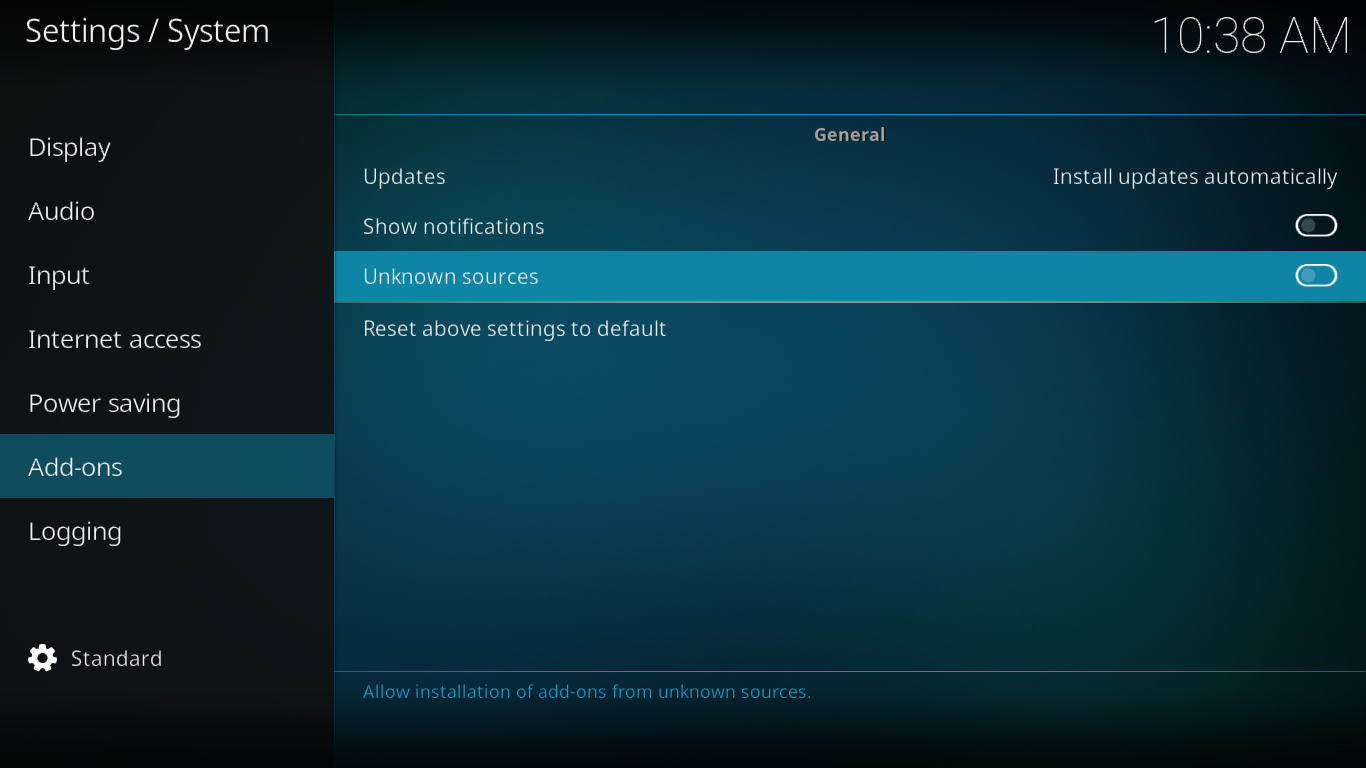 When you enable unknown sources, a warning message will pop up. Read it and click Yes to close the messages box.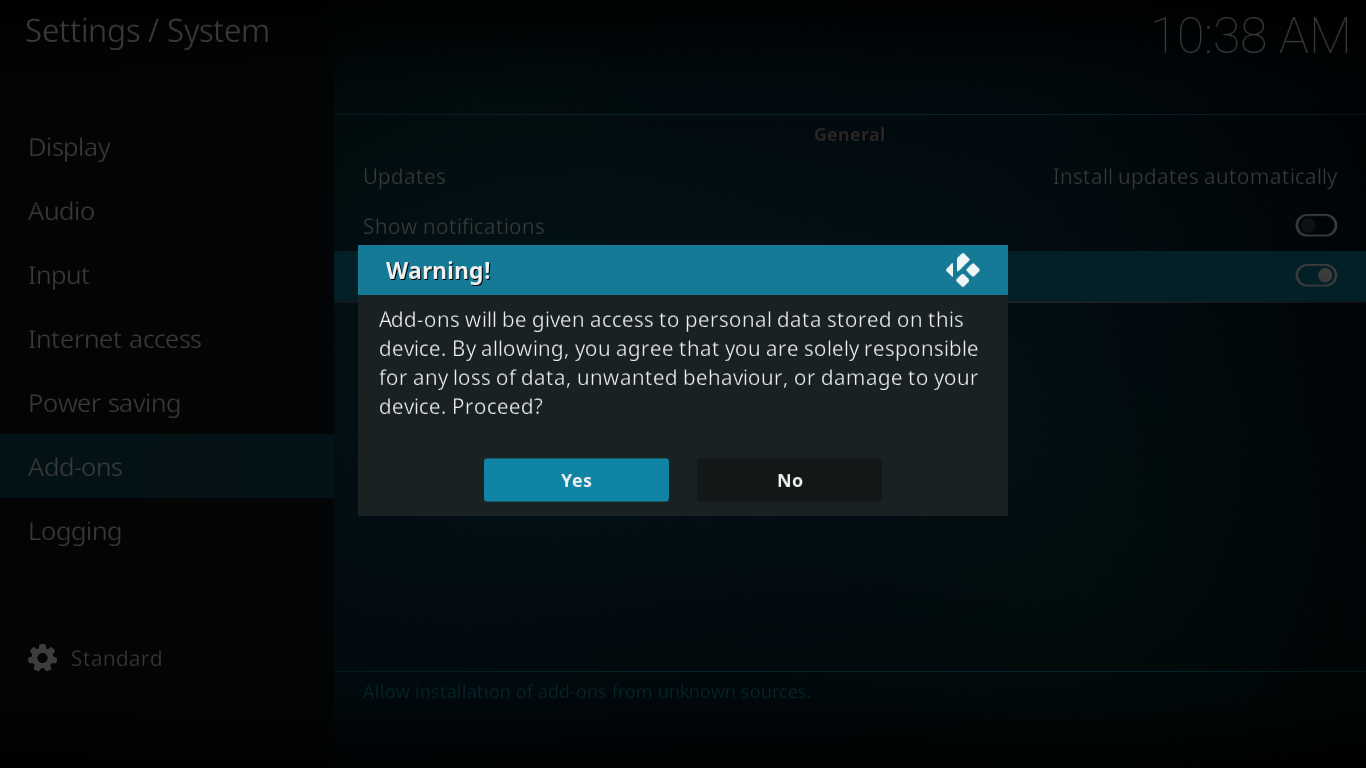 Adding the Repository Installation Source
Back to the Kodi home screen, click the Settings icon once more. This time, though, you must click File manager.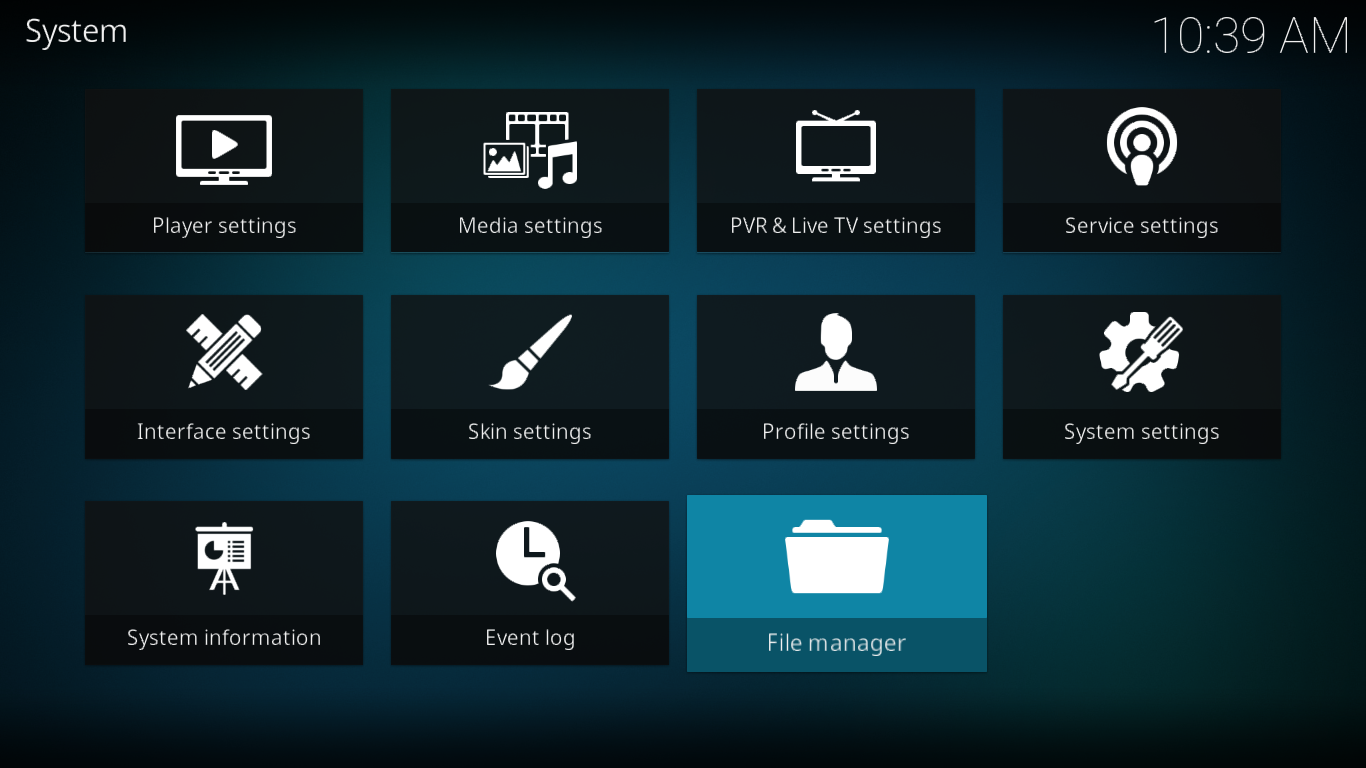 From the File manager screen, double-click Add-source on the left side.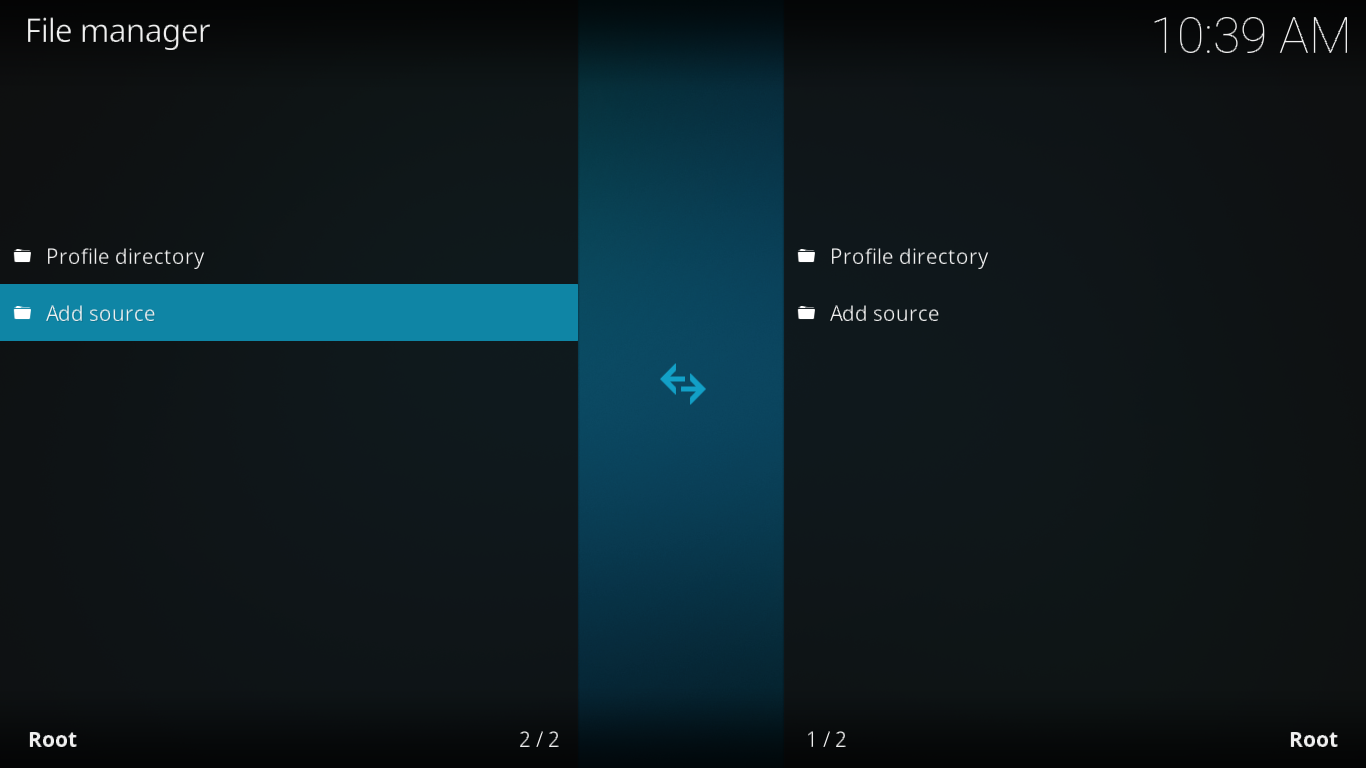 Next, in the Add file source screen, click <None> and then enter the installation path exactly as follows: https://androidbboy.xyz/repo/ and then click OK.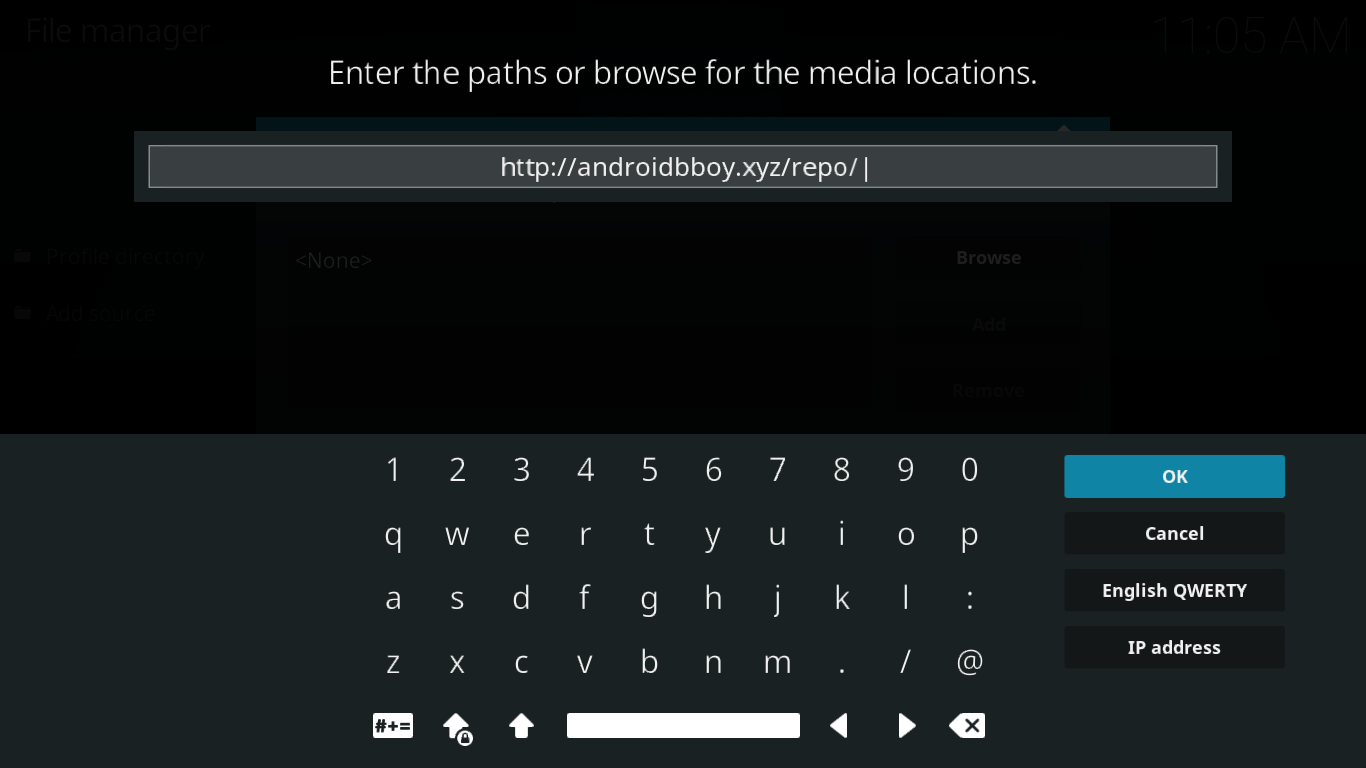 Back to the Add file source screen, we'll want to rename the source to something more meaningful than repo.  Since this is the source for the AndroidBBoy repo, let's call it ABB. Click the box underneath, Enter a name for this media source and replace repo with ABB.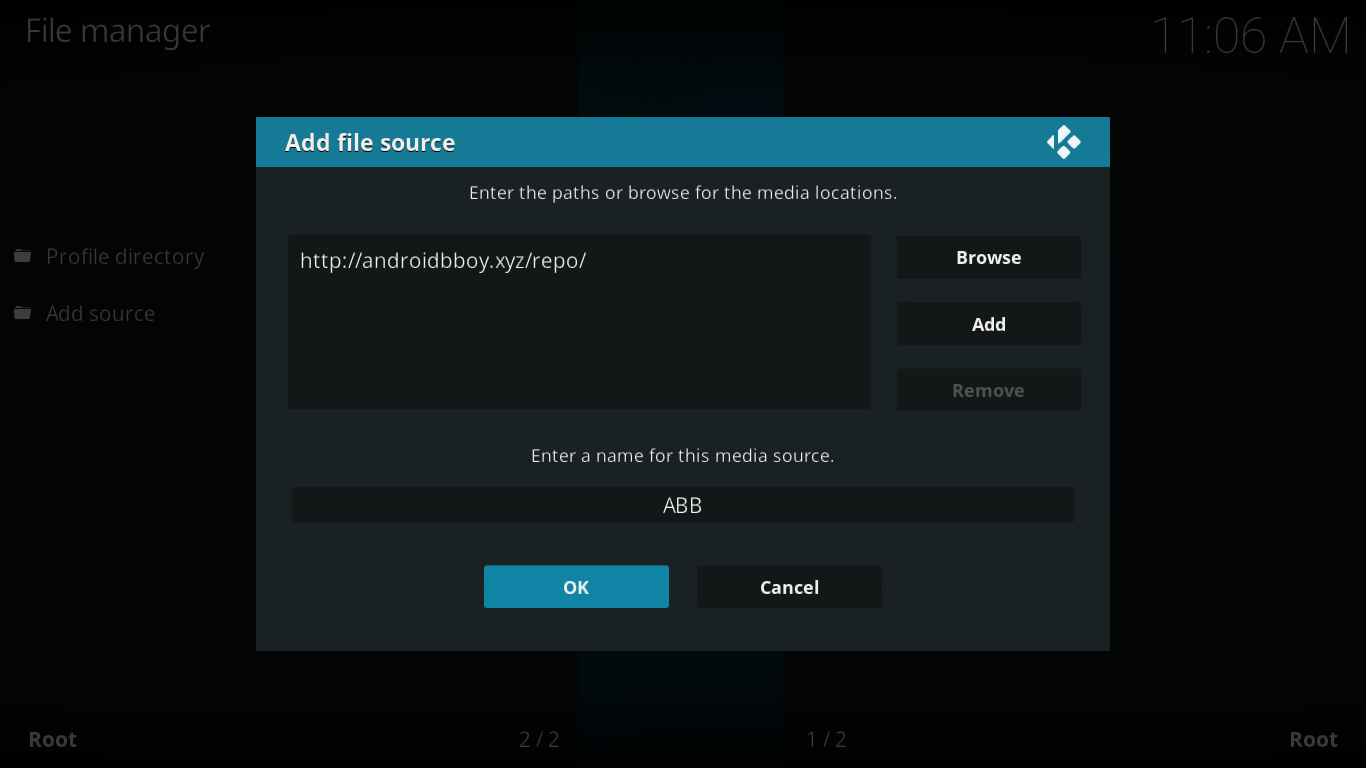 Make sure everything looks alright and click OK to save the new media source.
Installing The Androidbboy Repository
Go back to the Kodi home screen and click Add-ons in the main menu on the left side of the screen. Next, click the add-on browser icon. This one looks like an open box.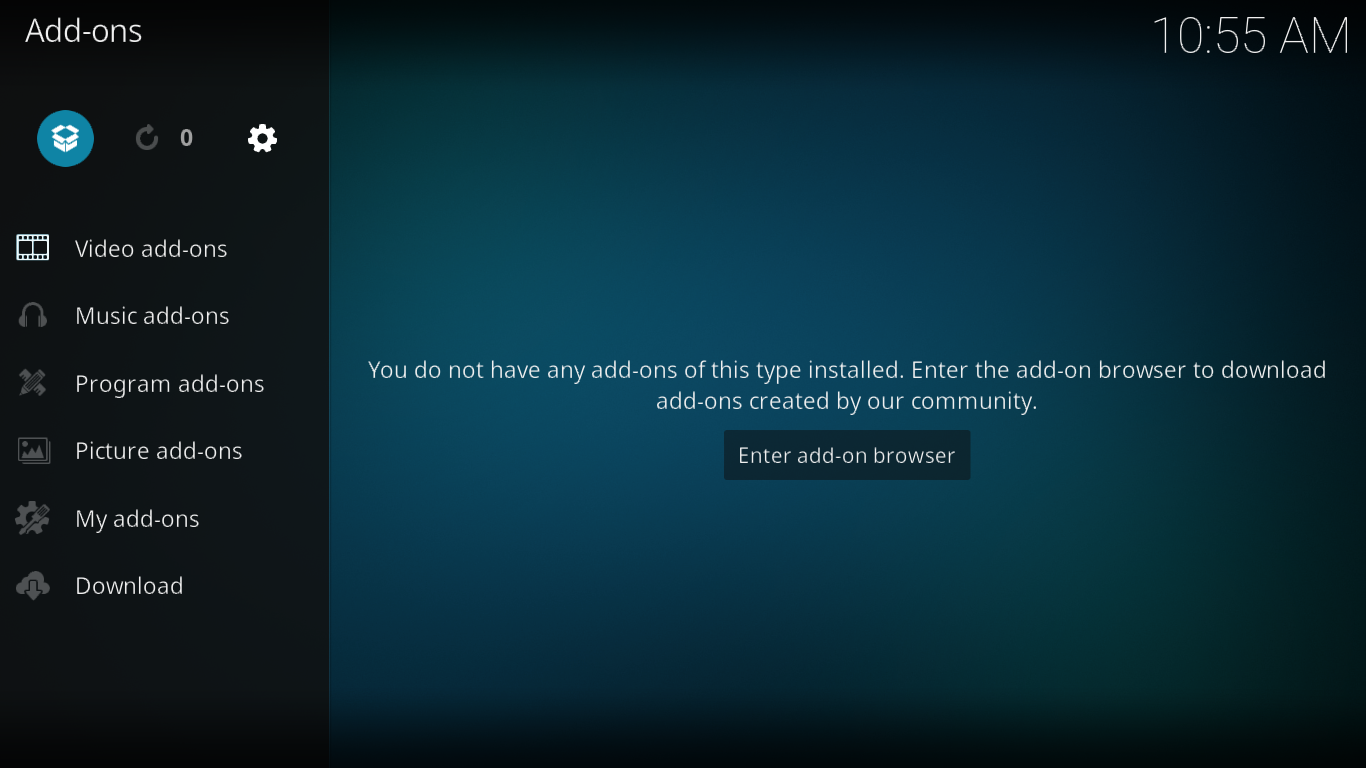 On the add-on browser screen, click Install from zip file.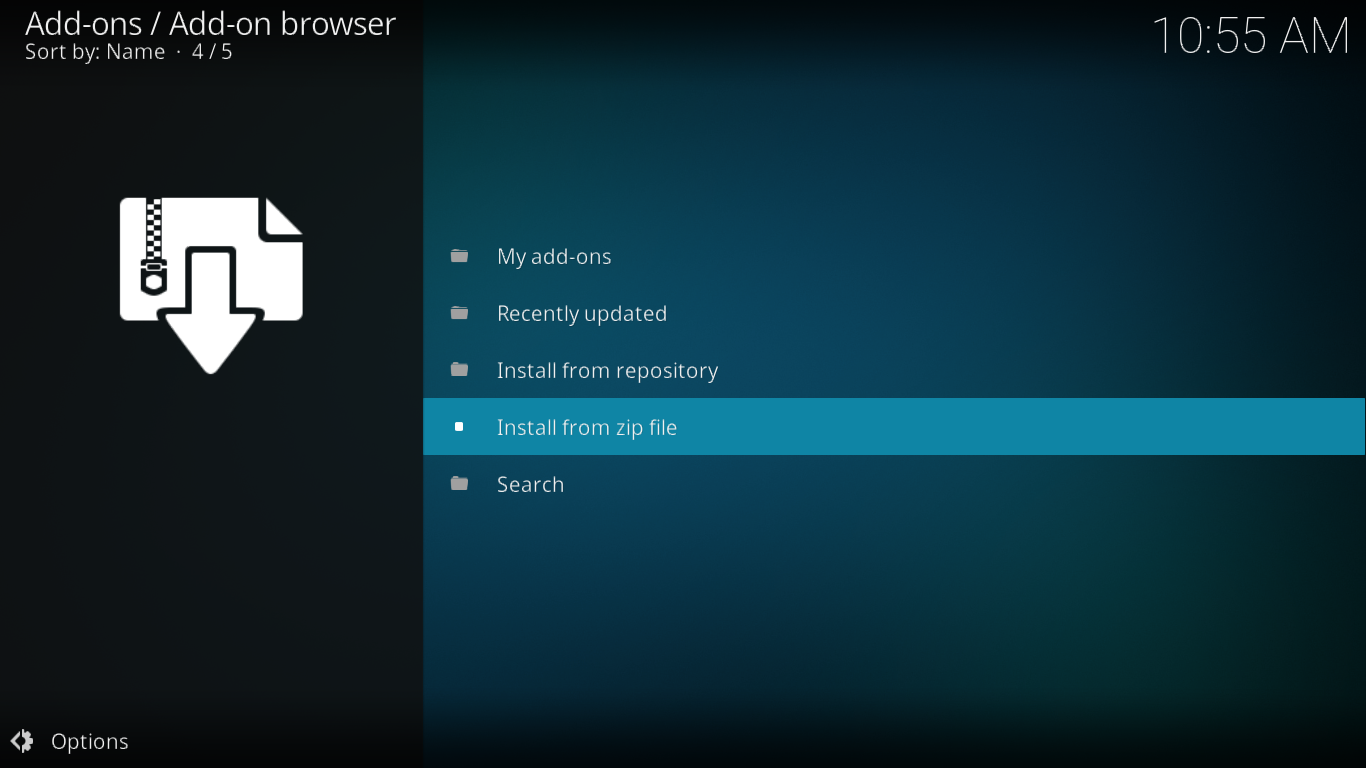 Click the ABB source that we just added and then click repository.androidbboy.zip.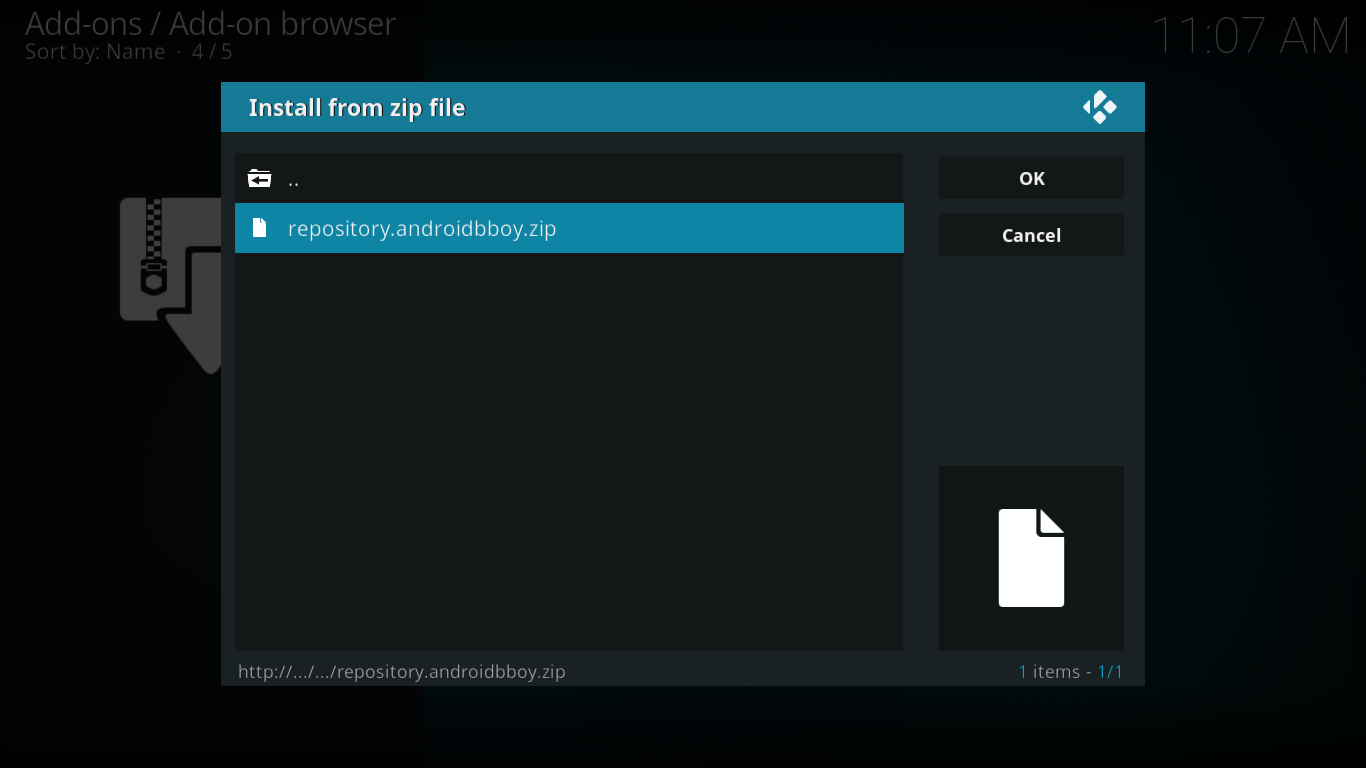 This will immediately start the installation of the Abdroidbboy repository. A message at the top right of the screen will soon confirm the successful installation.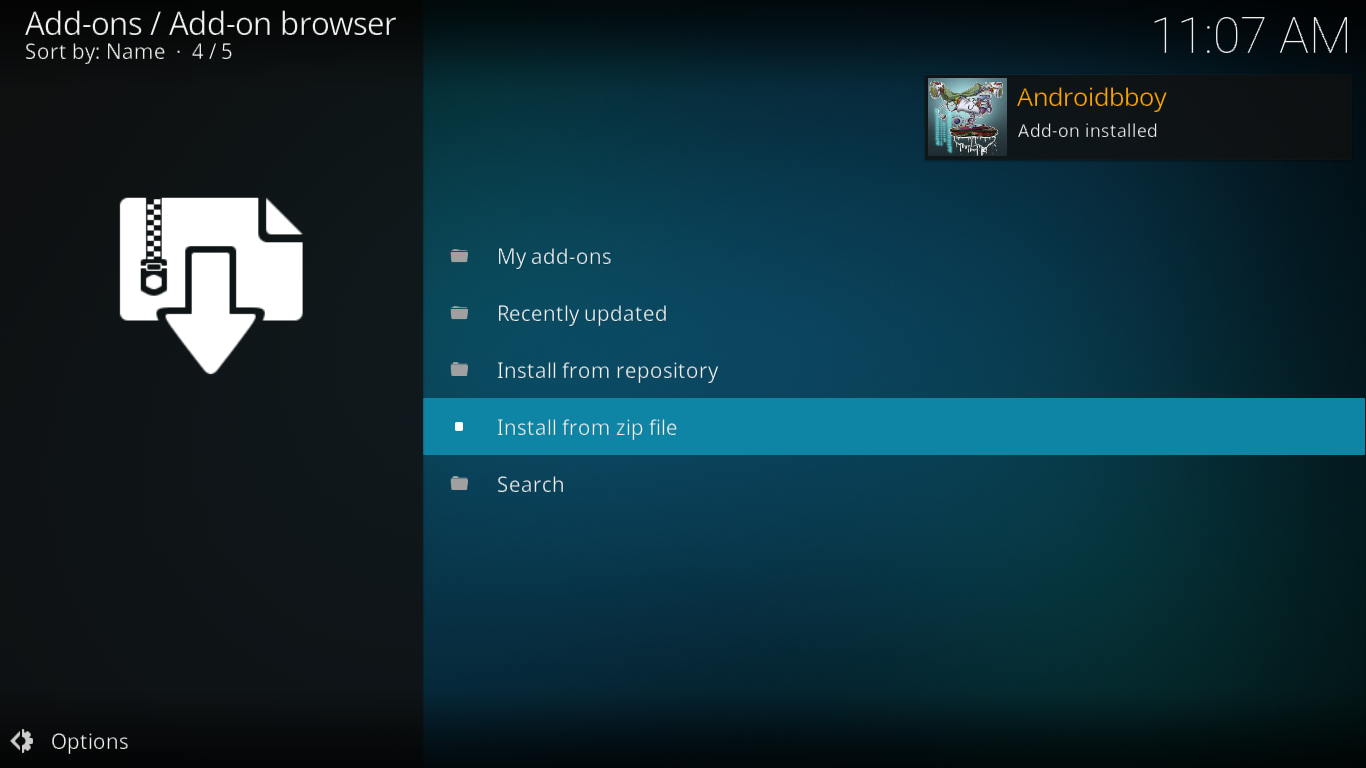 Installing the I Am Absolem Add-on
OK! Now that we have all the preliminary steps behind us, we can go ahead with the actual I Am Absolem add-on installation.
You should still be on the add-on browser screen from the previous step. Simply move one notch up and click Install from repository.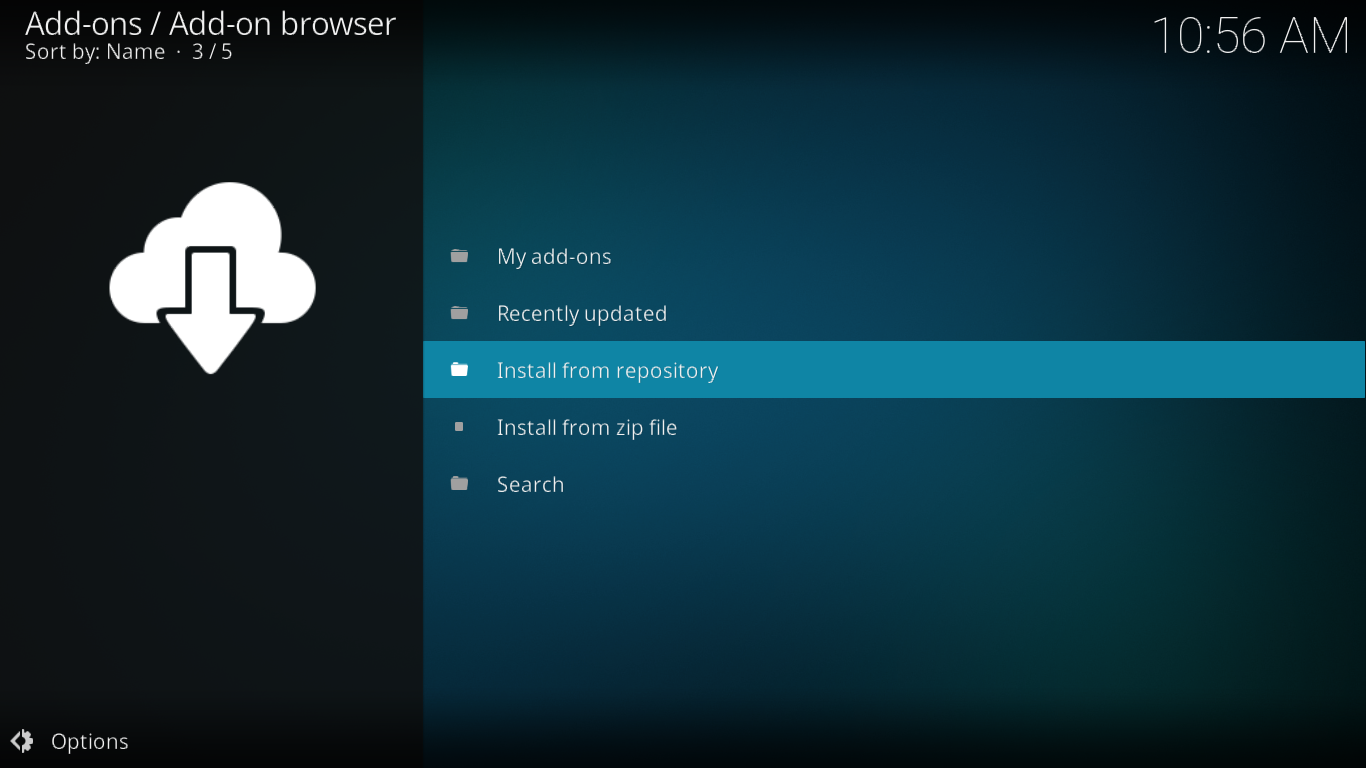 Next, click the Androidbboy repository.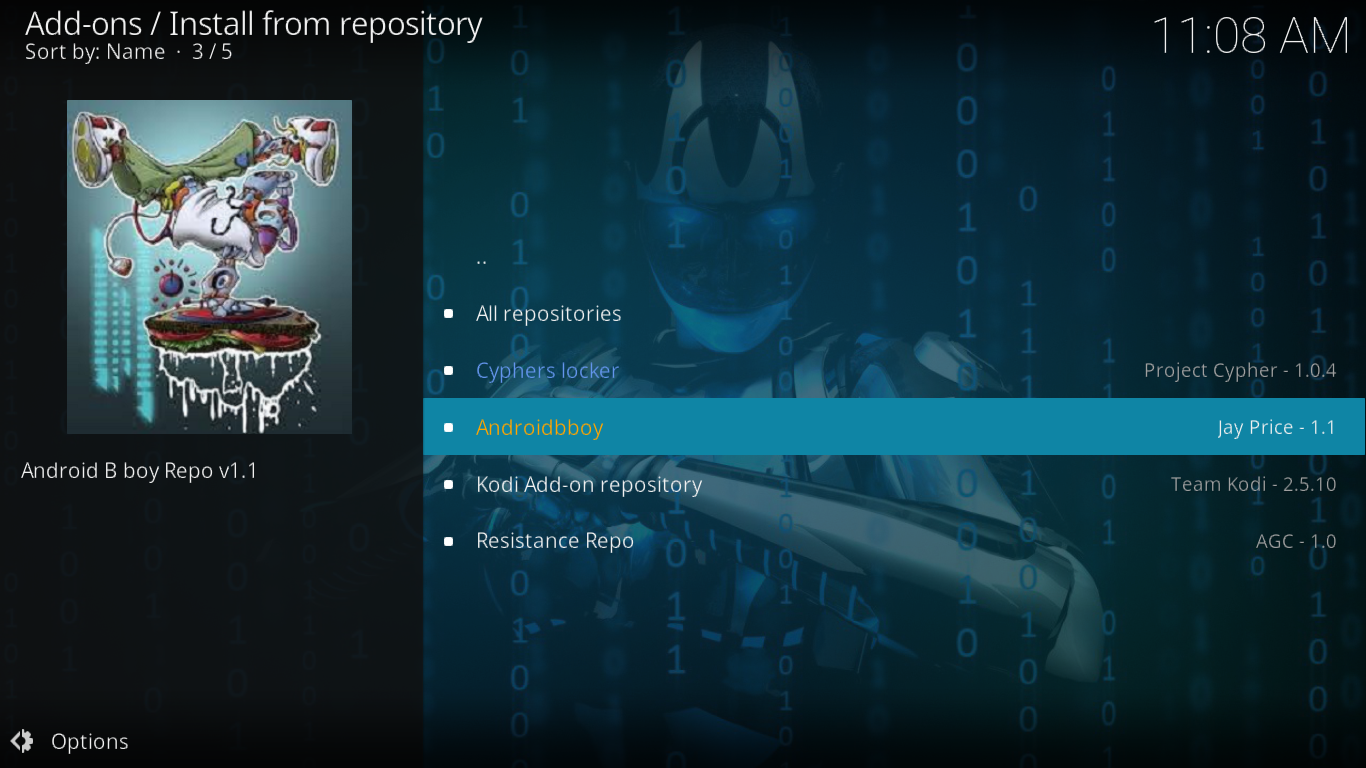 Click Video add-ons and, from the list of available add-ons, click I Am Absolem.
Now, from the I Am Absolem add-on installation screen, click the Install button at the bottom right.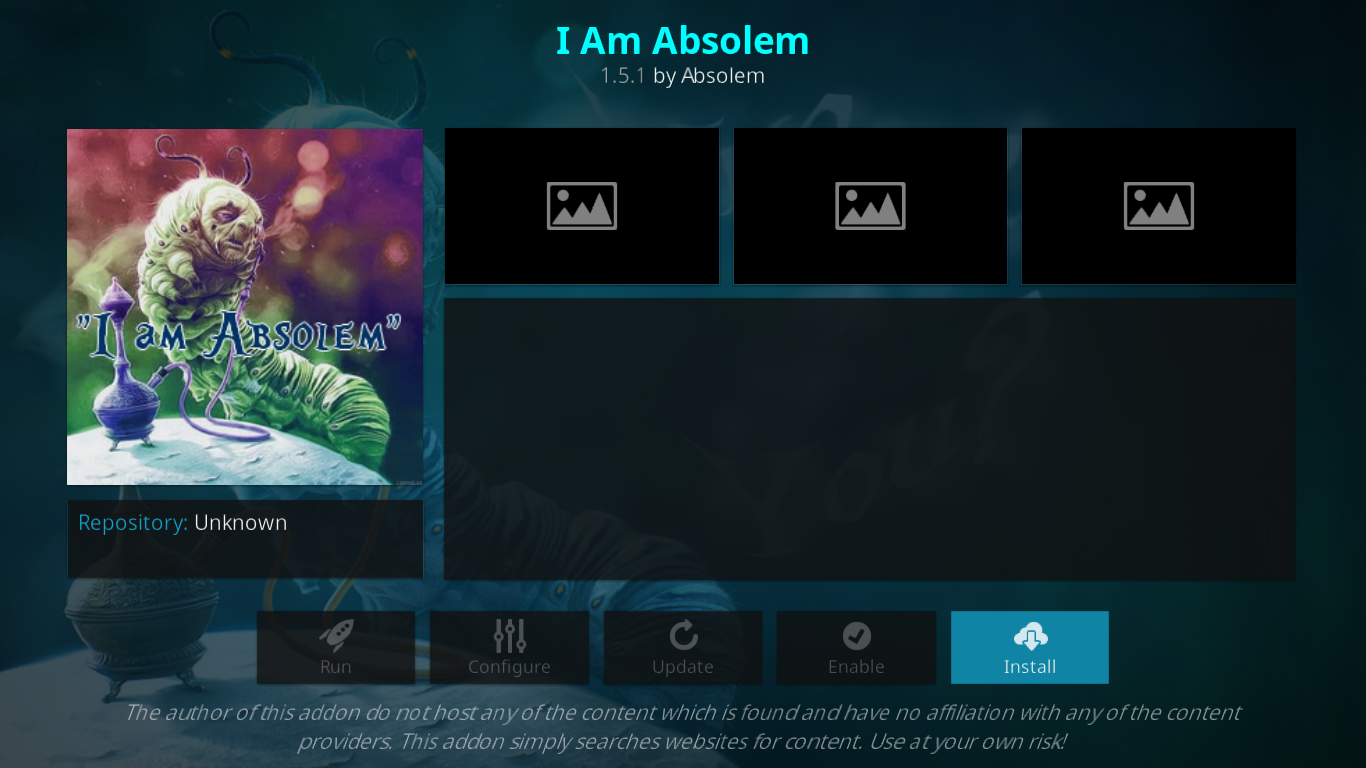 This launches the installation of the add-on but also of all it's dependencies. Several messages should flash at the top right of the screen as each dependency sn installed. Ultimately, one last message will confirm the successful installation of the I Am Absolem add-on.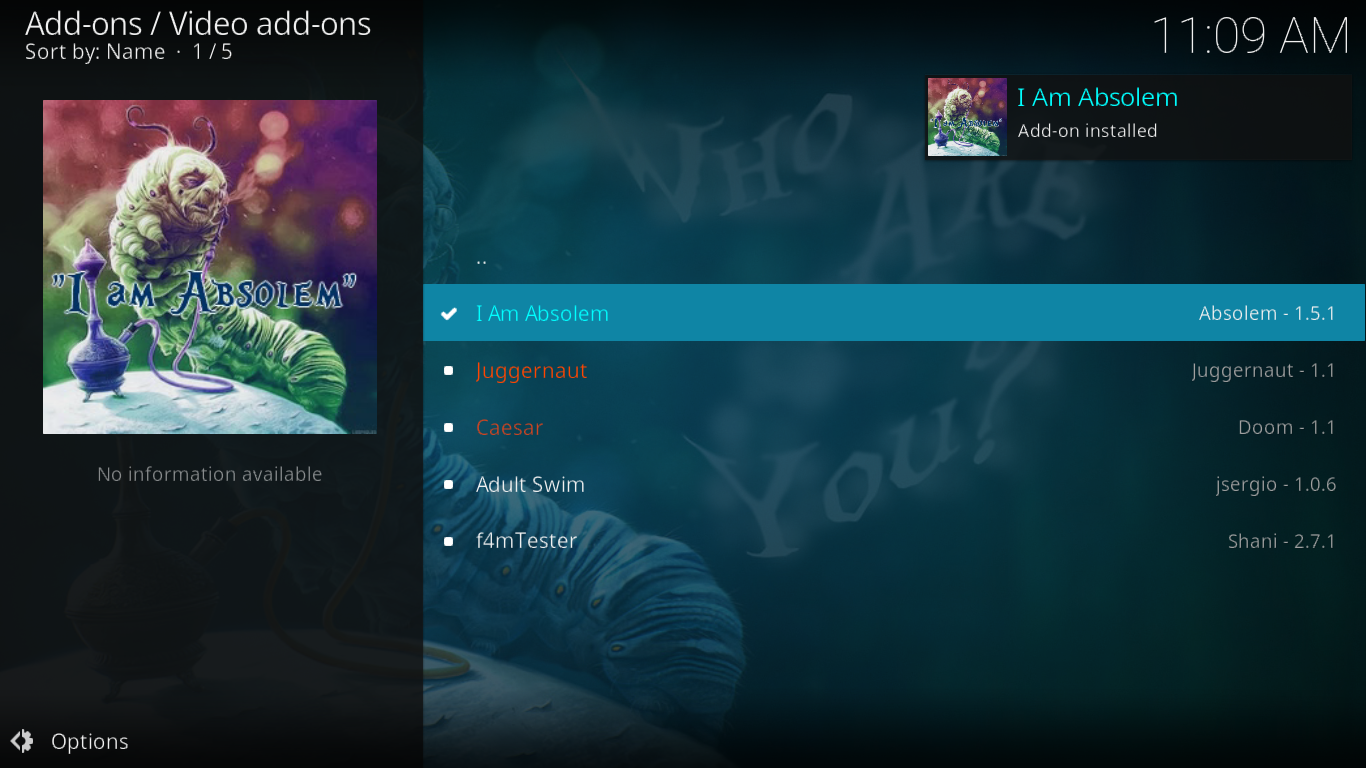 A Tour of the I Am Absolem Add-on
The I Am Absolem add-on has way too much content to showcase in a single article. We'll try to cover the essentials, though, by giving you some leads as to where you'll find the most interesting content.
Main Menu
With 15 items, the I Am Absolem main menu is among the longer ones. However, this is understandable. There is one menu item for each of the incorporated add-ons and one for each category of content.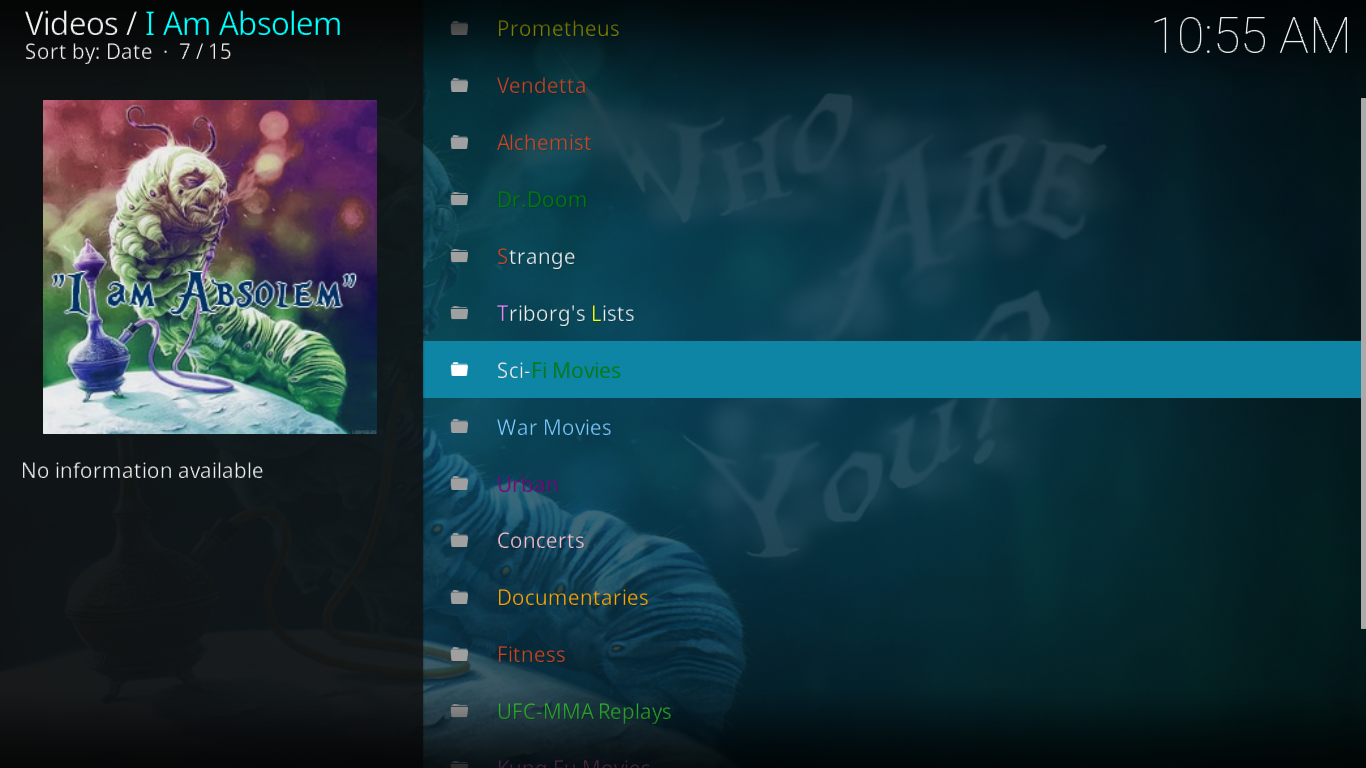 In the following sections, we'll tell you what you can expect to find behind each menu selection.
Prometheus
The Prometheus add-on for Kodi has a strong reputation for its movies and TV shows selection. The section has entries for trending and popular movies and TV shows, making it easy to find the best content. Also worth noting are the Star Wars and Marvel vs DC collections although, as of this writing, the second one did not work.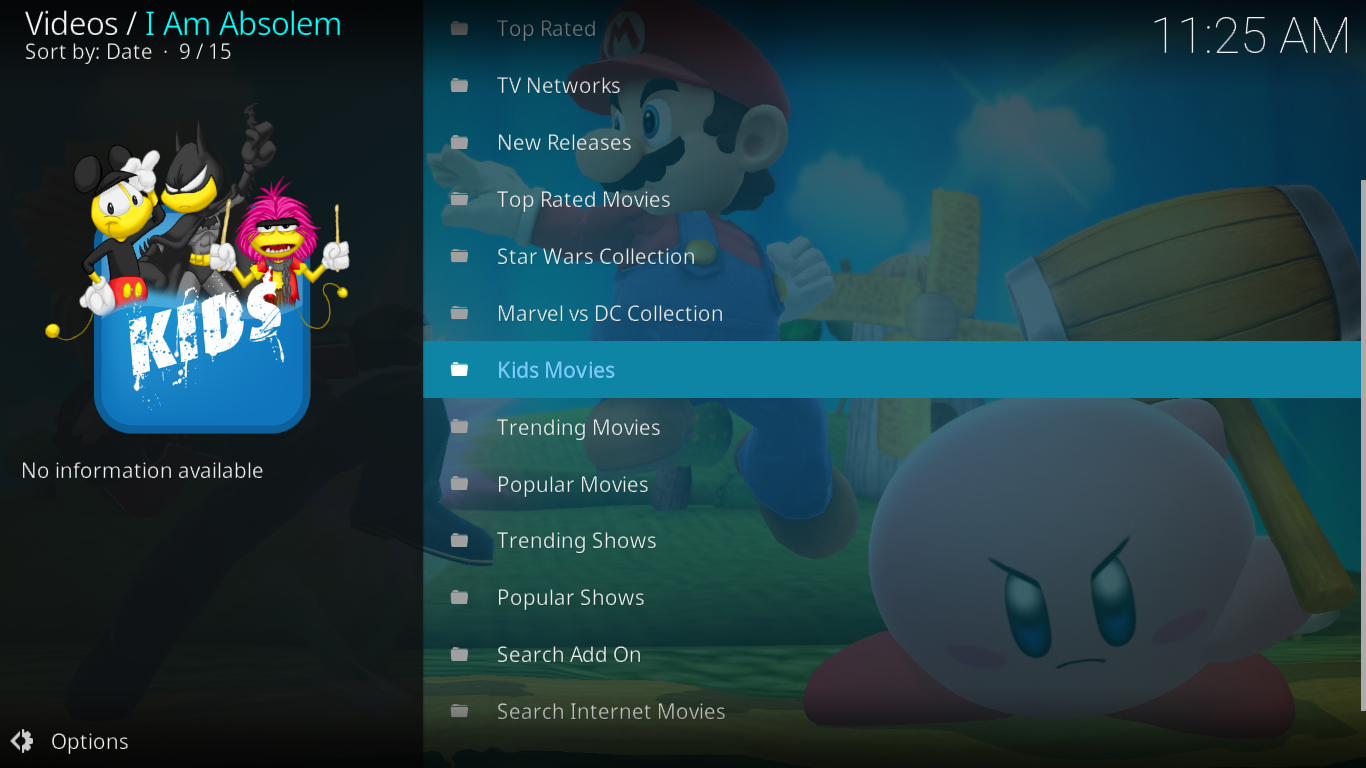 The first four sections are for TV shows while the next five are for movies, including a rather big kids movies section where you'll find all the most popular titles.
Vendetta
The Vendetta section gives you access to the similarly named add-on content. With only 4 subitems, this is not where you'll find the most content. Especially if you consider that two subsections are broken and return empty lists.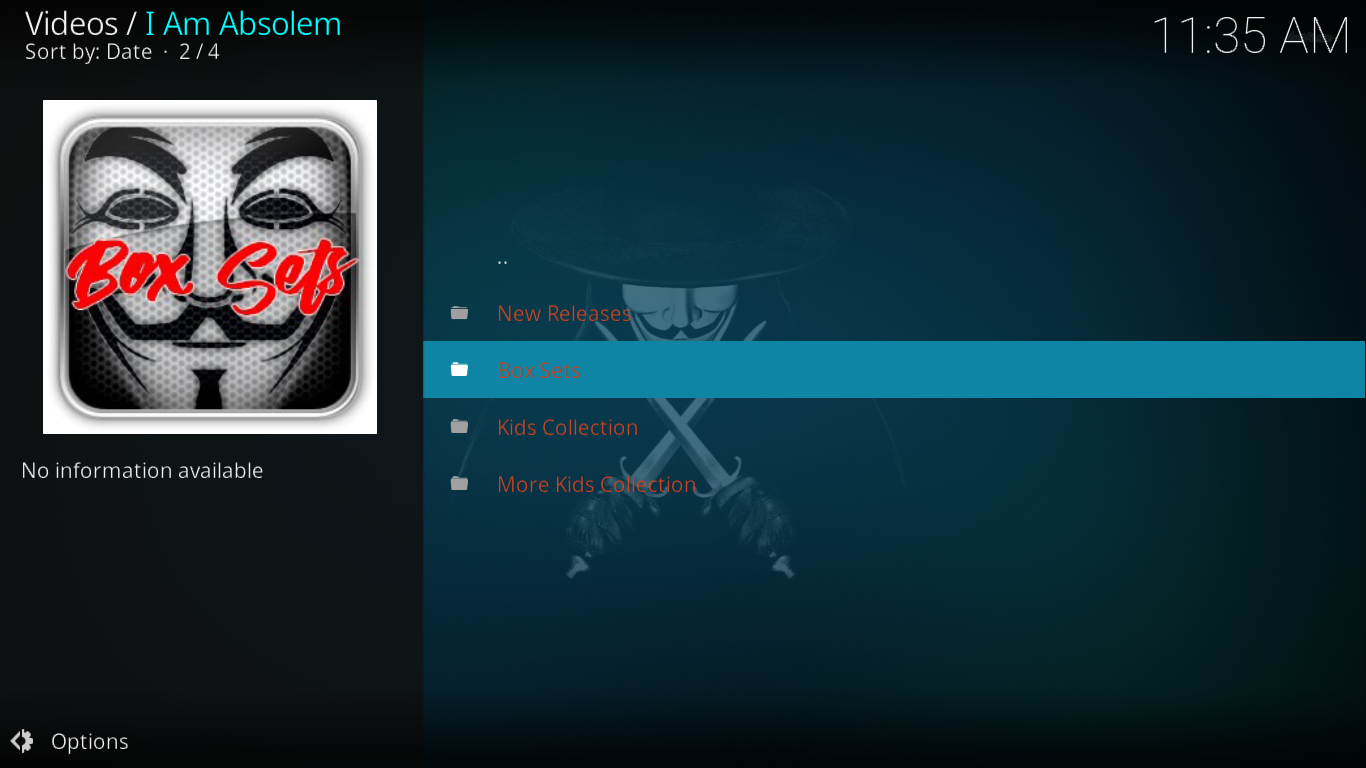 So, New Releases and Kids Collection are defective, leaving you with only Box Sets and More Kids Collection working. What each working subsection contains is self-explanatory.
Alchemist
Alchemist is another popular add-on that's incorporated within this one. The add-on used to have movies and TV shows but it seems that now, only the TV sections are working. The Movies and the Disney/Pixar sections return empty lists.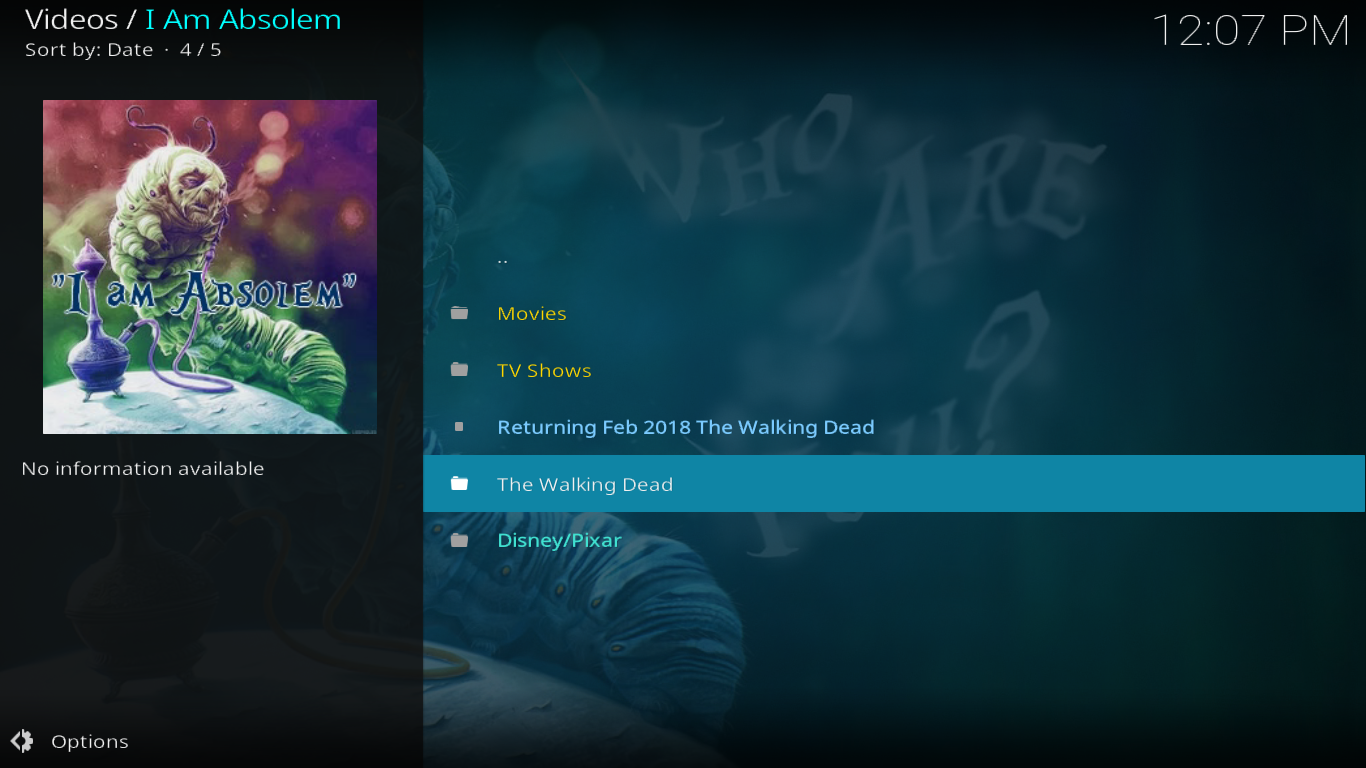 One section that works fine it the Walking Dead section where you'll find every episode of the cult TV show's first eight seasons. Also working is the TV Shows section where you'll find most popular shows as well as a good selection of Spanish shows and telenovelas.
Dr. Doom
Despite its misleading name, the Dr, Doom section is mostly filled with kid's content. It has anime, Lego movies, 80's cartoons, classic Warner Brothers cartoons, Tom and Jerry, He-Man and so much more.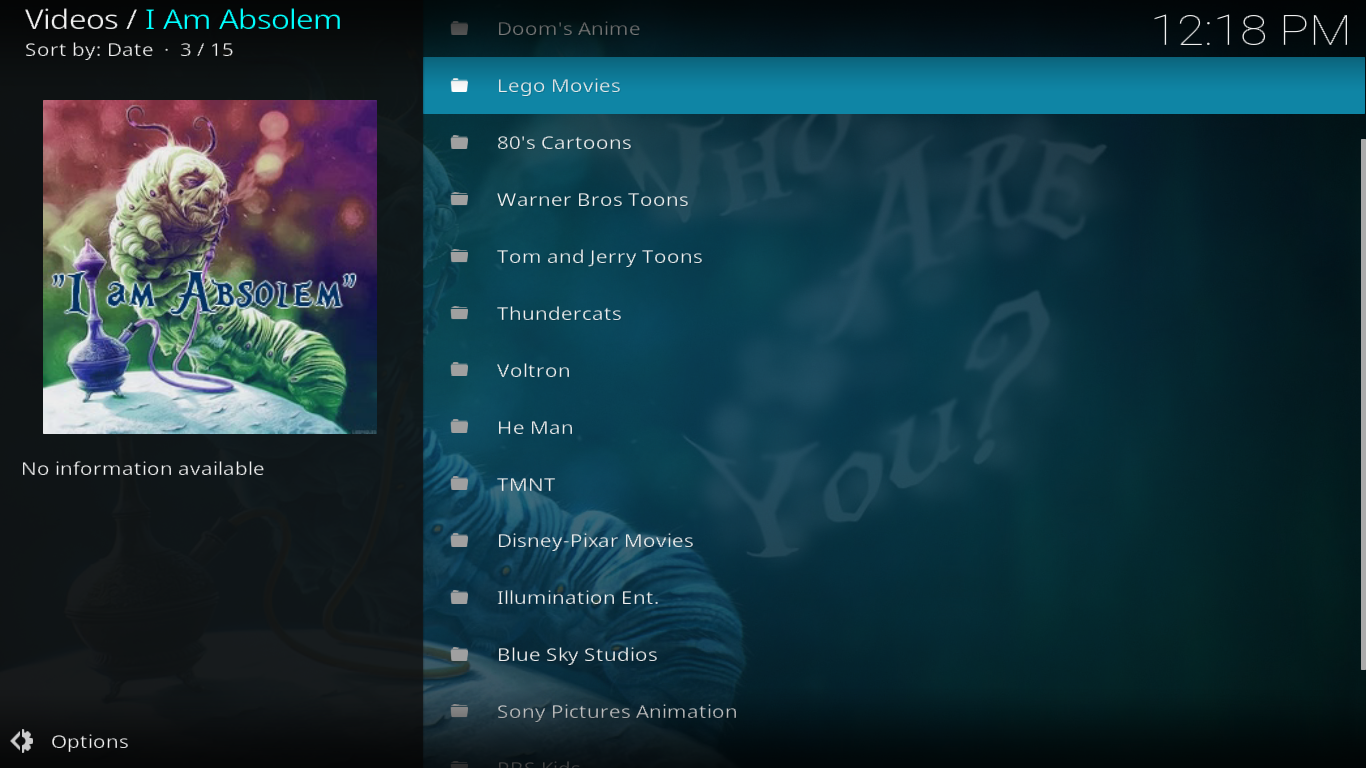 And it has animation movies too. They are all neatly organized by production studio with entries for Disney/Pixar, Illumination Entertainment, Blue Sky Studios, and Sony Pictures Animation.
Strange
If you love horror movies, you'll be glad you found this section. the first three items, Horror Movies, Satanic Movies, and Rob Zombie Movies will satisfy most fans of these genres.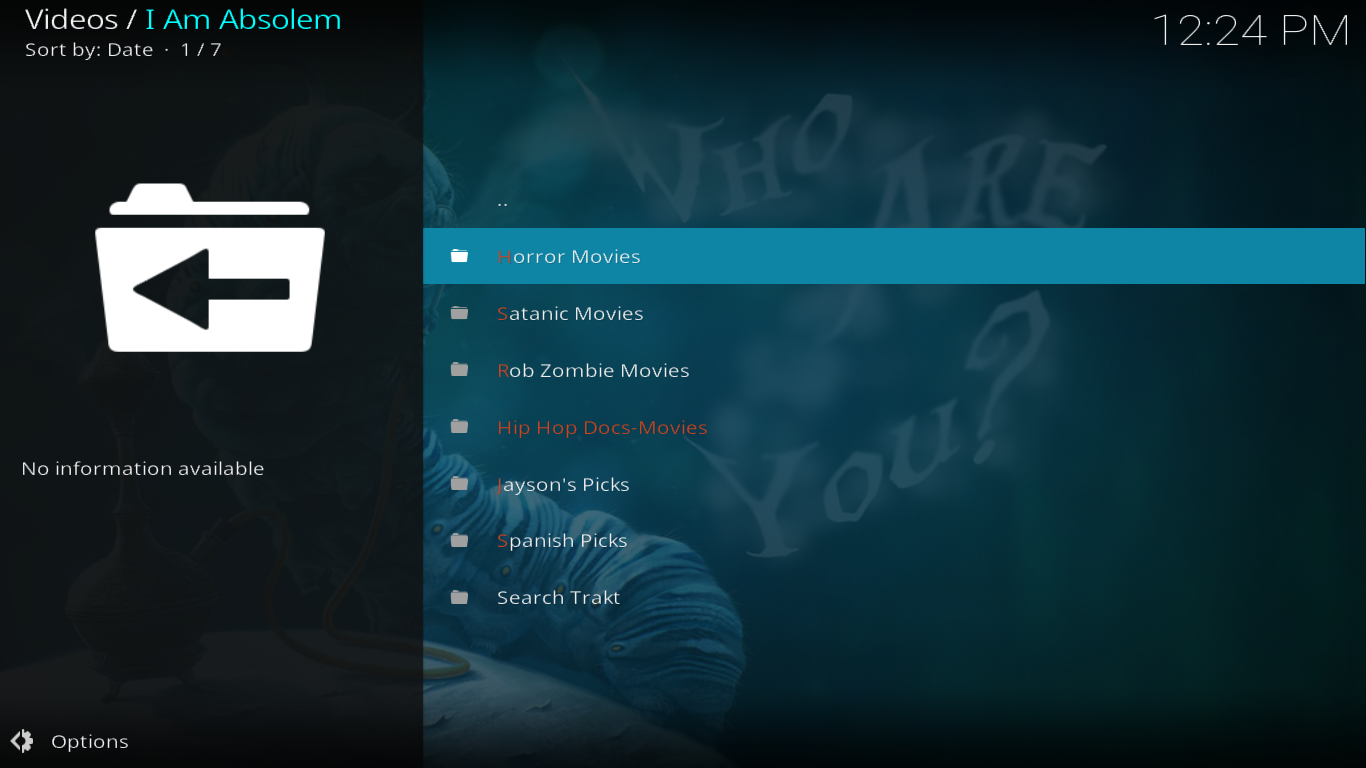 Hip Hop Docs Movies has a good selection of movies end documentaries about the Hip-Hop scene. Jayson's pick is a varied list of movies and Spanish Picks has a good assortment of Spanish titles.
Torborg's Lists
Triborg's List is another incorporated add-on that has a bit of everything. Actually, it has a lot of everything–this is a huge section! And it has things you don't often find in add-ons such as Mexican, Spanish and Russian movies.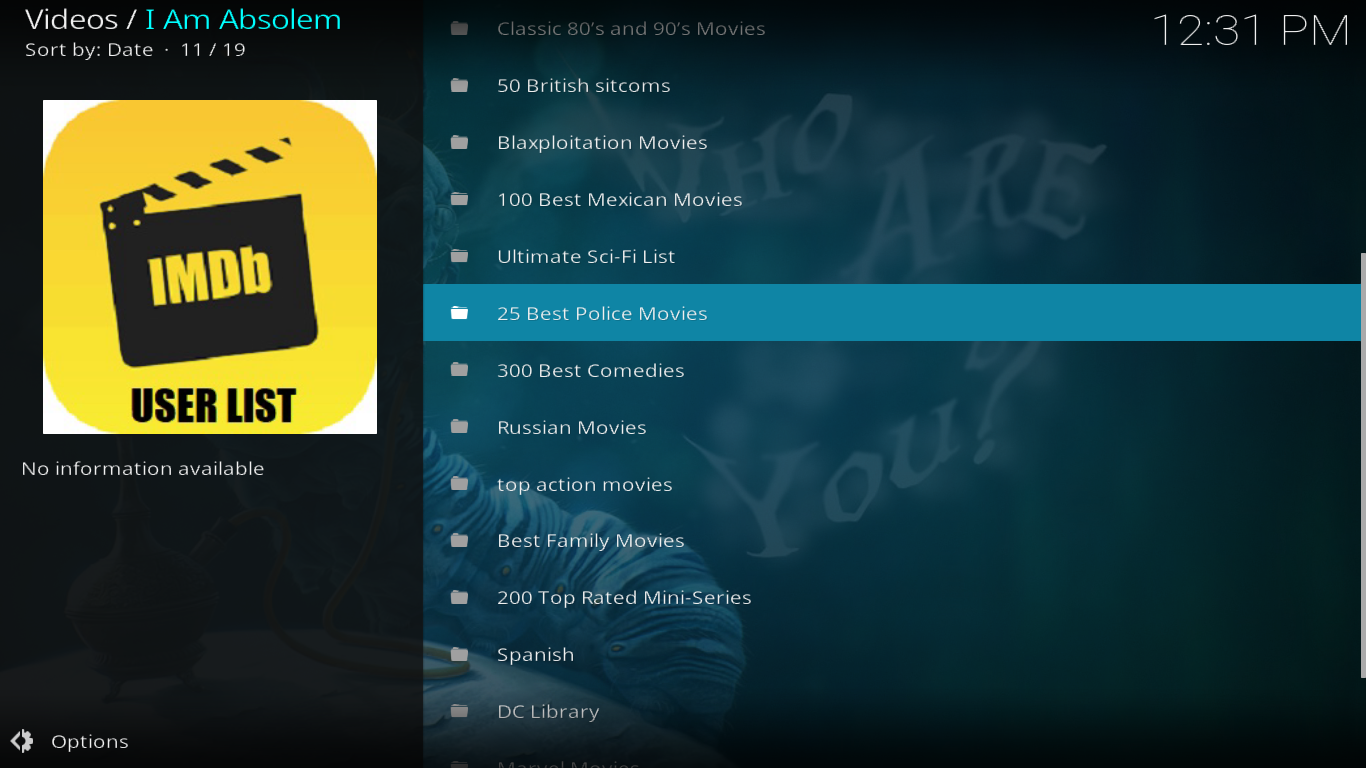 Also worth mentioning because they are so unique are the Classic 80's and 90's movies section, the top action movies section or the 300 Best Comedies. And if you're a fan of British comedy, 50 British sitcoms has all the classics like Are you being served, Yes Minister, Red Dwarf, and Fawlty Towers.
The Movies Sections
In addition to the incorporated add-ons we just saw, the I Am Absolem add-on also has quite a few sections of its own. Let's start with three genre movies sections, sci-fi, war, and Kung Fu.
Sci-Fi Movies (1838)
This, you would have guessed, is for science-fiction lovers. Note that section includes superhero movies as well. And the selection appears to be very good. There are several 50-title pages of movies, including a lot of very recent titles. The titles appear to be in some random order, though. It could be hard to find a specific movie. But for that, the add-on's search engine is there. More about it later
War Movies
The section is just as big as the previous one and there's a great selection of well-known war movies. It has a mix of classic war movies such as Tora Tora Tora, The bridge on the River Kwai, or All Quiet on the Western front. It also late 20th-century movies like Platoon, Full Metal Jacket or Apocalypse Now. This is truly the place to go for war movies
Kung Fu Movies
This is the place for lovers of this specific martial-arts genre. The section is neatly organized with six subsections: Bruce Lee, Jet Li, Kung Fu Movies, Shaolin, Ong Bak, and IP Man. Some sections only have a handful of titles but overall, you'll find a ton of interesting content to satisfy your craving for Kung Fu Movies.
Urban
This section is one of the add-on's biggest–it's got no less than 689 titles. All those titles have something in common: they're about black culture.
And there are many different types of material. There's a mix of fiction movies, documentaries and biographies. Among the content you'll find are titles like the Josephine Baker Story, Cadillac Records. There are also quite a few Richard Pryor movies.  It's too bad that the list is not ordered. It makes locating content a bit harder.
Concerts
This is the place to go for rock and pop music concerts of all kind. With a selection of over 300 events, there's something for everyone. And contrary to other sections within this add-on, this list s alphabetized by performer's name. And it goes from Abba to Yes.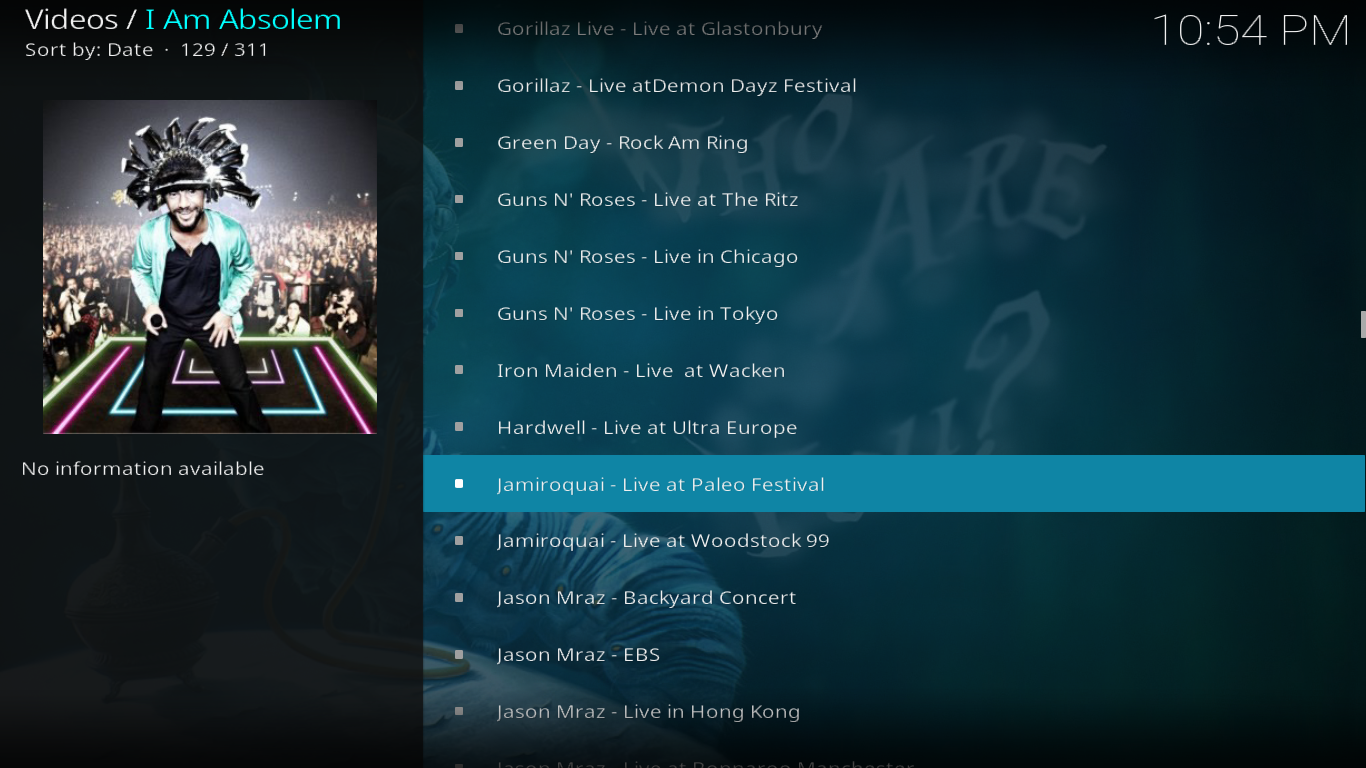 You should definitely have a look for yourself but here's a sample of what you'll find. There's AC/DC, The Beatles, The Carpenters, Cold Play, David Bowie, Elvis Presley, Foo Fighters, Goo Goo Dolls. There's really something for everyone.
Documentaries
This is possibly my favourite section. What can I say, I'm a documentary fan! And if you're anything like me, you'll love the selection of some 100 titles.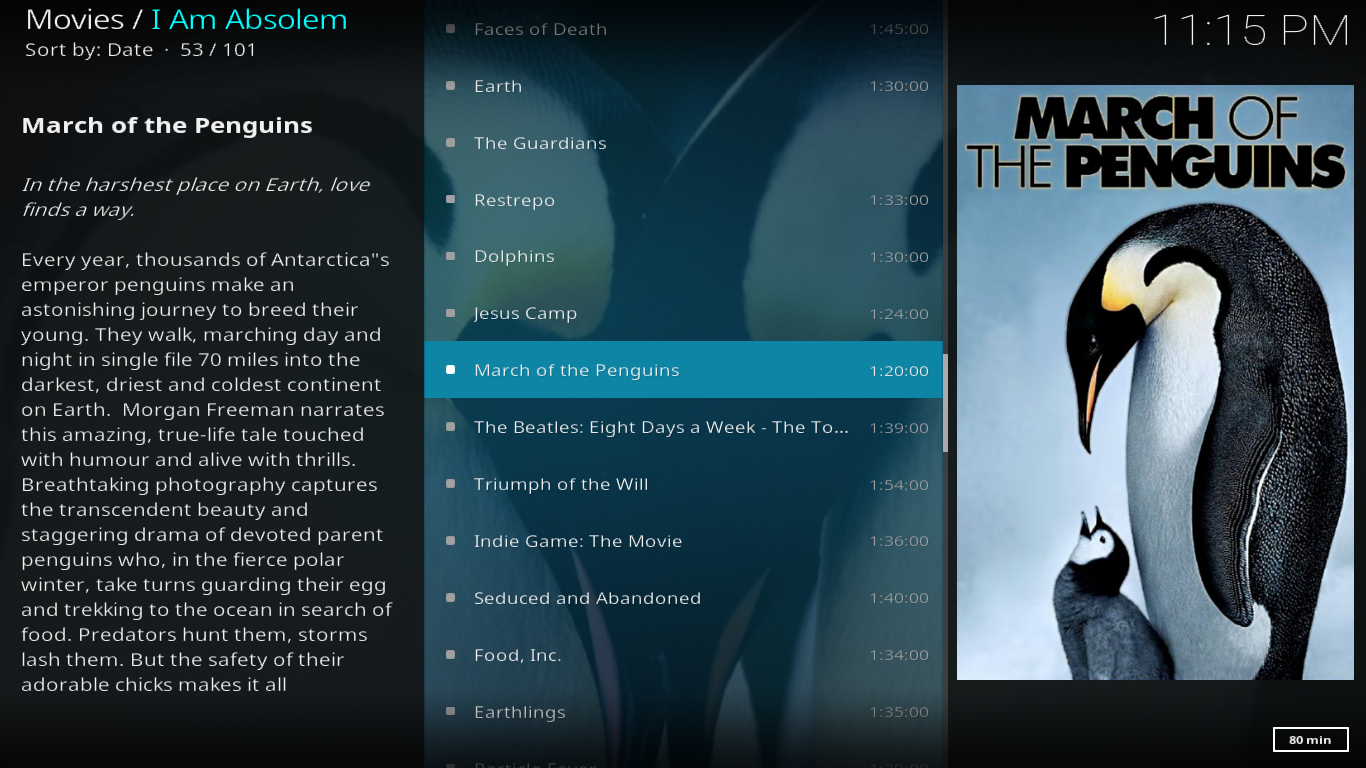 There are classics such as Koyaanisqatsi, a film with amazing images and great music by Phillip Glass. There are several Michael Moore movies, a few Jackass movies. Then there's Errol Morris' The Thin Blue Line or Wim Wenders Buena Vista Social Club. Really, just dive right in for some enriching content!
Fitness
The fitness section is a smallish section with only 8 subsections. And most of those only have one or two videos. But there's still a good variety of content.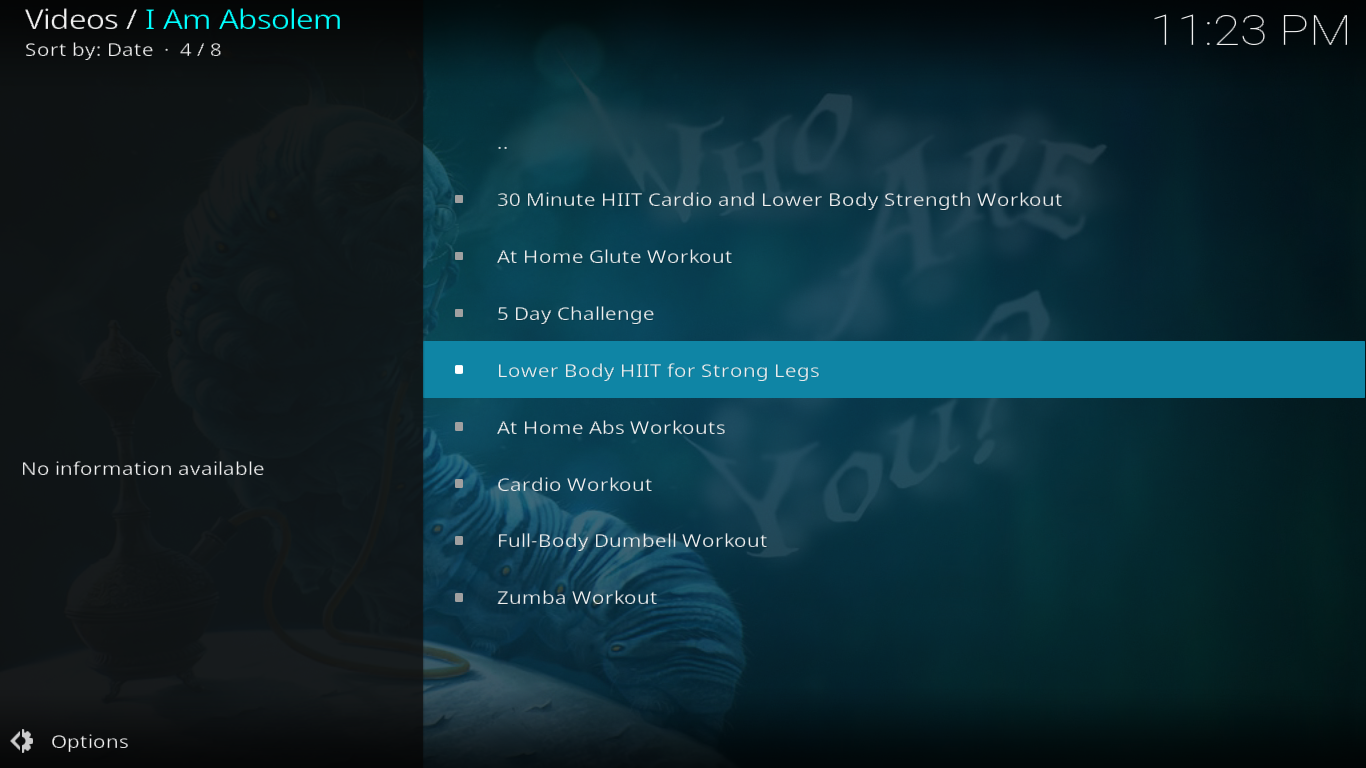 You have some cardio, some abs, some lower body. There's ave a very short (less than four minutes) Zumba Workout video. This is probably not the add-on you'd choose for its fitness section but it's nice that it's there.
UFC-MMA Replays
This section has only one subsection: UFC Full Fights. The list is not huge but still, you can choose between some 53 different fights. Some content dates from a few years back but they are all great fights. If you're a fan of Mixed Martial Arts, you're bound to find something you like in here. Just don't expect any live fights.
Search
With such a big add-on, having a search engine is a must, especially considering how many unsorted lists the add-on has. Using it is simple, you click Search from the main menu, enter your search term(s) and click OK. The add-on will do its magic and return a list of titles containing your search term(s) within not much more than a few seconds.
A Few Issues And Annoyances
Although the I Am Absolem add-on has a lot of content, there are still a couple of things that annoyed me about it. They might not bother you that much, though. Perhaps it's just me.
The first thing I didn't like about the add-on is its speed. Mainly, I didn't like the time it takes to load most content lists. This has to do with the fact that the add-on is pulling live metadata about each item before showing you the list. As much as I like to have the metadata available, I don't much like to wait. Some add-ons pull metadata in the background or have it somehow preloaded.
If, like me, you'd rather have quicker results and no metadata, you can turn it off in the add-on's general settings. You can also choose between Trakt and TMDB as the metadata provider.
Another minor peeve is that some content plays in a foreign language with no way of knowing it beforehand. This is not a problem with the add-on but probably with the scraper it utilizes. When it happens, selecting a different source will usually give you the English version.
In Conclusion
The I Am Absolem add-on has a lot going for it. It incorporates some popular add-ons and features some great content of its own. There might not be as much variety as there are in other add-ons–for instance, there's not live IPTV–but still, there's something for pretty much everyone.
If you've tried the I Am Absolem add-on, why don't you share your exeprience with us using the comments below. We'd love to hear about any issue you may have encoutered using or installing it.