We are reader supported and may earn a commission when you buy through links on our site.
Learn more
LibreELEC, OpenELEC or OSMC – What's The Best OS for Me?
Generally speaking, there are three operating systems you can use to run Kodi on hardware-limited devices like Raspberry Pi: LibreELEC, OpenELEC, and OSMC. If you're not sure which is right for your needs, this article is a great place to start. We compare their pros and cons, and help you get started. By the end of this guide, you'll be well on your way to enjoying hours of streaming content on Kodi, so read on!
Do you want to run Kodi on a hardware-limited platform such as for example, a Raspberry Pi? When it comes to operating systems, you have three major options: LibreELEC, OpenELEC or OSMC. All of these operating systems were created specifically to run on limited hardware. Most will only run on a handful of platforms and all include some form of Kodi as a built-in feature.
In this article, we'll start by briefly discussing the history of these three operating systems. As you'll see, they are all related to a certain extent. We'll use the Raspberry Pi as our comparison platform as all three operating systems are compatible with it. In case you're not familiar with this device, we'll introduce the Raspberry Pi and briefly discuss its main features, advantages, and limitations. After that, we'll present each operating system, discuss their installation and their use. And we'll finish by trying to give you our honest and unbiased opinion as to which of the three is the best one to choose. As you'll see, there might be more than one answer…
30-days money back guarantee
Protect Yourself While Using Kodi: Use a VPN
Your Internet Service provider could be monitoring your activity to ensure you're not violating their terms and conditions. If they suspect you are, they might react by sending you infringement notices, throttling down your speed or even interrupting your service. A VPN will prevent your ISP from seeing what you're doing by encrypting your data. As an additional benefit, using a VPN can give you access to geo-blocked content by masquerading your location.
With so many VPN suppliers, choosing the best can be a daunting task. Here are a few important factors to consider. A fast connection speeds will prevent buffering, a no-logging policy will further protect your privacy, no usage restrictions will let you access any content at full speed and software that is available for multiple platforms will let you use any device you want.
Hide Your Kodi Traffic with NordVPN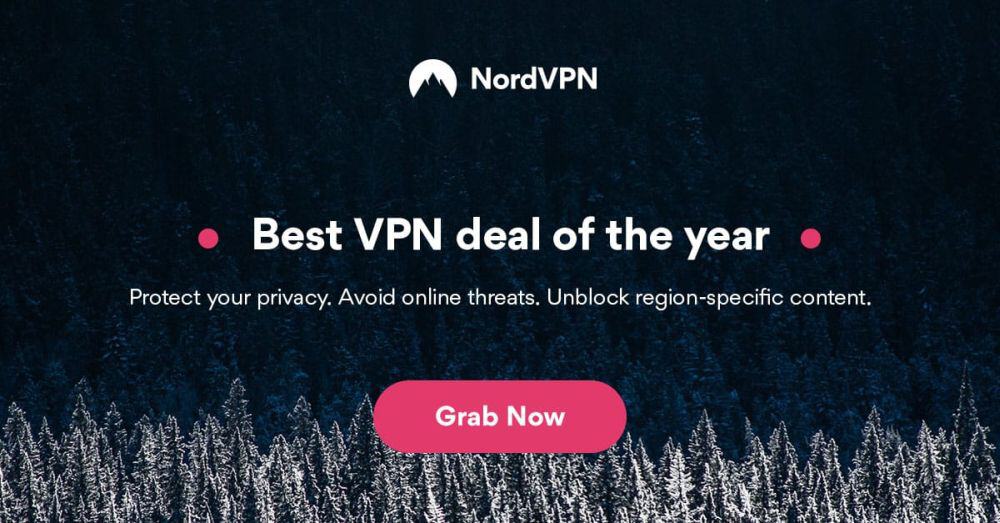 If you're using Kodi, you need a VPN, full stop. And the best VPN on the market is undoubtedly NordVPN for a range of important reasons. First, it features unbreakable security in the form of 256-bit AES encryption, which completely blocks all third-party attempts to gain access to your data. Even your ISP won't be able to detect your Kodi traffic–meaning they'll have no way of throttling it back, which is something you can count on them to do.
Additionally, NordVPN features one of the most robust networks in the industry, with over 5,800 servers in 59 countries available. This allows you to "spoof" your IP address to digitally relocated into any corner of the globe to unblock local content. And while you're bypassing geoblocks, you are making yourself very difficult to target by cyber-attacks that rely on knowing your true IP address.
NordVPN is thus an exceptional choice for media-focused apps like Kodi, since it opens up an entire world of geoblocked content, improves performance, and fends off threats to your privacy online. It is available on all the most popular Kodi-friendly platforms, such as Fire TV, Android TV boxes, iOS tablets, and many more. NordVPN never limits your bandwidth, server switches, speed, traffic type–and never keeps logs of your activity on their network.
Read our full NordVPN review.
Pros
Optimized servers for unblocking Netflix
GooglePlay users rating: 4.3/5.0
No IP/DNS leaks found
Extra-secure Double VPN for data encryption
Money back guarantee policy.
Cons
Not much
Sometimes slow in procesing refunds (but always do).
LibreELEC, OpenELEC or OSMC — A bit of history
To better understand what sets them apart–and how they are also similar–it helps to have an idea where LibreELEC, OpenELEC or OSMC are coming from. The oldest of the trio is OpenELEC. It started back in 2009 as nothing more than yet another flavor of Linux, the open-source operating system. This distribution was unique as it was primarily focused on running XMBC, the ancestor of Kodi. It didn't include the extra packages that allow most Linux distributions to turn a raw computer into a usable machine. OpenELEC was fast and efficient and included XMBC.
When the Raspberry Pi was launched back in 2012 (more about this a bit later) it quickly surfaced as a suitable inexpensive platform to build a multimedia computer. It wasn't, therefore, very long before we saw OpenELEC ported to that platform which had all the required features. Its built-in media player software and its ability to run on limited hardware made it the ideal choice.
Next came OSMC. OSMC actually started as RaspBMC, one of the two operating systems that were offered on the Raspberry Pi when it came out. It was kind of a scaled-down Raspbian–the other original Raspberry Pi OS option and itself a scaled-down version of Debian Linux–with built-in XMBC software.
The youngest of the three is by far LibreELEC which only came out in March 2016. It was released by a group of former OpenELEC developers who left the project due to "creative difference". With OpenELEC being open source, they forked the code into their own OS. Rumor has it that today, most of the former OpenELECdeveloperss are with the LibreELEC team.
And what about the Raspberry Pi?
Since we'll use the Raspberry Pi as the unified platform to compare all three operating systems, let's see what this beast is all about. The Raspberry Pi is a cross between a home computer like the one you're probably using right now and a microcontroller board like you would find in so many smart devices.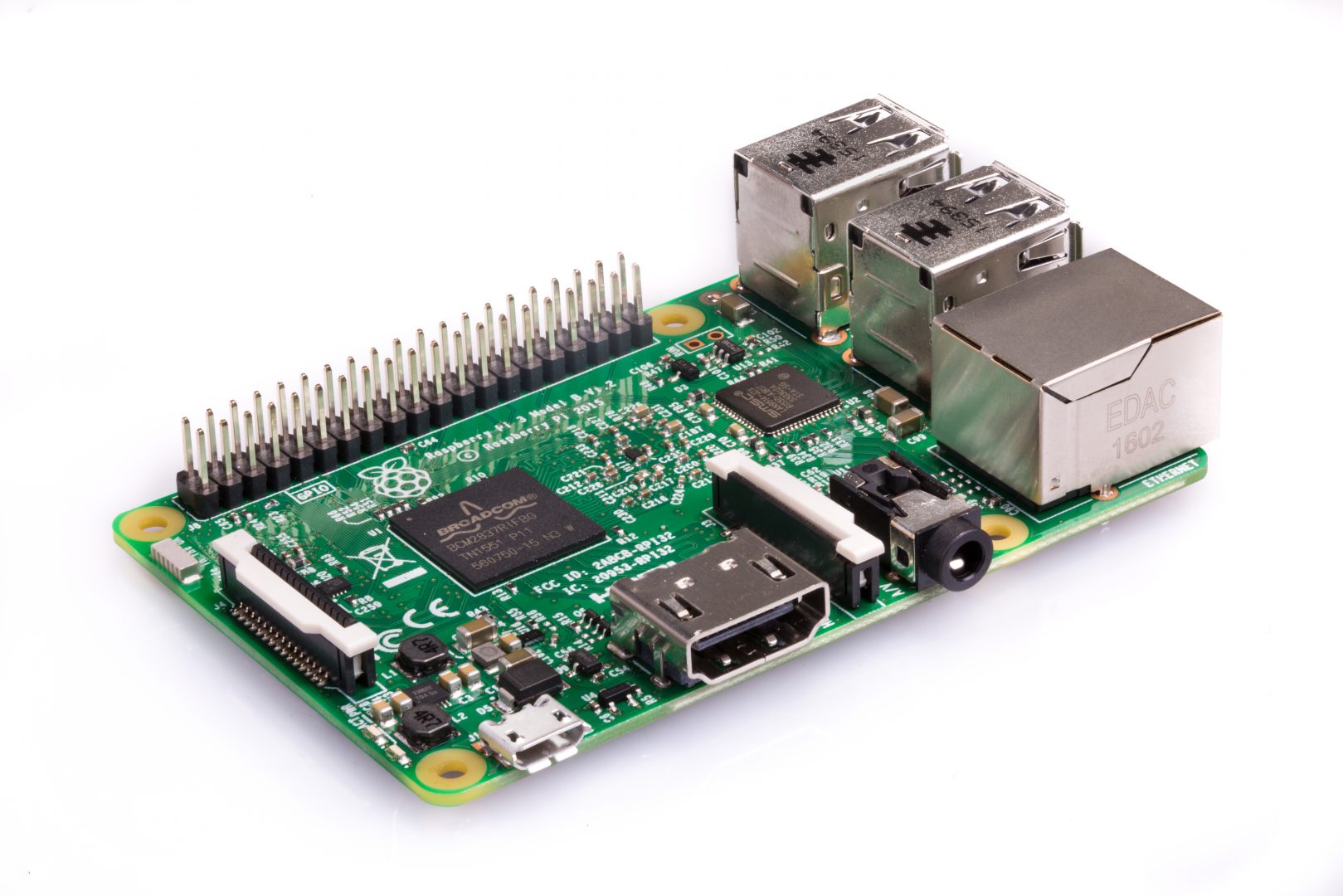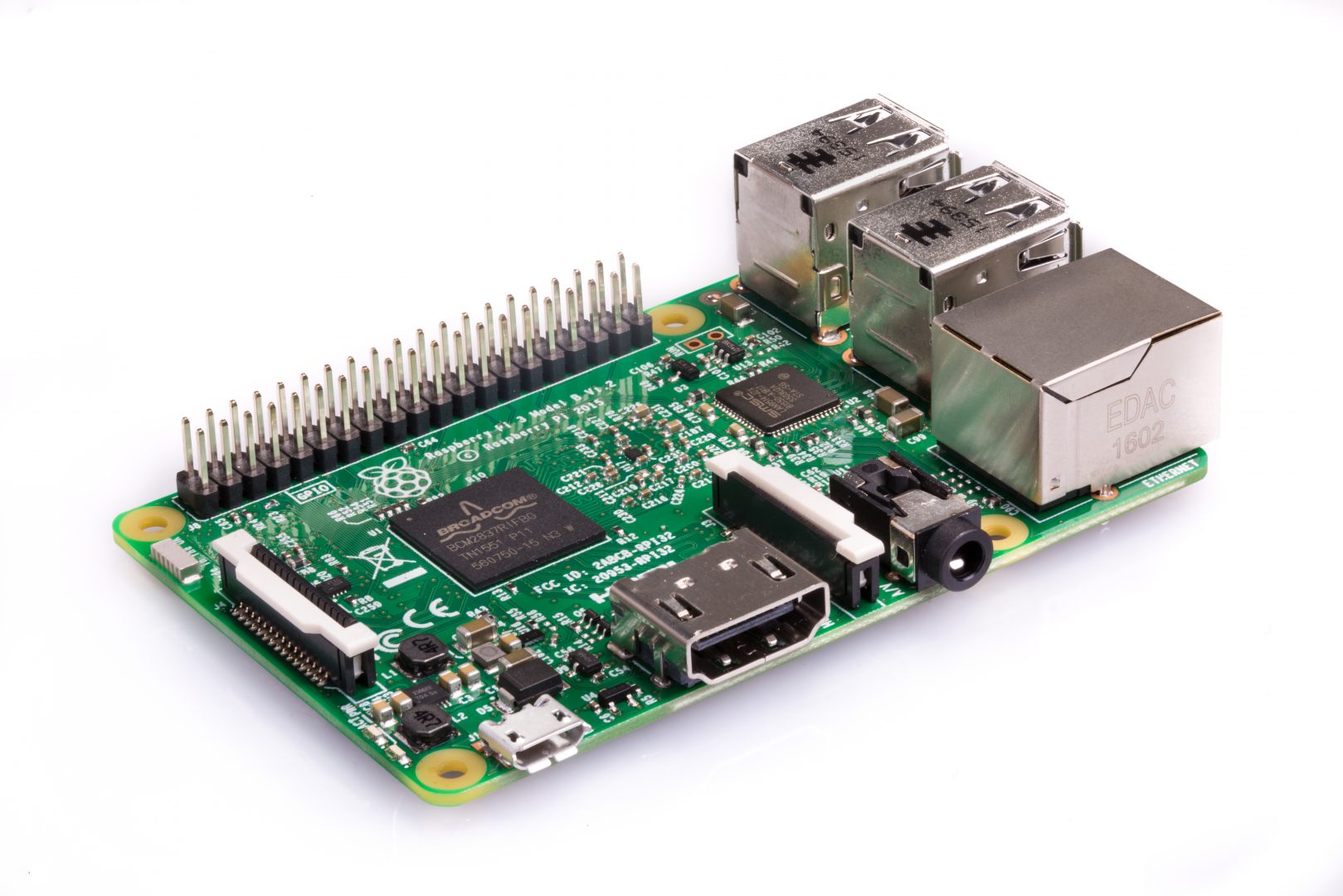 It was developed in the UK by a non-profit organization called Raspberry Pi Foundation as a tool to teach basic computer science in schools and in developing countries. Its feature set, adaptability, size and affordability (at about 35 dollars) have made it immensely popular outside of its intended audience. Many people saw it as an ideal platform for all sorts of applications, including media players. It has sold more than 11 million units worldwide since its original release in 2012.
The latest and most common model today, the Raspberry Pi 3 model B, offers great features and interfacing capabilities. It has a 1.2 GHz, 64-bit, quad-core ARM Cortex-A53 processor, a high-performance Broadcom VideoCore IV graphic processor, 1 GB of RAM, video, audio, Ethernet, WiFi, and USB interfaces. it is quite a powerful and versatile device. It has all that's needed in a TV-attached media player.
DISCLAIMER: AddictiveTips.com does not condone or recommend the use of Kodi or any add-on to access copyrighted content to which you have no right. We're not responsible for what you decide to do with the contents of this article. Piracy is not something we support or approve, and we strongly advise users to only access content they are legally entitled to. As a Kodi user, you must take steps to ensure you are not in breach of any copyright law.
An Overview of OpenELEC
According to OpenELEC's website, OpenELEC is "…a small Linux based Just Enough Operating System (JeOS) built from scratch as a platform to turn your computer into a Kodi media center". This is really what best describes what the operating system is. Some would argue that there is a contradiction between "built from scratch" and "Linux-based" but this is beyond the point of this article. OpenELEC is available for a handful of platforms, including standard Intel-based computers, Raspberry Pi as well as We Tek, Cubox and Hummingboard devices.
OpenELEC Installation on the Raspberry Pi
The goal of this article is not to be a tutorial on how to install operating systems but with installation often being a user's first contact–and his first impression, we felt it was important to discuss the required steps. This is especially true if you consider that this is where there are the most differences, The first thing you need to do is go the OpenELEC download page and download the software image to your computer.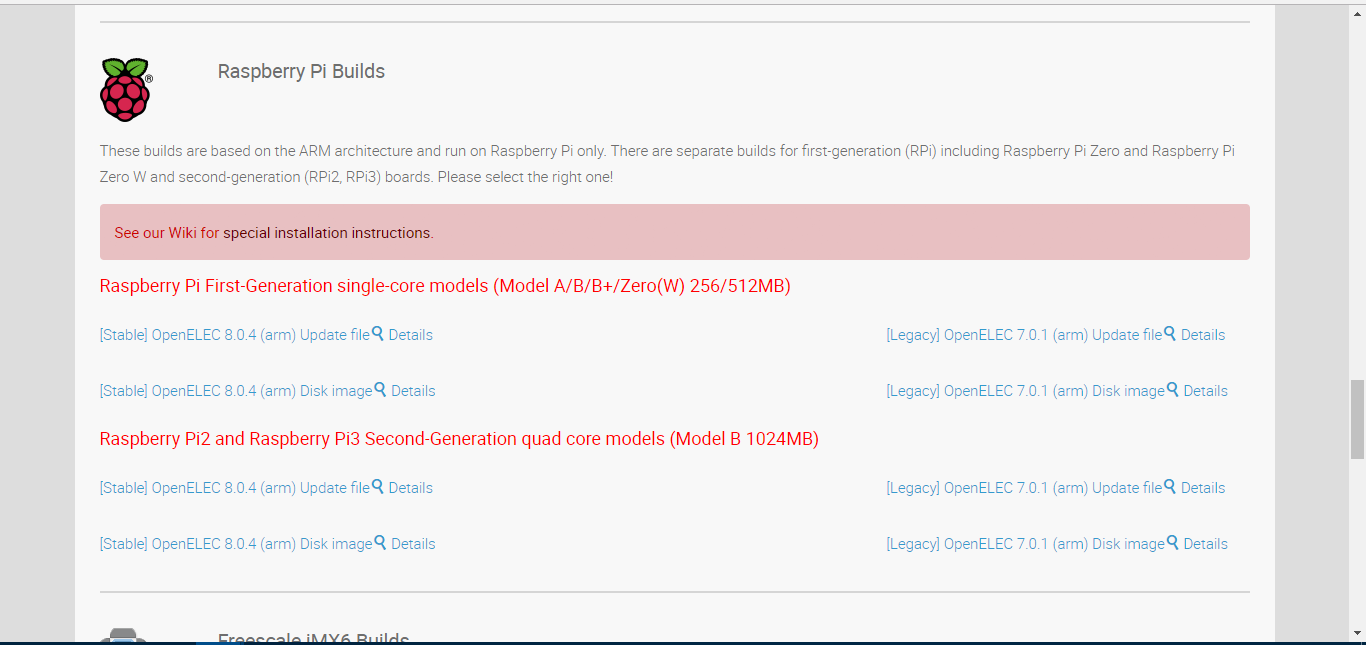 The page is a little confusing, especially if you're new to this kind of things. It provides little guidance as to which file one should download. Fortunately, a link at the start fo the Raspberry Pi section provides installation instructions.
For a typical user, the process requires installing separate software to uncompress the downloaded image file and more software to write the image to an SD card or USB drive. Once the image is written (after you've figured out how to do it–you won't find much information about this in the instructions–you use the created media to boot your device and simply follow this installation prompt.
Using OpenELEC
If you 're familiar with Kodi, using OpenELEC will be an easy task. It boots right into Kodi so you won't even know it's there. Using OpenELEC is using Kodi. And everything that can be done in Kodi, can be done in OpenELEC. You'll be able to add file source in the File Manager, install repositories and install any add-on using any method available on Kodi. Assuming you're already familiar with Kodi, using OpenELEC will be a very pleasant experience. And considering that the operating system is cleaned up of any extra software, all the available hardware resources will be dedicated to making your media experience even greater.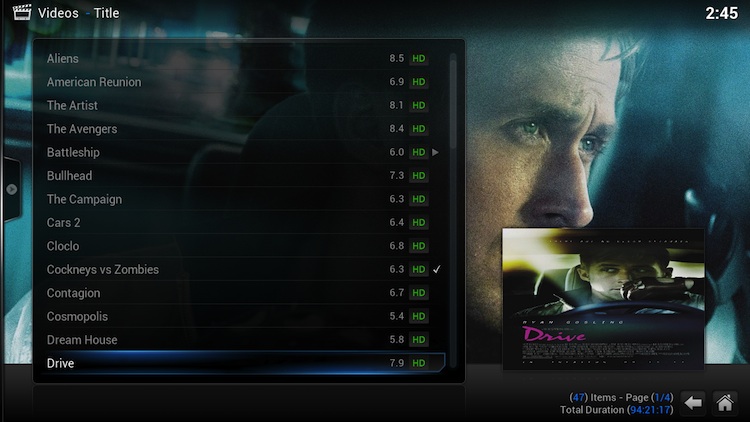 LibreELEC, OpenELEC's cousin
LibreELEC was built from the OpenELEC source code so it is quite similar. Its major difference is in the frequency of its updates. Since its launch a year and a half ago, it has enjoyed an ever-growing popularity both with users and developers. The update schedule of LibreELEC closely follows Kodi's so whenever a new feature appears in Kodi, LibreELEC is quickly updated with the new Kodi version. Other than that, there are not that many differences between the two. Some will argue that LibreELEC's performance is a better. If it is, it's only by a small margin.
If you want to learn more about LibreELEC, we've recently published an article about it: LibreELEC – An Operating System Tailored for Kodi.
Installation is where LibreELEC shines
One of the places where the LibreELEC team spent a lot of time is in streamlining the installation process. Thanks to a great little piece of software called the LibreELEC USB-SD Creator, installing the operating system requires a single download and only a few clicks. You first go the LibreELEC download page and download the appropriate software for your computer,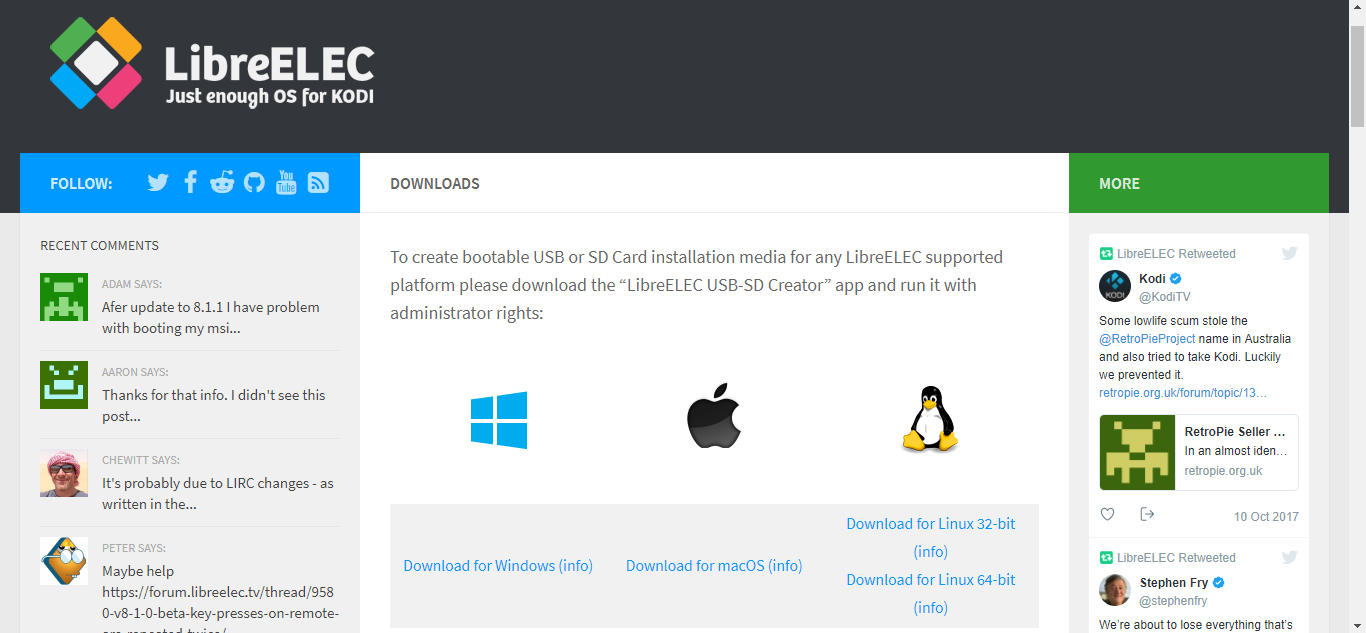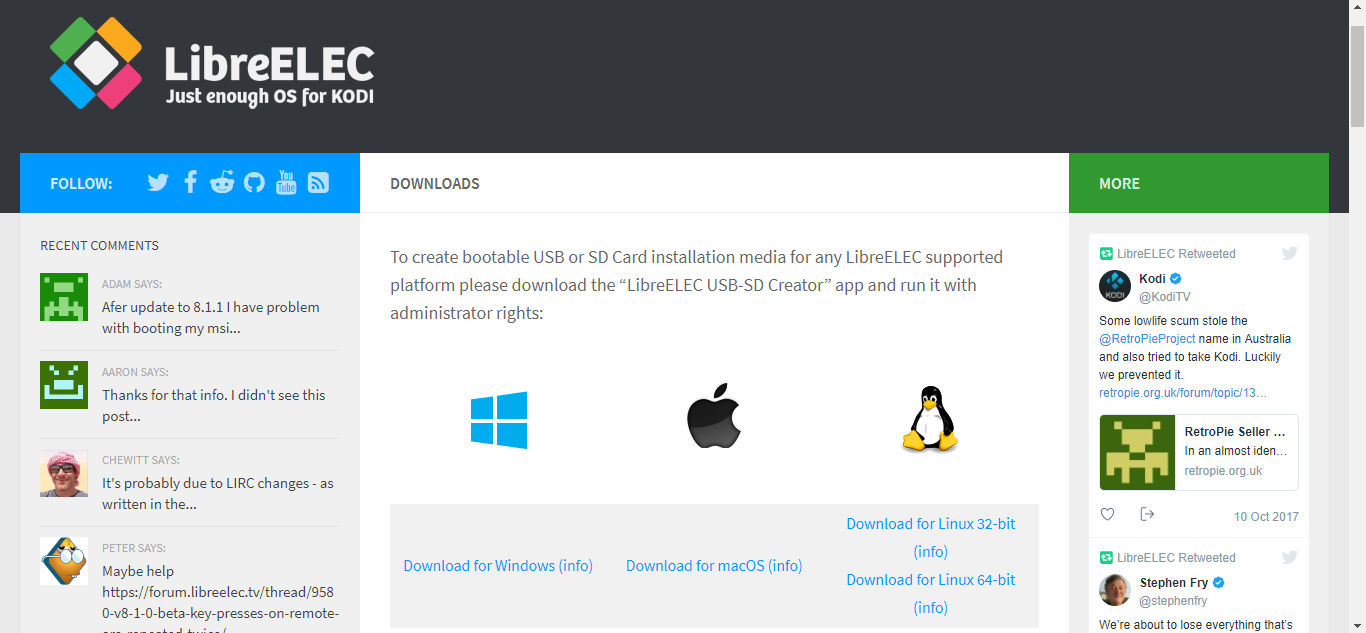 The software needs no installation. you simply run it, select the hardware type you'll be running LibreELEC on and the version you want to install, select your SC card or USB drive and click the Write button.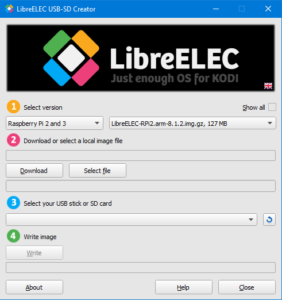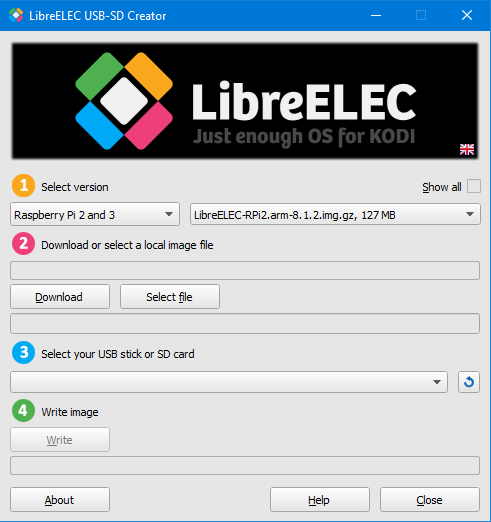 You then simply insert the newly created SD card into your Raspberry Pi, boot it, answer a few configuration questions and you're done. The whole process takes less than ten minutes.
Using LibreELEC
Just like its cousin, LibreELEC boots right into Kodi. If you know how to use Kodi, you'll know how to use LibreELEC. Everything from Kodi is there and works exactly the same way. Compared to OpenELEC, it is a very similar, if not identical, user experience.
OSMC, a Different Approach
OSMC, although built on a Linux base like the other two operating systems discussed here, is quite different. Like the others, it was created to turn a computer into a media center but it wasn't originally meant to run on limited hardware. And for that reason, it is a less limited operating system. Whereas OpenELEC and LibreELEC won't let you run anything besides Kodi, OSMC is a full operating system. You'll be able to run other software alongside Kodi. People have used it to run web servers or Plex media servers, for example. OSMC even has an app store–like Android or iOS–where you'll be able to find interesting and useful software.
Things have changed, though and today, OSMC will only run the Raspberry Pi, the Apple TV or the Vero. In case you're wondering, the Vero is OSMC's own hardware platform. It is a TV box that sells for about 120 Euros and allows to play 4K video on compatible TVs. It connects to an HDMI port and has WiFi and Bluetooth connectivity.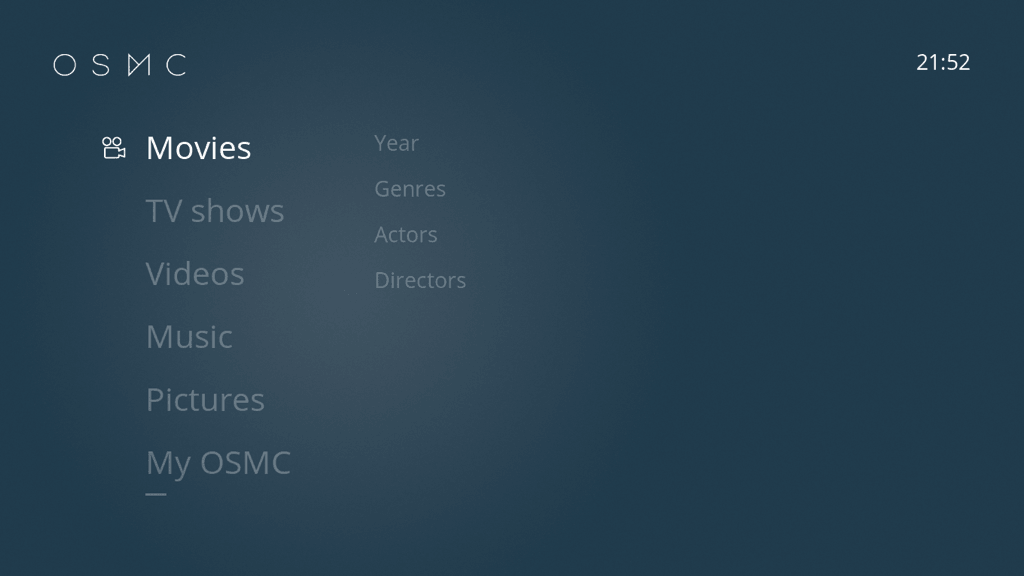 Installing OSMC
Much like LibreELEC, OSMC has an installer that will take care of much of the complexity of creating an SC card. It can be downloaded form OSMC's download page.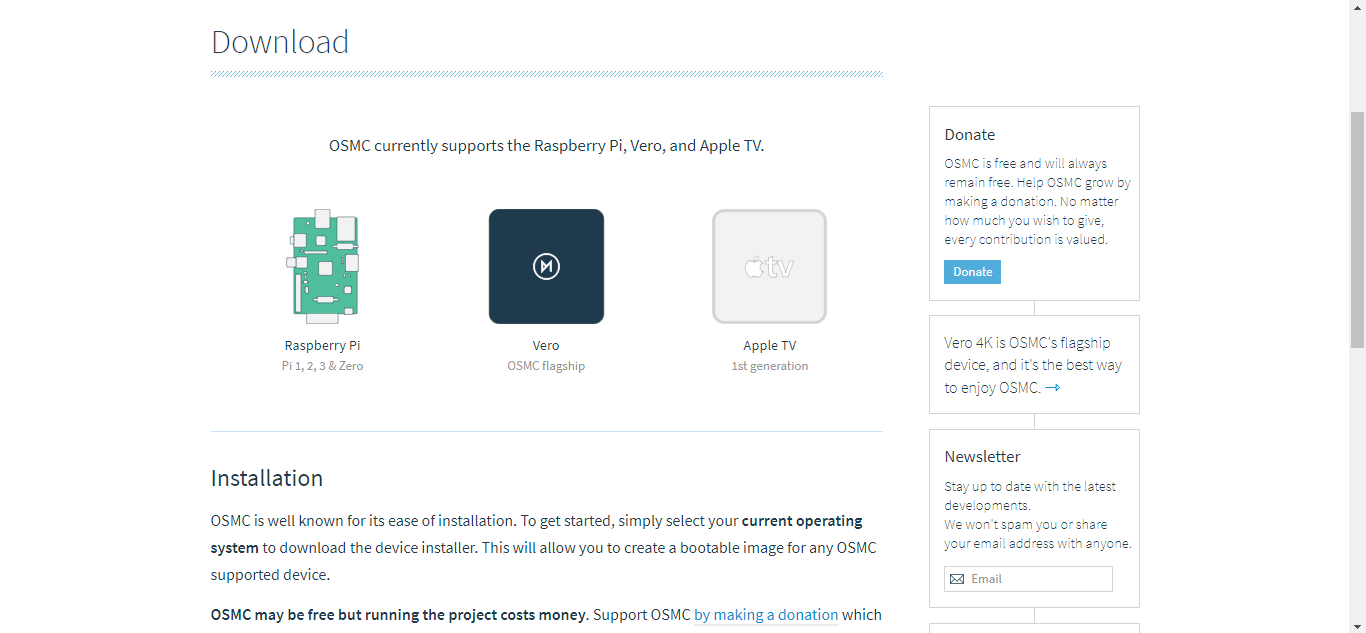 Scroll down the page an select your computer's operating system to start the download. Once the download is complete, simply start the installer by double-clicking it. Just like LibreELEC's USB-SC Card Creator, it requires no installation.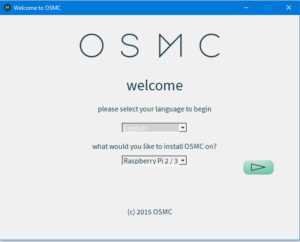 You just need to select your language and your installation platform then click the arrow button at the right. In the next screen, you'll be prompted to select the OSMC version you want to install. We suggest you use the latest one. Then, for an easy Raspberry Pi install, you select an SD card installation, then configure the network connectivity. You finally choose your target device and accept the license agreement.
Within minutes, the SD card will be written and after inserting it into your Raspberry Pi and booting it, You' be in OSMC. It can't really be any simpler.
Using OSMC
Although Kodi is an integral part of OSMC, its presence is not as obvious as with the other two options. The first thing that you'll notice is how its main menu is quite different. You're still in Kodi, just like with the previous options but the OSMC team created a different looking theme to give their system a unique look.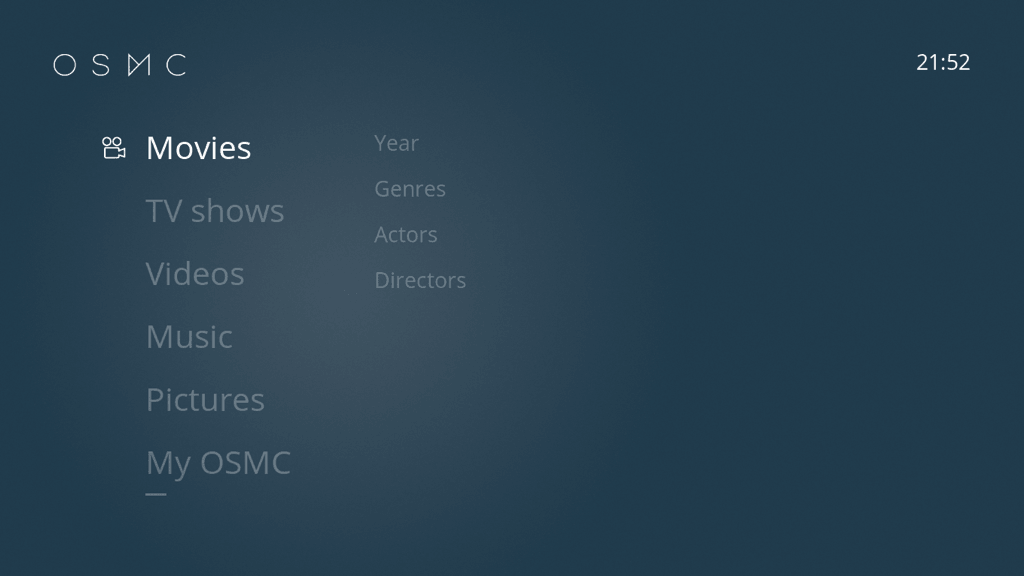 The Kodi functionality is still there and everything you can do on Kodi can be done here as well although it could be a little different. If you're used to doing things on Kodi, you might feel a bit lost navigating OSMC. The basic functionality is easy to figure but more "advanced" tasks–such as installing repositories and add-ons–will certainly require a bit of digging on your part.
LibreELEC, OpenELEC, or OSMC–What is the best option?
Although we've only briefly introduced each of LibreELEC, OpenELEC or OSMC, choosing the best option seems like an easy task. But is it really? If you're familiar with Kodi and want to run it efficiently on a Raspberry Pi or other supported single-board platform, LibreELEC seems the be the best option. Its USB-SD Card Creator makes installing it a breeze. Furthermore, its user interface identical to any standard Kodi installation means you'll feel right at home.
If you prefer to have more options and perhaps use your device for more than just Kodi, OSMC might be a better option. Not only will it run Kodi but also other software. And most of it can often be easily installed right from OSMC's app store. It will put a higher load on your hardware but will offer more versatility.
As for OpenELEC, it is almost identical to LibreELEC. It is updated less frequently and is way harder to install. Given all that, it's hard to find a reason to recommend it. It's still a very good operating system, just not the best anymore.
Conclusion
You can run Kodi on a hardware-limited platform such as the Raspberry Pi with excellent results. The specialized Operating systems we just introduced will all do a great job of that. Choosing the best one for you mostly depends on your needs. Although the three options we presented are very similar, they all have little differences. It's up to you to figure which differences you want on your system.
And you, do you run Kodi on the Raspberry Pi or some other limited single board computer? What is your choice of operating system? Have you tried any of our suggestions? How was your experience? Feel free to share your comments about the subject–or the article–below.