We are reader supported and may earn a commission when you buy through links on our site.
Learn more
MMA Streams Add-on for Kodi — Installation and Overview
If you're a fan of Mixed Martial Arts (MMA), the MMA Streams add-on for Kodi might be just what you need to quench your thirst for all things MMA. The add-on scrapes YouTube for all sorts of MMA content and presents them to you in an easy to browse playlists format. While the MMA streams add-on for Kodi won't let you view live UFC fights, there is still a lot a very good content.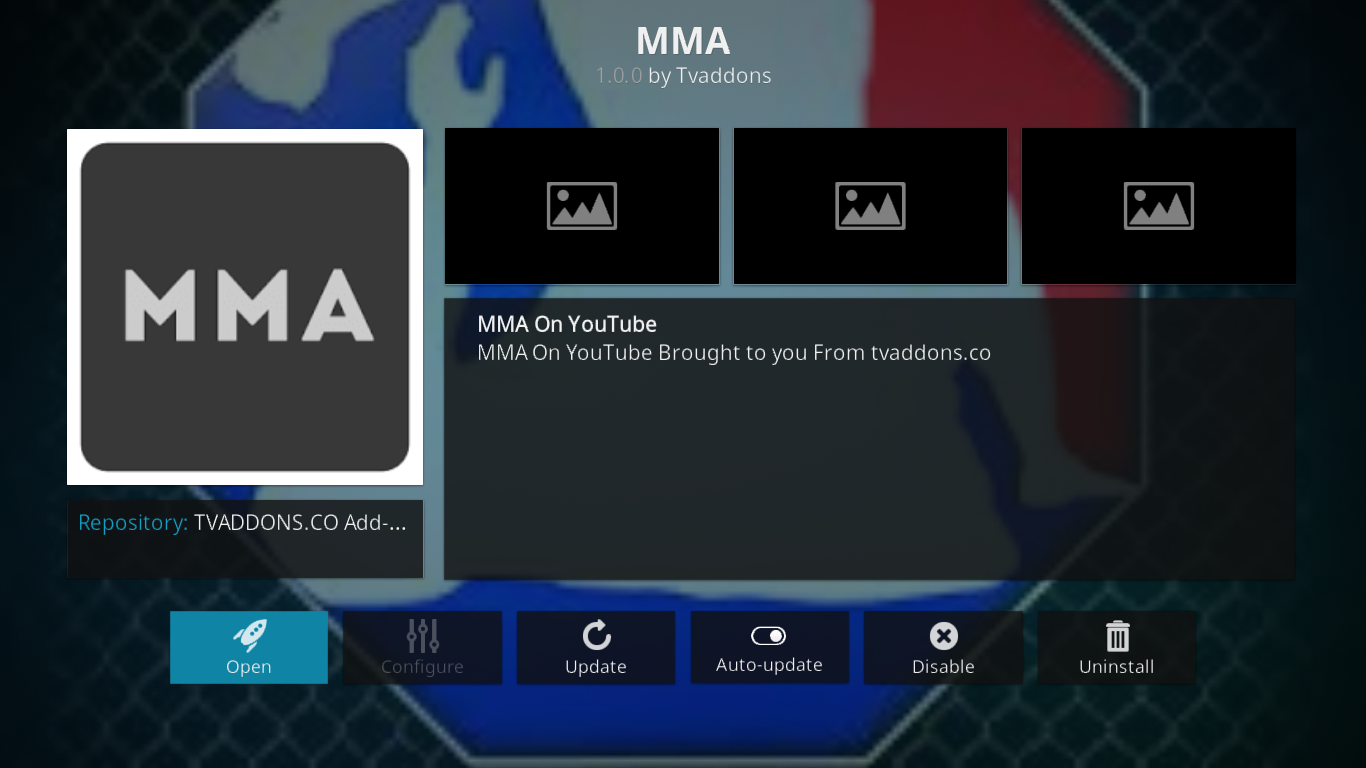 In case you are no MMA expert, we'll start our discussion with a brief introduction to Mixed Martial Arts, what it is, where it's coming from. We will then dive right into our core subject and tell you all you need to know to install the add-on. If you follow our step-by-step instructions, you'll be up and running in no time without any issue.
We will then give you an overview of the MMA Streams add-on for Kodi. We'll allow you to familiarize yourself with it and to know where to find the most interesting content as well as discuss a few limitations of the add-on. And since we might have whetted your appetite for MMA content, we'll briefly discuss other add-ons that might interest you.
30-days money back guarantee
For the Best Privacy When Using Kodi, Consider Using a VPN
Your Internet Service Provider could be monitoring your Internet activity to ensure you don't violate their terms and conditions. And if they suspect, even erroneously, that you might be violating them, they can react by throttling down your speed, sending copyright infringement notices or even interrupting your service. Some have even been known to report suspicious activity to the authorities.  A VPN protects your privacy by encrypting the data using strong algorithms that make it almost impossible to crack. Furthermore, a VPN allows bypassing geographic restrictions by allowing you to spoof your location and appear like you're located somewhere else.
Choosing a VPN can be hard, though. There are so many suppliers available and so many specifications to compare. Among the important factors to consider are a fast connection speed to avoid buffering, a no-logging policy to further protect your privacy, no usage restrictions to access any content at full speed and software that is available for your device.
The VPN We Recommend for Kodi – IPVanish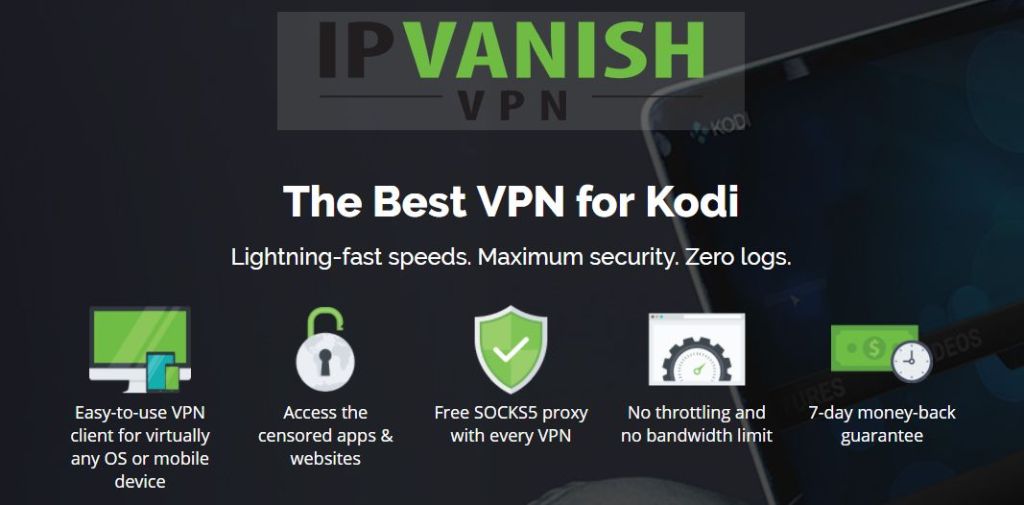 At Addictive Tips, we've tested several VPN against our criteria and the provider we recommend for Kodi users is IPVanish. With servers worldwide, no speed cap or throttling, unlimited bandwidth, unrestricted traffic, a strict no-logging policy and client software available for most platforms, IPVanish delivers impressive performance and value.
IPVanish offers a 7-day money back guarantee which means you have a week to test it risk-free. Please note that Addictive Tips readers can save a massive 60% here on the IPVanish annual plan, taking the monthly price down to only $4.87/mo.
MMA in a Nutshell
In case you're not familiar with MMA, let's try to explain what it is. In its simplest term, Mixed Martial Arts is a combat sport that combines elements of striking–as in boxing–and elements of grappling–as in wrestling. But in fact, it is much more than that. MMA is a sport in which participants can use any kind of combat techniques, often mixing not only boxing and wrestling but also Asian martial arts such as Taekwondo, Judo, or Jiu-Jitsu.
The real origins of Mixed Martial Arts are not known but it was made popular in the west during the second half of the 20th century. Bruce Lee, through his system of Jeet Kune Do, popularized the concept of combining elements of multiple martial arts. He thought that "the best fighter is not a Boxer, Karate or Judo man. The best fighter is someone who can adapt to any style, to be formless, to adopt an individual's own style and not following the system of styles."
Today, although there are hundreds of MMA promotions worldwide producing hundreds of MMA events, UFC stands out as the largest organization and has most of the world's top talent under contract. A few other promotions have acquired some notoriety such as Bellator MMA, ONE Championship, and Invicta FC, an all-women MMA promotion. Most fighters start their careers in smaller promotions and get contracted by bigger organizations after competing successfully.
Installing the MMA Add-on on Kodi
If you've installed other third-party add-ons on Kodi before, installing the MMA streams add-on for Kodi will feel familiar. And if you haven't, don't worry, our step-by-step detailed instructions will help you succeed. Installation is a four-part process. You first need to enable Unknown source, then you add the repository installation source. Next, you install the appropriate repository and finally, you install the actual add-on from the repository. Let's get started!
Making Sure Unknown Source Are Enabled
Before you can install this or any third-party add-ons, you need to make sure that Unknown Sources are enabled in your Kodi settings.
From the Kodi home screen, click the Settings icon. It is the small gear at the top left of the screen.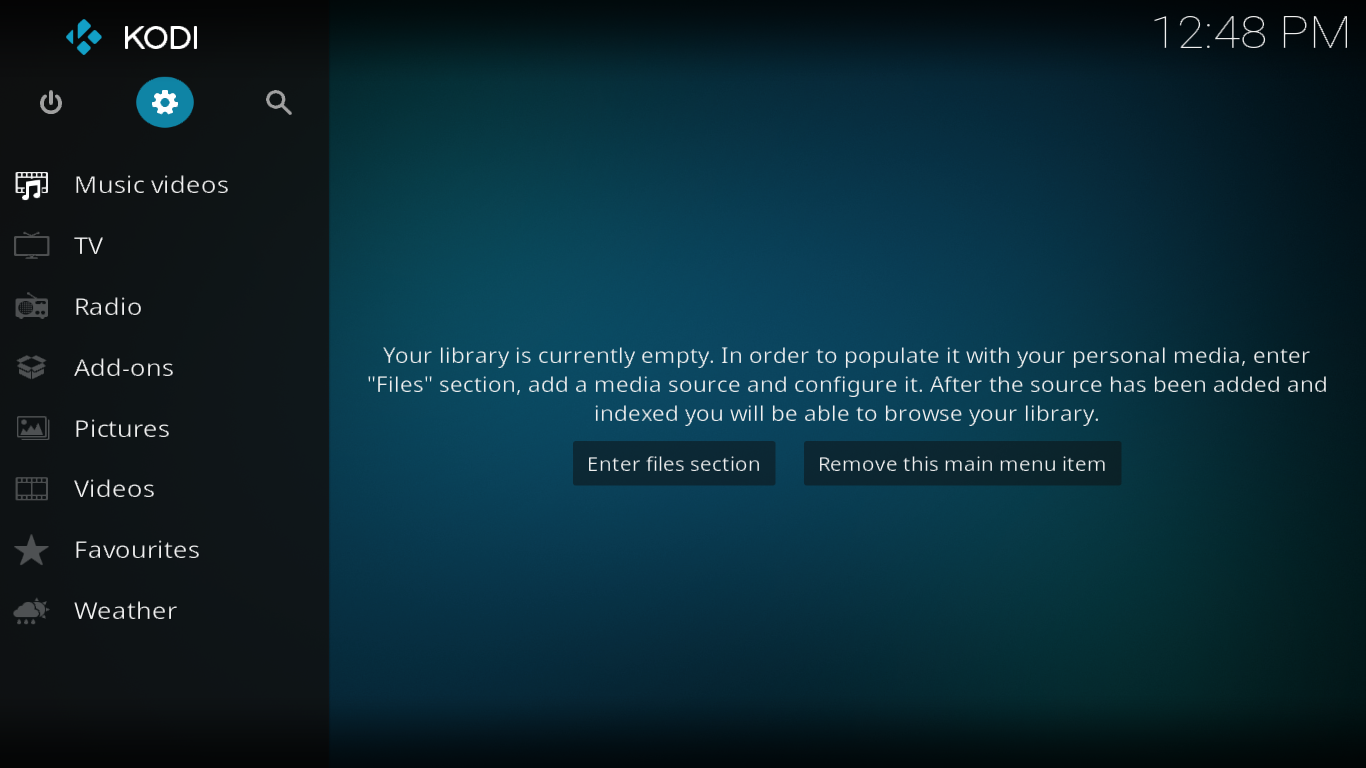 From the Settings screen, click System setting.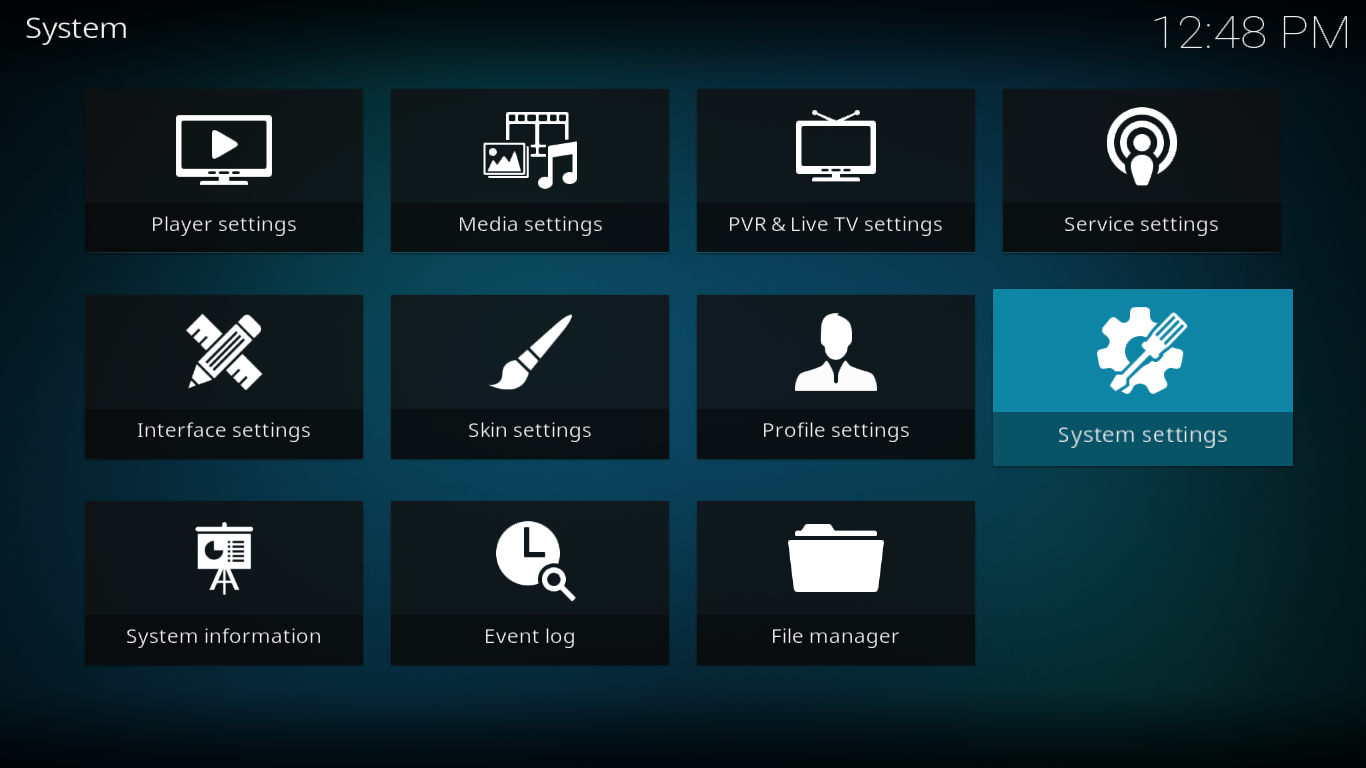 Click Add-ons in the left pane and make sure that the switch next to Unknown Sources is ON.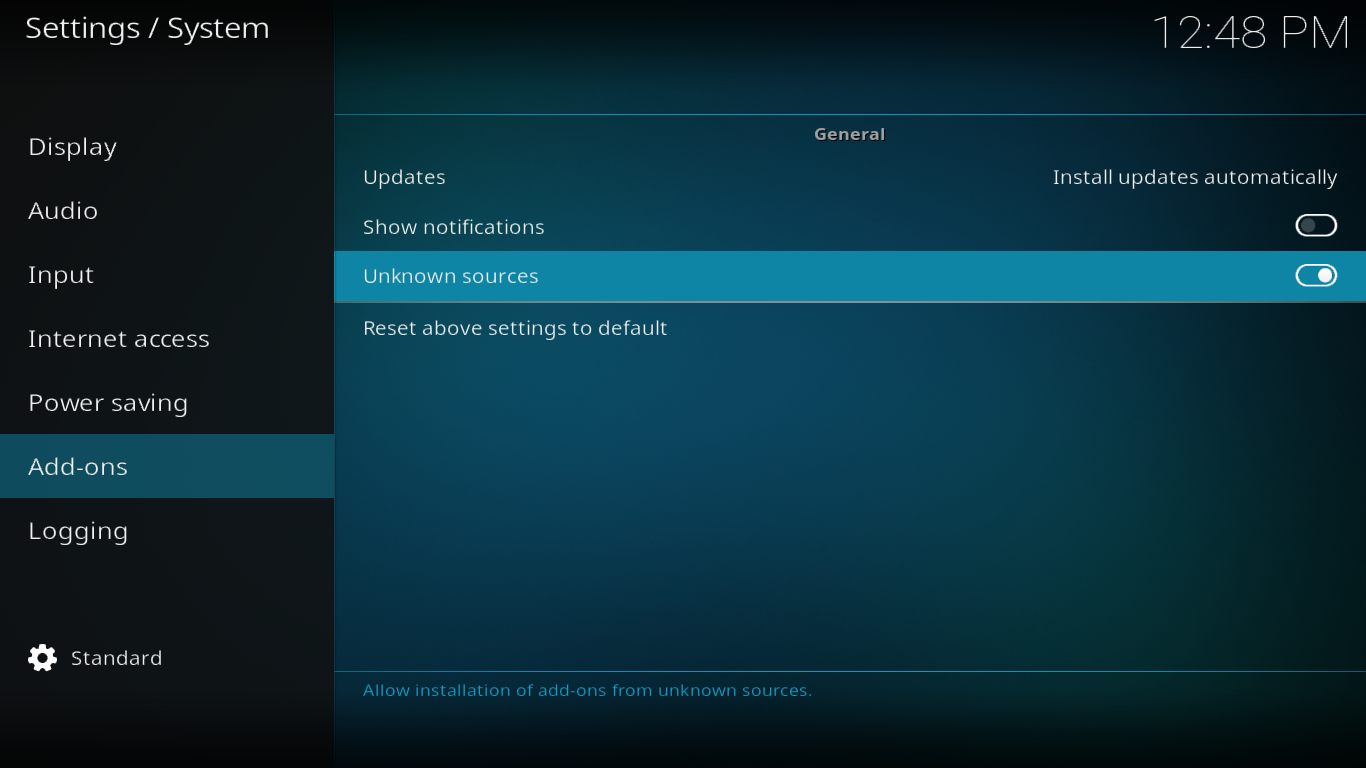 Adding the Repository Installation Source
Back to the Kodi home screen, click the Settings icon once more. Next, click File manager.
Double-click Add source on the left pane of the File manager screen.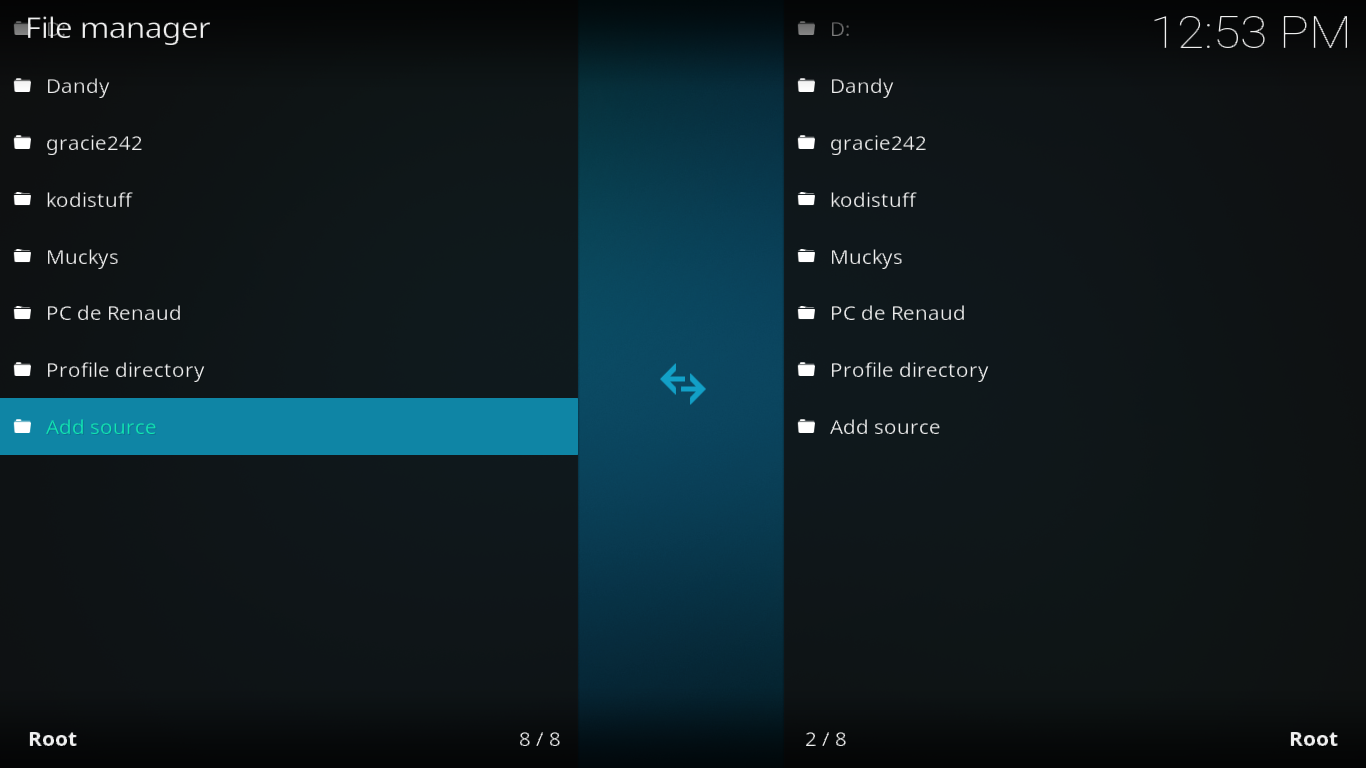 In the box that opens, click <None> and then enter this path: https://fusion.tvaddons.co/kodi-repos/ and click OK.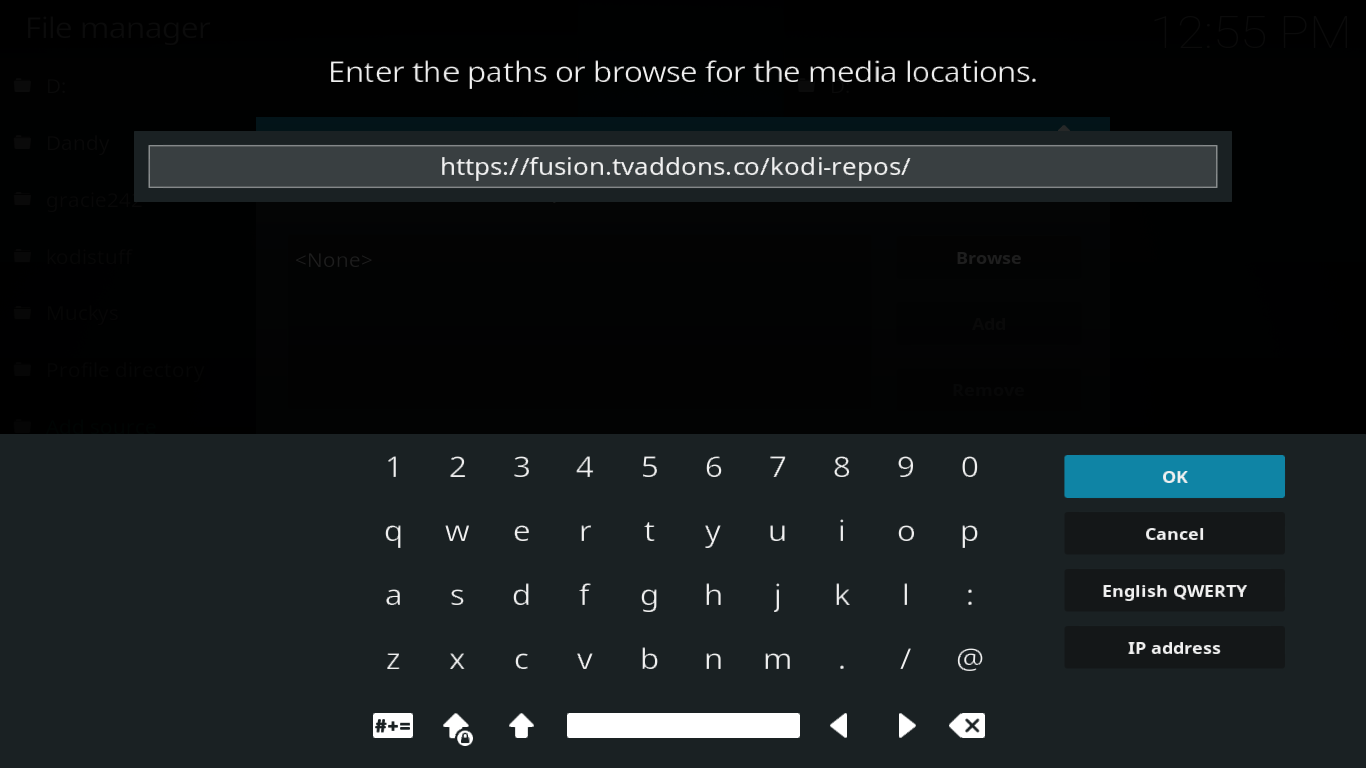 Back to the Add file source box, make note of the source's name (Kodi-repos) under Enter a name for this media source. Then, click OK to save the new file source.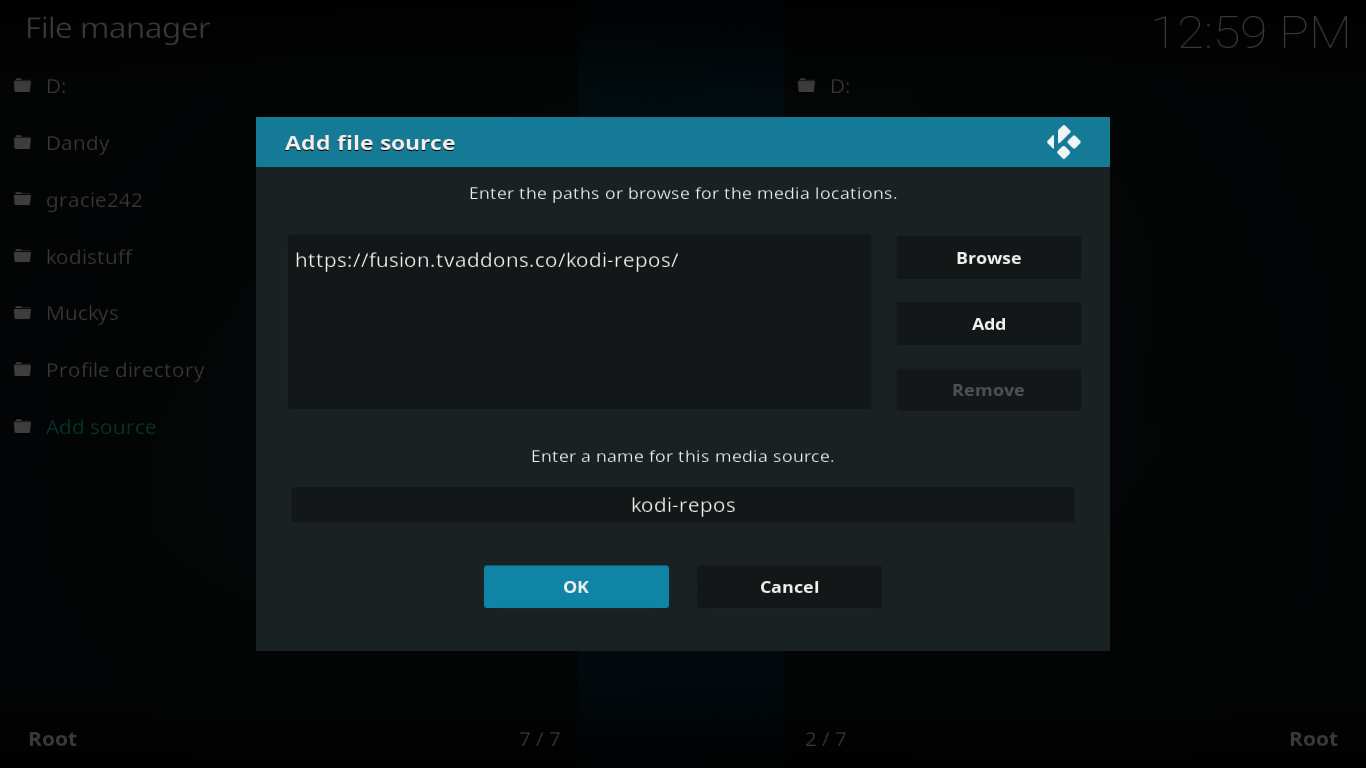 Installing the TVADDONS.CO Repository
The next step is to install the TVADDONS.CO repository. A repository, or repo, is a place from where add-ons are installed. More than just a place to store add-ons, though, they also provide some additional functionality and will take care of installing any required dependencies and of keeping add-ons up to date. The MMA add-on is available from the TVADDONS.CO repo so we need to install it.
From the Kodi home screen, click Add-ons on the left pane. Next, click the Add-on browser icon at the top left of the screen. It looks like an open box.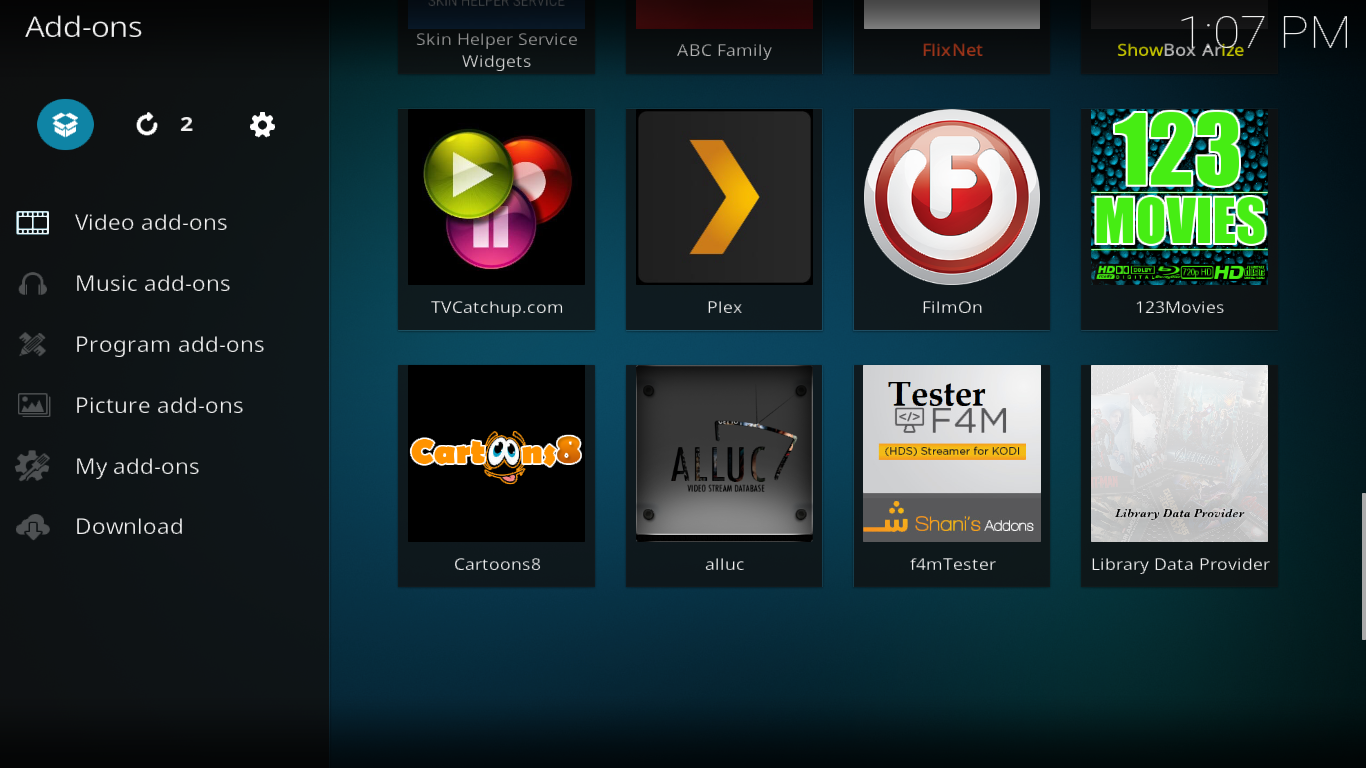 From the add-on browser screen, click Install from zip file.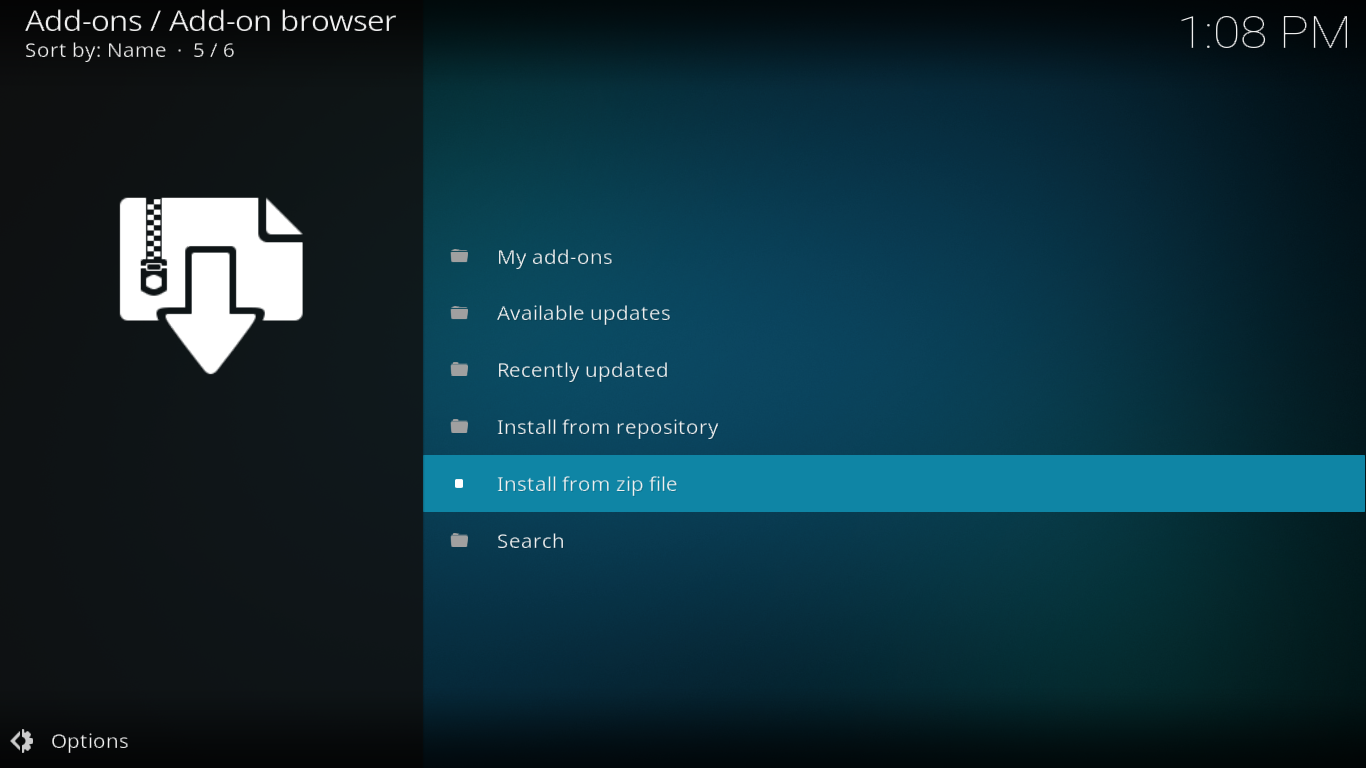 Select the kodi-repo source we've just added then click english and finally, click repository.xbmchub-X.X.zip to install the repository.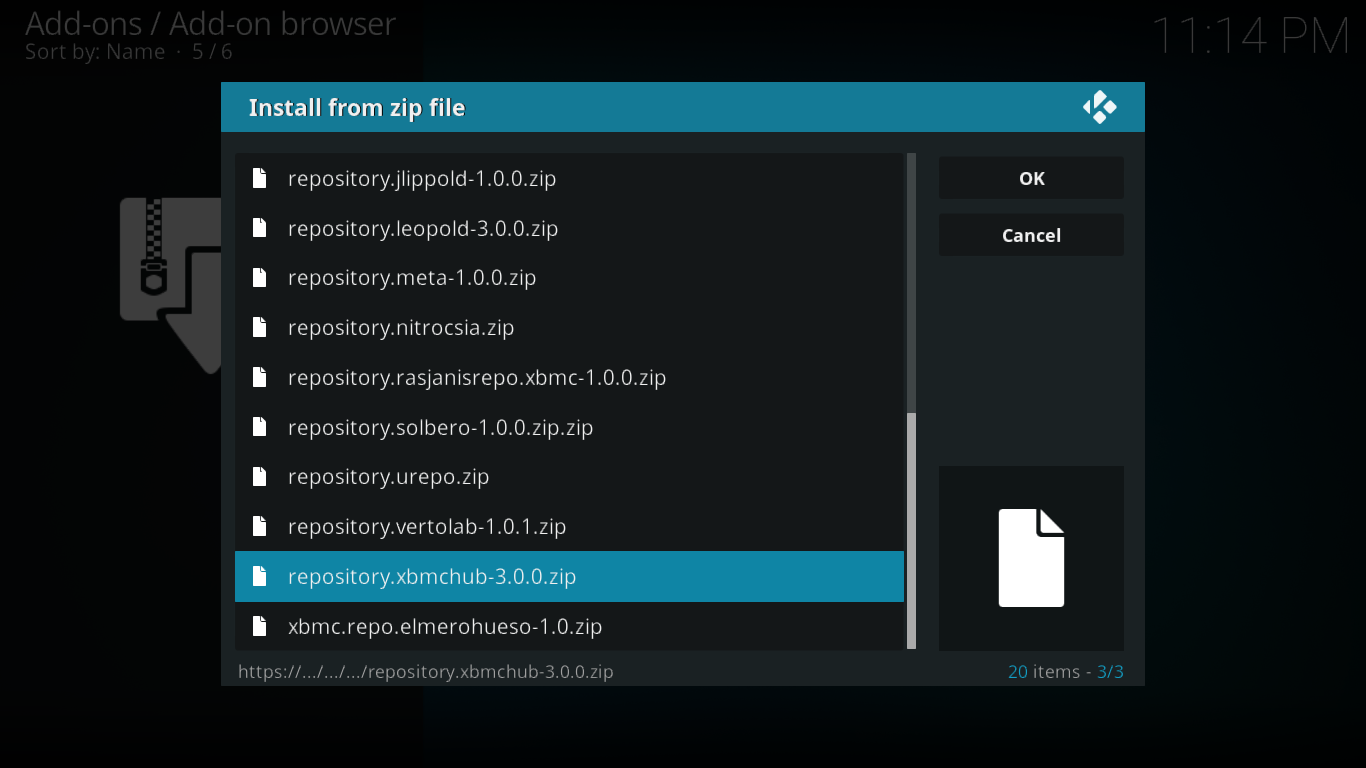 After a short while, a message at the top right of the screen will confirm the repository's installation.
Installing the Actual MMA Add-on
All that is left now is to install the actual MMA add-on. You should still be on the add-on browser screen. Simply click Install from repository.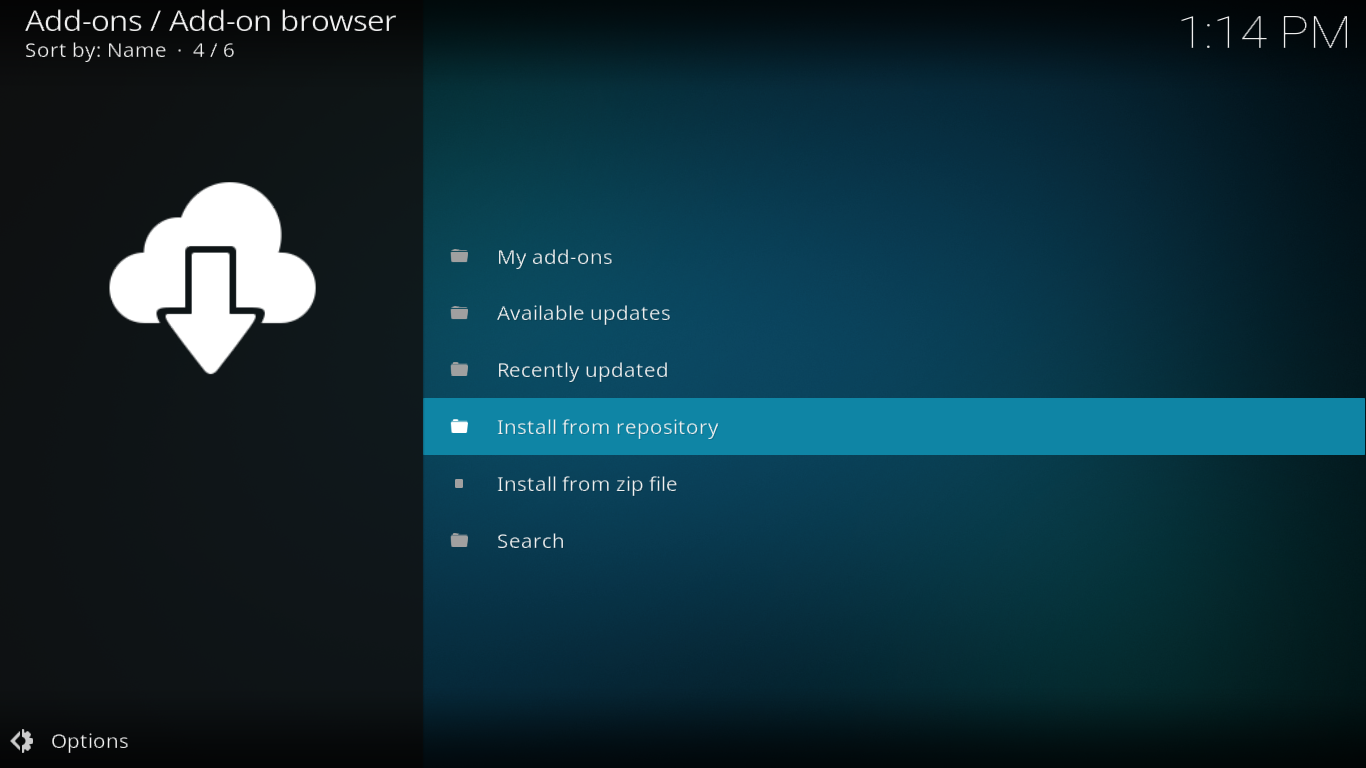 From the list of available repositories–its length will vary depending on how many repositories you've installed–find the TVADDONS.CO repository and click it. Then, click Video add-ons and finally, find MMA within the list of available video add-ons and click it.
You'll be presented with the MMA add-on information page. Just click Install at the bottom right of the screen to launch the installation.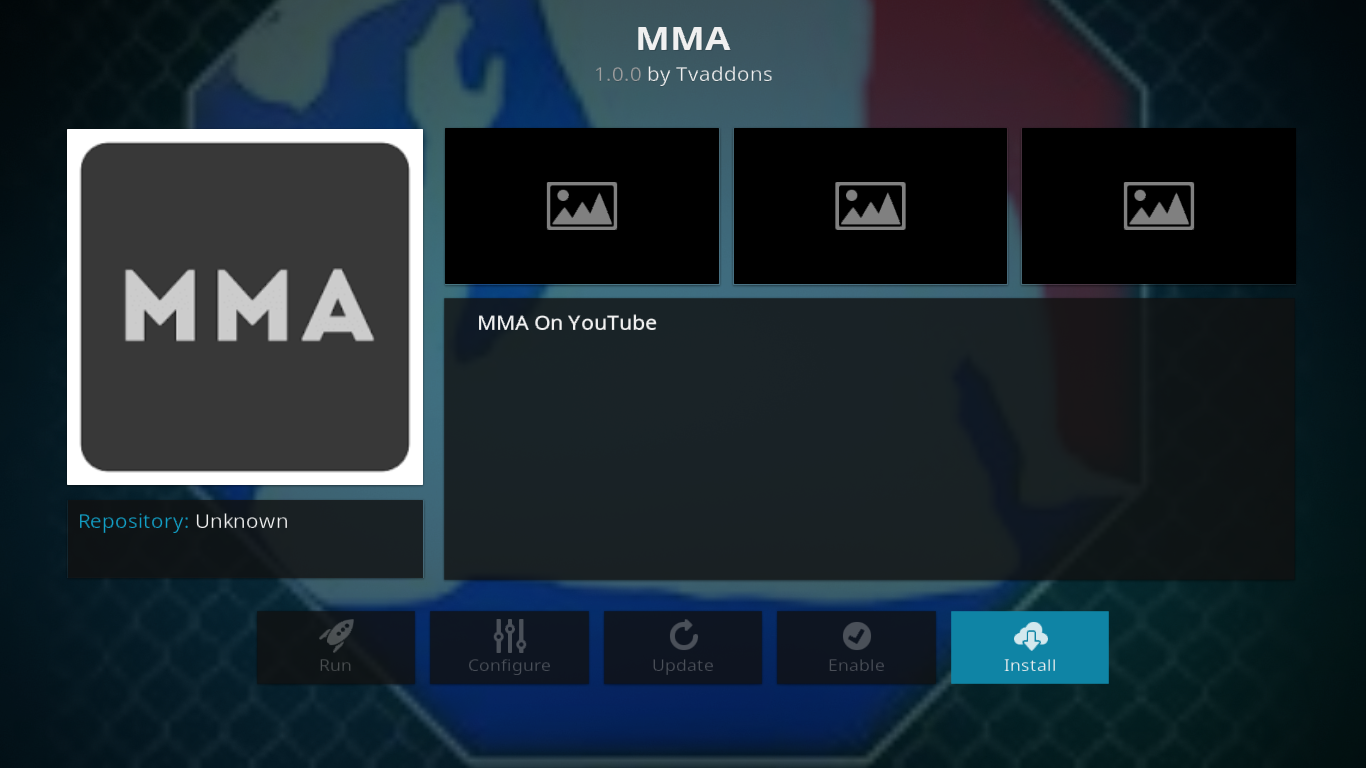 Once the add-on and all its dependencies have been installed, a confirmation message will appear at the top right of the screen.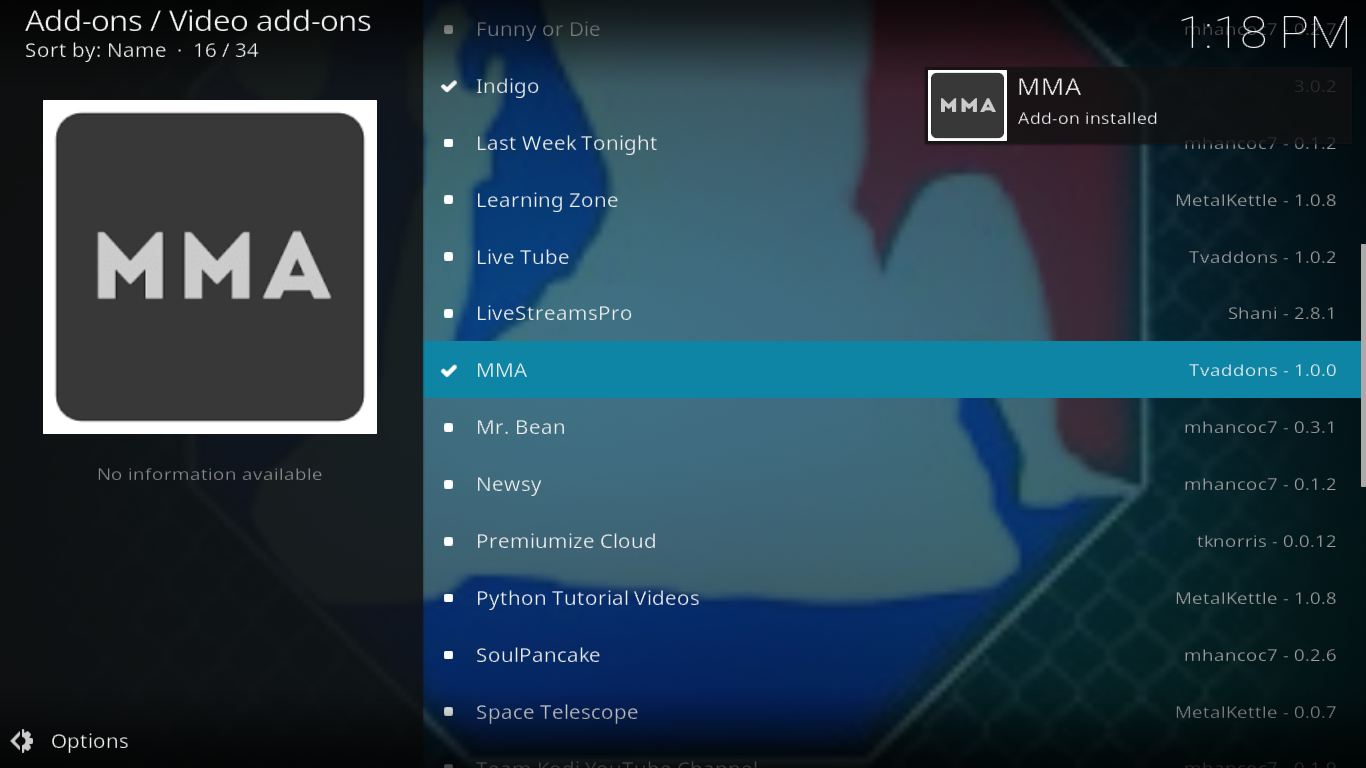 Congratulations! You've just installed the MMA streams add-on for Kodi.
An Overview of the MMA Streams Add-on for Kodi
When you start the MMA add-on, you might be disappointed to see a one-item main menu. Clicking MMA, the only option reveals yet another one-item menu. It is only after you click Playlists from this second menu that you're taken to the actual content.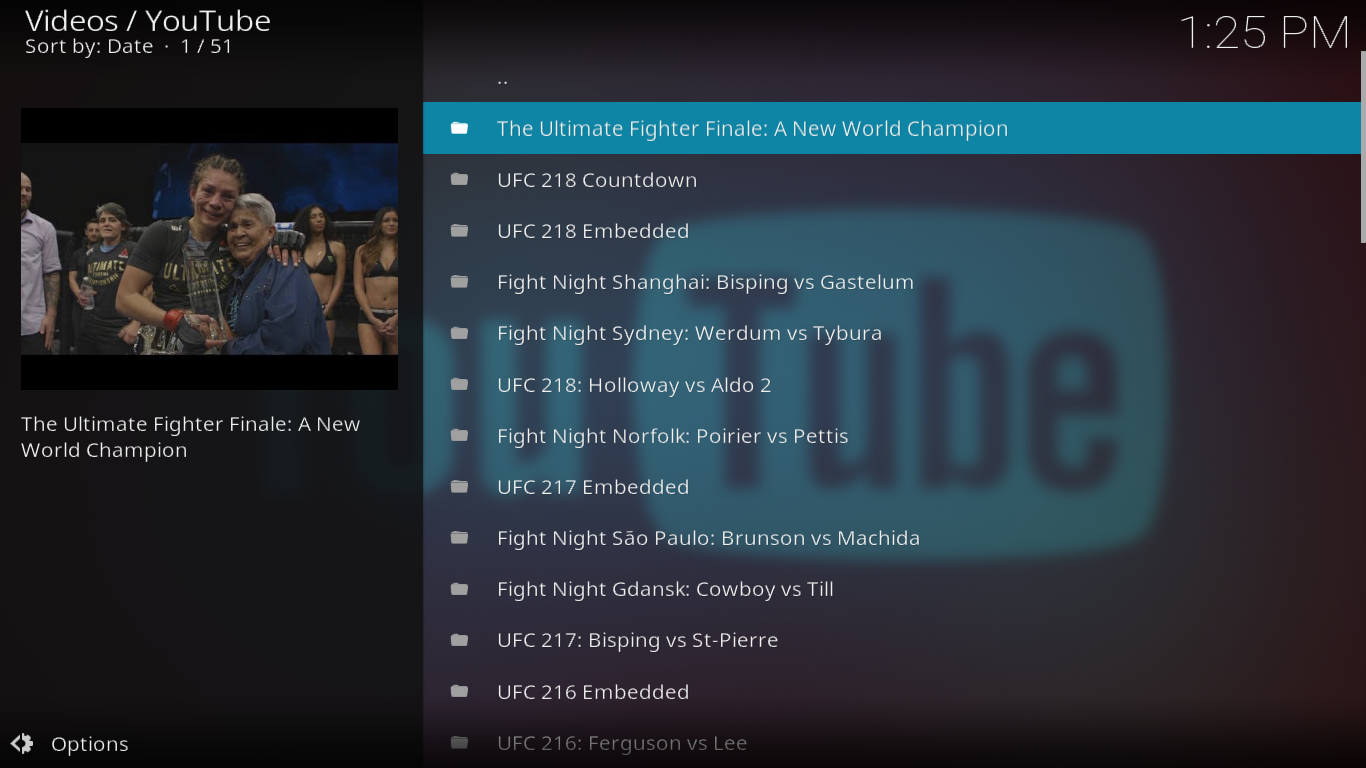 Throughout 6 pages, you'll find close to 300 different playlists. They seem to be arranged in chronological order although they are not dated.
To give you an idea of what this add-on has to offer, let's open one of the playlists. For the sake of this demonstration, I've chosen the Fight Night Norfolk: Poirier vs Pettis playlist. Clicking it reveals this content.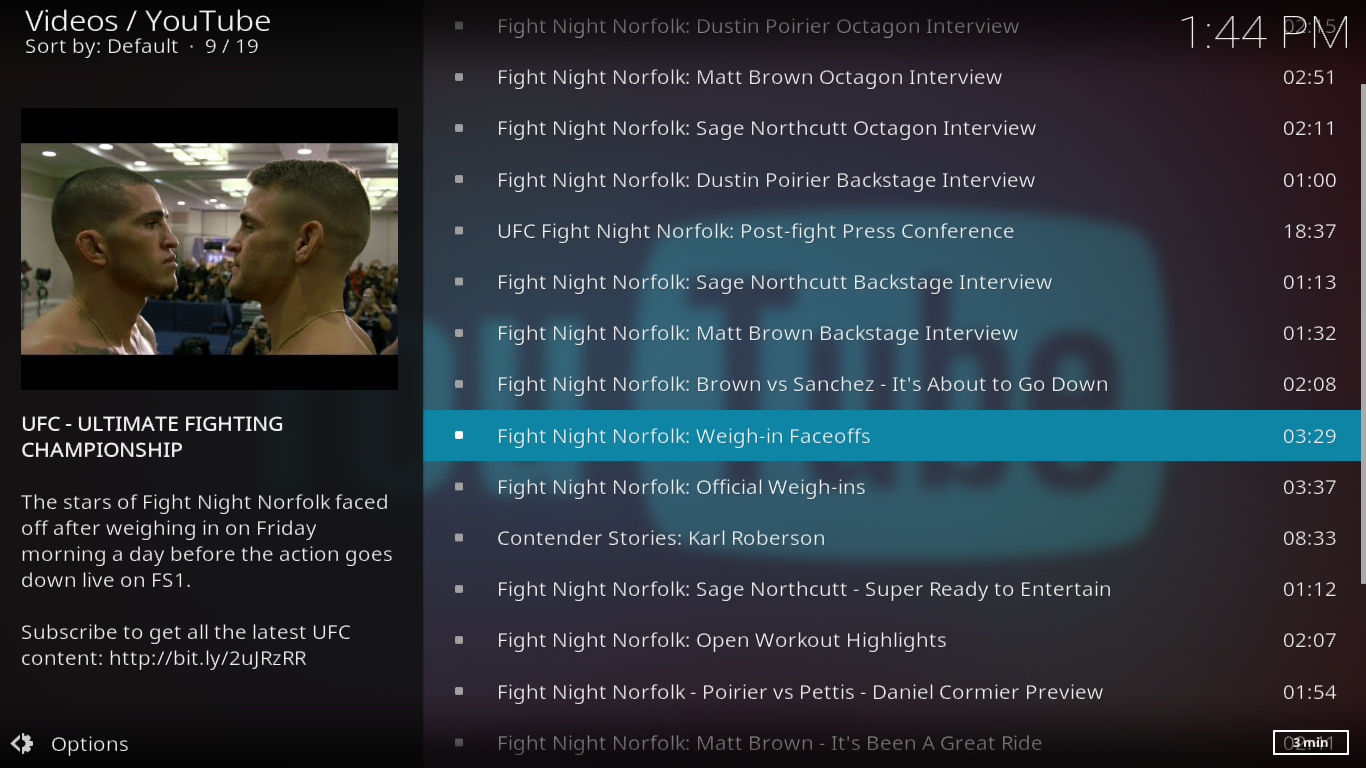 There are about 20 different videos ranging in length from about a minute to just short of 20 minutes. You'll see octagon and backstage interviews, weigh-ins, press conferences and workout highlights. The only thing you won't see if actual fights.
As we've told you in our introduction, this add-on only includes content scraped from YouTube. And as you know, YouTube has strict rules concerning copyrighted material. With most fight's TV rights belonging to different MMA promotions and broadcasters, you won't find them in there.
There is still a good amount of interesting content, especially to an MMA fan. But if you were expecting actual fights, you came to the wrong place.
Some Limitations of the MMA Streams Add-on for Kodi
Although the MMA Streams add-on for Kodi has plenty of interesting content, here are a few things we did not quite like about it.
Only includes YouTube content
This is actually both a limitation and an advantage. Although You won't find any actual fights or otherwise copyrighted content, all the content you'll see is 100% legal to watch. You have the assurance that you're not breaking any law.
Two useless levels of one-item menus
No matter how much we try, we couldn't figure why there are two levels of one-item menus before we get to the actual content. Why not directly list the available playlists as the main menu?
No search function
Without a search function, finding specific content is more complicated. This is somewhat alleviated by the chronological order of the playlists, though.
Some items marked as Private Video
Most playlists have at least some items that show up as Private Video and won't play. One playlist had only Private video content.
YouTube Quotas
This add-on uses the YouTube API and, therefore, falls victim of YouTube Quotas. When trying to access some content in the evening, you're often presented with a message that the quota has been exceeded and will be reset at midnight, USA Pacific time. When this happens, there is no way you can watch content.
Other add-ons to consider for MMA fans
If you're a hard-core MMA fan, perhaps you were disappointed with the MMA Streams add-on for Kodi. After all, it doesn't even have actual fights. We've rounded up a couple of other add-ons we thought you might find interesting. Planet MMA is possibly the most popular of all third-party MMA add-ons while the UFC Fight Pass add-on will let you view official UFC content right from within Kodi.
And for even more suggestions, read our recent article: Watch UFC Replays on Kodi: Best UFC and MMA Add-ons for Kodi.
Planet MMA
Formerly known as UFC Finest, the Planet MMA add-on for Kodi is possibly the biggest MMA add-on available. And it definitely is the one with the most sources. Developed by DetectiveKodi it is frequently updated with all the best and latest UFC and MMA content. And to make things even better, most of the add-on's content is of the highest quality. Among the most popular content you'll find in Planet MMA, we can mention Fights Spotlight, Fighters Collection, The Pioneers of MMA, MMA Movies, UFC Report, and Ultimate Fighter.
MMA fans will particularly love the Past Events section in Planet MMA. This is where they can find links to past UFC events they might have missed. There is also a Live Events section which offers streams of live fights whenever possible. MMA Planet is by far the most reliable source for both current, live and archived UFC content.
Our recent article about the best MMA add-ons for Kodi includes detailed instructions on how to install the Planet MMA add-on.
UFC Fight Pass
If you're a true MMA fan, why not try the "real thing"? The UFC Fight Pass add-on for Kodi uses your subscription to the UFC Fight Pass streaming service and allows you to watch UFC content straight from within Kodi.
Installing the UFC Fight Pass add-on is a bit complicated. It seems to only be available from the Portse repository which can only be installed by downloading its zip file from GitHub at https://github.com/portse/plugin.repo.portse/archive/master.zip. The detailed installation procedure is beyond the scope of this article but a quick search on the net will let you find all the information you need.
The UFC Fight Pass is a paid subscription service but the cost, at less than 10 dollars per month, is more than reasonable. And if you're a true MMA fan, chances are you'll even find it dirt cheap. And it is if you compare the cost with what cable TV suppliers charge for just one night of fights, you might find it quite affordable.
Conclusion
Although the MMA Streams add-on for Kodi has some disappointing limitations, it still has a lot of content to please any MMA fan. It works well, the streams are of high quality and, by virtue of being YouTube streams, you can rest assured that you're only watching legal content and that you're not breaking laws.
And if you want more content, the Planet MMA takes on where the MMA streams add-on stops and lets you access tons of content that wouldn't be allowed on YouTube and are therefore absent from the MMA streams add-on. But if you want the real thing, the UFC Fight Pass add-on, combined with your Fight Pass subscription, will let you watch live events as well as catch up on fights you may have missed.
Are you a fan of Mixed Martial Arts? What is your favourite way to watch MMA content on Kodi? Did you try the MMA Streams add-on for Kodi? How was your experience using it or installing it? Also, what other add-on are you using for MMA content? Please, share your thoughts with us using the comments below.