We are reader supported and may earn a commission when you buy through links on our site.
Learn more
Neptune Rising Add-on for Kodi – A New Covenant Fork
The Neptune Rising Kodi add-on by developer Mr. Blamo offers a vast array of movies and TV shows from multiple sources. Although its exact lineage is not exactly clear, it is a descendant of the Poseidon and Covenant add-ons, themselves descendants of the old Exodus add-on. This famous ancestry is a sure sign that there must be some good code behind it.
The main difference is that Neptune Rising uses NaNScrapers to find sources rather than URLResolver. With the latter's future being kind of uncertain, this is a good move. Other than that, the add-on includes some new and unique playlists definitely worth checking out.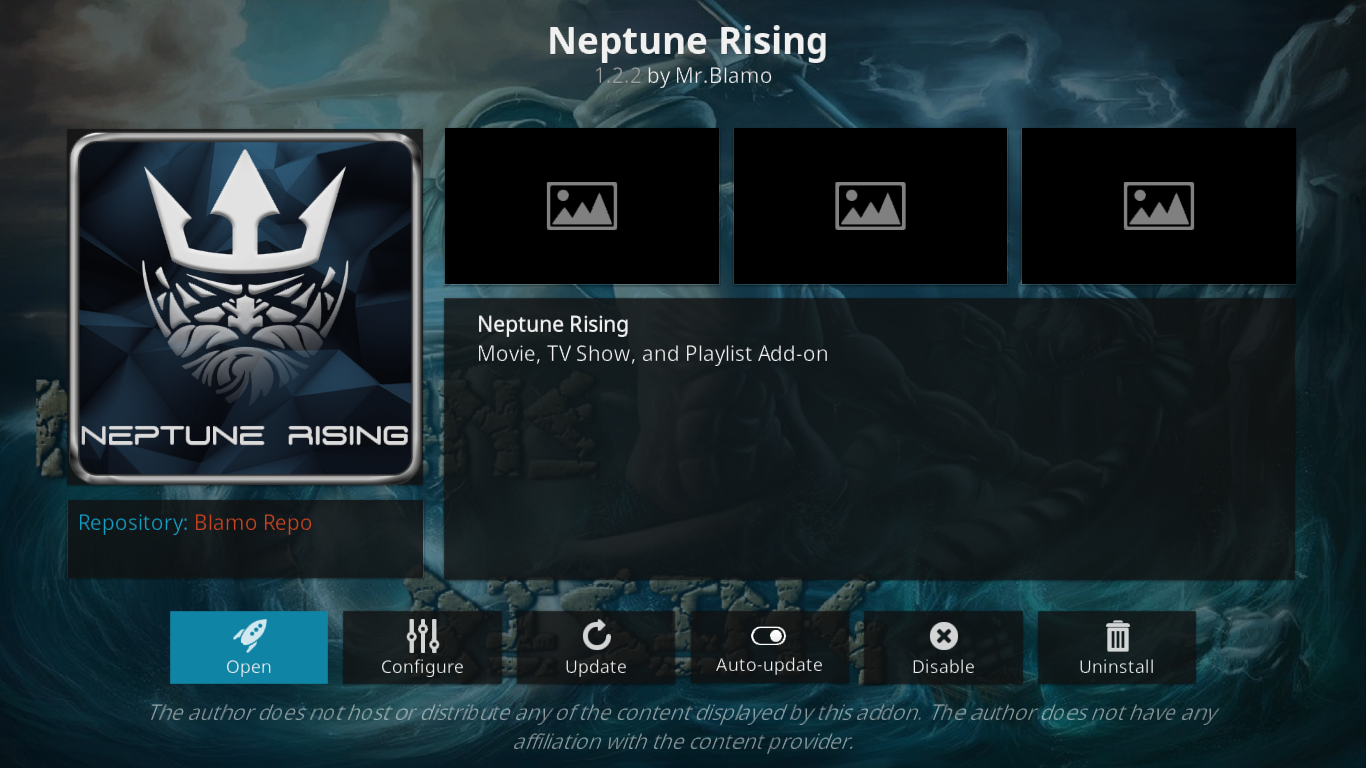 In this article, we show you step-by-step how to download and install this add-on. It installs from the Blamo repository, its developer's own. Once we have the add-on installed, we'll show you its main and best features. And finally, we'll also talk about the pros and the cons of the add-on
30-days money back guarantee
For the Best Privacy, Use a VPN While Using Kodi
Your Internet Service Provider may be monitoring your Internet activity to ensure you're not violating their terms and conditions. And if they suspect you are, they might react by throttling down your speed, sending you infringement notices or even interrupting your service. To protect yourself and avoid the scrutiny of an overzealous ISP, you should use a virtual private network. A VPN protects your privacy by encrypting the data using strong encryption algorithms that make it almost impossible to crack. Even your ISP won't be able to see what you're doing or what resource you're using. As an additional benefit, by choosing appropriately located servers, a VPN allows bypassing geographic restrictions.
With so many to choose from, choosing the best VPN supplier can be a daunting task. Among important factors to consider, a fast connection speed will reduce buffering, a no-logging policy will further protect your privacy, no usage restrictions will let you access any content at full speed and software for multiple devices will ensure it works with your equipment.
The VPN We Recommend for Kodi – IPVanish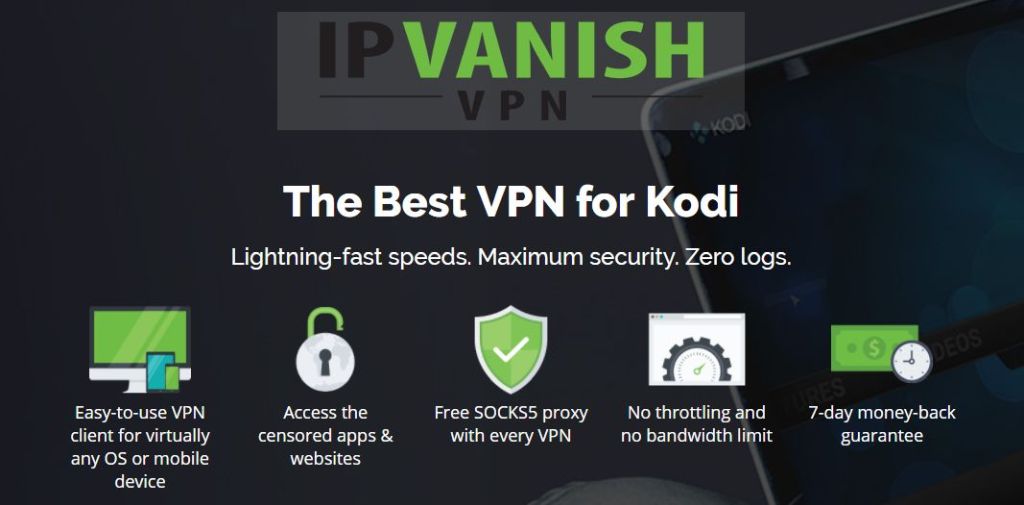 At Addictive Tips, We've tested several VPN against our criteria and the provider we recommend for Kodi users is IPVanish. With servers worldwide, no speed cap or throttling, unlimited bandwidth, unrestricted traffic, a strict no-logging policy and client software available for most platforms, IPVanish delivers impressive performance and great value.
IPVanish offers a 7-day money back guarantee which means you have a week to test it risk-free. Please note that Addictive Tips readers can save a massive 60% here on the IPVanish annual plan, taking the monthly price down to only $4.87/mo.
Installing the Neptune Rising Add-on
The Neptune Rising add-on is installed from the Blamo repository, we'll need to install it first. Like with most add-ons, we'll start by adding the installation source to the Kodi File Manager before we install the repository and finally the actual add-on.
Enabling Unknown Sources
Before we install any third-party add-on on Kodi, we first need to make sure to verify that Unknown Sources are enabled in Kodi. From the Kodi home screen, click the Settings Icon. It's the little gear at the top left of the screen.
Then, click System Setting. Click Add-ons if the left pane and make sure that the Unknown Sources option is enabled. The little switch at the right should be white. If it's not, click it to enable it.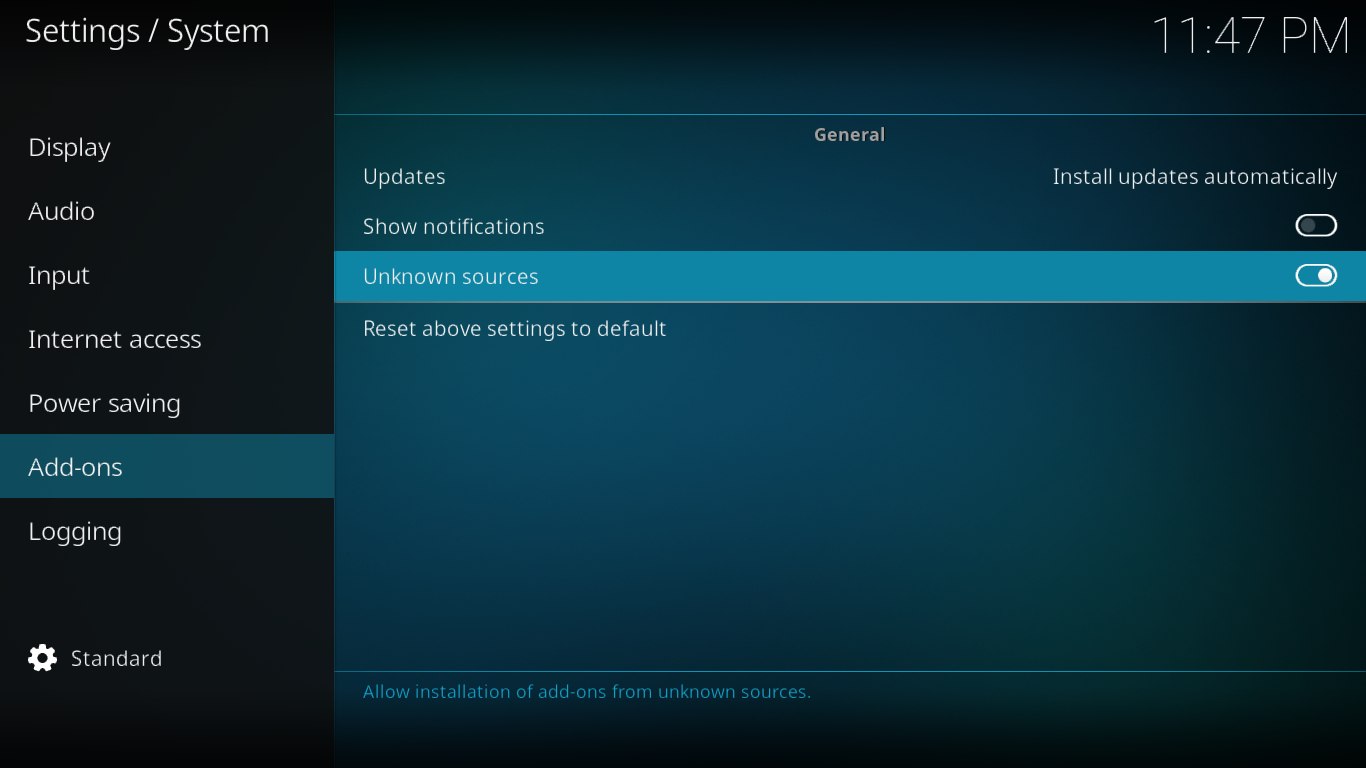 When you enable Unknown Sources, you need to acknowledge the warning that pops up by clicking Yes.
Adding the Blamo Repository Source Path
Back to the Kodi home screen, click the Settings Icon once more. Then, click File manager. From the File manager screen, double-click Add source in the left pane.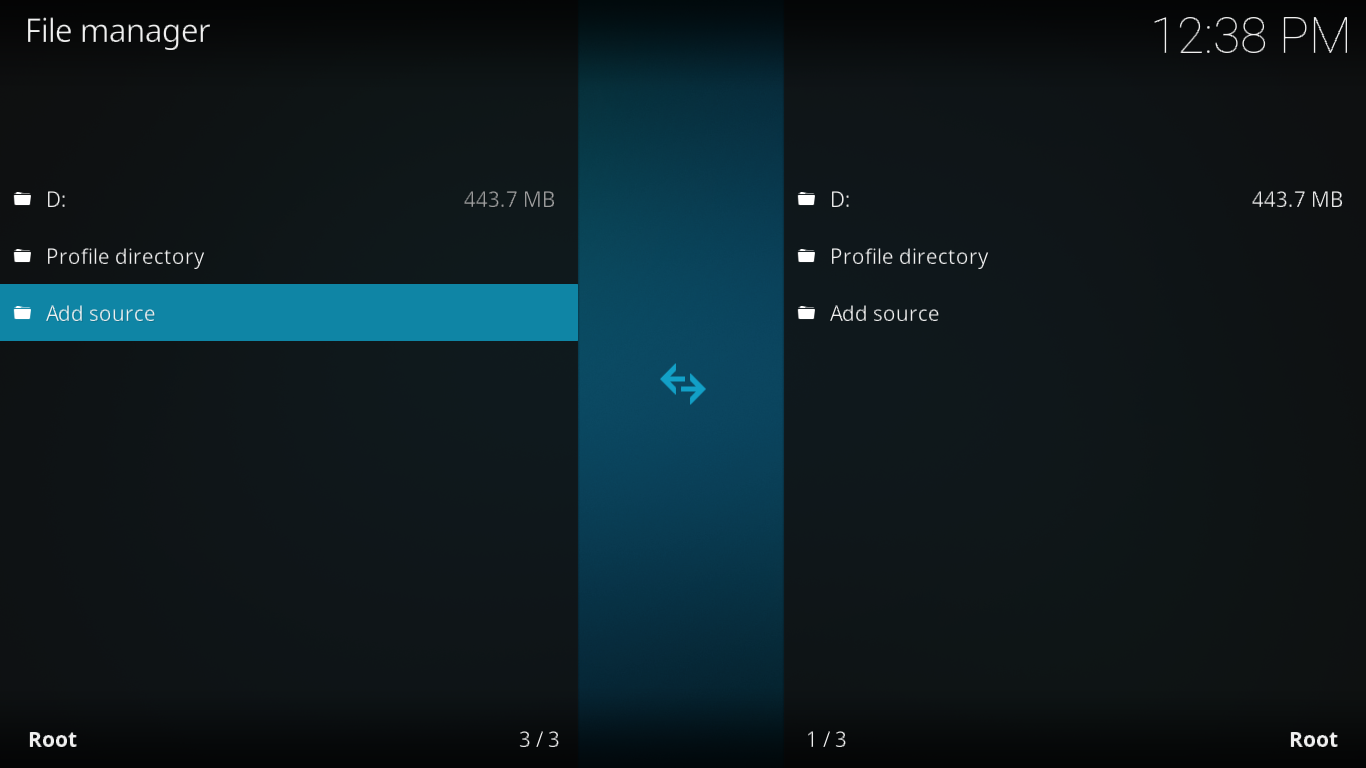 Click <None> in the Add file source screen that opens. In the next screen, enter this path exactly as shown: https://blamo.teverz.com/ and click OK.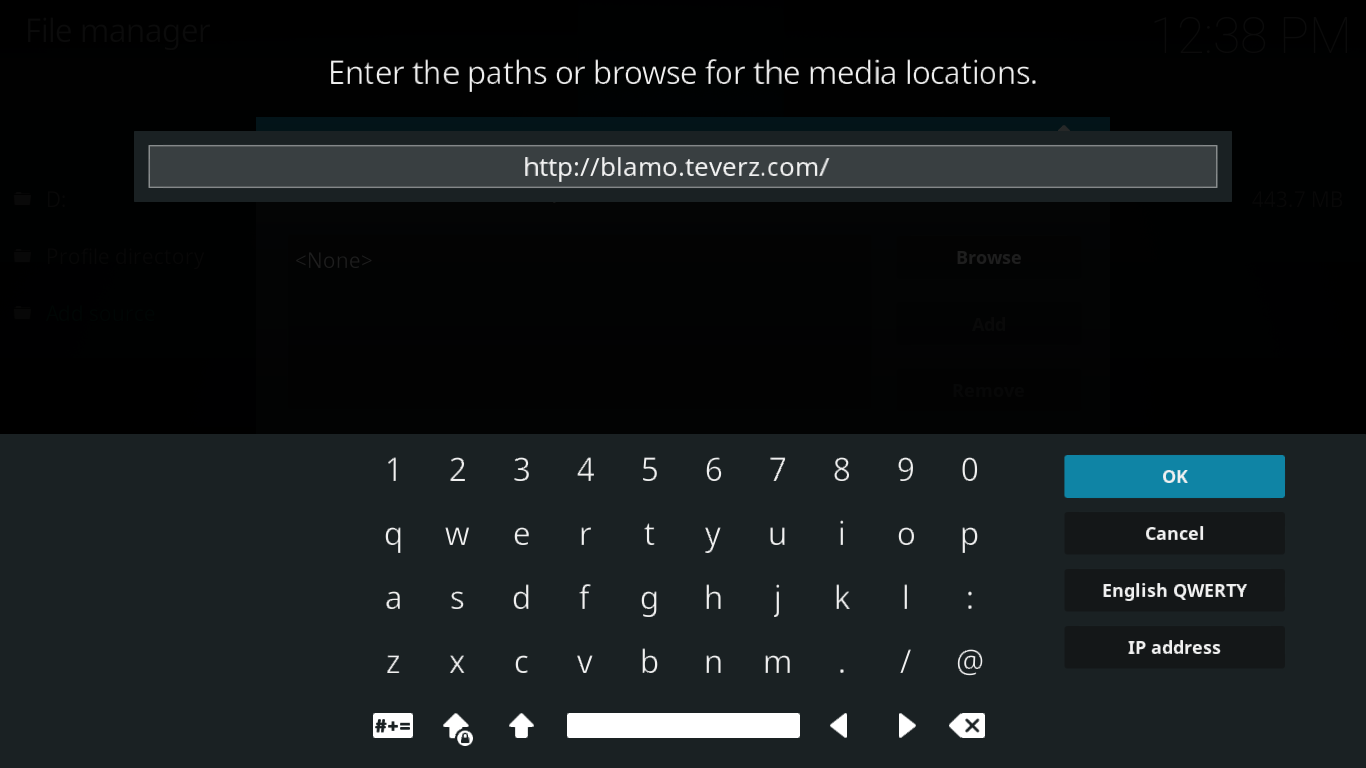 Back to the Add file source screen, click the field under "Enter a name for this media source"  and type in a name of your choice. Since this is the source for the Blamo repository, we named it Blamo. Make sure you remember the name you choose.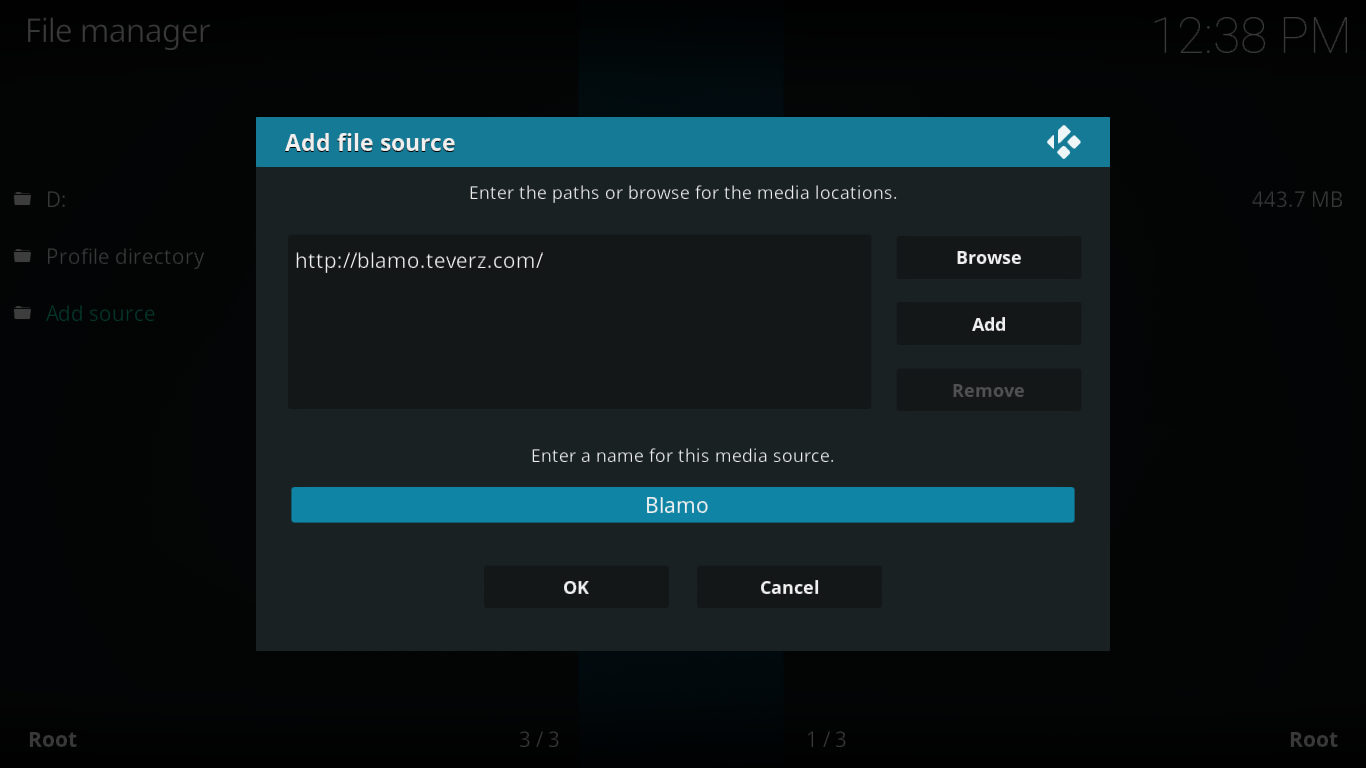 Installing the Blamo Repository
From the Kodi home screen, click Add-ons in the left pane and then click the Add-on browser icon at the top left of the screen. This one looks like an open box.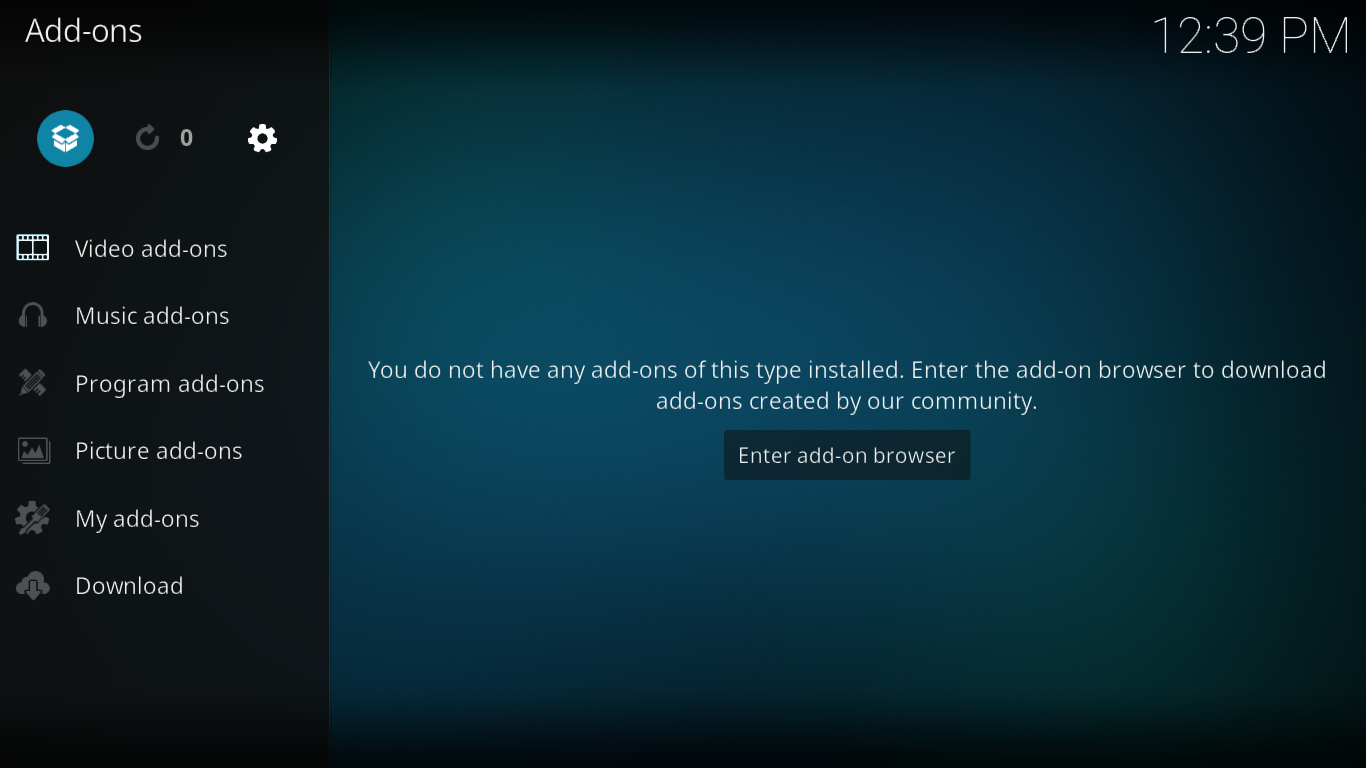 From the Add-on browser screen, click Install from zip file.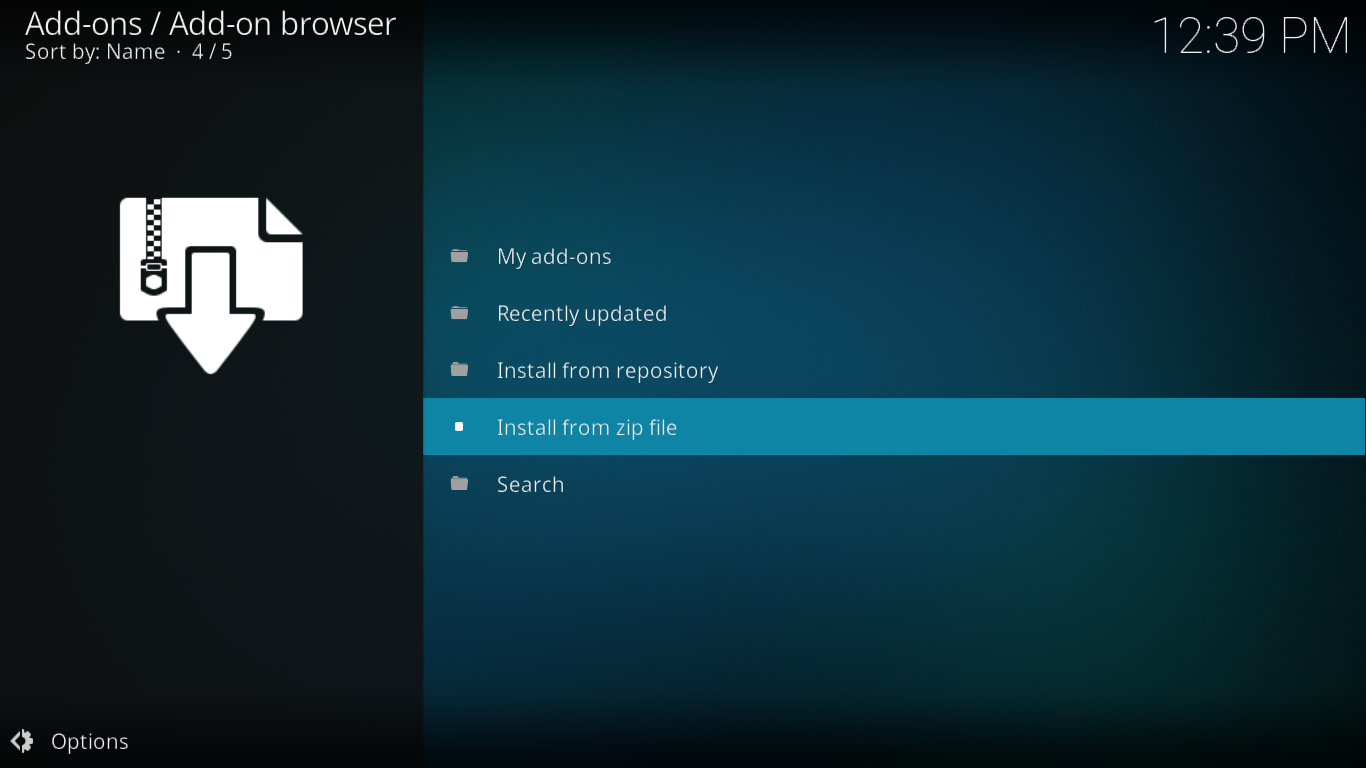 Click the Blamo source (or whatever name you gave it in the previous step).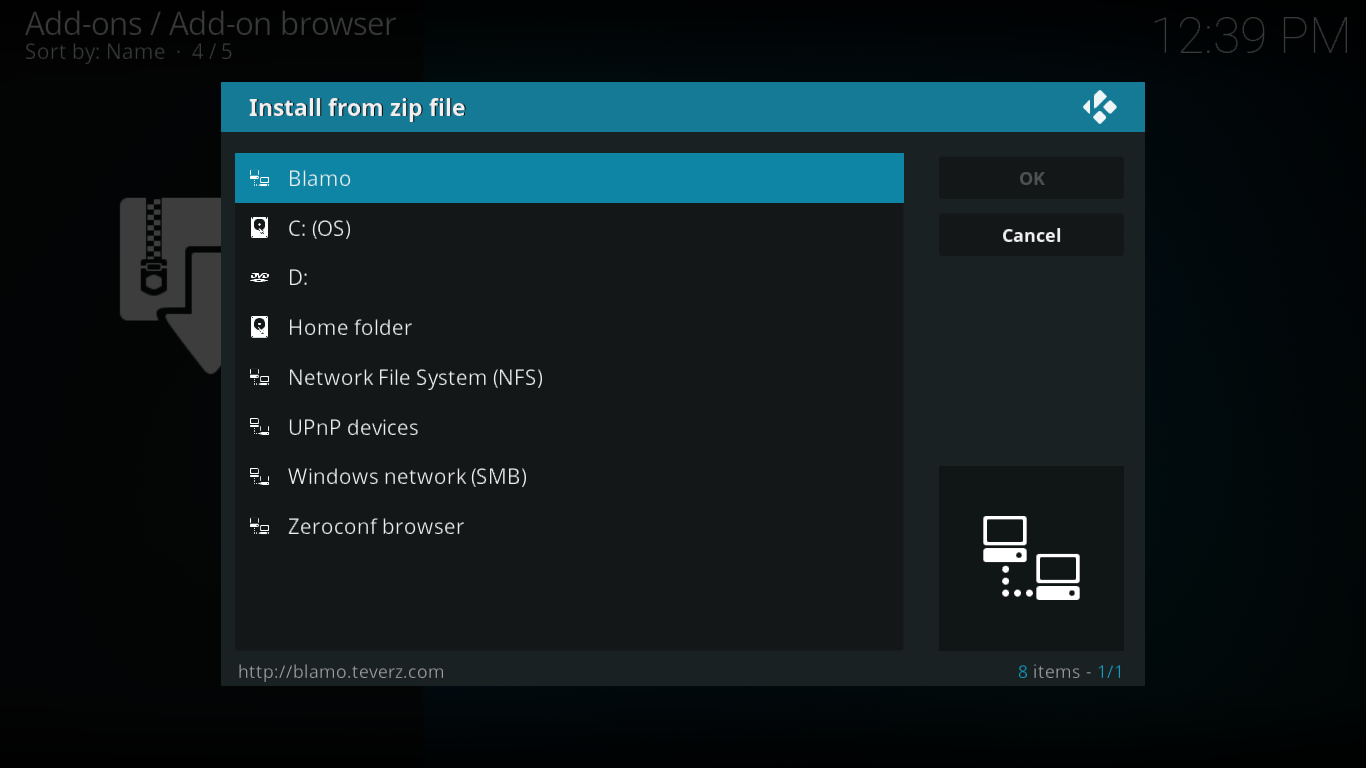 Click repository.blamo.zip to launch the repository installation.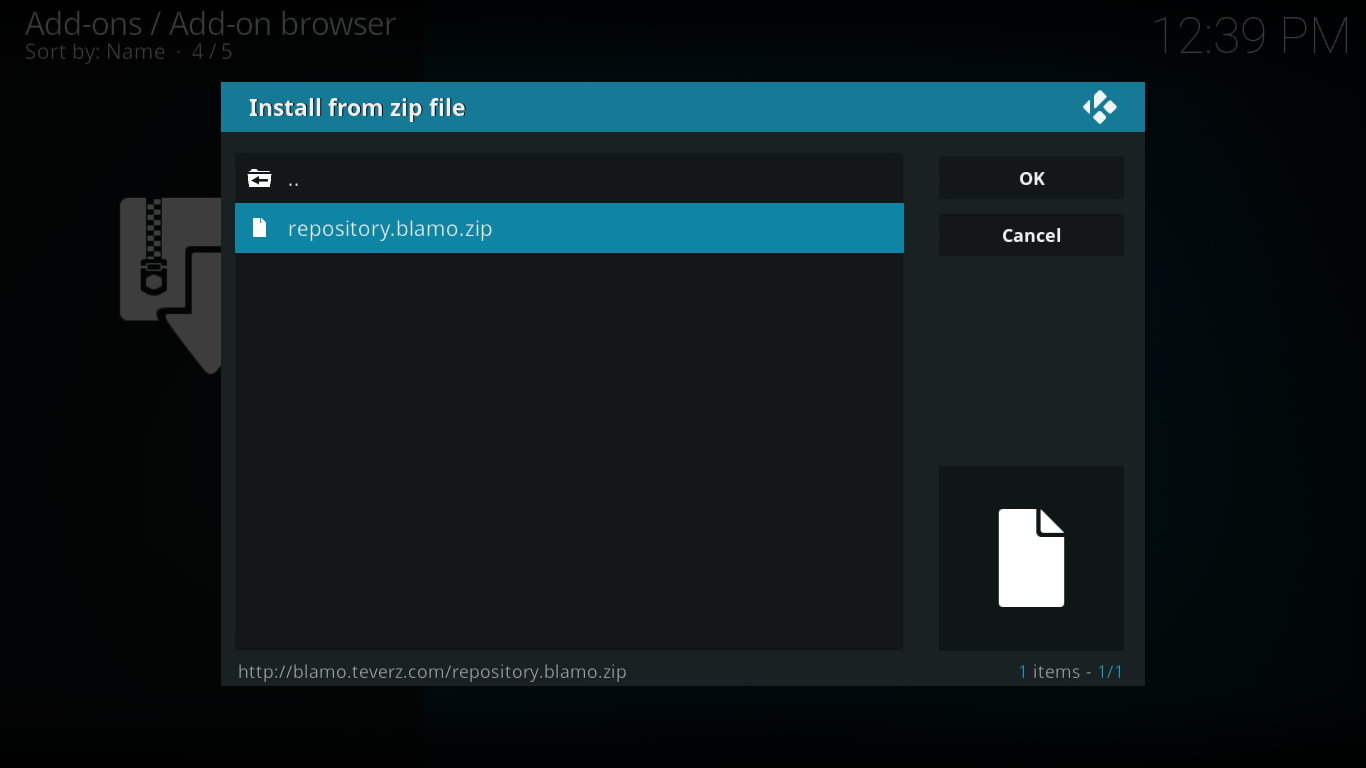 After a very short while, a message at the top right of the screen will confirm the installation.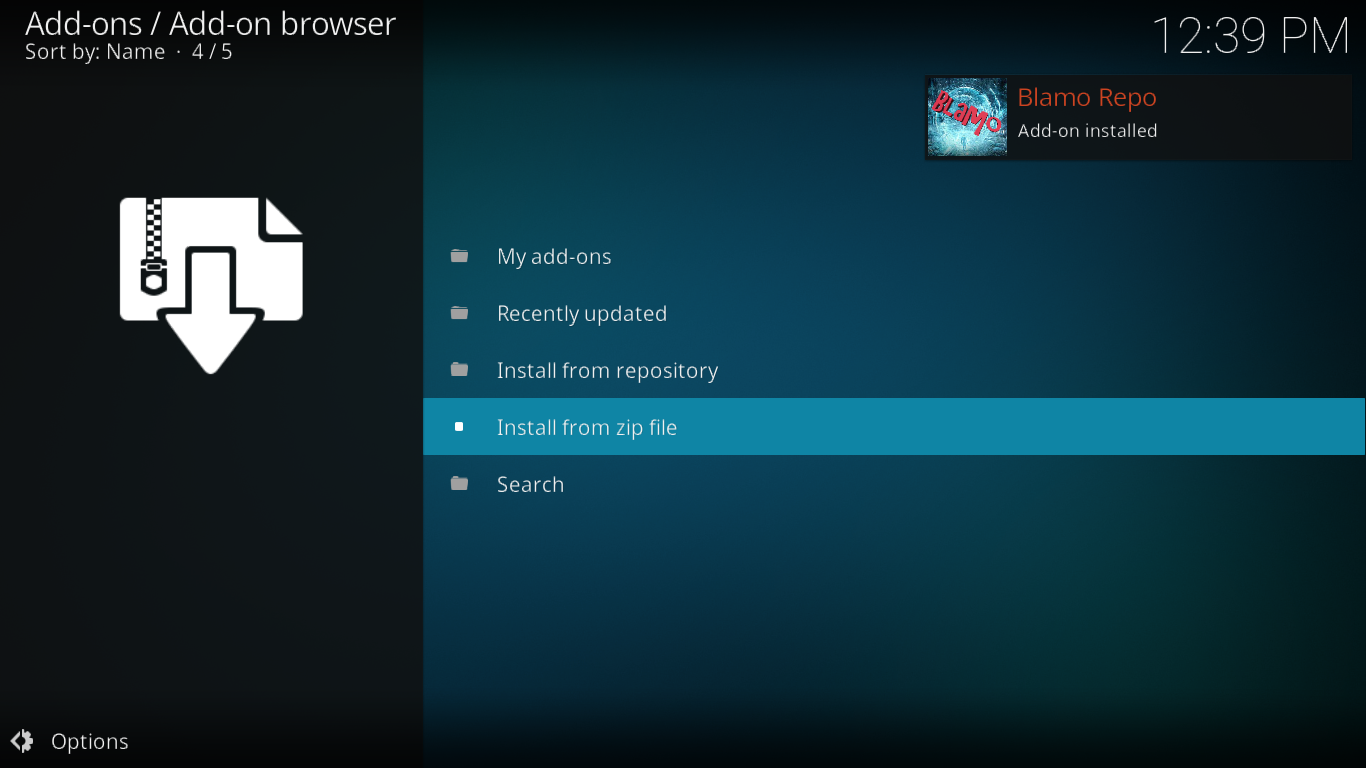 Installing the Neptune Rising Add-on
With all the preliminary steps behind us, we're ready to start installing the Neptune Rising add-on. You should still be on the Add-on browser screen. This time. click Install from repository.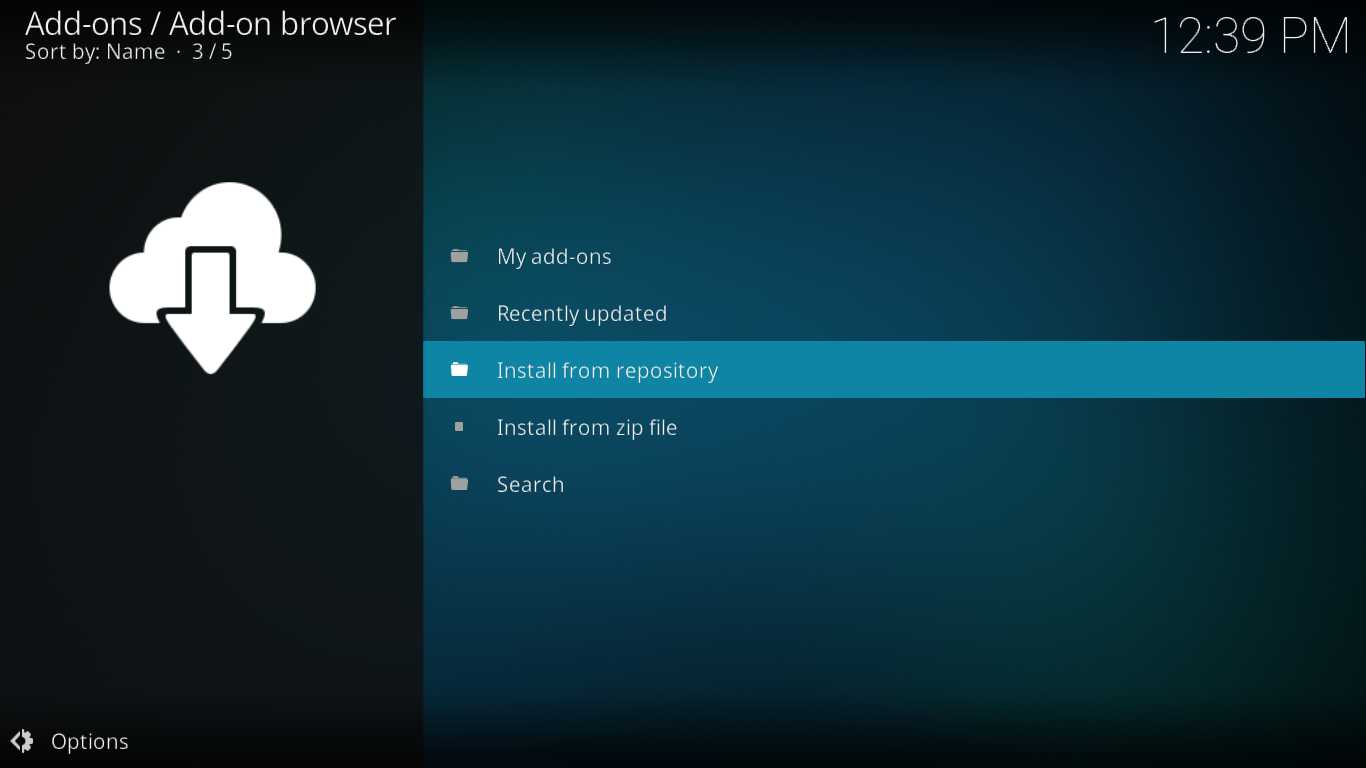 Click the Blamo Repo repository, then click Video add-ons and finally, click the Neptune Rising add-on.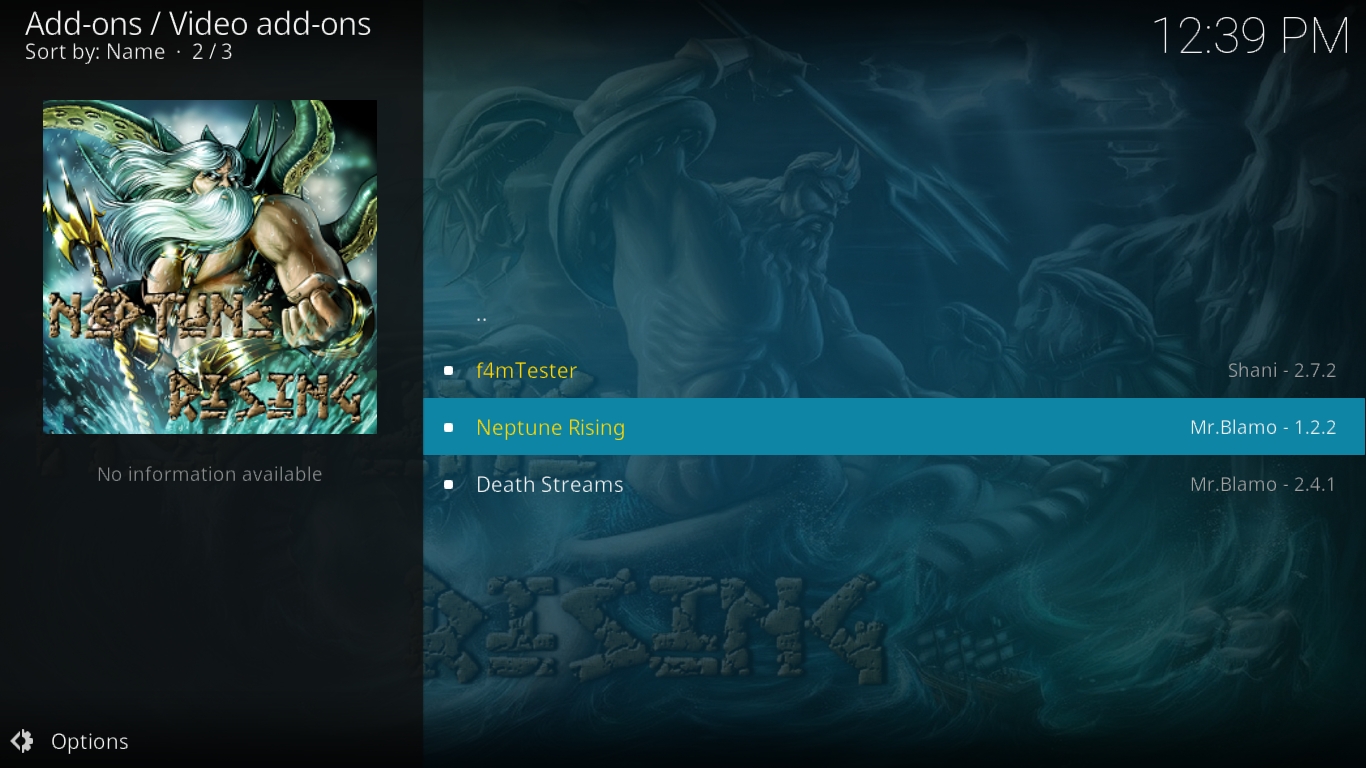 From the Neptune Rising information screen, click the Install button at the bottom right.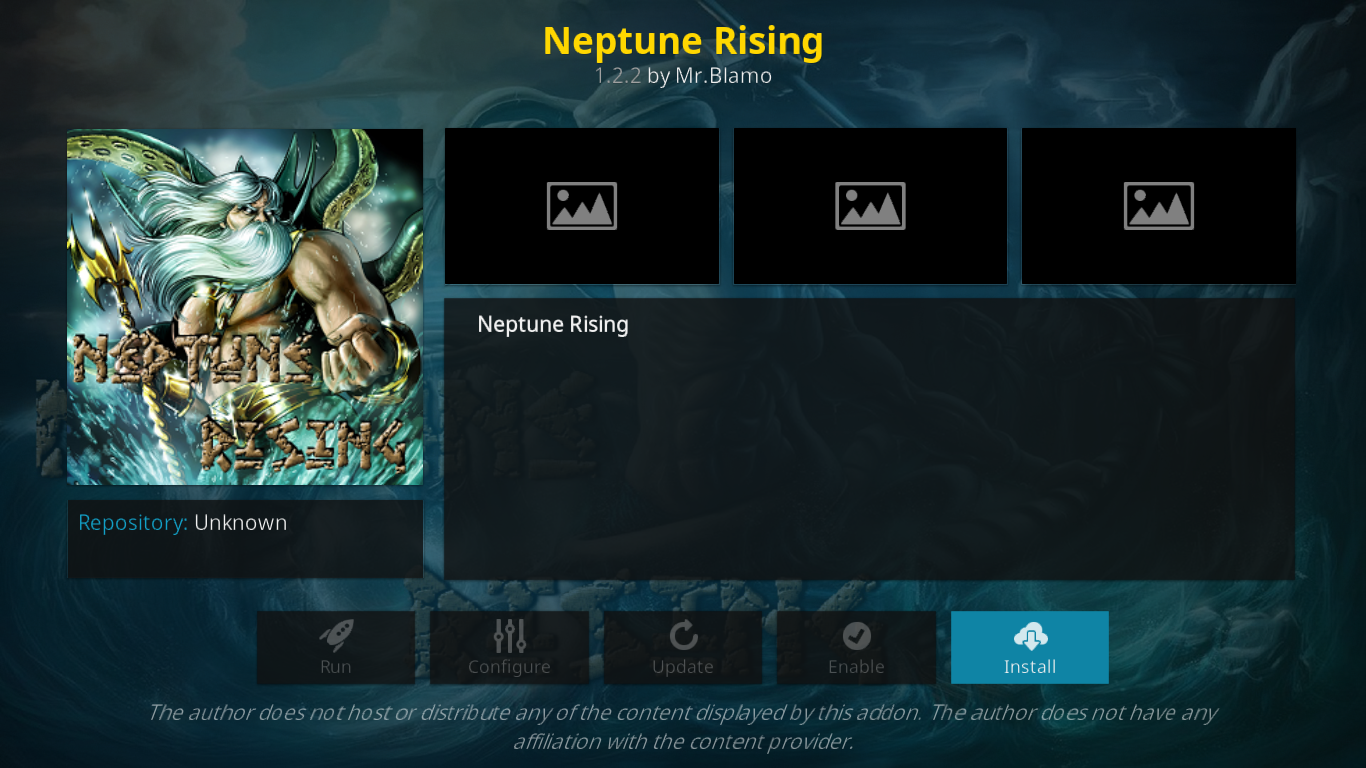 The add-on and all of its dependencies will be installed. Once everything is installed, a message at the top right of the screen will confirm the successful installation of the add-on.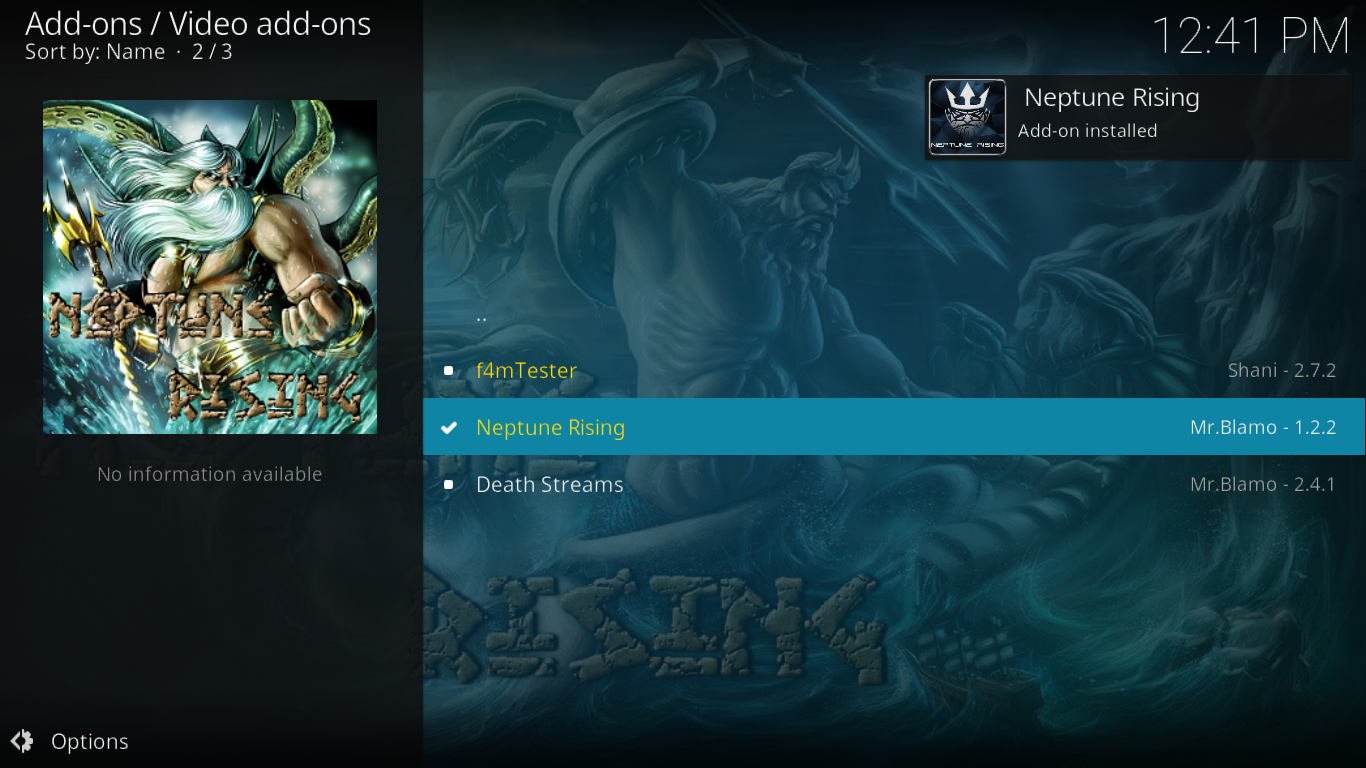 That's all there is to it. The Neptune Rising add-on is now ready to be discovered. This is what we'll do next.
A Tour of the Neptune Rising Add-on
The Neptune Rising add-on has a lot of content. And like most such add-ons, finding your way around it can sometimes be a challenge. We'll try to go over its menu structure and let you know where its best sections or features are located. Let's start from the start, the Neptune Rising main menu.
Neptune Rising's Main Menu
When you start the Neptune Rising add-on, you'll see its main menu. It is deceptively simple but don't let that fool you. Hidden within the depth of its submenus are playlist after playlist of interesting content.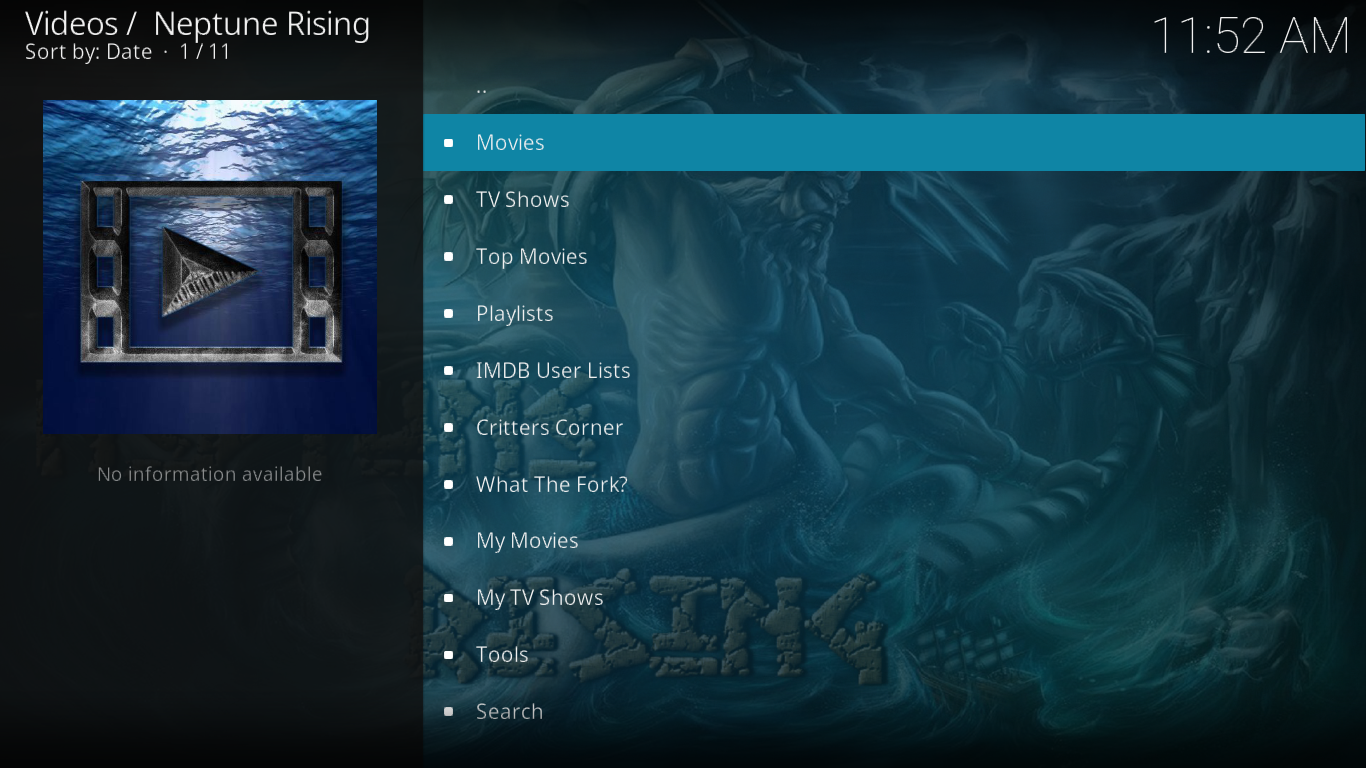 The Main Content Sections
The bulk of this add-on can be found in the first two sections, Movies and TV Shows.
Movies
Unsurprisingly, this is the section of the add-on where you'll find movies. The section proposes six different ways to look at what's available.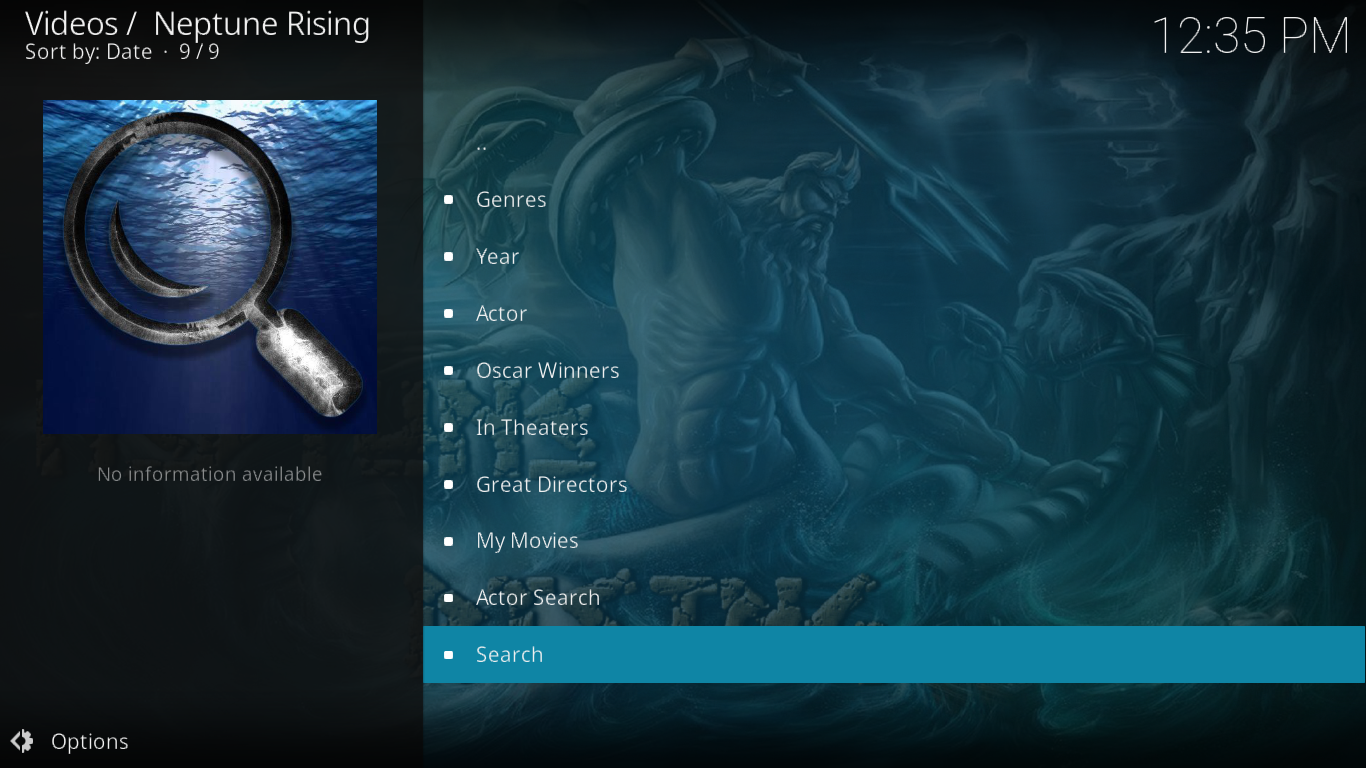 The Genre subsection groups available movies under no less than 22 different genres arranged alphabetically from Action to Western. It can be a great way to look for content of a specific genre.
Year groups movies by their release year, from 1901 to today.
Actor groups them by actor. This could be an interesting view but the list of 100 actors and actresses appears to be in random order. Finding a specific actor could prove to be a challenge. It is also unclear why some actors are on the list and others aren't.
The Oscar Winners section lists each year's best movie Oscar winner. It goes back to 1927.
In Theaters has a list of movies that are still showing in theaters. You possibly can't expect to find many sources for these, though.
The Great Directors list is somewhat like the actor's list but it has only nine entries: Spike Lee, Alfred Hitchcock, Clint Eastwood, Steven Spielberg, James Cameron, Quentin Tarantino, Mel Gibson, Ben Affleck, and Martin Scorsese. Again, we have no clue how the list of directors came to be.
The remaining three subsections are different. My Movies connects to your Trakt or IMDB account to display your own list of movies. Actor Search is a very good search engine that will return all the movies featuring an actor of your choice. The last selection, Search, is the add-on's primary search engine and it will search all movie titles for the word(s) you type in. This is very useful to find a specific movie, even if all you have is part of its title.
TV Shows
If you like TV shows, this is where you'll find the most interesting content. Just like the Movies sections, there are different ways to display the content. Four, to be precise.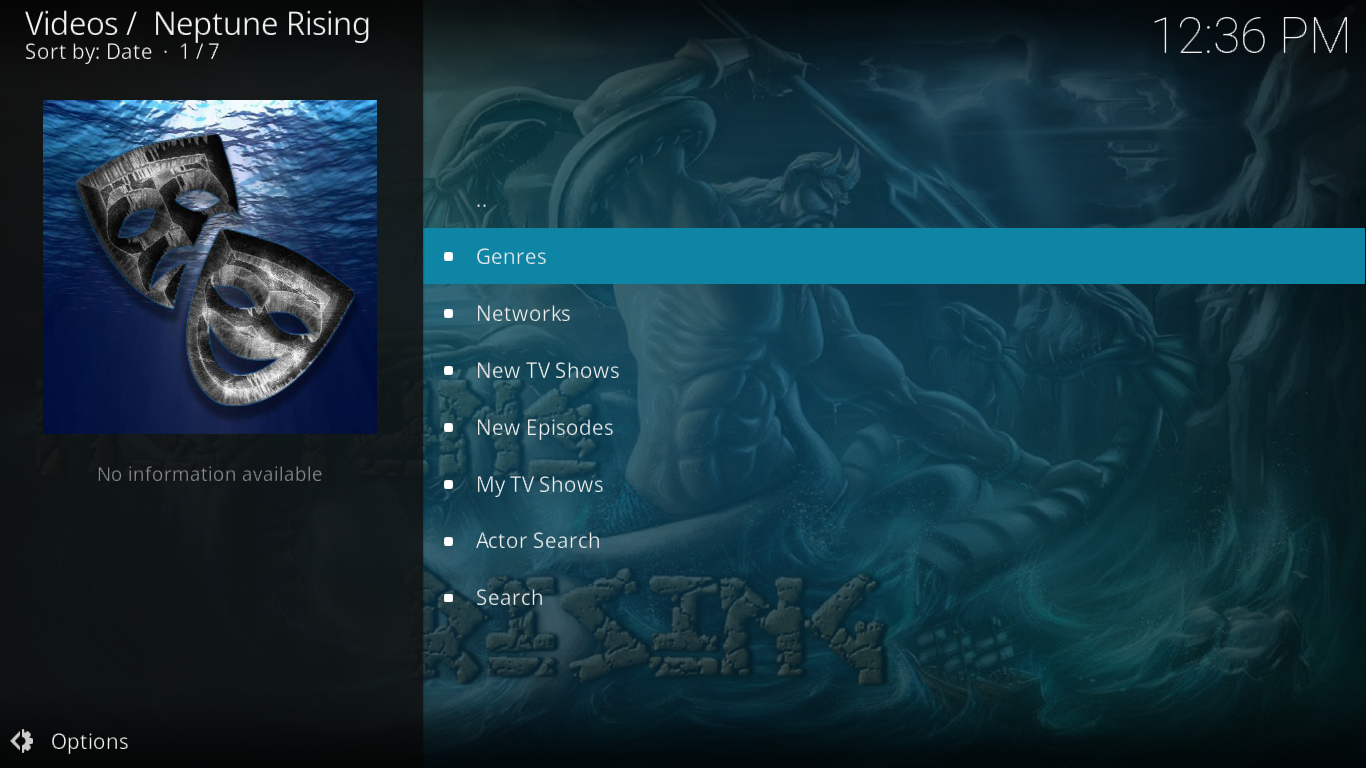 The Genre subsection it arranges shows by genre. It has three more genres than the movies section, for a total of 25.
Networks groups the different TV shows by the network on which they air. And you don't have only the major American networks. In all, there are 144 of them. Many international ones are there such as all the different BBC channels.
New TV Shows is all about shows in their first season. There's about 80 of them ranging from famous shows such as Marvel's the Punisher to more local shows like CTV's The Indian Detective.
New episodes is where you'll go to quickly find the latest episode of almost every TV show currently airing. It's in reverse chronological order with the more recent shows at the top of the list.
Like the Movies section, there are My TV Shows, Actor Search and Search. All three behave exactly like their Movies counterparts.
The Various Playlists Sections
The next five sections off the main menu are each like an add-on within the add-on. Each one proposes a certain number of themed playlists. At least, this is what you'd be led to believe but the truth is that a few of these sections don't work much, if at all. Perhaps this will change with time.
Top Movies
This section appears to offer 16 various playlists. Unfortunately, only one of them appears to be working, the IMDB Top 1000. It lists page after page of movies based on their IMBD rating with the best at the top.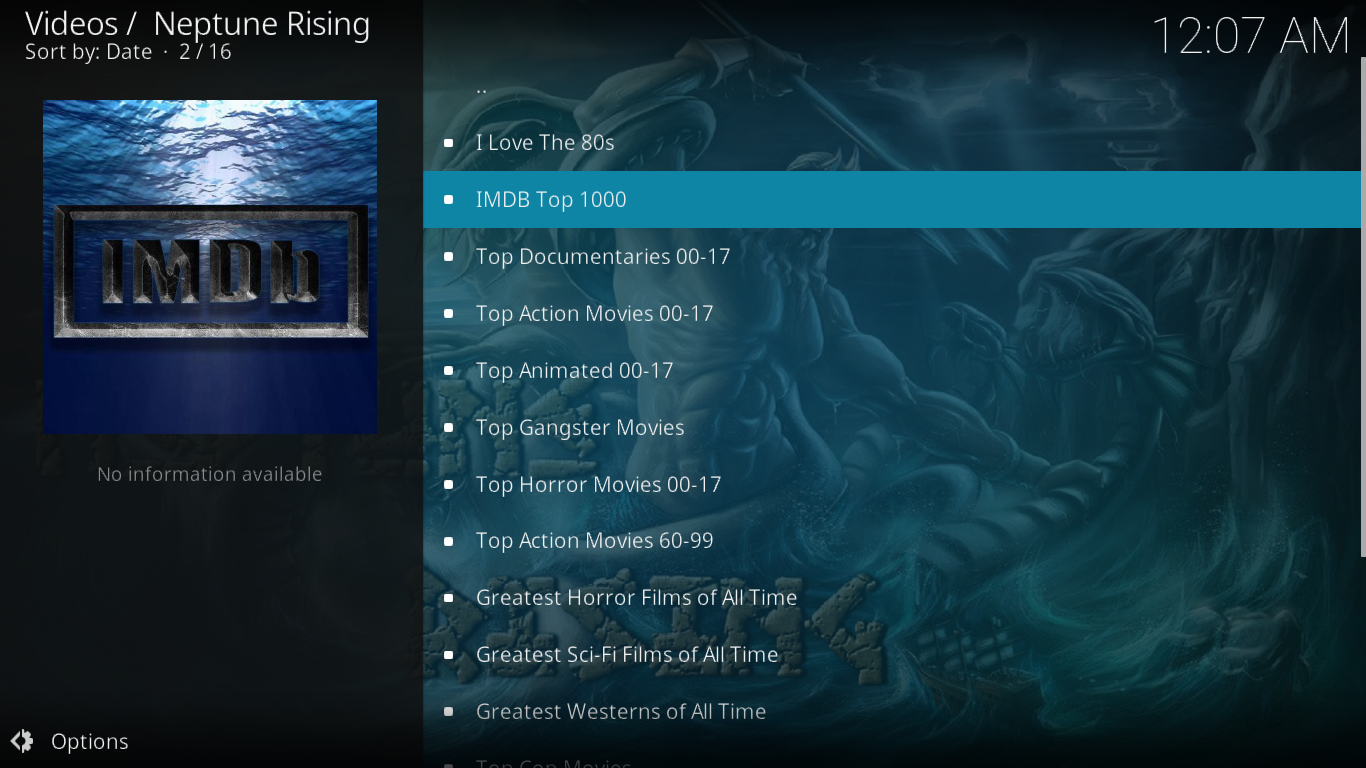 Playlists
Contrary to the previous section, most of the list this one offers work fine. A few don't but those that do are interesting. If you like epic movies, there's a list for that. If you prefer Kung Fu, it's there as well.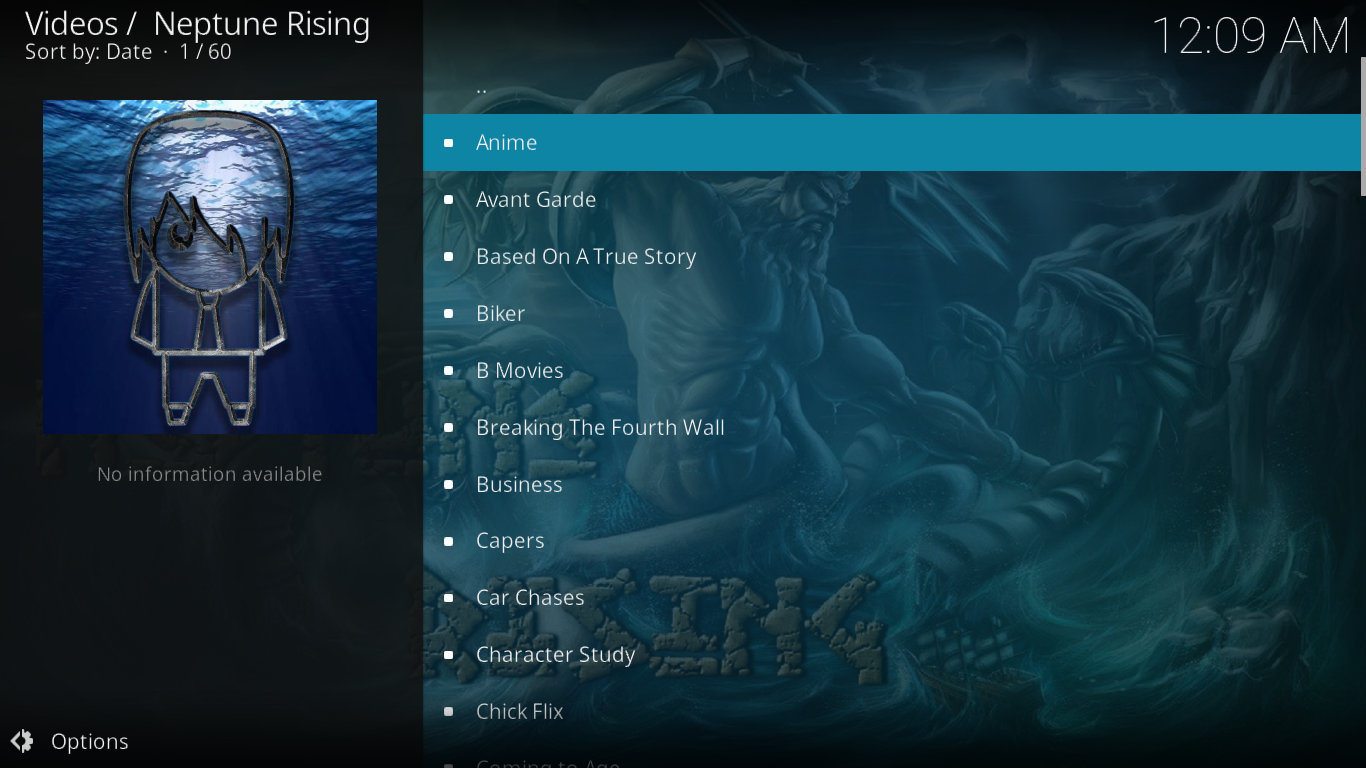 There's even a list for Chick Flicks, one for Road Movies ore one for Superheroes. Browse the 60 lists and chances are you'll find a category you love.
IMDB User List
This is another section that doesn't work at all. It proposes 54 different user's list but none return any content.
Critters Corner
Like it's predecessor, this one could look promising with almost 20 top 100 lists of various kinds but also like its predecessor, none of them work.
What The Fork?
The last of the playlists section, What The Fork? is possibly the most interesting. This one is not just a list of playlists but really an add-on on its own. It has two subsections, Movies and TV Shows.
Under both Movies and TV Shows, each section displays the content according to different criteria. For example, the Movies section has subheadings for Trending, Popular, Anticipated, Box Office and Movie Mosts, in addition to a Search function,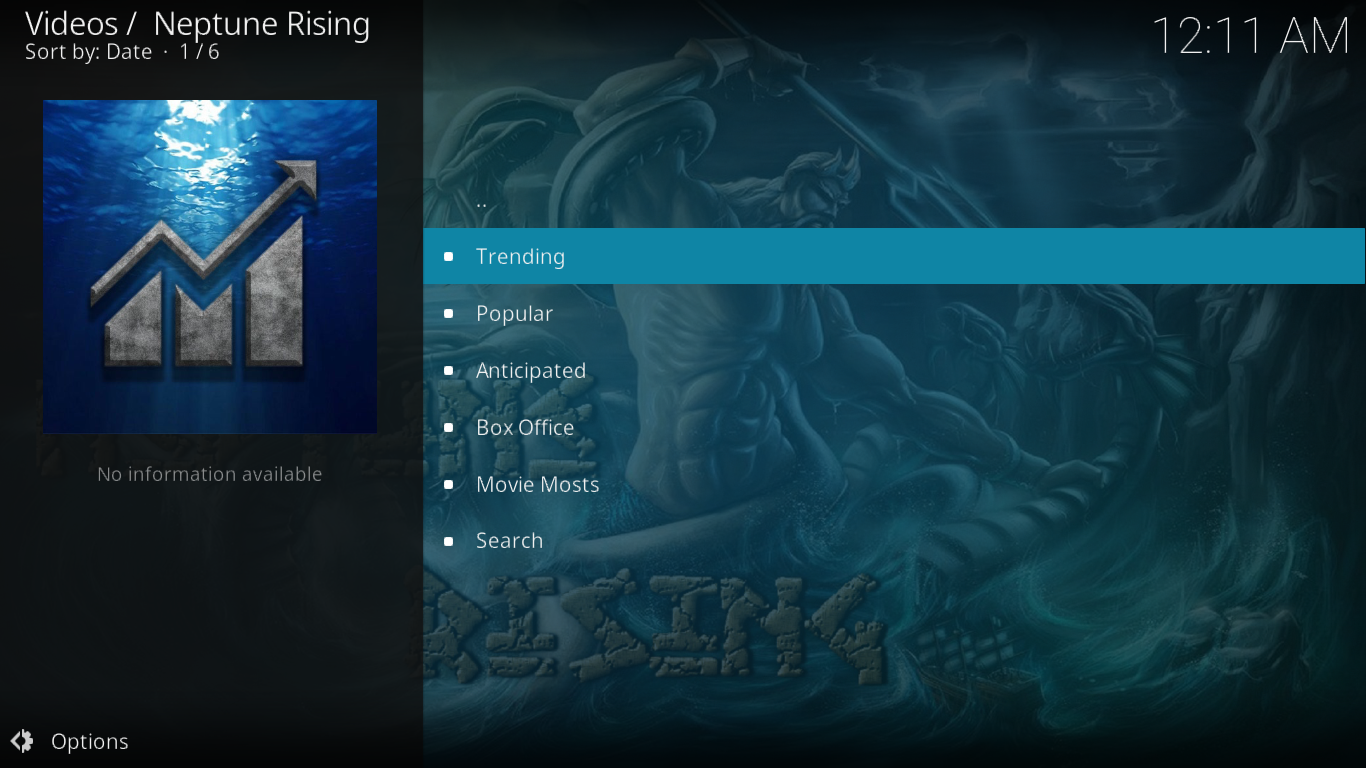 Most selections are pretty self-explanatory except perhaps Movie Mosts. Under this heading, you have access to the most played, most collected and most watched movies this week, month, year, or of all times. If you do the math, that's 12 different ways to sort movies. The difference between most played and most watched is not exactly clear, though.
The TV Shows subsection is very similar to the Movies section with a few differences. Like the other, it has Trending, Popular, and Anticipated. Box office wouldn't be relevant to TV shows so it is replaced with Show Premieres. Unfortunately, the inclusion criteria for this category is not exactly clear. It has only 18 selections and includes seemingly unrelated shows like Bad Guys, Father Brown or Beat Bobby Flay.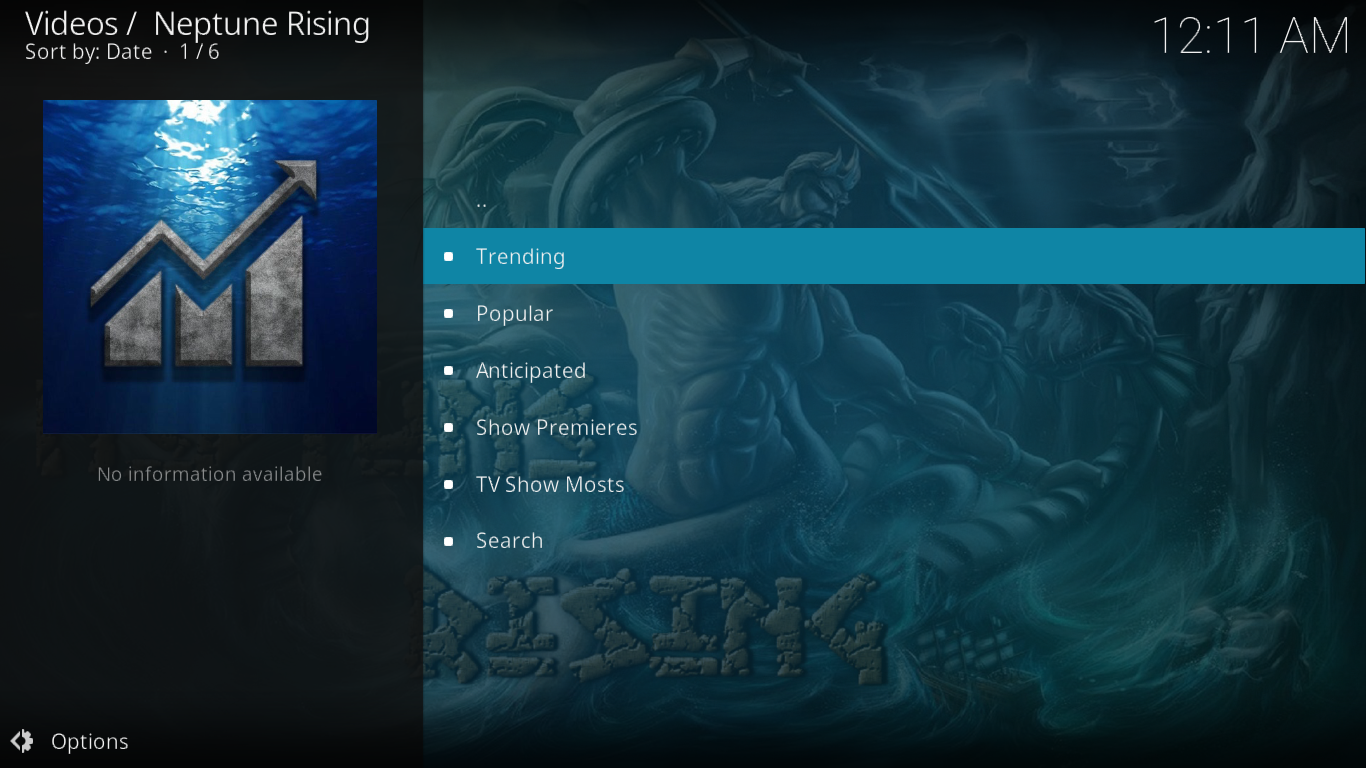 TV Show Mosts is functionally identical to its movies counterpart and so it the search function.
The "Utility" Sections
The last four selections from the main menu are what we refer to as the "utilities". The all offer some interesting additional features.
My Movies & My TV Shows
My Movies and My TV Shows are two sections that are linked to you Trakt or IMDB accounts. You can configure the Neptune Rising add-on to connect to either service–or both–using your credentials and pull personalized lists from them. This is what would be displayed under these headings. If it is of any interest to you, we'll show you how and where to configure that in the next section.
Tools
The Tools menu lets you access the add-on's settings. The settings are subdivided into ten different subcategories. Normally, you wouldn't have to modify any of these. Some settings adjust or fine-tune some parameters, other offer advanced options.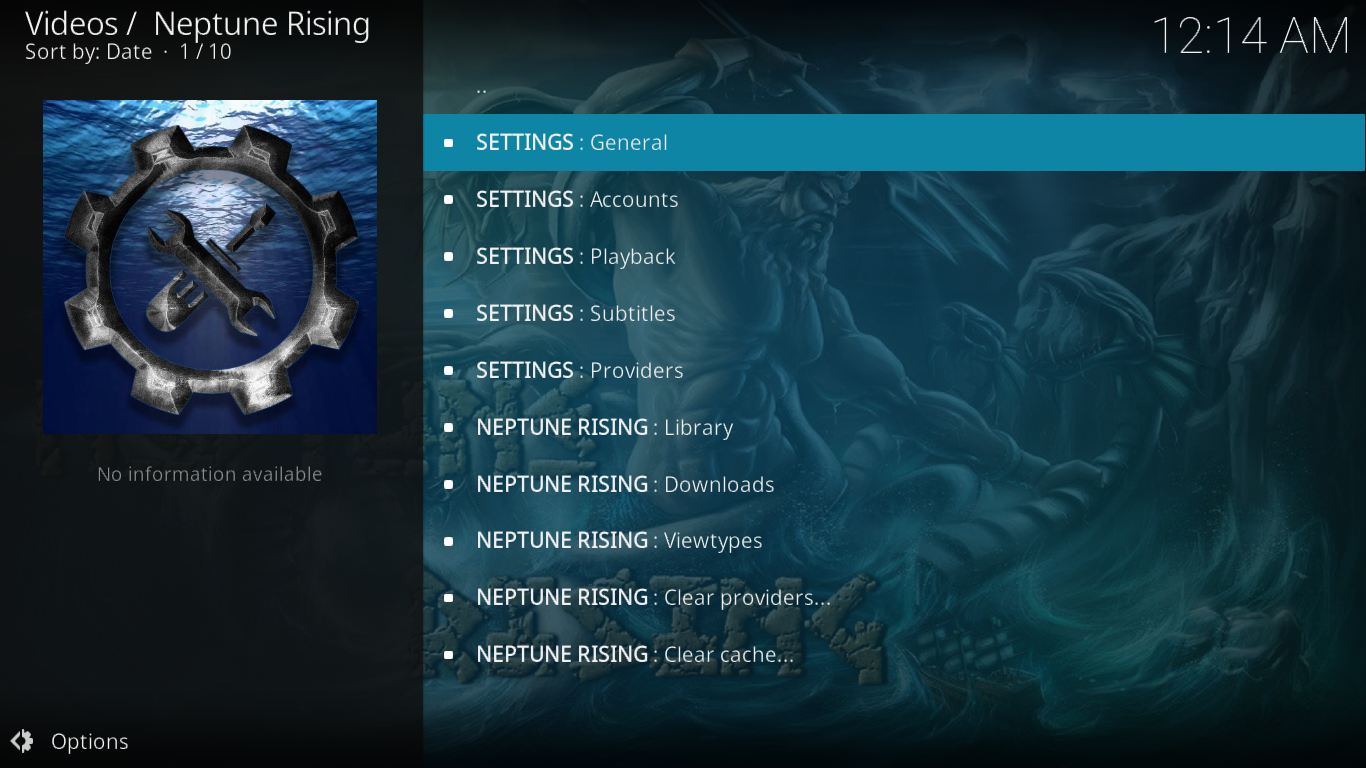 Of particular interest is the SETTINGS: Accounts section. This is where you'll want to go to connect the Neptune Rising add-on with your Trakt or IMBD accounts to take advantage of the My Movies and My TV Shows features.
Search
The Neptune Rising add-on's search engine lets you search movies or TV shows by title. You don't need to enter complete titles. It will find any title that contains the search term. For example, searching for "french" would return both French Kiss and The French Connection, among other titles that include the searched word.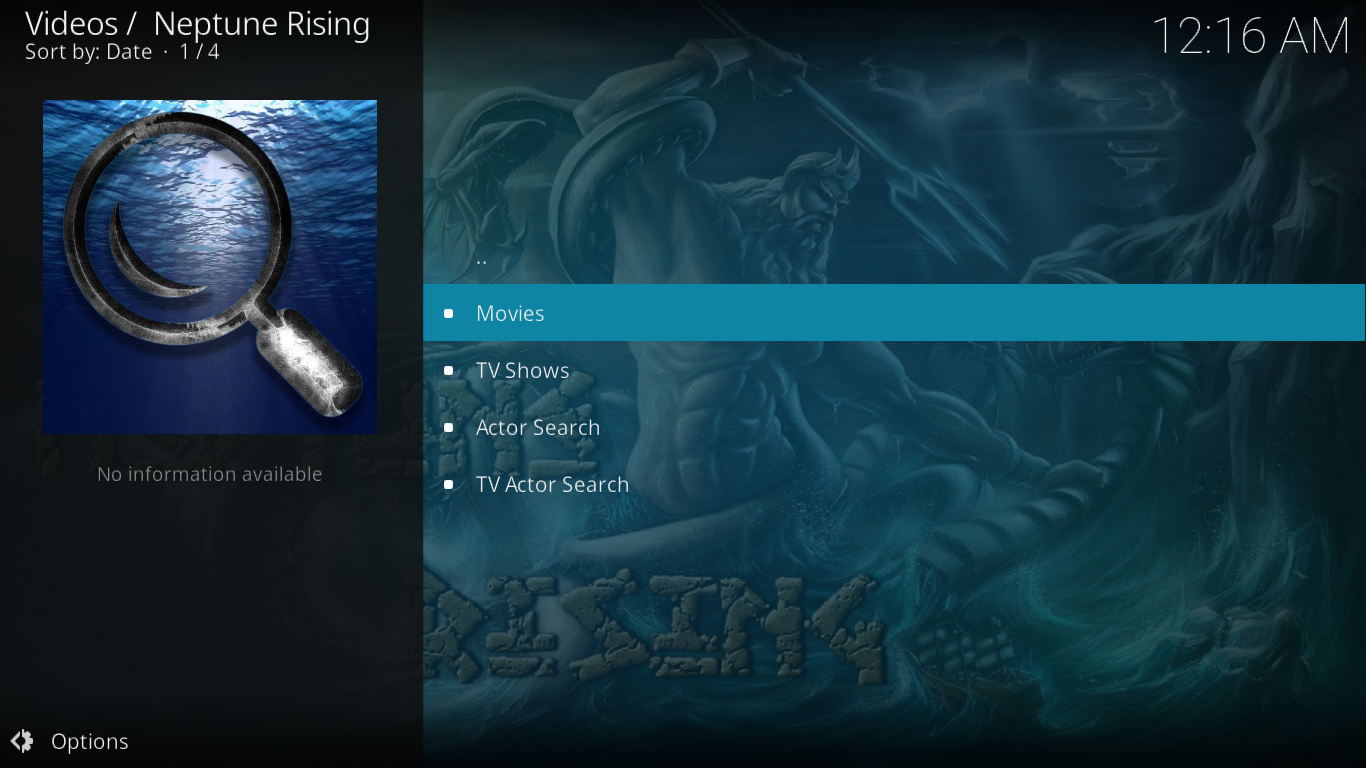 There are also the Actor Search and the TV Actor Search options which let you search for content featuring an actor or actress of our choice. All searches are quite fast, especially when you consider the size of the Neptune Rising add-on in terms of content.
Pros and Cons of Neptune Rising
There are a few things we love about the Neptune Rising add-on and one that we don't quite like.
Pros
The main thing this add-on has going for it is the breadth of its content. You don't only find recent or popular films or TV shows, you also find many titles from the past like TV Series Dragnet (both the 1951 and the 1967 versions) or independant movies.
With an add-on of that size, the presence of a well-working search engine is always welcome. It is the best way to find a specific movie or TV show. And the Actor search function makes it even more useful.
Another great feature of this add-on is the automatic selection of the next best source. Whenever a source is not available, the add-on will automatically try the next one, and the next one, and so on until it finds one that works. And since the sources are sorted in descending order of quality, that means you'll always get the best available source for any given title.
Cons
There's really only one important drawback with the Neptune Rising add-on and it is the presence of quite a few empty playlists. There are even a few whole sections of empty lists. But still, considering the quantity of great content that is available, it is certainly something most of us will agree to live with.
Conclusion
Overall, the Neptune Rising add-on has a lot to offer to fans of movies and TV shows alike. Despite a certain number of empty playlists, it is among the add-ons with the most content. Most of its playlists are self-explanatory and the inclusion of a search engine makes finding content easy. It is definitely an add-on we'd recommend to movie and TV fans.
Have you tried the Neptune Rising add-on? How was your experience? Did you encounter any issue? Please, share your opinion with us using the comments below.