We are reader supported and may earn a commission when you buy through links on our site.
Learn more
Noobsandnerds Kodi Add-on Repository – How to Install the Noobsandnerds Repo
Kodi is an incredibly powerful open-source media center app that gives you access to a world of entertainment. Add their software to your laptop, smartphone, or tablet, add your videos, then kick back and let the fun begin! Installing third-party add-ons gives Kodi even more versatility. You can watch live sports, TV shows, HD movies, on-demand cartoons, foreign content, and so much more. All easy to use, and all for free.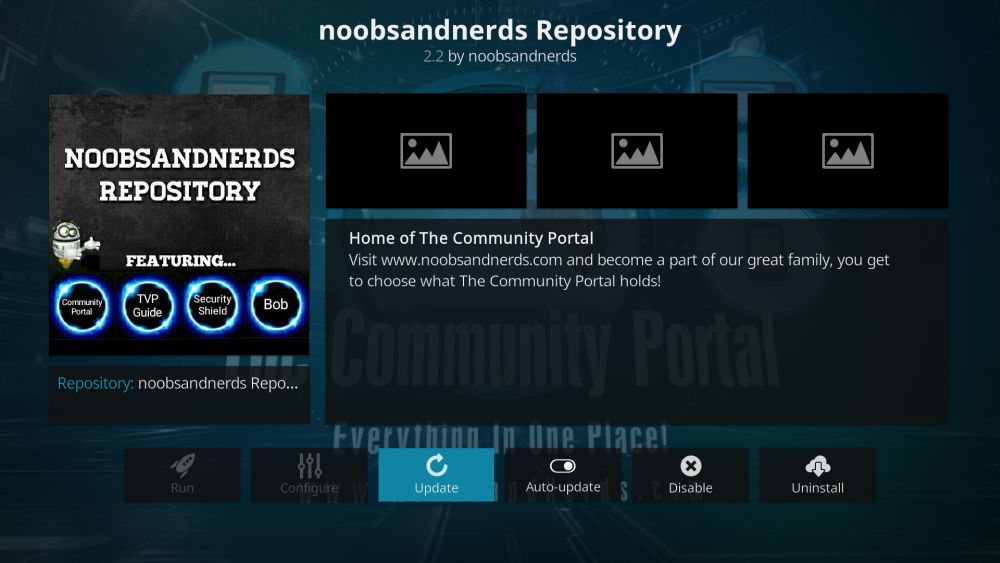 There are some drawbacks to using unofficial Kodi add-ons, however, the most frustrating of which is reliability. Most add-ons pull in content from dozens of external sources. Those sources can disappear overnight, creating broken links and dead content. If the developers don't stay on top of the situation their add-on quickly becomes useless.
Noobsandnerds is a Kodi add-on repository that bypasses this frustration by focusing on quality. You won't find thousands of video streams, but you also won't run into broken links or mislabeled content. With Noobsandnerds you're getting good shows, good movies, and good variety. It makes the Kodi streaming experience more enjoyable for the entire family.
30-days money back guarantee
Before Using Kodi, Get a Good VPN
Kodi is legal to use, it's free, and it's open-source. The third-party add-ons you install are also free to use, but they can bend the rules a little bit by linking to illegal sources. Providing access to this sort of content has brought negative attention to the Kodi ecosystem, especially from content creators and rights holders. Internet service providers (ISPs) have even started throttling Kodi downloads and sending out copyright infringement notices to its users!
Fortunately, there's an easy way to protect yourself while streaming online videos. Virtual private networks create a private, encrypted tunnel between your device and the internet. Everything you send out is wrapped in a layer of randomized code, making it unreadable to third parties, including your ISP. This ensures your speeds are never throttled and that no one knows what you're streaming or where it came from. It's the perfect way to stay anonymous and safe online, especially while using Kodi.
VPNs also give you access to a variety of other benefits, including:
Stream videos from other countries through Netflix, HBO Go, BBC iPlayer, and more.
Protect your personal data while traveling or using public Wi-Fi.
Stop websites and government agencies from tracking you.
Unblock censored websites and geo-restricted content.
Download all of Kodi's add-ons safely and securely.
How to Choose the Best VPN for Kodi
It's tough to pick the right VPN. There's a lot of information to research and compare, everything from encryption protocols to speed test results, software availability, and server network distribution. To help keep your attention focused in the right place, we've provided a recommendation to get you started. We made this selection based on the criteria listed below, ensuring you get the best VPN to use with Kodi for fast, uninterrupted, and anonymous streams.
Fast download speeds – When you're streaming HD movies, nothing is more important than speed. VPNs have a reputation for being slower than your average internet connection, so it's important to choose a VPN that puts a high priority on fast downloads.
Zero-logging policy – Privacy is crucial when using a VPN. Some services keep logs that store information like DNS requests IP addresses, making it possible for third parties to seize that data and put your privacy at risk. Always make sure your VPN has a strict zero-logging policy, otherwise you're not truly anonymous.
Bandwidth restrictions – Kodi streams eat up a lot of data. If your VPN puts a cap on how much you can download, you'll hit the limit before the month is out, guaranteed. Good quality VPNs never place restrictions on bandwidth or speed.
Allowed traffic – VPNs occasionally block certain types of traffic, especially P2P networks and torrents. Kodi's add-ons utilize both of these protocols for movie streams, so if your VPN doesn't allow them, you might be out of luck.
Software and app compatibility – Kodi runs on just about every modern device available, including tablets and smartphones. You'll need to run your VPN on the same hardware, so make sure there's an app available before you commit.
The Best VPN for Kodi: IPVanish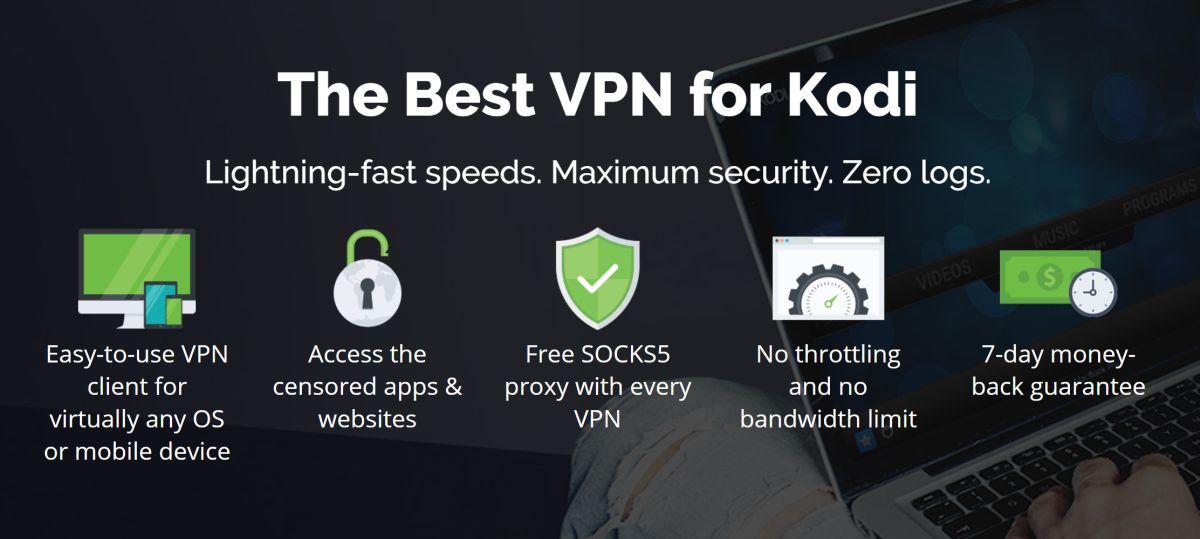 IPVanish stands out as the best VPN for Kodi thanks to its twin focus on speed and security. All of your data will be kept safe thanks to 256-bit AES encryption, protecting information with strong cryptography that would take a computer millions of years to crack. A zero-logging policy on all traffic keeps data from falling into the wrong hands, and both DNS leak protection and an automatic kill switch locks down your identity so it never slips through the cracks.
IPVanish has one of the largest networks in the VPN industry, over 850 servers in 60 different countries. This gives you plenty of options for low latency and fast speeds, and you'll always be able to find a server in the country you want. IPVanish also offers unlimited bandwidth and no restrictions on torrent or P2P network traffic, so you'll never run out of things to download or stream!
IPVanish includes the following features:
Lightweight apps designed for all modern operating systems, including Android and iOS smartphones.
Download torrents with full anonymity, preventing your ISP from sending out copyright infringement notices.
Incredibly fast servers for uninterrupted HD video streams through Kodi.
IPVanish offers a 7-day money back guarantee which means you have a week to test it risk-free. Please note that Addictive Tips readers can save a massive 60% here on the IPVanish annual plan, taking the monthly price down to only $4.87/mo.
How to Install Kodi Add-ons
Kodi add-ons are individual files that interface with the main Kodi software to provide added functionality. Add-ons are usually stored in repositories, large zip files that bundle together dozens or hundreds of add-ons. This makes it easier for creators to be discovered and more efficient for Kodi users to keep their favorite extensions up-to-date.
Kodi offers several methods of installing add-ons from repositories. We prefer the "external sources" method, as it keeps things much tidier in the long run. You'll need to change one of Kodi's internal settings before you can proceed. Follow the instructions below to get things started:
Open Kodi and click on the gear icon to enter the System menu
Go to System Settings > Add-ons
Toggle the slider next to the "Unknown sources" option
Accept the warning message that pops up
With the right settings in place, Kodi can handle the downloading and installation process for you. First you'll need to find a repository source URL and add that to Kodi. Next, install the repository, then dig inside and find the individual add-ons you're interested in using. It sounds like a lot of extra steps, but once you get the hang of it you'll be installing repos left and right. Our guide below walks you through the entire process from beginning to end.
Note: The Noobsandnerds repository features dozens of links to constantly changing external sources, making it difficult to verify the integrity and legality of each one. Addictive Tips does not condone or encourage any violation of copyright restrictions. Please consider the law, victims, and risks of piracy before accessing copyrighted material without permission.
Noobsandnerds – High-quality Entertainment
The Noobsandnerds repository aims for quality above quantity. It includes a limited selection of video add-ons (only about 60 in all) which pales in comparison to some of the gigantic repositories out there. The relatively small number allows the team to keep a close eye on the featured content, however. Add-ons within the repository are always up-to-date, and it's extremely rare to encounter dead links or broken streams. Usability and reliability are extremely high for Noobsandnerds, which is why it's a favorite repo for thousands of Kodi users.
The numbers may be small, but Noobsandnerds offers a fantastic variety of content. Below are a few highlights:
Elysium – One of the top add-ons for movies, TV shows, live channels, and HD content. Noobsandnerds is one of the best resources to install Elysium from, as it always has the latest version ready to go.
Cartoons – Who doesn't like cartoons? Nobody, that's who. Noobsandnerds has several cartoon channels that offer modern and classic animated TV shows and films.
Kid's Content – Along with a few cartoon channels listed above, Noobsandnerds also includes add-ons for Disney Junior shows as well as educational content designed for children.
Free Video Lectures – A collection of tutorials, courses, and lectures from colleges and universities around the world. There's also a healthy selection of documentaries to watch. Why not use Kodi to learn something useful?
Sports Replays – Get highlights and replays from popular sports, including soccer, football, baseball, and more.
Programs and Tools – Noobsandnerds comes with a handful of add-on tools that help make your Kodi experience a little smoother. Clean up caches, get rid of old repositories, download and manage add-ons, or make a backup of your entire installation for safe keeping.
How to Install Noobsandnerds on Kodi
Noobsandnerds is an excellent collection of high-quality add-ons. To gain access to each one, you'll need to install the repository on your version of Kodi. Follow the guide below and you'll have things up and running in no time.
Open Kodi on your local device
Click on the gear icon to enter the System menu
Go to File Manager > Add Source (you may need to click the double-dot to move to the top of the directory)
Type in the following URL exactly as it appears: https://nan.aftermathwizard.net/nanrepo/
Name the new repository "Noobsandnerds"
Click "OK"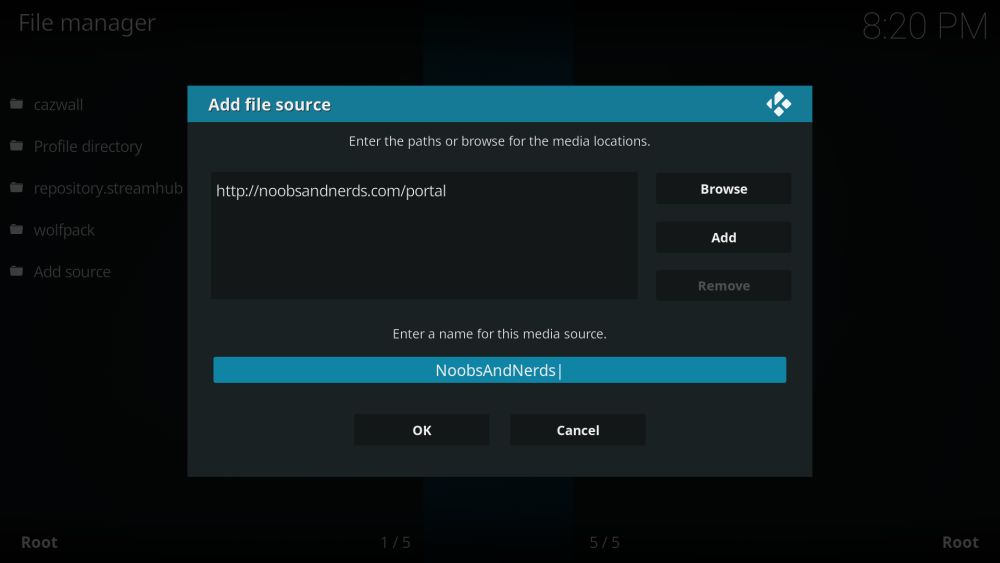 Go back to the Kodi main menu
Select "Add-ons"
Click the open box icon at the top of the menu bar
Choose "Install from Zip File"
Select "Noobsandnerds"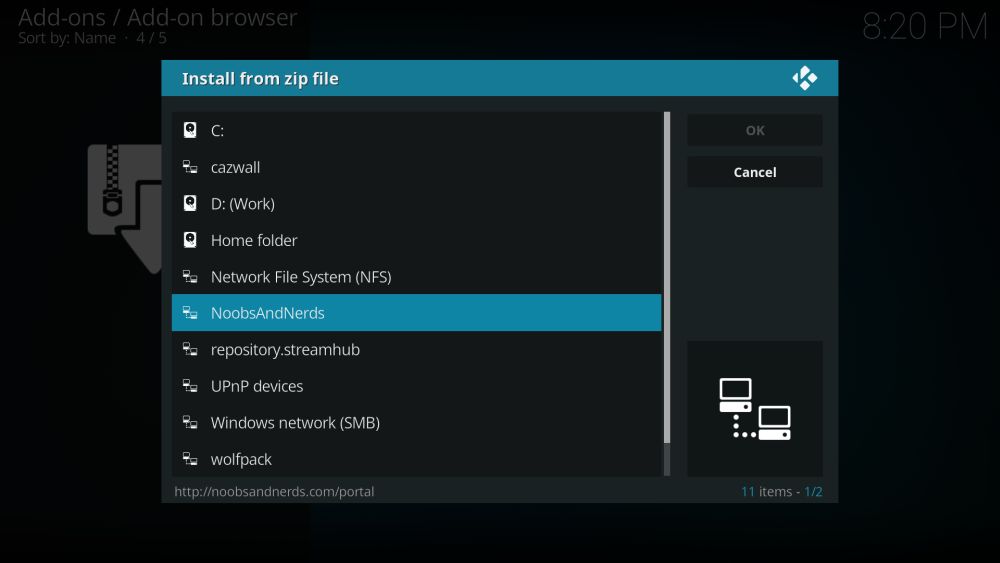 Install the file marked "noobsandnerds Repo (###).zip"
Go back to the Add-ons menu and click the open box icon again
Choose "Install from repository"
Find and click "noobsandnerds Repository"
Select the add-ons you want to install and add them at your convenience
 Is it Safe to Install Noobsandnerds?
Generally speaking, Kodi is an incredibly safe piece of software. Its open-source nature means there's no malicious code hiding deep within the program. When you start looking for unofficial add-ons, however, things can get more complicated. Third party extensions are developed by outside sources and not verified by the Kodi team. They can include everything from links to pirated content to viruses or malware. It's rare to run into these issues, but it does happen.
To stay safe while installing Kodi add-ons, always stick to reputable repositories. Noobsandnerds has been around for years and is used by thousands of Kodi fans on a daily basis. It's well-curated to keep out dangerous add-ons, so you can install anything you like without worry. We also test every add-on and repository before we feature it just to make sure it works as advertised.
You should always take proper precautions when using Kodi. Keep your anti-virus software active at all times, and make sure your local firewall is up and running. Also make sure your VPN is turned on whenever you start a stream, otherwise your activity won't be private.
The Best Add-ons and More
There's a lot more to the Kodi experience than just Noobsandnerds. Below are a few of our favorite repositories, add-ons, and guides to extend Kodi's functionality. Turn your device into a multimedia powerhouse that can stream HD movies, live TV, sports, and more!